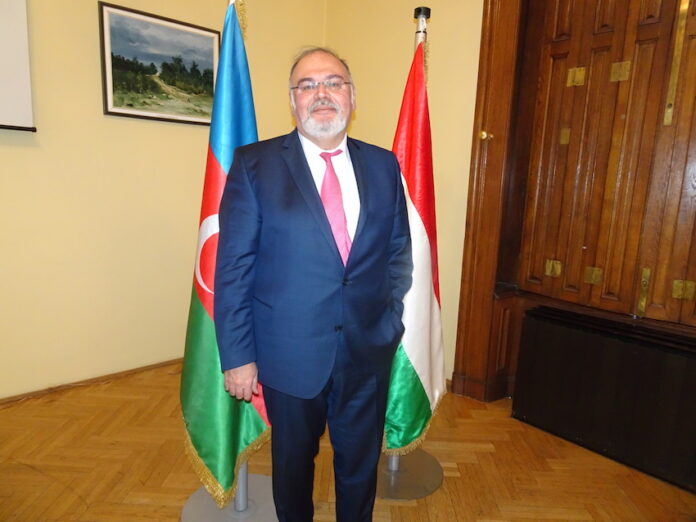 Interview with H.E. Mr Tahir Taghi-Zadeh, Ambassador of the Republic of Azerbaijan to Hungary
Written by Anna Popper
Your Excellency, I'm so delighted to meet you for an interview at the Embassy of Azerbaijan, located in a historic building in one of the most beautiful areas of Budapest.
– Thank you very much for this opportunity to address the readers of Diplomatic Press Agency and Diplomatic Magazine. It is my pleasure to talk with you about Azerbaijan, its role in international relations, the current state of our bilateral relations and the guiding principles of Azerbaijan's foreign policy in general.
It is especially symbolic that this conversation is taking place in a palace the owner of which had been so instrumental in promoting Hungary's own statehood, Baron Frigyes Podmaniczky.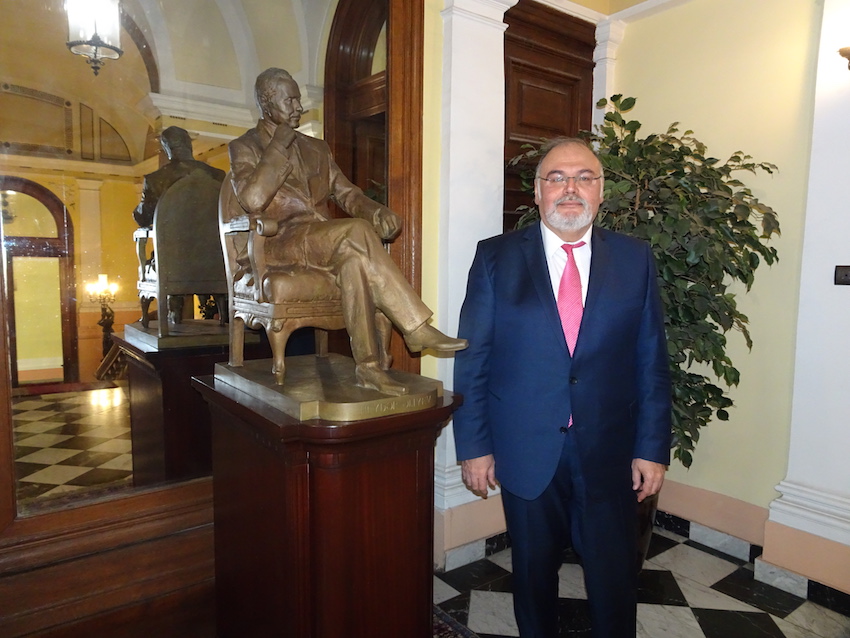 Did you have contact with Hungary before being posted here, and taking office in September 2021?
– Hungary was not completely unknown to me, since I read and write poetry. Obviously, names like Sándor Petőfi immediately come to my mind, but for me personally the greatest Hungarian poet, very subjective of course, has always been János Arany. The 'Bards of Wales' is such a masterpiece; I keep coming back and reading it again and again. I have read the Russian and Czech translations, and also the English translation which is very good. I hope that one day if I learn Hungarian, the first thing I am going to do is to read the original version of that along with Lajos Kossuth's address of 3rd March 1847.
(On 14 May 2022, a plaque commemorating the great Hungarian poet János Arany, immortalized in the poet's famous 1857 ballad 'The Bards of Wales', was unveiled in the Welsh town of Montgomery. According to the inscription on the plaque, János Arany's ballad praised the legendary heroism of the Welsh singers who, with death-defying courage, faced down King Edward I of England, who conquered Wales, at the famous feast of Montgomery in 1277. Arany's poem is a tribute to the heroes of the Hungarian Revolution and the War of Independence of 1848-49, an allegorical hymn celebrating civil courage – by the Editor.)
Another thing is that I am interested in culture, projected soft power, I feel about it in a very strong way. I like prose, I love Mór Jókai. Without having read anything, you could pick up some of the names of his works from Wikipedia or Hungarian and Hollywood movies. His works have been filmed so many times, but for me Jókai masterpiece that has never been filmed is the Yellow Rose. I love it.
Speaking about Jókai, I was also very interested in the revolutionary change of the Hungarian stage that brought theatre or acting, if you wish, to a new level from Déryné to Róza Laborfalvi, Jókai's wife and muse.
Only three writers in this region of Central Europe were able to "write pictures" as if they were paintings: Mór Jókai, Karel Capek, and the more or less forgotten Czech writer Svatopluk Čech.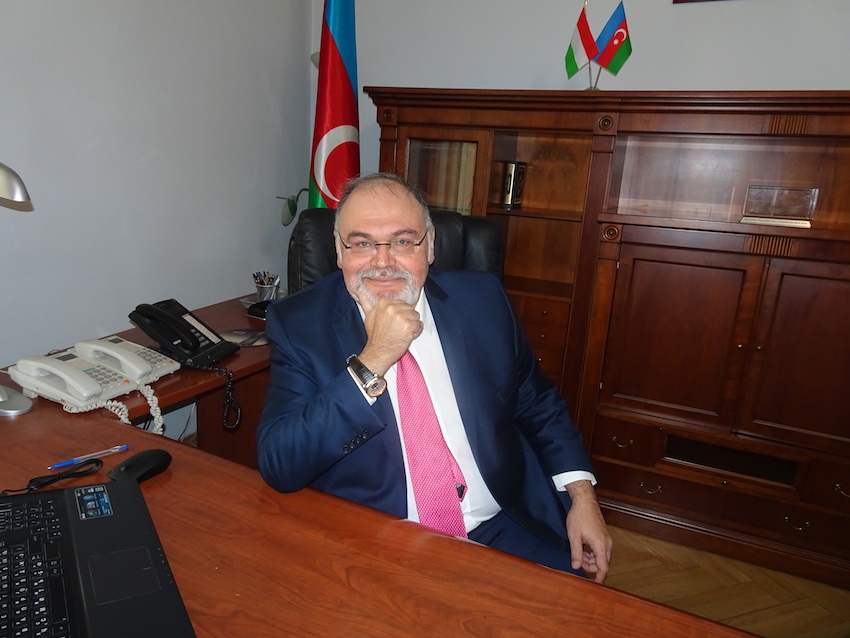 I would like to know your impressions about Hungary and the Hungarians?
– My impressions of Hungary are absolutely thrilling, it's similar to my first posting in Prague, yet something very different. Similar in terms of certain commonality of history, sameness in size, geography, population, and other issues. Yet, on the other hand, it is different because the Hungarians are much closer to the Azerbaijanis emotionally in terms of temperament. When you visit someone, and plan to leave, we say: "You are not going anywhere, sit back down!" I think our attitude towards guests is very similar. We have the saying: "A guest is a gift from God". The same is here.
I feel a bit handicapped here because for the first time in my life I'm in a country whose language I do not speak. My Czech is pretty fluent and diverse despite being rusty for so many years. Here I found myself facing not only a language I'd never learned, but also a very complicated language. It teases you with a small piece that you seem to start understanding, be it Turkic words or general structure of sentence that is similar to Turkic languages, and then totally surprises you on grammar or pronunciation. Hungarian language, as I can judge being an outsider, is unique in its historical genesis and composition. So, it is quite a challenge that I am facing.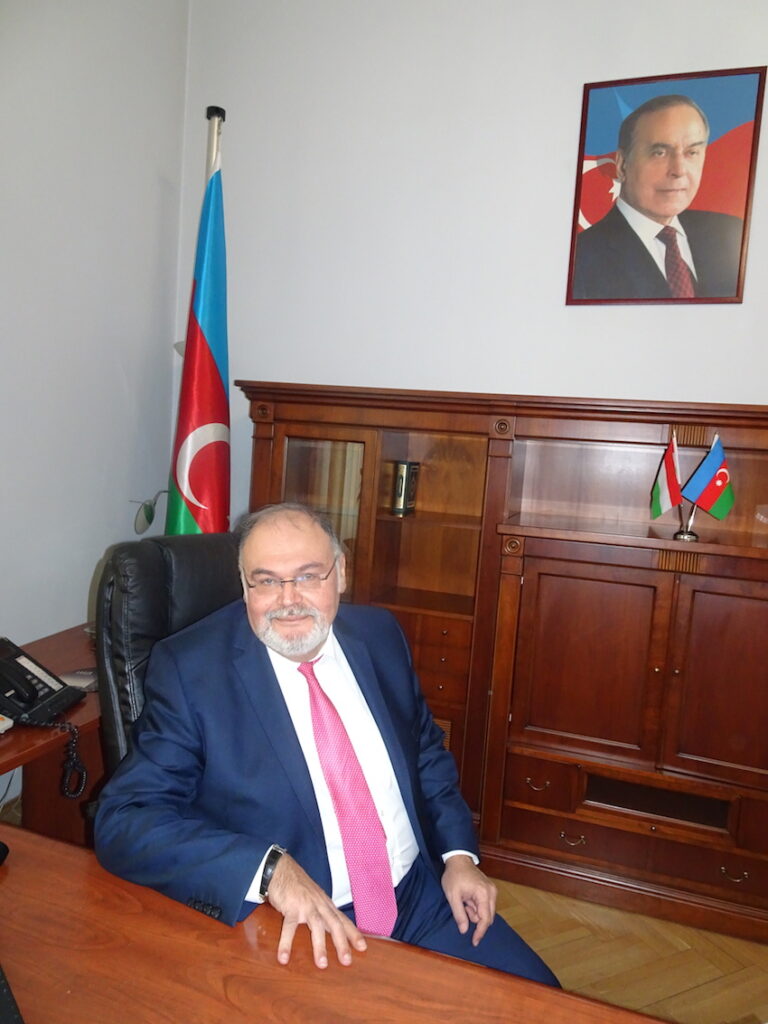 Azerbaijan has been an important strategic partner of Hungary. How do you assess the current political and economic relations between the two countries? Which areas of cooperation need to be improved?
– Hungary is one of the biggest partners of Azerbaijan in Europe, culturally, politically and security wise. Our bilateral relationship is a very special one, as documented by the attendance at the events organised by Viktor Szederkényi, Hungarian Ambassador in Baku, dedicated to the 30th anniversary of establishing our diplomatic relations, as well as the photo exhibition entitled "Azerbaijan – Land of Fire" opened on the 27th April 2022, at Hunyadi tér in Budapest, and the 27th May celebration of the National Day of Azerbaijan at the Aranybástya Restaurant. We highly appreciate Hungary's continuous support to Azerbaijan and just position based on the principles of international law during the past 30 years, especially during the 44-day Patriotic War.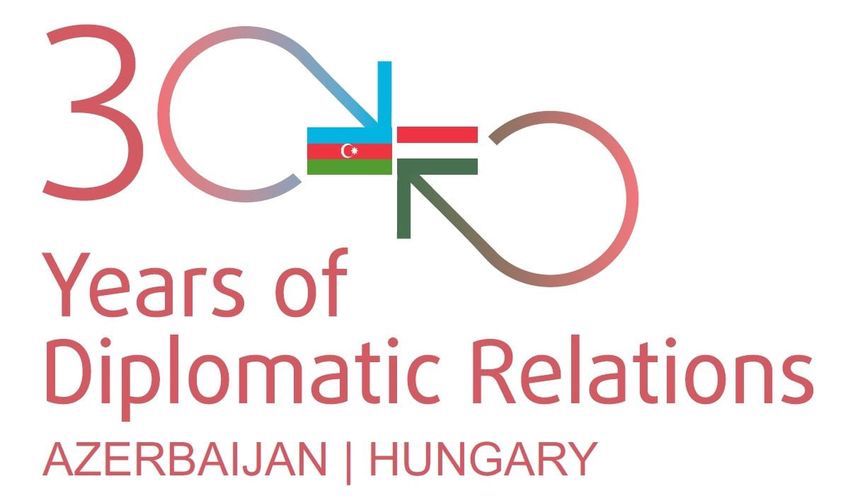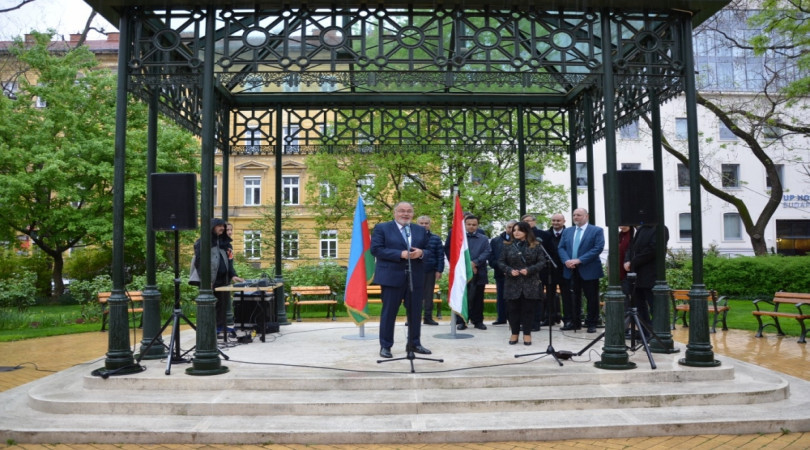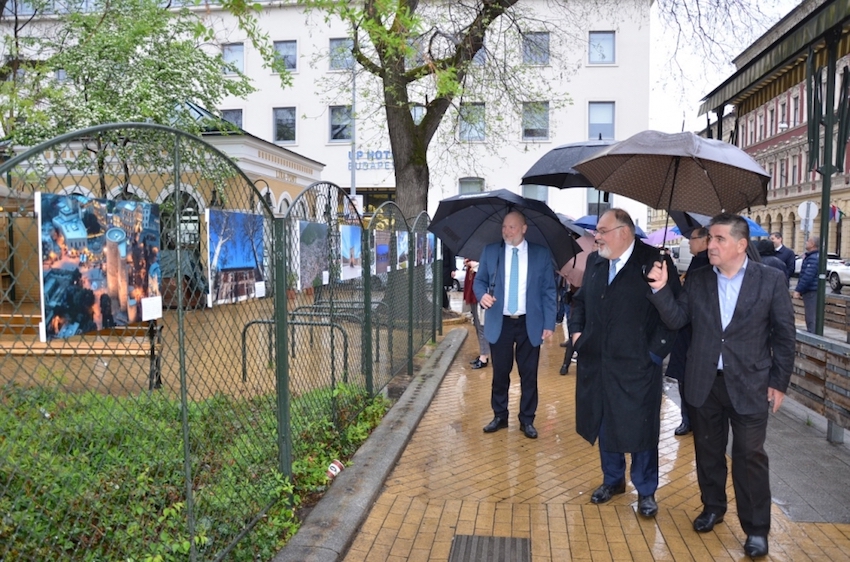 We have excellent strategic partnership through the Organization of Turkic States (you are aware that Hungary has observer status in the organisation, and its European office is located in Budapest). I would like to say how much I appreciate the consistent, dedicated efforts of Ambassador János Hóvári, who has been such a fantastic counterpart to work with, consistently great in anything that he does, including his fluent Turkish.
Yet a thing is missing from our relations: strong economic component. I think we are talking about 30+ million Euro trade turnover, which is absolutely nothing between our two countries. I think the reason is very simple: Azerbaijan's foreign economic relations after the collapse of the Soviet Union, which meant not only dismantling of political system, but also the disruption of economic ties that we mostly had within or outside the Soviet Union via Moscow, had little place for countries of Central Europe, while Azerbaijan was a terra incognita for most Hungarians. So, we had to start over, start from the scratch.
Azerbaijan's importance is emerging as a key factor in diversification of the continental, as well as regional energy needs. We are committed to cutting emissions and making green energy transition. The vision of President Ilham Aliyev is to go ahead and progress with the liberated territories (less than 20% Azerbaijan territories) as green areas – with green economy. The biggest contracts that were concluded and signed with the United Arab Emirates and Saudi Arabia, now with the UK, were all about solar energy, wind power, so we are talking about renewable sources. This is one of the main priorities for Azerbaijan's development economically. Yet Azerbaijan's hydrocarbon resources are of considerable significance for Western Balkans, Italy and Greece. MOL has recently entered the Azerbaijani energy production as the second largest outside player after BP.
Obviously, our economic relations are not limited to energy. Thus, I very much admire the efforts and dedication of Minister Péter Szijjártó, who during his last two visits to Azerbaijan brought over 30 Hungarian companies wanting to do business in Azerbaijan. What I can tell you is: in my seven years in Prague we managed to increase our trade turnover tenfold. If I can achieve something similar here, I would go home with an understanding that I have done something good. I hope to do that, because the level of communication and interaction is there. With the newly liberated territories of Azerbaijan razed to the ground by occupying forces and thus being in need of construction, we have a number of areas for cooperation.
We try to work with the companies that have shown the greatest interest and are furthest down the line of discussion, like PURECO Kft., Budapest Water Services. Also, we try to put Hungarian partners in contact with the office of the President's representative in the liberated territories, where the mutual interest is comprehensive: reconstruction, water management, "smart cities", agriculture, and so on.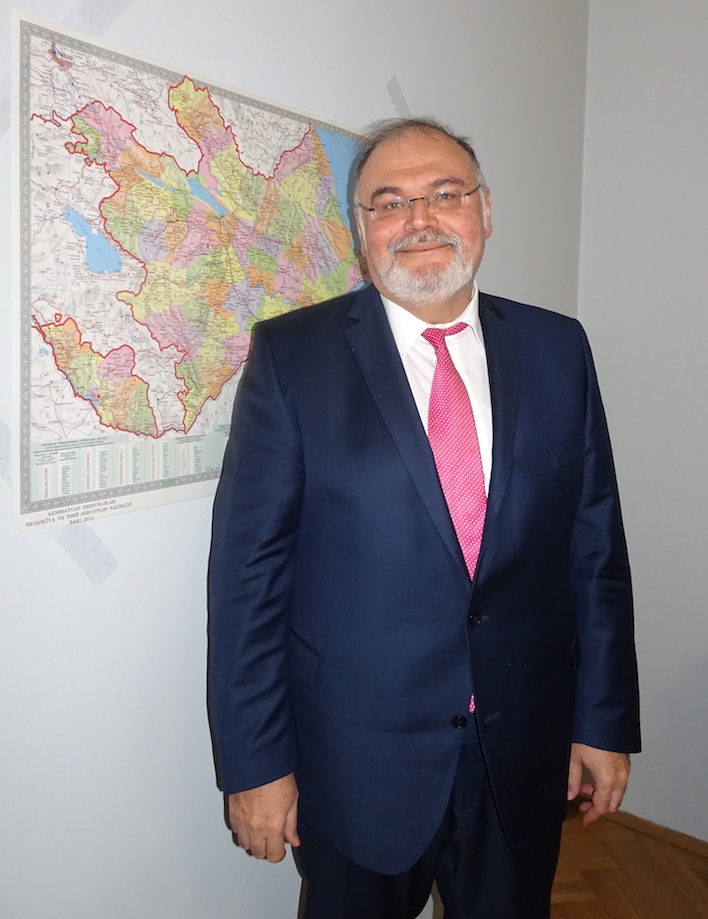 What are the main pillars of the Azeri economy? As a country rich in oil and gas, what are Azerbaijan's plans regarding the Sustainable Development Goals? A sensitive question was raised recently: could Azerbaijan supply Hungary with the same quantity of oil and gas that we buy from Russia?
– Without having any hidden agenda behind my words: Azerbaijan has never approached energy resources as an instrument of political pressure. For us it is an equation of two elements: economic and political, the latter in terms of further developing our relations with individual partners. And as such, Hungary is of course one of our allies and strongest partners in Europe. There are several things that need to be considered. You understand that the export system consists of two main elements: the Trans-Anatolian Natural Gas Pipeline (TANAP) and the Trans Adriatic Pipeline (TAP). The capability of TAP is already extended. So, there is a possibility to export more through it. You now know that it will go through Italy, Greece and then involve the interconnector to reach Western Balkans. This is an issue of energy infrastructure in Europe after it passes the Adriatic.
Another issue is the total volumes of Azerbaijani production. I am not in a position to tell you if Azerbaijan will be able to supply as much gas as Hungary is getting from other sources, but we will do our utmost to provide energy security of the whole region. We are just not big enough. However, Azerbaijan is not the only source. We can also talk about the broader Caspian Region, Turkmenistan and Kazakhstan with huge oil and gas resources.
As for services, we go first and foremost through the development of banking system and tourism, which are becoming one of the main sectors of Azerbaijan's economy. These are developing rapidly and we hope to welcome more Hungarians to our country. WizzAir currently operates two flights weekly between Budapest and Baku, and we started talking about the possibility of opening a third flight.
The Azeri community in Hungary is not very big, it is less than 2000 persons, but the most inspiring factor here is that nearly 850 students are studying in Hungary. Here we have to thank the Stipendium Hungaricum. And those who studied here keep Hungary in their hearts and minds, becoming in the words of the State Secretary Orsolya Pacsay-Tomassich "unofficial ambassadors".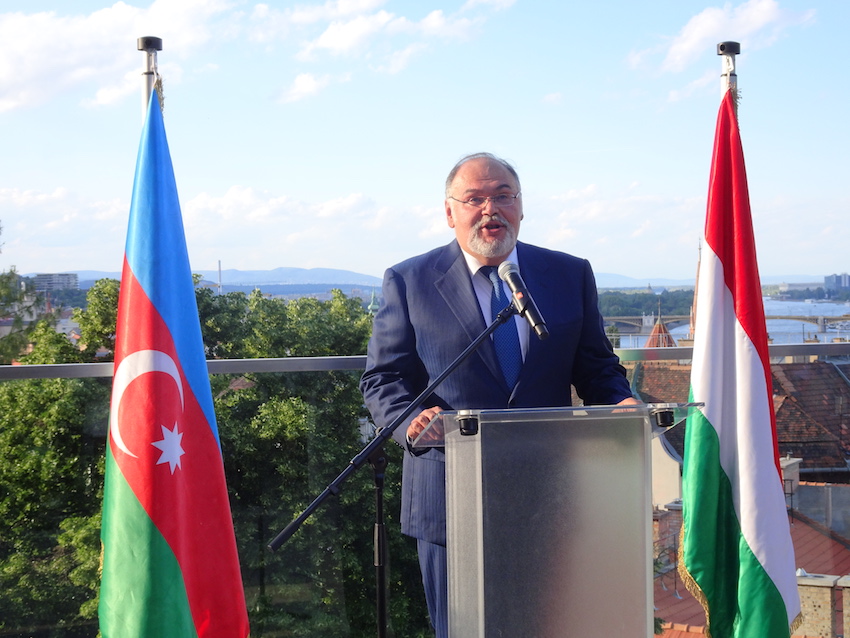 What are the foreign policy priorities of your country? Given the changing nature of global politics and security, how have these priorities shifted in response to international events?
– The collapse of the Soviet Union meant a lot for us, we had nobody to regulate our relations with other countries, nobody to dictate what our foreign policy agenda should be. Also, we had the ongoing case of aggression and occupation of one fifth of our territory by Armenia. We had to somehow see if we either wanted to do that "little brother – big brother" relationship with somebody, or we intended to go along a much more difficult path – walking a thin red line and trying to develop our system of diplomatic relations based solely on national interest. Of course, we can hardly overestimate the importance of energy diplomacy for Azerbaijan's nation-building.
Azerbaijan today is a stable, modern and democratic nation that has proudly consolidated its restored independence since 1991. My country is a recognised law-abiding international citizen. The reason that should make each and every one of us proud is the level of trust that Azerbaijan is enjoying internationally. It is not by chance that Azerbaijan's non-permanent UN Security Council membership was well received, also not by chance that during the pandemic Azerbaijan pushed forward with the special session on behalf of 130 Non-Aligned Movement countries, as the second-term President. The country has proven that it is possible to retain constructive and successful economic, political, cultural relations with neighbouring countries, even when they have different agendas, without getting into uncomfortable security arrangements.
Foreign policy priorities changed over time. One of the bigger instruments of foreign policy was GUAM, a group that once included five countries (later four) – Georgia, Ukraine, Azerbaijan and Moldova. This remains one of the elements of foreign policy, but I would say that Azerbaijan's role has changed considerably with participation in the Eastern Partnership. We see all of them as useful for the future. The aim is to continue within a prosperous, stable, secure, influential and trustworthy state that is viewed as a good international partner by everyone.
Although the consequences of 30 year Armenian occupation have not been eliminated yet, Azerbaijan's restoration of its territorial integrity during the 44-day Patriotic war a year and half ago has healed us as a nation emotionally, mentality-wise. With the two countries moving closer to a comprehensive peace agreement, certain rapprochement between Hungary and Armenia would also contribute to the regional security.
Azerbaijan's five basic principles for post-war settlement that have already been accepted by Yerevan include: a mutual recognition of territorial integrity, inviolability of international borders; mutual confirmation of the absence of territorial claims of states to each other; non-use of force or threat of force against each other; delimitation and demarcation of the state border; opening of transport and communications.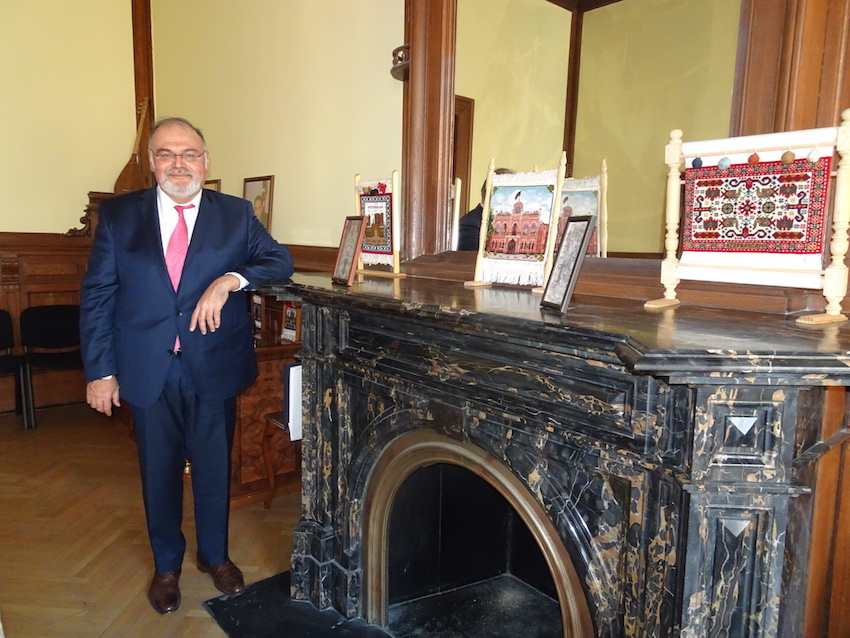 Tell us please about Your diplomatic career! What goals did You set for the coming years of Your term as Ambassador to Hungary?
– My career started back in 1990-95, where I was posted as diplomatic secretary of the consulate-general in Brno that used to be part of the same empire with you. And exactly Czech Republic was the place where I found myself for my first posting as an ambassador 27 years later. Back to chronology, after 2 years spent in Baku, I went to Washington DC, to work for our embassy in the US in 1997-2005. Then I returned to Baku to become director for the Press Service and Department of Public Relations at MFA in 2005-07. As I mentioned earlier, in 2007 I went out to my first Ambassadorial posting to Prague, where I spent 7 years. In 2014 I was transferred to the UK, where we cover more than one country, my portfolio, was besides the UK, also Denmark, Ireland, and Iceland. 7 years in UK and I was very much looking forward to going home, but instead found myself headed to Budapest which has suddenly heated up in terms of its importance for EU politics, as well as for budding partnership between Azerbaijan and EU. So, it was of course a proposal to which you do not say no. I presented my credentials in September 2021. We had a very interesting and diverse conversation with at the time President János Áder, covering all regional issues from energy security and Azerbaijan's role in diversification of gas supplies to EU nations including Hungary, bilateral political ties between our two nations, and many others. It was relatively brief but very engaging conversation.
Hungary is one of the biggest partners of Azerbaijan, economically, politically and security wise, in every respect, and this is a great honour and privilege to be posted here, and I hope that I can shoulder the responsibility that is vested in me by my President.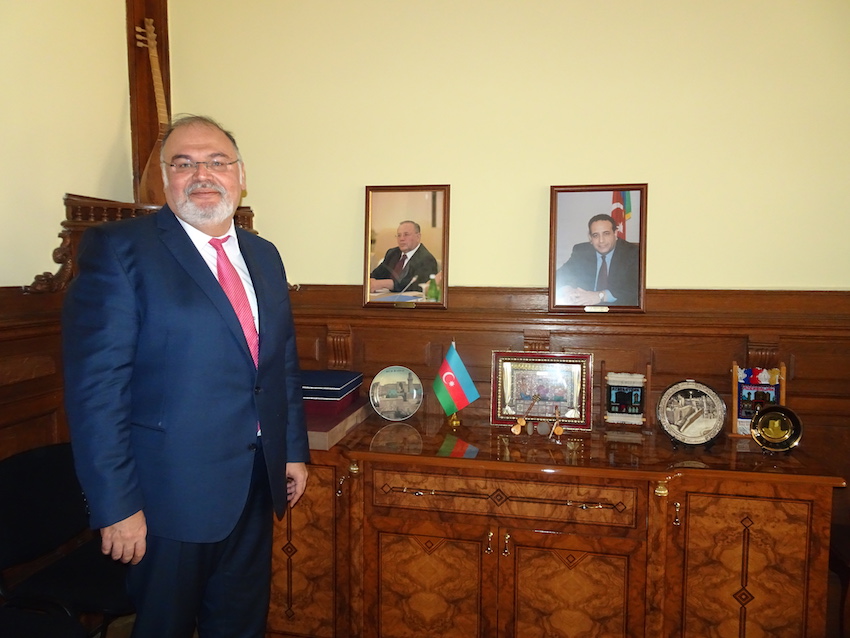 One of the best ways to get to know a different culture is through its food. Could you tell us about signature dishes from your country that you would recommend people try, to get a sense of your culture? Is there any Azeri restaurant in Budapest? What is Your relation to the Hungarian cuisine?
– Our cuisine is very colourful and diverse, since we are on the crossroads just like Hungary. Also, just like Hungary we do not only blend influences of different cultures together, but also adapt them to our conditions: the closeness of the sea, richness of the soil, thus we could have 2-3 harvests in a year, importance of fruit and vegetable. The national cuisine is centred around lamb and sturgeon. Personally, I'm not a big fan of either, so I could easily go with beef and poultry. Plov is one of the most widespread dishes in Azerbaijan and there are scores of plov types in our gastronomy. To define our cuisine, I would go with two dishes, both vegetarian, KyuKyu, herbed omelette, which in some regional versions includes walnut and fish, eaten with white yogurt to lower down the fattiness and Dovga, a yogurt based soup, with rice, greens and egg, both can be eaten hot or cold. As for Azeri Restaurant in Budapest, there is none yet. But recently opened "Dash Bistro" in Vámház krt. 10 is a good step forward.
The Hungarian cuisine is absolutely magnificent. I have grown up on the shores of the Caspian, however, I have never been a big fish eater, and it changed here in six months, because halászlé (fish soup) is something that breaks you. My first meal out in Hungary was at Náncsi Néni Restaurant where I ordered halászlé, and as it was served I was told to be careful because it was spicy. It was not, so I added all csípős paprika, Erős Pista, still to no effect, so they brought the small cherry peppers. Speaking about favourite Hungarian dishes, I can mention paprikash, pörkölt, húsleves, rakott krumpli gulyás soup, specially the bográcsgulyás, but my all-time favourite is the meggyleves (cold sour cherry soup).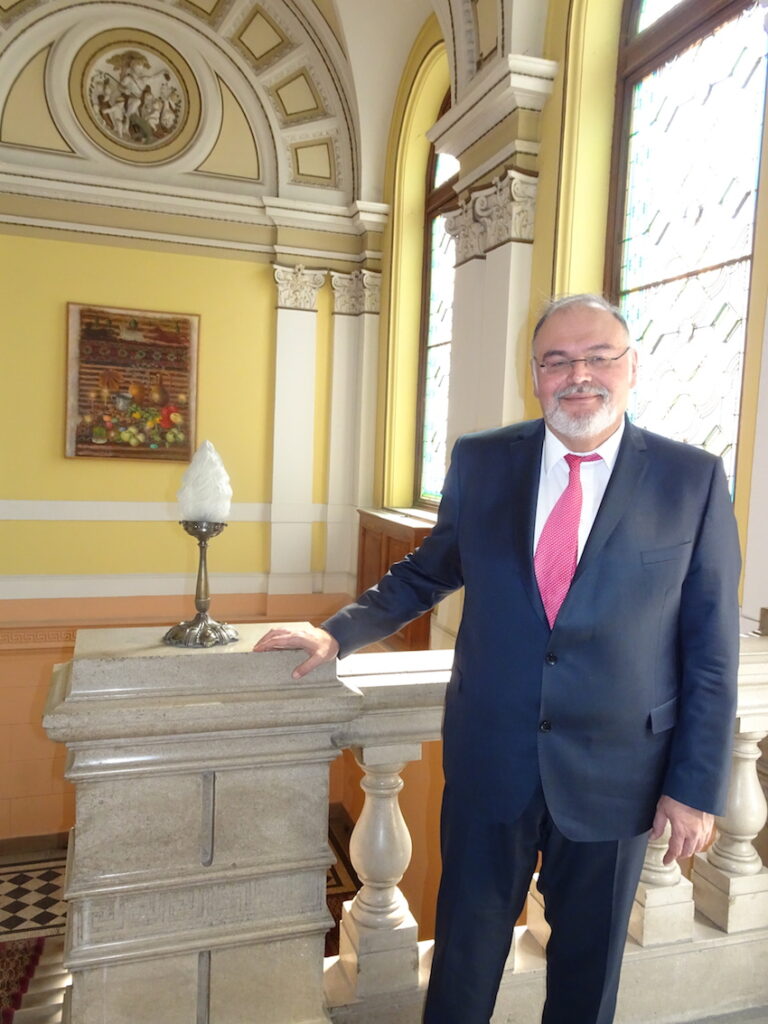 Your Excellency, based on your knowledge about Hungary, that You kindly shared with me, I have the impression that you are in Budapest not only for some months but for years… How do You have time to experience here the Hungarian literature, culture, cuisine amid all diplomatic duties?
– One should make time for something he/she likes regardless of circumstances. Plus, I seriously consider that getting to know as much as possible about the country of appointment is part of our duties. Besides, it is a very beneficial pastime.
It is also really impressing that in a short time of Your stay in Hungary You could understand the Hungarian mindset.
– I am convinced that to understand mentality of a nation, to understand its culture, you need to grasp two things: its humour and its curses. These two elements tell you about the nation more than anything else.
I love the Hungarian humour… if you manage to grab its subtlety and dark sarcasm. Hungarians are extremely colourful and inventive with their curses, to a degree that sometimes it shocks you, but hats off.
Having completed my first stage of studies into Hungarian history, I have to tell, that it was not the language that brought together the nation, it was the idea of national emancipation that brought with itself the revival of language and traditions. A good example is Ferenc Liszt, biggest figure of Hungarian cultural revival, who was not able to talk Hungarian comprehensively.
To understand your approach towards the history, one needs to consider the sacrifices made over the centuries. People like Ferenc Rákóczi, Lajos Batthyányi, István Tisza, Imre Nagy, and their strife reminds me of similar cases in the history of Azerbaijan – selflessness shown by Ibrahim Khalil khan Javanshir of Karabakh, Fatali khan Khoyski and, ultimately, Heydar Aliyev.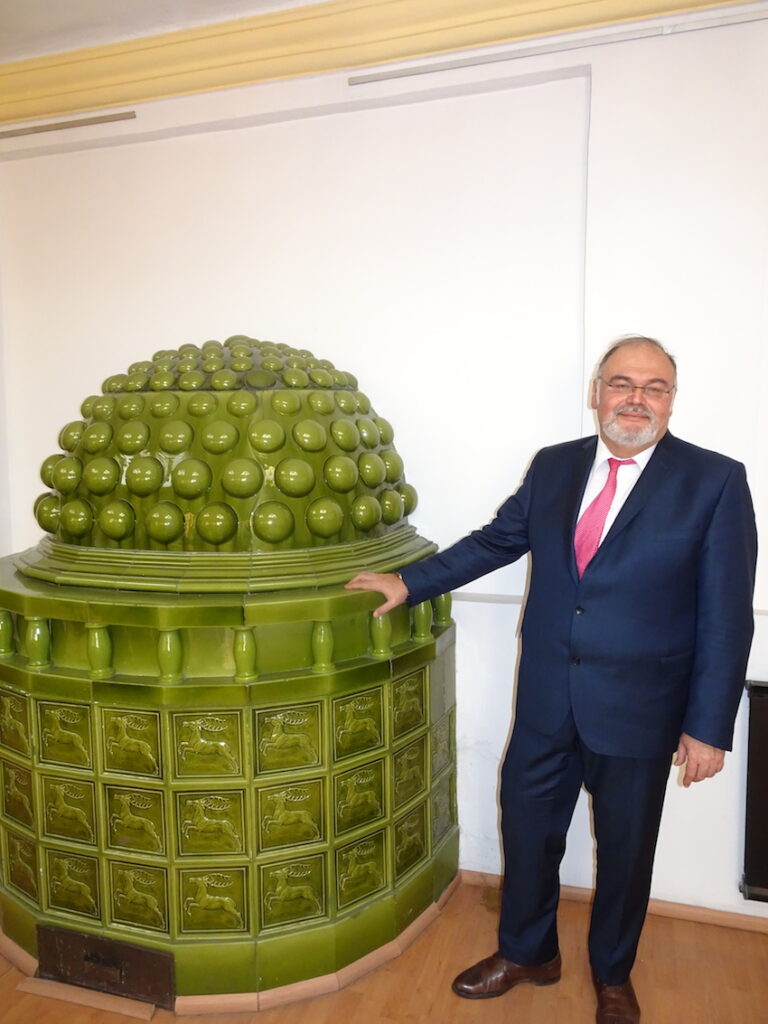 Your Excellency, may I ask what inspires You in professional activity and in private life?
– My inspiration has always been my homeland. Recently I did an interview with Baku Magazine, where they asked me how do I feel moving from one place to another? Yes, I wanted to return home very much after my second posting. I still do. Yet I think that the homeland is not a place where you go back to, but the one you carry with yourself, in your heart.
On a more private side, my big inspiration was my Mom; unfortunately, she passed away less than 2 years ago. My father died long ago, so I was very emotionally attached to my mother. I still see her in my dreams regularly. She was the one who supported me in difficult times. She would say, "you will deal with that, you are strong, I know". She would not say the brightest, the smartest, she would say "best boy in the world, my boy". God, I miss those times, when I could kiss my mother's hands.
But… We have to think about the future. Hopefully my kids, who study in London, will grow up to be decent guys. I very much look forward to them visiting me in July, still we talk almost every evening. Blessed be the man who invented video communication, skype and WhatsApp.
How do You spend Your leisure time, if any?
– There is no major leisure time unfortunately here. But I hope to get back to writing poetry, at some point. Unfortunately, since Mom passed away I have this blockage, no poems, no songs, nothing. At least, I can still read, mostly about Hungary. My other hobby is watching films; recently, I have watched an excellent Hungarian period drama called "Természetes fény" (Natural Light) depicting the events of World War II.
What would be Your wish or message regarding the future?
– I hope people would be able to listen to each other more, would become less greedy, and content with what they have – family, friends and motherland. I hope people would learn from the lessons of the past so that no more sacrifices are needed to keep the world at peace.
Photos were taken by Anna Popper