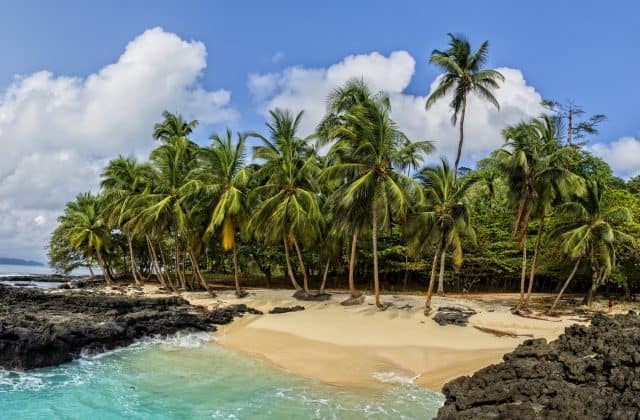 Written by Anna Popper
The Portuguese-speaking São Tomé and Príncipe can be found off the coast of West Africa, on two small volcanic islands in the Atlantic Ocean, along the Equator. It is undeservedly little known among travellers, even though it has all the potential to become the destination of a dream trip to Africa as tourism resumes.
Visitors refer to it as a paradise on earth. Its inhabitants protect its stunning natural environment to preserve the pristine equatorial forests, the tropical vegetation, the diverse orchids, many bird species and marine fauna. Five strictly protected species of sea turtles nest on its shores and the lucky ones might see adorable baby turtles emerging from their eggs and heading towards the ocean. The constant good weather and pleasant temperature of the clean ocean make it an ideal place for scuba diving. In terms of tourist infrastructure, the style of hotels fits in with the natural environment. The gastronomy of the islands combines elements of Portuguese, Angolan, Brazilian, Cape Verdean and African cuisine, made diverse by exotic vegetables, spices, fruits, a wide variety of fish and seafood. In addition to light and healthy traditional dishes, international specialties are also offered. Outstanding public safety is a huge advantage to the country. The people of São Tomé, like Africans in general, are friendly and cheerful. They cherish their traditions and culture influenced by Africa and Portugal. Growing coffee and cocoa has always played an important role in the country's economy, thanks to its ideal climate. To this day, the plantations here provide the raw material for the world's best quality chocolates, earning earlier the name Chocolate Island for the country.
A few years ago, a major oil field was discovered in the territorial ocean-waters of the islands, the extraction of which gives high hopes for the isles' economic development.
The 25th May is Africa Day, the worldwide celebration of this magical, dynamically evolving continent. This year, due to the pandemic, which affected the population of African countries less than people in other areas, they have to miss the merry celebration. But the usual heartfelt greeting of the people of São Tomé, wishing peace, holds true as always: Leve leve.
Source: Diplomatic Magazine