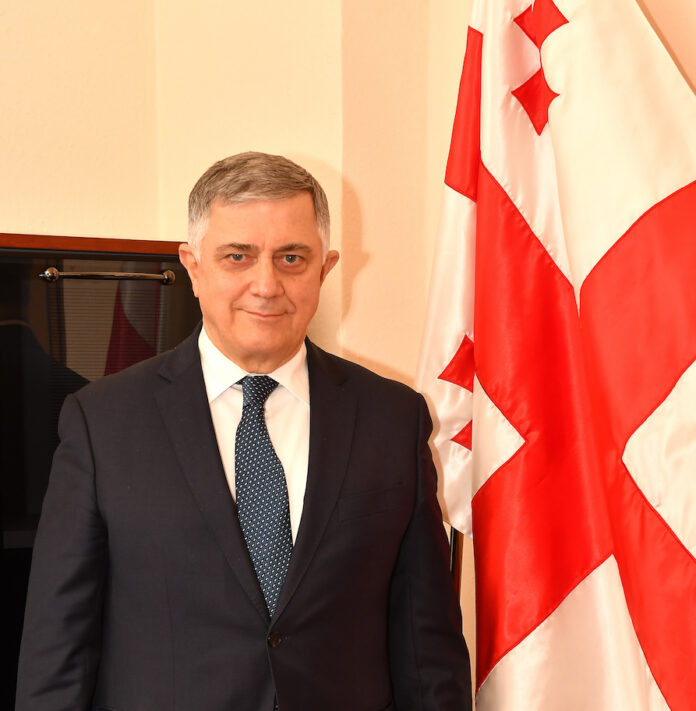 Interview with H.E. Zaal Gogsadze, Ambassador of Georgia to Hungary
Your Excellency, Georgia is celebrating the 30th anniversary of the restoration of its independence in 2021. How do You see its historical path to freedom? What is the aim set by Your country's leadership for the future of Georgian society?
The restoration of our independence was declared on 9th April 1991. April 9, 1989 is also a very significant day for Georgia in its struggle for freedom. In early April 1989, the people demanded national independence and secession from the Soviet Union in central Tbilisi. The protests soon turned into a large-scale rally gathering people from different regions of Georgia. Like many of my friends, I attended the demonstration. On the night of 8-9 April, the Soviet military was urgently deployed in Tbilisi. Military units forcibly dispersed peaceful protesters, causing 21 deaths and thousands of injuries. Imperial politics to forcefully curb the national independence movement led to a completely different result. That day not only played a decisive role in Georgia's secession from the Soviet Union, but also substantially accelerated the collapse of the USSR.
Georgian independence, abolished in 1801, was restored in 1991. More precisely, Georgia had first restored statehood on 26th May 1918, which lasted only three years due to the invasion of Russia's Bolshevik Red Army in 1921. One might correctly assume that the 3000-year history of Georgian statehood is characterized by a constant struggle for Christianity and freedom. The fight for freedom and democratic development continues today in Georgia's quest to re-join the European family. We are in close partnership with the Euro-Atlantic institutions and work actively to strengthen democratic principles in the country. It is our priority to be a reliable and trustworthy partner for the western democratic world in Southern Caucasus and thus, we are preparing to submit a formal request to join the EU in 2024.
Talking about democratic transformation, what are Your country's main achievements that You are proud of?
In the early 1990s, the vector of Georgian foreign policy shifted sharply towards the West. As such, Georgia has made fundamental changes in its state-building process, including reforming its police and military to new standards. The country proved that it is more than capable to honourably shoulder the responsibility of collective defence. Nothing proves this more clearly than our troops taking part in NATO and EU peacekeeping missions. Georgia has participated continuously in NATO-led operations in Afghanistan since 2004 and will end its mission this year with its 860 military personnel.
Rigorous reforms have been carried out in the judiciary system and this process is still ongoing. Bureaucracy in public services is very low. In addition, economy is based on the best western principles. Georgia became a business-friendly country for world trade. Today, the country holds some of the lowest utility costs in Europe, competitive salaries and one of the lowest taxes. The above aspects make Georgia one of the most cost-effective destinations in Europe and in the wider region. Moreover, the country has four industrial zones. Georgia ranks 7th in the Ease of Doing Business Index (World Bank). For instance, it only takes a few hours to start a business or register a property, which can be done by visiting a single location. As there is still much to do, the democratic reform cycle continues.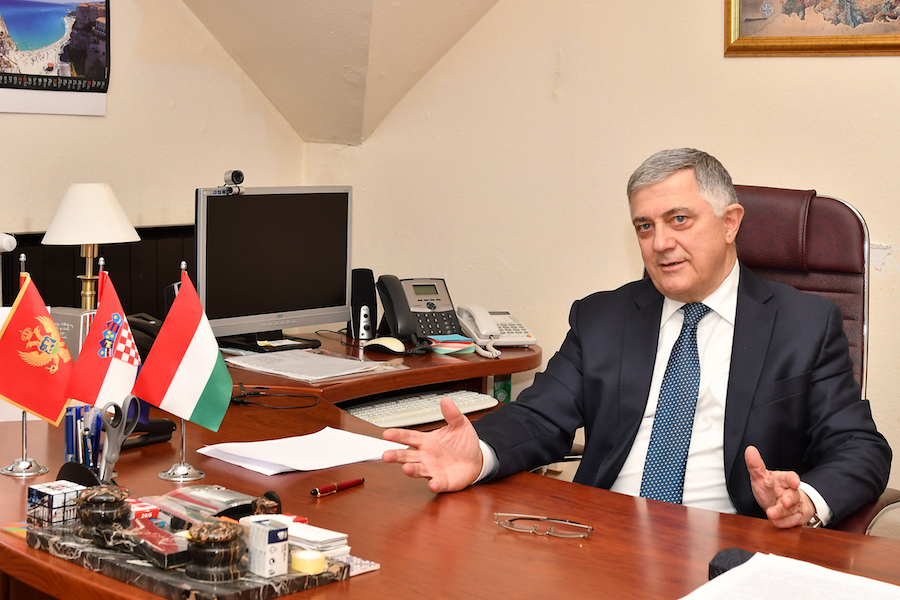 How would You assess Georgian-Hungarian political and economic relations?
Georgia and Hungary actively cooperate in bilateral as well as in multilateral formats. The existing legal framework between the two countries, which includes more than fifteen international agreements, facilitates cooperation in the fields of economy, finance, defence, education, tourism and healthcare. Friendship groups are established in both parliaments. Since 2014, Hungary has offered annual scholarships to Georgian students for studies at leading Hungarian universities. Georgia, on its part, offers up to ten scholarships to Hungarian students.
On 12th March 2021, Hungary's Minister of Foreign Affairs and Trade, H.E. Péter Szijjártó visited Georgia. Topics such as EaP, Georgia's perspectives in NATO and EU integration, cooperation in tourism and economy were discussed. The joint agreement for the education sector has been signed.
Hungary strongly supports Georgia's integration in NATO and welcomes the country's incentive to officially apply for EU membership in 2024.
In terms of bilateral economic cooperation, there is great potential for our business opportunities. The global pandemic slowed down the cooperation process, but interest remains on both sides. The best known and most successful example of Hungarian business in Georgia is Wizz Air, which recently resumed its operations. Another good example is the pharmaceutical industry. Agriculture is also an encouraging field. As the pandemic slows down, we are planning some noteworthy activities in this regard, including high-level visits. In addition, the tourism, food processing, manufacturing and energy sectors are also promising.
How do You see the Eastern Partnership (EaP)? Georgia is obviously one of the countries covered by this initiative.
Eastern Partnership is a very important tool to bring Georgia closer to the EU. Today, Georgia enjoys free trade with the EU, visa free movement and has access to numerous EU programs and agencies. In other words, the distance between the EU and Georgia has been reduced considerably and an ambitious bilateral agenda has been put in place. But in terms of integration perspectives the EaP format should be more ambitious and specific.
There are strong cultural ties between our two countries.
Diplomatic relations between Georgia and Hungary will mark the 30th anniversary next year, but our cultural relations have a more historical past. The most outstanding, of course, is the work of the famous Hungarian painter Mihaly Zichy in Georgia. He visited Georgia in 1881. The Georgian intelligentsia commissioned him for illustrations for "The Knight in the Panther's Skin", an epic poem by the 12th century Georgian poet, Shota Rustaveli.
Zichy was so fascinated by the poem that he presented 35 illustrations to the Georgian nation as a gift. Rustaveli and Zichy are somehow linked to the intellectual memory of Georgians. We have a statue of Zichy as well as a street named "Budapest" in Tbilisi. A statue of Shota Rustaveli is located in Budapest on the square that carries the poet's name, near our Embassy. Additionally, Sándor Petőfi is very popular in Georgia. His poems have been translated so perfectly into Georgian that many consider him a Georgian poet.
Tell us please about Your professional career.
The start of my diplomatic career coincides with the first few years Georgia gained independence. At this very important and unsettled moment, I witnessed and sometimes even participated in the major developments that laid the foundation of forming Georgia's foreign policy. I spent interesting years in New York at the end of the past century, where I worked for the Permanent Mission of Georgia to the UN. I was later posted to Italy and then to the Czech Republic as Ambassador of Georgia. I am currently stationed in your amazing country. Undoubtedly, I wish our two countries, sharing many historic originalities and the same values and emotions, to be closer to each other. I wish to see more of Georgia in Hungary and vice versa.
Do You have time to relax despite Your busy working schedule?
I love sport walks and jogging, but my true and favourite hobby is poetry and literature. It is my greatest joy to read again: Maupassant, Dostoevsky, Camus, Faulkner, Márquez… I adore Petőfi and Márai. My desk books contain the works of Georgian writers: Javakhishvili, Amirejibi, Chiladze… I had read my friend Gabriel Tanye's novel "The Children of Canaan'' in script form before it became a bestseller in Georgia. I love the poetry of my dear friend and author of the Georgian national anthem, Dato Magradze, whose popular poem "Giacomo Ponti" was translated into Hungarian by Hajnalka Babirák and published in Budapest in 2017.
Written by Anna Popper
Source: Diplomatic Magazine