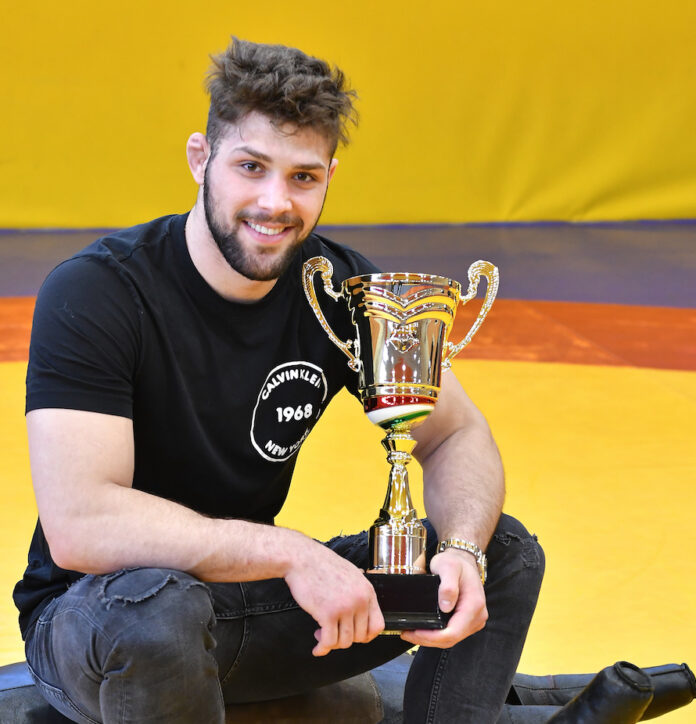 Interview with wrestling champion Alex Szőke, an aspirant to the Tokyo Olympics
Cadet World and European Champion, Junior European Champion wrestler Alex Szőke gave a brilliant sports performance two weeks after his 21st birthday. At the end of March, in the 97 kg weight division of Hungarian wrestlers, in a huge fight during the triple selection competition of the athletes preparing for the Olympics, he took over the first place from World Champion Balázs Kiss. Alex has thus gained the right to enter the World Qualification Tournament in Sofia.
It's my pleasure to congratulate You on Your success in this amazing sports hall. Where are we now?
– Thank you very much. I train here at the Kruj Iván Sports Hall in the 20th District of Budapest, which houses the wrestling section of ESMTK (Erzsébet Spartacus Worker Training Circle). Master coach Iván Kruj was one of the greatest figures in wrestling, a true sports legend, who participated in 60 World and 60 European Championships, as well as 9 Olympics, and is a worthy member of the FILA Hall of Fame.
What gives privilege to this sport here?
– It mainly comes from the founding Chairman of the Club, Ottó Losonczi, who has made many sacrifices and provides significant financial support for wrestling, in cooperation with the municipality. This sports hall was built on his initiative in 2011, with the support of former Minister of Education and Culture Dr. István Hiller and the Mayor of the 20th District Ákos Szabados. This building is unique in Europe and it provides prime conditions for preparing athletes.
How did You come into contact with the ancient sport of wrestling?
– My parents have been good friends with the Head of Wrestling Club, who – after the 2006 re-establishment of the sport club – suggested that I try wrestling, and I started it at the age of 7. I also played football since kindergarten, but finally opted for Greco-Roman wrestling and don't regret it.
What are Your biggest accomplishments in the last 14 years?
– My first success was winning the 2016 Youth World Championship, which provided a breakthrough in sports for me. By then, my skills had become well-honed: I became European Youth Champion and won bronze medal at the World Championship.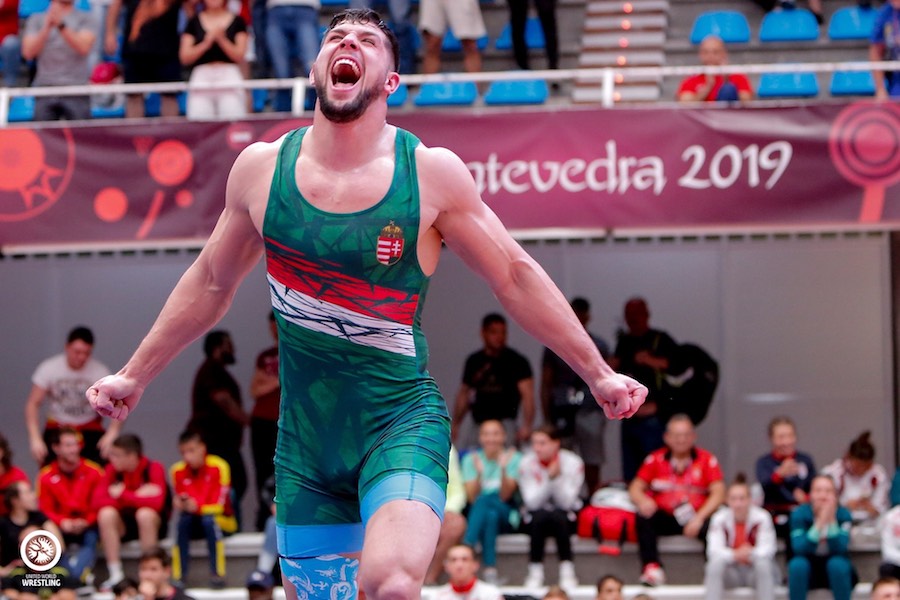 What do You find so attractive about wrestling?
– It is a very complex sport: besides strength, the physical and the mental condition is important, and most of all the brain, because making instant and good decisions in certain situations is a big challenge.
What is Your biggest strength as an athlete?
– I am far from clumsy and my technical knowledge is also good, but my real ace is my physical strength which has always helped me to dominate.
Which was Your most memorable competition, a victory or a defeat, serving as a lesson for you?
– Victory is great, but I think we can learn a lot more from failure. I would mention the first Olympic Qualification Competition, where I took on too much, because at 21 I was too young for the adult group, so I could not win. After a few weeks, I managed to get in good shape for the final triple selection, and performed very well there: I defeated a big opponent. Of course, we all feel some pressure during a match, but stress lasting for days before an event is nerve-wrecking. It is not possible to plan everything in advance, we always have to adapt to the given situation. Unexpected things happen. It is essential to develop improvisational skills, which must be backed up by solid technical knowledge.
Please tell us about Yourself.
– I train for 1.5 hours twice a day, in the form of wrestling, strength training at the gym, or running. ESMTK is my club, but I have been a national team member since 2016, so I do my frame trainings in the Körcsarnok. In addition, we spend 7-8 months in training camps in Hungary or abroad. In my rare free time I like meeting friends, going out, or barbecue outdoors in summer. I love films and going to the cinema if it is possible. My busy schedule only allows for short leisure in Hungary. My family provides a very stable background. My brother is also a top-level athlete, a multiple Hungarian and European motocross champion. I have already moved from home and created my own world with a balance between private life and sports. Yet, I still enjoy the full support of my parents.
How do You see Yourself in ten years?
– Of course, I have long and short term plans… I would like to win many medals in ten years and see my photo on the wall of this hall as an Olympic, World and European Champion, next to the others. But now I would like to get to Tokyo Olympics and stand on the podium there… Later I wish to create my own family with the right partner. I hope I will be able to establish a normal life and find a job that brings joy. I will soon start my studies at the University of Physical Education. Sports are an integral part of my life and my healthy lifestyle, it has given me support, educated me in discipline, struggle, regularity and respect, increased my willpower and resilience, taught me to live properly the victories and endure failures.
Do You have a role model?
– I value every great athlete, but my brother is my true role model! He also experienced a lot of failure, but he always overcame hardship, pain, and started with a clean slate every Monday. I also try to go my way, off the beaten path.
What is Your biggest wish now?
– I am facing an important event in early May: the World Wrestling Olympic Qualification Tournament in Sofia, where I would like to earn the Olympic quota, enabling to represent my country in Tokyo at the 32nd Summer Olympic Games, which will be different from the previous ones.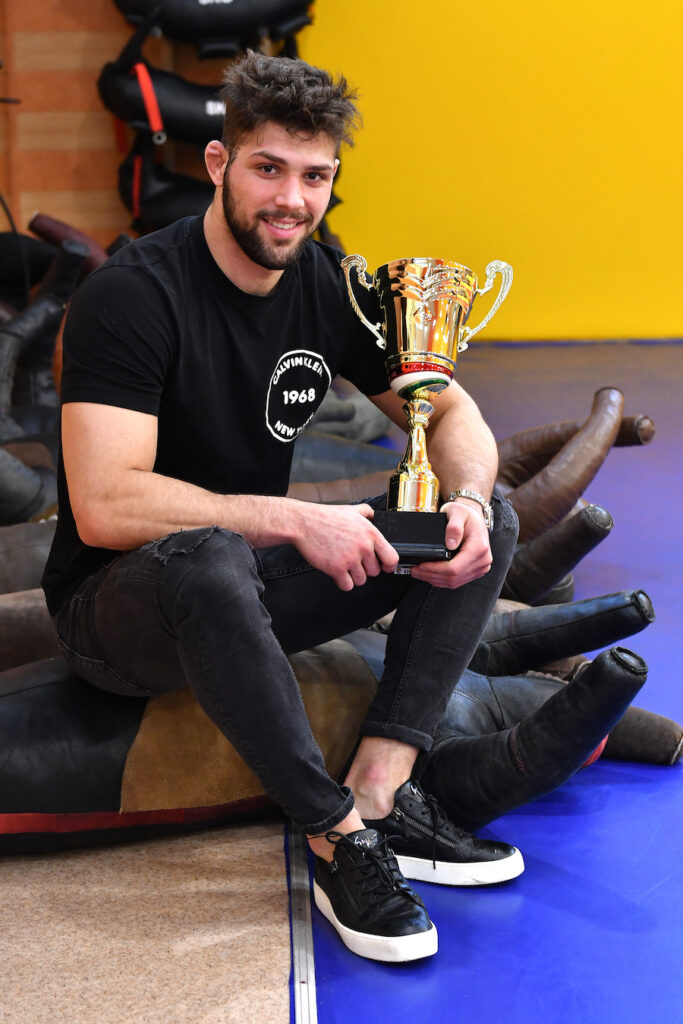 Anna Popper
Source: Diplomatic Magazine