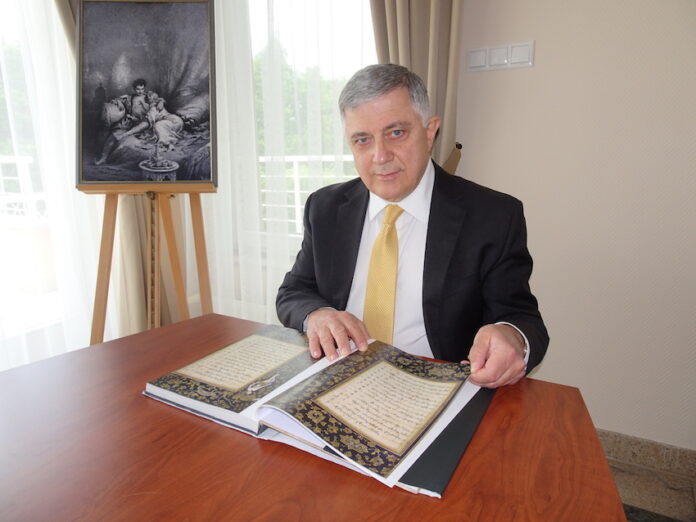 Interview with H.E. Zaal Gogsadze, Ambassador of Georgia to Hungary
Georgia is a country located in the Caucasus, at the crossroads of Eastern Europe and Western Asia, covering 69,700 square kilometres with a population of 3,7 million people. In May 2022, Georgia celebrates two significant anniversaries – under less strict conditions than last year – 31 years since the restoration of the country's independence that observed on the 26 May, and 30 years of diplomatic relations between Georgia and Hungary. Congratulations to the devoted leaders and the people of Georgia on these highly significant occasions.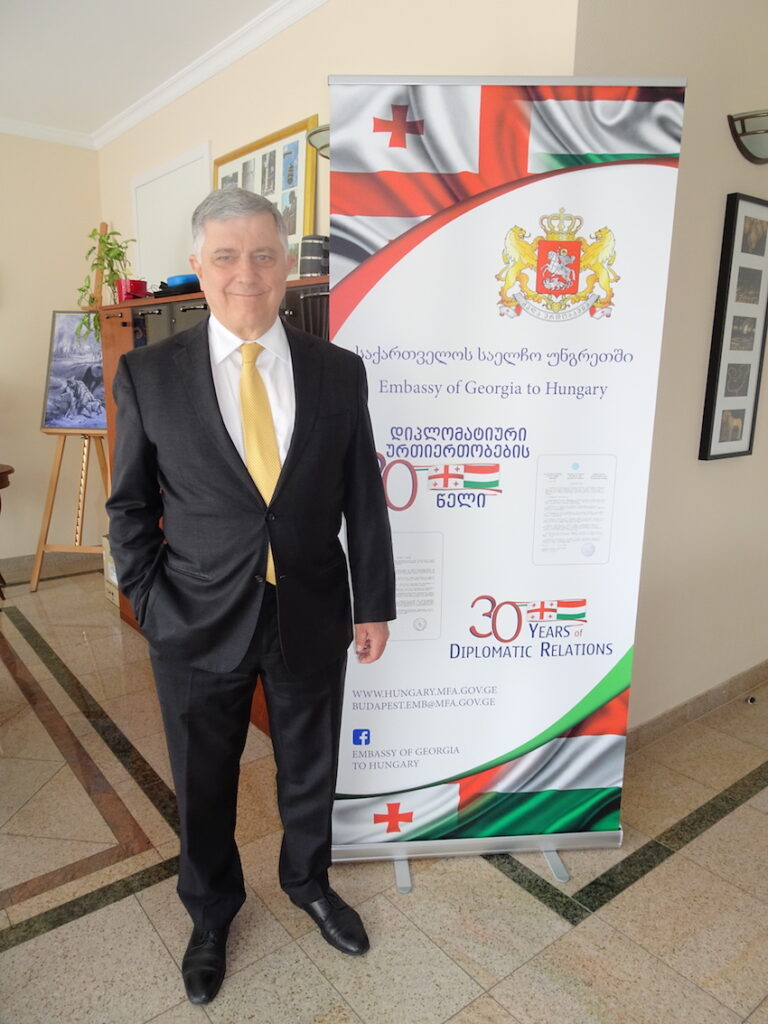 Your Excellency, how do You see the last three decades in terms of political, social and economic progress and achievements in Your homeland, in the spirit of Georgia's motto: "Strength is in Unity"?
– In fact, Georgia is a very different country than it was after the first years of gaining independence. Georgia's social, political and economic transition from an ex-Soviet state to democracy has faced territorial conflicts, triggered by external actors. As a career diplomat, I witnessed Georgia's very first steps on the international arena. And I can proudly state that we have established an orientation towards Western democratic institutions. This steadfast orientation, which has been irreversible for decades, aims to integrate Georgia into Euro-Atlantic institutions. The drastic reduction in corruption and the improvement in economic parameters are direct effects of strengthening democratic institutions, which caused my country's pro-Western course.
By now Georgia has achieved numerous successful results. In some fields the progress has been exemplary. For instance, some highly developed state services have been admired by our international partners. Nowadays, in one establishment you can receive more than 1000 kinds of different services for both the private and public sectors.
Besides the dates mentioned in your question, this year marks one more milestone in the history of independent Georgia as we officially applied for EU membership.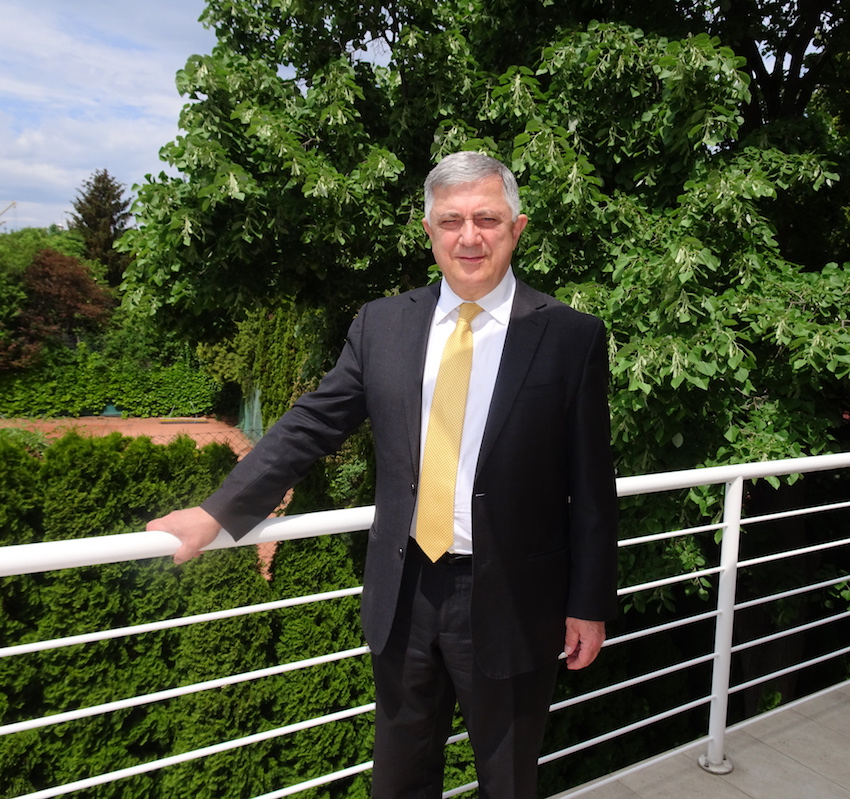 It can make You proud that in 2020 Georgia received exceptional recognition for improving the Corruption Freedom Index, and was listed in the top 10 least corrupt countries among 144 countries. Your country ranks seventh in the World Bank's Ease of Doing Business index in 2020. How did Georgia become so attractive for foreign investors?
– Starting a business in Georgia is really easy. It is often inconceivable that after breakfast the entrepreneur will visit the modern concept "House of Justice" and apply for company registration, the fee is less than 50 euros, and after dinner the entrepreneur will already receive an SMS / email confirmation that his company has been registered. Information about companies in Georgia is transparent – in the online register, you can always see the company statement, names of director and shareholders, contact phone number, e-mail and address of the company. We have a lot to learn from EU countries and also share a lot with them. In some European countries, where the registration of a company requires a number of financial guarantees, and bureaucratic procedures require permission from a number of authorities and at least 30 days pass, the obvious success of Georgian reforms is admirable.
In recent decades Georgian economy has undergone a significant transformation, what are the main pillars of Your economy?
– The main idea of economic transformation is to increase labour efficiency. For example, if we talk about agriculture, the population of Georgia used to be engaged only in their own family farms, today, with the help of the government, we have an export-oriented agriculture – you can find Georgian berries, nuts or processed food all around the globe. There has been a significant transformation in terms of increasing the sustainability of the sector itself, the establishment of knowledge transfer centres that have facilitated the creation of new technology enterprises and the creation of refrigeration facilities funded from the central budget, making Georgian agro-products available for export markets. The banking sector is also highly developed in our country, only the fact that two Georgian banks are traded on the London Stock Exchange is proof of this. Economic transformations based on knowledge and technological progress make Georgia a player in the world market. This is the common will and success of our people and government.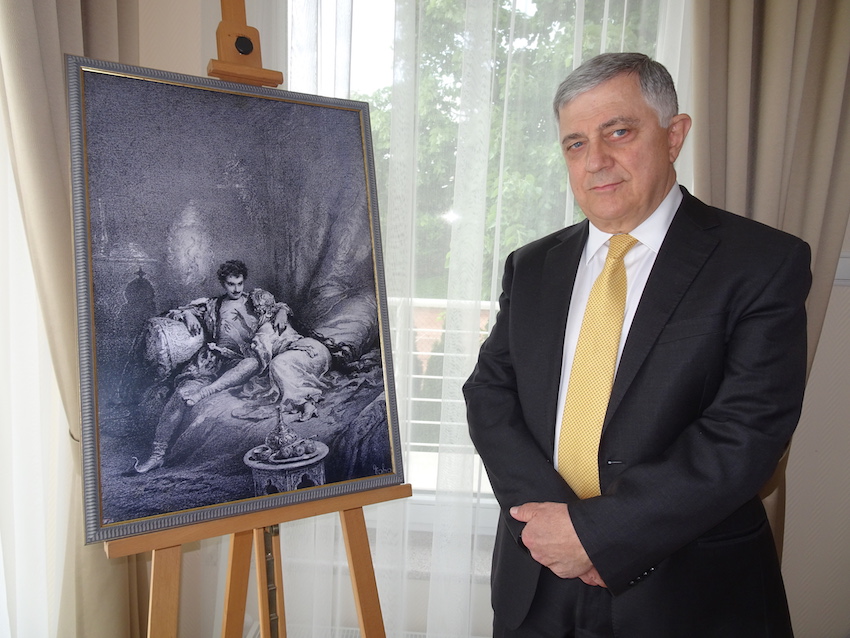 After two extremely difficult years of the pandemic in the whole world, Europe is currently in a new security and economic situation due to the war in Ukraine. Under these circumstances, what are the major challenges facing Georgian society?
– By launching an unjustified full-scale military offensive against Ukraine, Russia effectively questions the existing international/European security architecture, blatantly violates fundamental principles of international law and creates preconditions for a revision of post-Cold War reality.
The ongoing war in Ukraine and the extremely challenging situation in the region significantly increase the threats and risks for Georgia, which is a NATO aspirant country and has been under Russian occupation since 2008. This war brings the horrific flashbacks we inherited from the two wars – one in the early years after gaining independence and the second in 2008.
The subsequent result of these hostilities is the occupation of 20% of Georgian territory and hundreds of thousands of internally displaced persons. Despite all this, our commitment to the policy of peaceful conflict resolution is irreversible and facilitates to solve territorial disputes and other issues with our Abkhaz and Ossetian people only through dialogue. Therefore, I would like to use this opportunity to highlight once again that Georgia is in full solidarity with the Ukrainian people. We stand shoulder to shoulder with our Ukrainian friends and continue our strong political support bilaterally and multilaterally. The Government of Georgia has provided substantial humanitarian assistance to Ukraine since the beginning of the war, also extending domestic support to Ukrainian citizens coming to Georgia.
Russian aggression, for which there is no excuse, must be immediately stopped and sovereignty restored within its internationally recognized borders. The international community should make every effort in this regard. In the 21st century, every state has the right to determine its future, and any attempt to interfere in sovereign choices of other countries to define their foreign policy directions is totally unacceptable.
Georgia has decided on a future in the EU and along with Ukraine and Moldova has applied for EU membership in March. In this regard, we have quite positive expectations on gaining candidate country status in the coming months. Especially after the outbreak of war, the government's decision to apply for EU membership was supported by almost the entire population of Georgia.
Given the above-mentioned, in the context of recent developments in and around Ukraine, Russia's political goal to freeze Georgia's integration into European and Euro-Atlantic institutions and to reduce Western influence or bring the country under its own influence/orbit remains extremely challenging.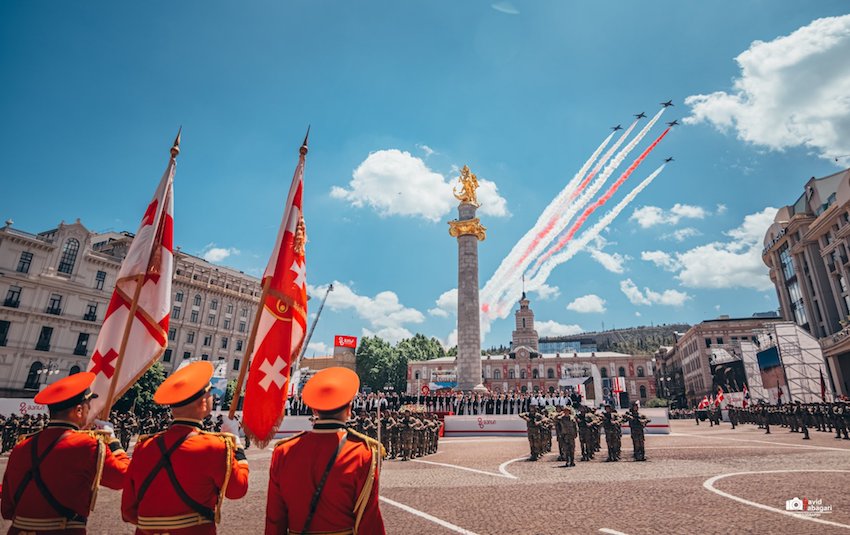 How would You summarize the key priorities, aspirations and objectives of Your country, with special regard to foreign policy?
– As I have mentioned before Georgia sees its future in the EU. In this regard, my country has already pulled off some serious results. More specifically, Georgia signed an Association Agreement in 2014, which serves as a framework to bring Georgia closer to the EU institutions. More importantly, AA also includes a Deep and Comprehensive Free Trade Area (DCFTA), which abolishes tariffs and customs between Georgia and the European Union, gradually expanding the scope of trade relations. In addition to access to the EU single market, Georgian citizens have the benefit of visa-free entry into the Schengen area.
In view of all this, we have developed a good impetus for further integration into the EU. Receiving EU candidate status will, on one hand, boost reforms in Georgia and, on the other hand, provide a strong political response to countries seeking closer relations with the West.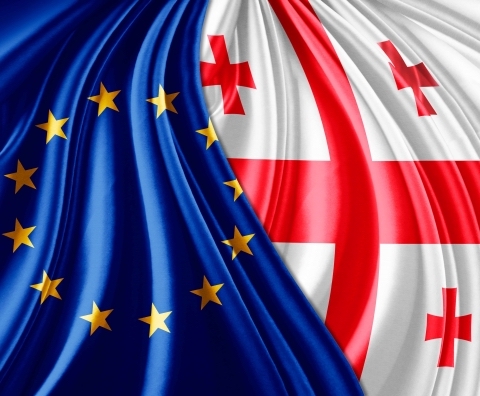 Marking the 30th anniversary of diplomatic relations, partnership and friendship between Georgia and Hungary, how would You assess our bilateral relations in the political, economic, cultural and academic fields? Where do You see potential to increase trade between the two states? (It must be said: although our two countries have experienced significant political changes, transition to market economies and turnover over the years, our relation has remained strong.)
– Bilateral relations between our two countries are truly remarkable. In the political dimension, we have had quite productive results, both country-to-country and in multilateral formats. The framework of communication between the governments of our nations was impressive, where we have witnessed numerous high-level visits from both countries. Hungary is our firm supporter in our Euro-Atlantic integration process.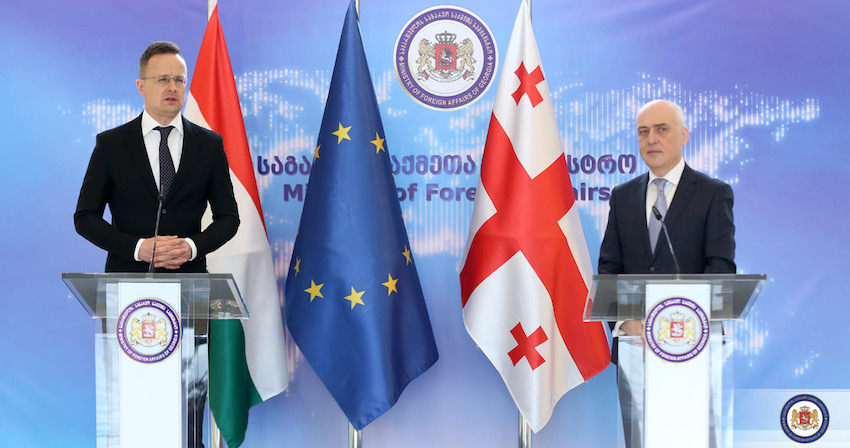 Hundreds of Georgian students receive university education in Hungary through Stipendium Hungaricum. For the coming years, we have positive expectations of more dynamic cooperation in agriculture, considering Georgia's agricultural potential and simplified export procedures on the EU market for Georgia. Trade between countries is a complex issue and considers several factors. In today's time of economic transformations, trade between two countries is successful when it is balanced. Georgia in particular has natural and climatic conditions to produce various agricultural products such as nuts, berries and herbs. Hungary is rich in wheat and other cereals. Therefore, the principle of our economic policy is to buy what we can not produce and sell what we produce more than the local market consumes. From this perspective, trade dynamics with Hungary will increase in the next five years and includes exports of organic products from Georgia to Hungary and imports of grains, sunflower oil, car parts, packaging materials and other products from Hungary.
Nevertheless, the EU market remains very competitive and for countries like Georgia to succeed, it is crucial to have the support of Member States. A well-established political environment between our countries is very promising for further trade relations.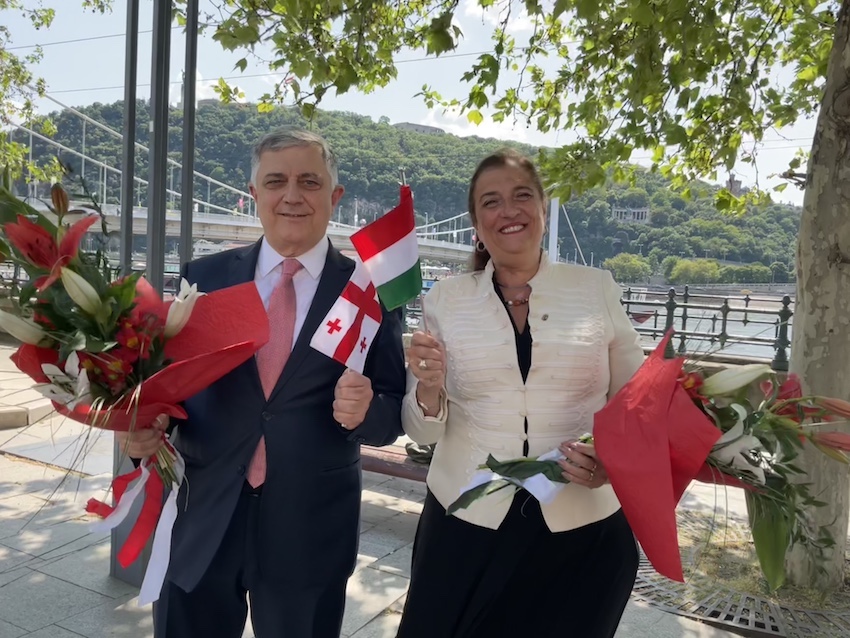 The name of Your country in Georgian is Sakartvelo. Tell us please about the uniqueness of Your language and culture. What is the historical background of the Georgian national flag?
– Georgia's statehood counts 3,000 years. The culture of Georgia has evolved along with the country's long history, giving it a unique and rich national heritage and strong literary tradition based on the Georgian language and alphabet.
The Georgian chronicles attribute the creation of the Georgian alphabet to the first King of Kartli (Georgian Kingdom) Pharnavaz I, who reigned in the 3rd century BC. According to the Georgian historian Ivane Javakhishvili, the Georgian writing system had been in use since the 7th century BC. What we are certain about is that the Georgian language, with its unique alphabet, is one of the oldest languages still spoken today.
Moreover, the evolution of Georgia's written language has produced three alphabets – Mrgvlovani (or Asomtavruli), Nuskhuri and Mkhedruli – all of which are still used today. The "Living Culture of the three writing systems of the Georgian alphabet" is inscribed in the Representative List of Intangible Cultural Heritage of Humanity.
Georgian literature has a remarkable history – the earliest extant literary work dates back to the 5th century.
Georgia is the homeland of wine. 8000-year-old wine vessels have been discovered here, revealing the world's earliest evidence of wine-making. We have more than 500 varieties of indigenous grapes – roughly one-sixth of the world's total grape varieties. Georgia's vineyards include endangered vines found nowhere else on earth. Today, some vineyards feature living vine libraries where visitors can sample rare grapes. Georgia's unique "Kvevri" wine-making method is also preserved by UNESCO. Noteworthy to mention the Georgian polyphonic singing, recognized by UNESCO in 2021 as a Masterpiece of the Oral and Intangible Heritage of Humanity.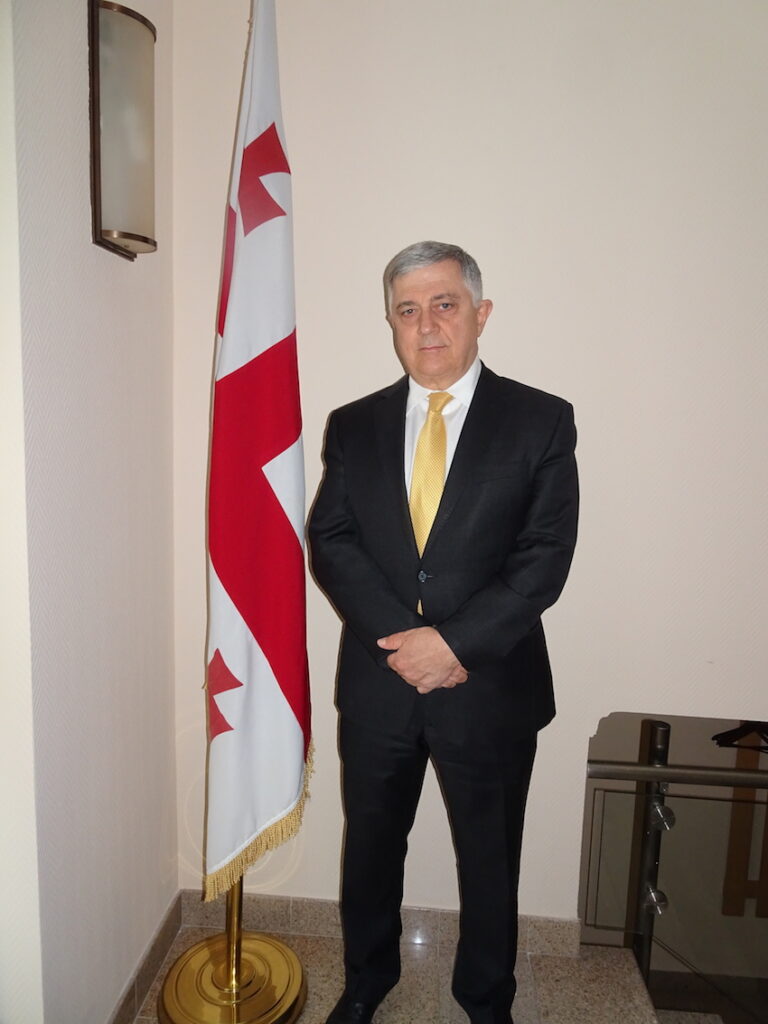 As for Georgia's state flag, there are several written sources about it, its colour and use (The Georgian Chronicles, Stepanos Orbeliani, and Ioane Shavteli).
The current look of the "Gorgasliani-Davitiani" flag is said to date from 1320 when King George V the Brilliant (1314-1346) received "the keys of Jerusalem". Since that time, a five-mark composition symbolizing Jesus and heralds (in different variants, including 5 cross images) has been presented as a symbol of Georgia, which is proved by many visual sources – Pietro Vesconte's (1318), Angelino Dulcert's (1339), Domenico and Francesco Pizzigano's (1367), Gabriel Vallseca's (1439) and others marine maps (portulans).
What are You most optimistic about as You look forward? What would be Your wish or message for the future?
– I believe that we should put our faith in new generations. Their vision should have all the means necessary for humanity to thrive. The key to a better future, where the world can truly live in a sustainable peaceful environment, lies with the new generation. Civilizations always evolve. However, for change to be progress and not regression, we must focus our efforts on young people. In this process we also have a large role to play, as we are the guardians and precursors of their future selves.
If we assist youngsters in learning about respecting others' history, culture and identity, then I'm certain that they will overcome future challenges.
Thank You very much for the interview,
Wishing Happy National Day and further successes for Georgia to accomplish its objectives and visions!
By Anna Popper