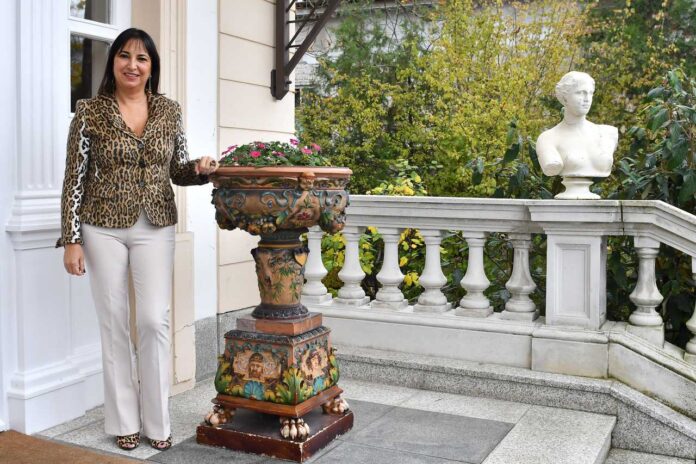 written by Anna Popper Senior Editor of the Diplomatic Magazine
Interview with Mrs Monica Rustico, Spouse of the Ambassador of Italy to Hungary, President of Diplomatic Spouses Budapest (DSB)
Signora Monica, what experiences have you gained here, since you arrived in Hungary four years ago?
Our time here is close to expire, as we arrived in Budapest in November 2016. I was very happy to come here because it was our first experience in Central Europe, and very convenient for the vicinity to Italy since it has been also the first posting without our children. Of course, it left me a vast emptiness moving to a big residence without my children while I was always with them on all other postings abroad. Joining immediately the Diplomatic Spouses Budapest (DSB) community was very helpful, I could get support and good advices from my colleagues.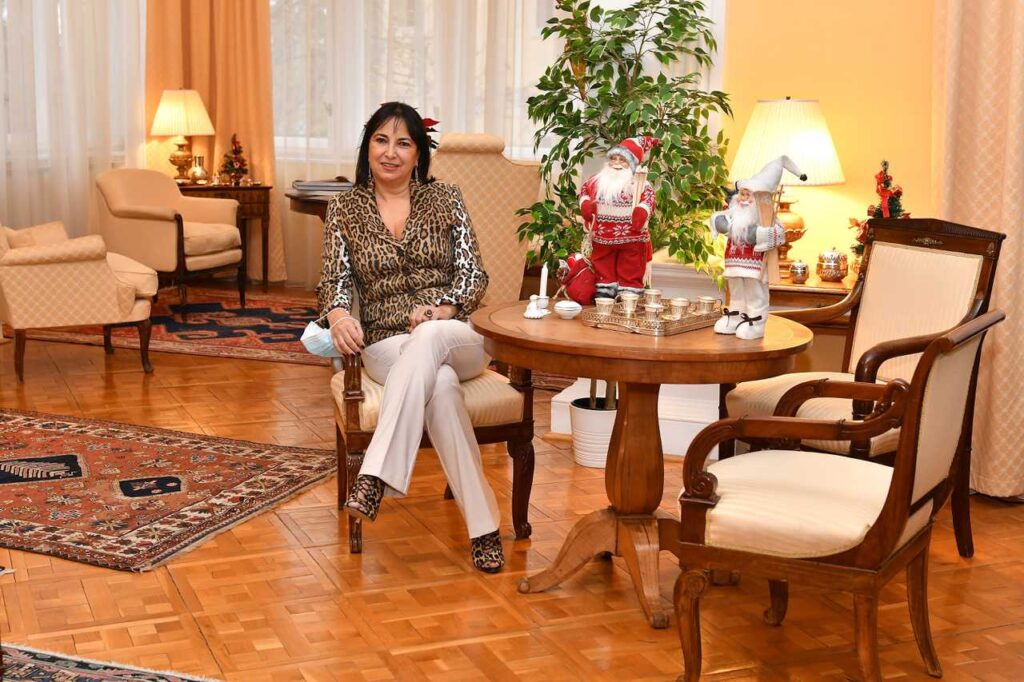 Congratulations on your election as President of the Diplomatic Spouses Budapest this year. Tell us please about the activities of DSB with special regard to your great charity work.
Unfortunately, DSB cannot hold the 10th Diplomatic Fair this year due to the restrictions caused by the pandemic. Upon my arrival in Budapest I was able to connect with Italian companies present in Hungary and involve them in the Diplomatic Fair. We received tons of products gratis and logistic support from our sponsors: Ferrero, Kometa, Caffè' Per Te, Luisa Spagnoli, Max Mara, Balli Vini, AitaStudio, Pomo D'Oro, Due Spaghi, Dolcissima, Mammo Gelato, who have to be thanked and recognised for their generosity, that should not be taken for granted as not all companies donate, or can do so for free. Hopefully next year we can continue this initiative, which exists in almost all countries. I believe the one in Budapest is among the most beautiful fairs and best organised by the community of diplomats' spouses, who founded it. We all contributed in different ways to its success. I think this event became a sort of Christmas tradition in Budapest. For one day, you could go to an international bazaar and find products, food, artefacts from all over the world. And every year the money raised for charity was bigger, setting new record. I'm sure, as soon as the situation returns to normal, DSB will resume fund-raising projects to continue helping financially the charities we have been supporting for years.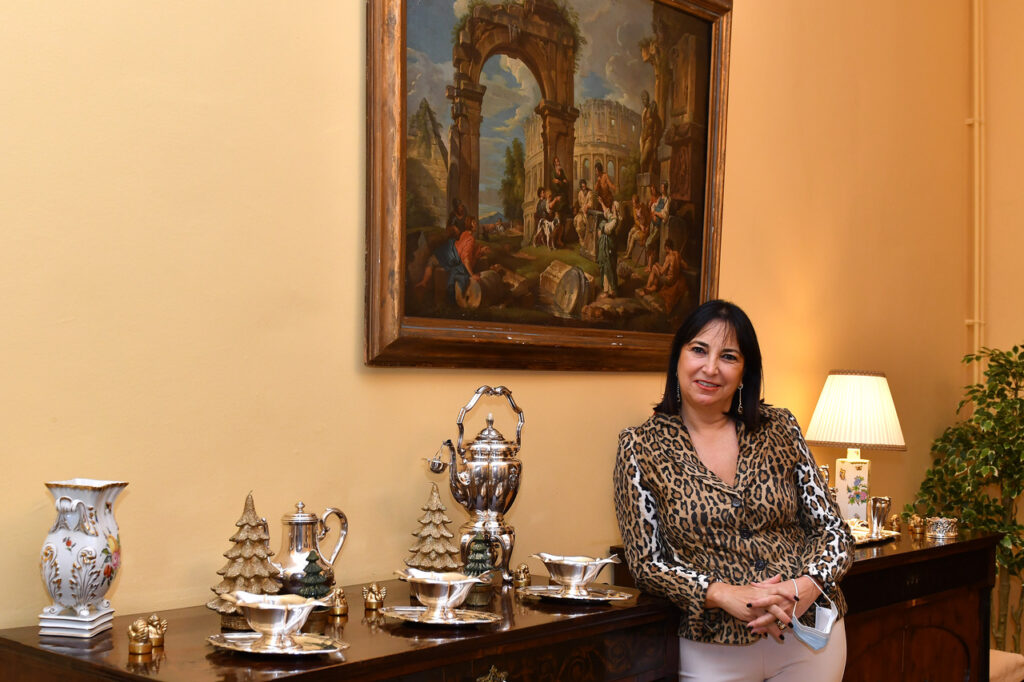 What was your background before Your husband's posting to Budapest?
Before coming to Budapest I was working as an interior designer and interior decorator. I also had the opportunity to carry out some projects in Paris, New York and Istanbul. It was very intense because I had to stay in New York or Paris until the project was completed. I like to decorate homes and make my clients' dream come true, using their favourite furniture or objects and tailoring the rest around it.
My passion for interior design was always there, but I started my studies when we were posted to New York: first at the New York School of Interior Design, then at Parsons School of Design. When we moved to Iran, I took correspondence classes at the Sheffield School of Interior Design in New York, where I graduated.
After returning to Italy, I enrolled at the Accademia del Superfluo, a great art school in Rome. The numerous classes I attended there really opened my eyes, my perception and senses to pay attention to the details of art. And that filled my life. Before marrying my husband, my background was quite different as I worked for RAI, the Italian Television, on the news program in German. I studied at the German school in Rome, so I was perfectly bilingual Italian-German, and I was offered this position. When I got married, I quit this job and started a new chapter and adventure in my life, and that – in a way – gave me the possibility to educate myself to what was my first love: interior design and decoration.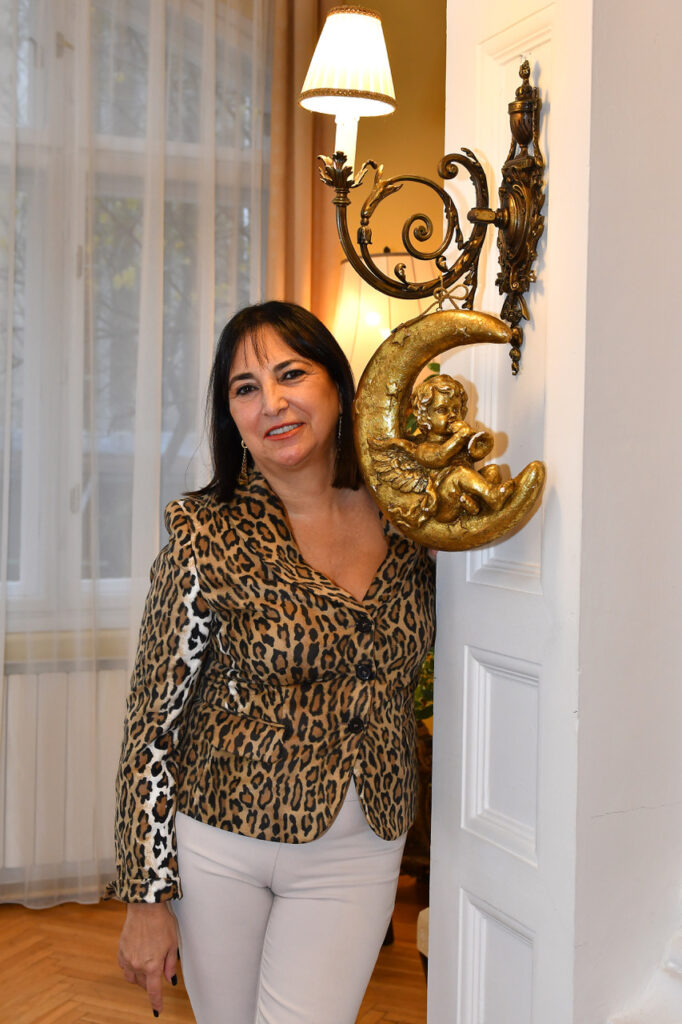 What is the role of an ambassador's wife? How easy to find the right balance between your duties and personal interests as an active woman?
The role, as has been very nicely stated in a "Discussion Paper of Ambassadors' Spouses of the 21st Century", is that a spouse has to be very eclectic, flexible, supportive, sociable and multitasking to support the husband or wife in the external representation and networking, in managing the residence and the events there. Talents and skills like staff management, logistic and decoration are very useful as well as food and wine pairing to be able to give instructions to the chef. Hospitality is very important, because ambassadors constantly receive guests for lunch, for dinner, in formal and less formal ways. There are also a lot of abilities involved in our external and networking activities including PR skills, being able to talk in public, writing letters and reports in different languages. To be the spouse of an Ambassador is a full-time job and it is often not given the credit it deserves, because there is no official position for that. We work a lot behind the scenes and take also care of our families. Upon arriving in a new posting, it can be exciting but overwhelming as well, dealing with so many new things at the same time. It is especially challenging to combine these duties for those spouses who have their own profession and career. I am so lucky, because interior design and decoration are my passion and profession. I like to entertain, to be social. Although there are times of super busy schedules. But when you love what you do makes it a lot easier! It is also very important to find time for ourselves and recharge our inner batteries.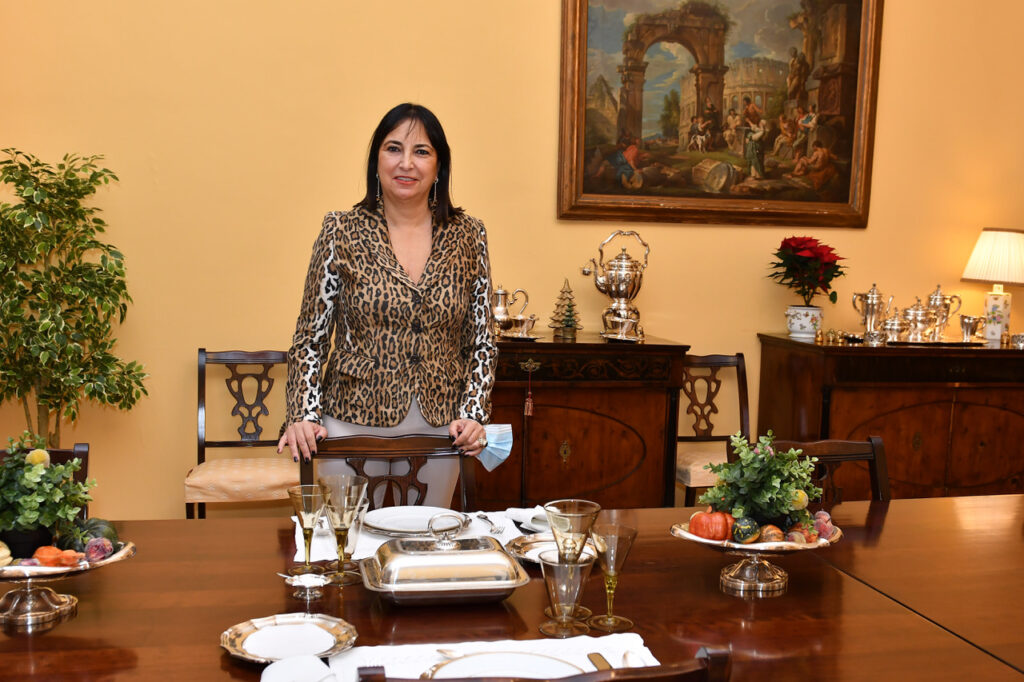 Italy is a country of art, style, unique cultural heritage of global impact. How does art affect your life?
Coming from this creative sphere of interior design and decoration, I'm very art-oriented. I feel extremely fortunate to have been born in Italy, especially in Rome, which is really a vibrant, open-air museum, inspiring everybody. Just walking there and looking around, enjoying its beauty is a pleasure for the soul. For me, beauty is a state of mind. I am also lucky to be in this posting, because Budapest is a gorgeous city, too. There is a huge concentration of beauty along the Danube: the magnificent Parliament, the Castle District with the Fisherman's Bastion and the Matthias Church with its unique interior decoration.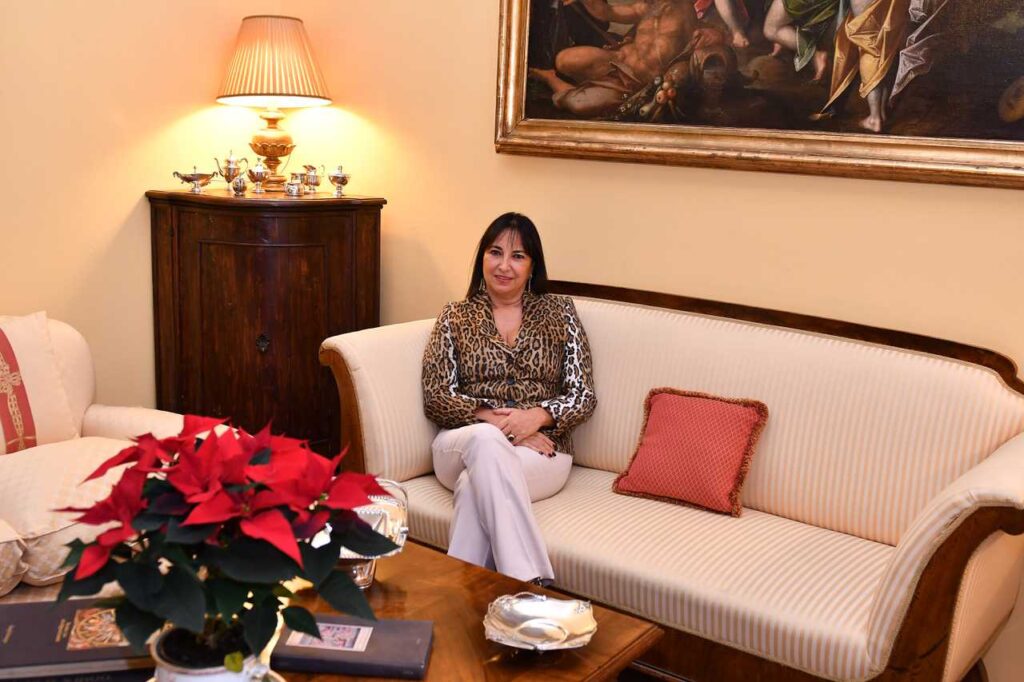 I'm sure you have very busy days, how do you spend your leisure time?
My hobby now is painting. I attend classes in a nice art studio with a wonderful Hungarian teacher and two wonderful friends. I make my own paintings and this is recharging me a lot. I took some painting courses held by a famous artist also during our posting in Iran. I even learnt there how to make rugs.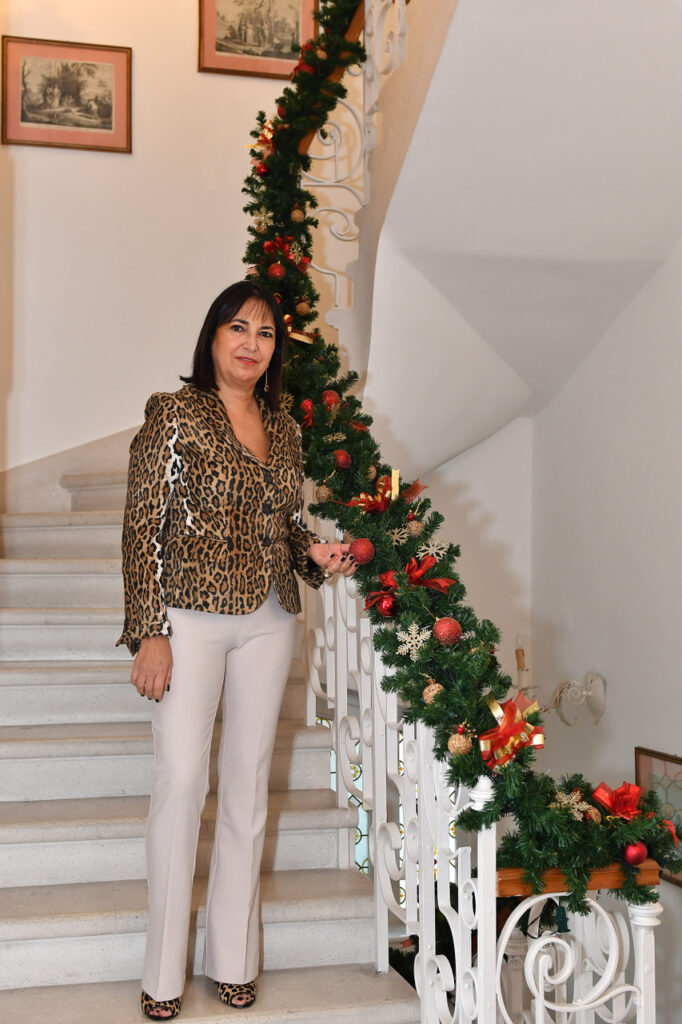 What do you miss the most from Italy?
What I miss a lot is the sea, which is very important for me. In Rome, the weather is very nice, so we can go to the seaside even out of season. Of course, I miss my family, my three children, but they can visit us here, they like Budapest very much, the summer concerts, the ruin pubs…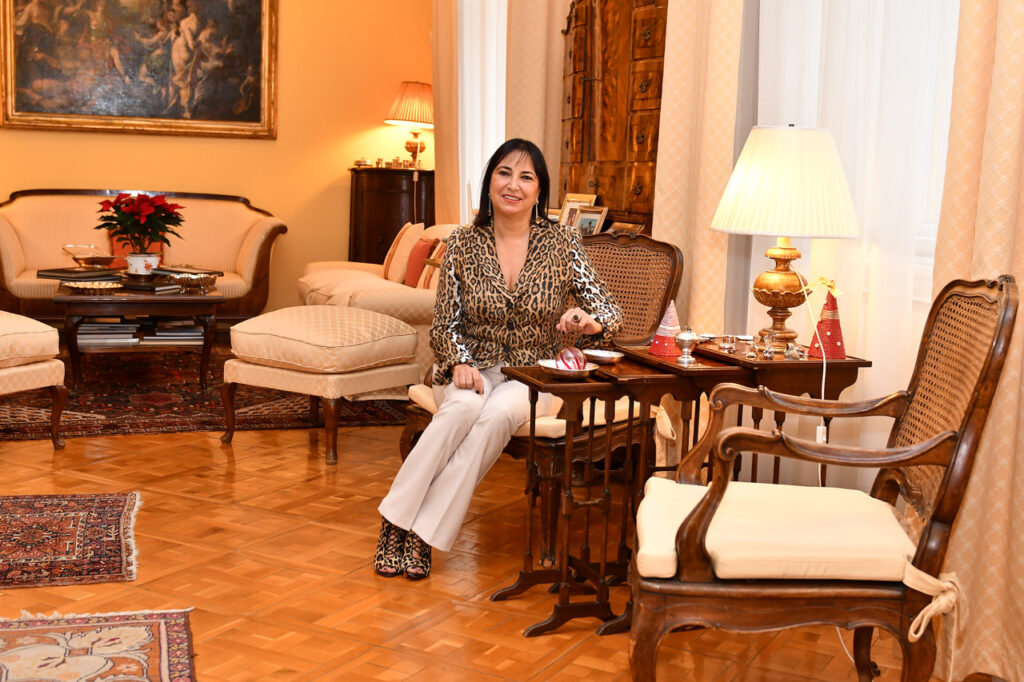 How will your family spend the Christmas holidays?
It's difficult to plan our Christmas now, as it depends on the pandemic. My son lives in Milan, my daughters are in Rome, so it's a bit complicated. Christmas with three children has always been the holiday. I used to arrange beautiful Christmas Eves with live Santa Claus, played by my husband or some friends. We always decorated the house together. On Christmas Eve, we prepare an exquisite dinner based on fish, which is a tradition in Italy. After dinner, at midnight we exchange gifts, and then play games like Bingo and Risk until early morning.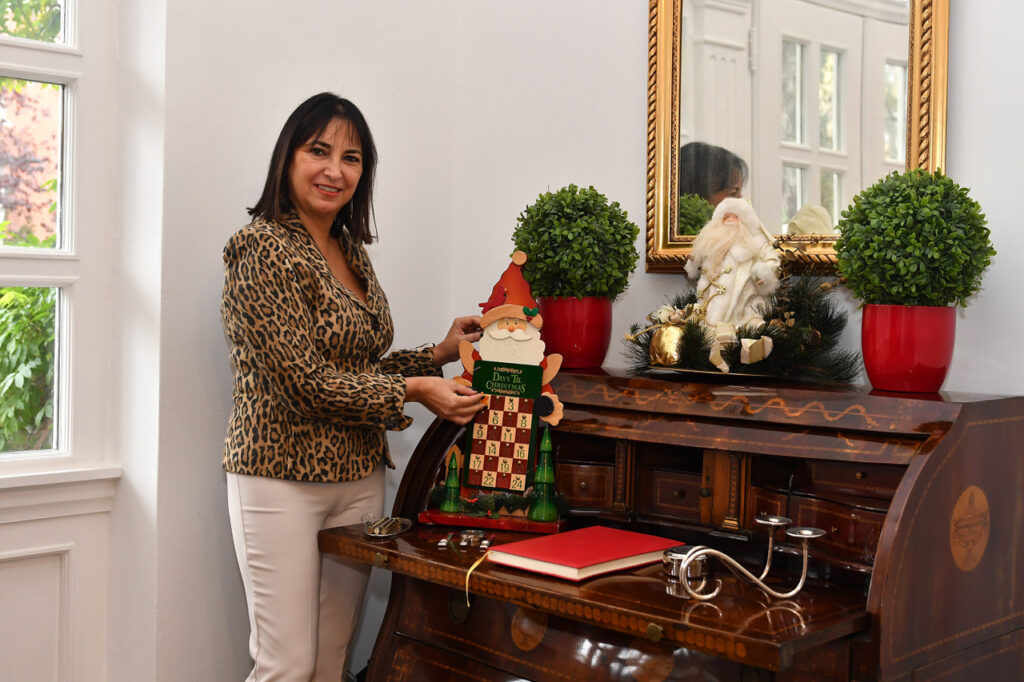 If you could change something in the world, what would it be? What do you wish for the New Year 2021?
I wish we could all learn to change our attitudes towards life. As Mahatma Gandhi said: "Be the change you wish to see in the world."
We have to take responsibility for what we think, how we behave, and to focus on getting to know ourselves better and how we contribute to society. But the first responsibility is to make ourselves happy and keep in balance. Our inner world is mirrored in the outer world, so it is very important to create our inside harmony. Of course, I want this pandemic to disappear, which causes a lot of suffering, uncertainty and I wish to meet and hug our friends again… In difficult moments, we need to lift our spirit and transform a negative situation into an opportunity and concentrate on little things we can do, to feel better. So, I started the Christmas preparations and decorations very early this year.
Buon Natale e felice anno nuovo!