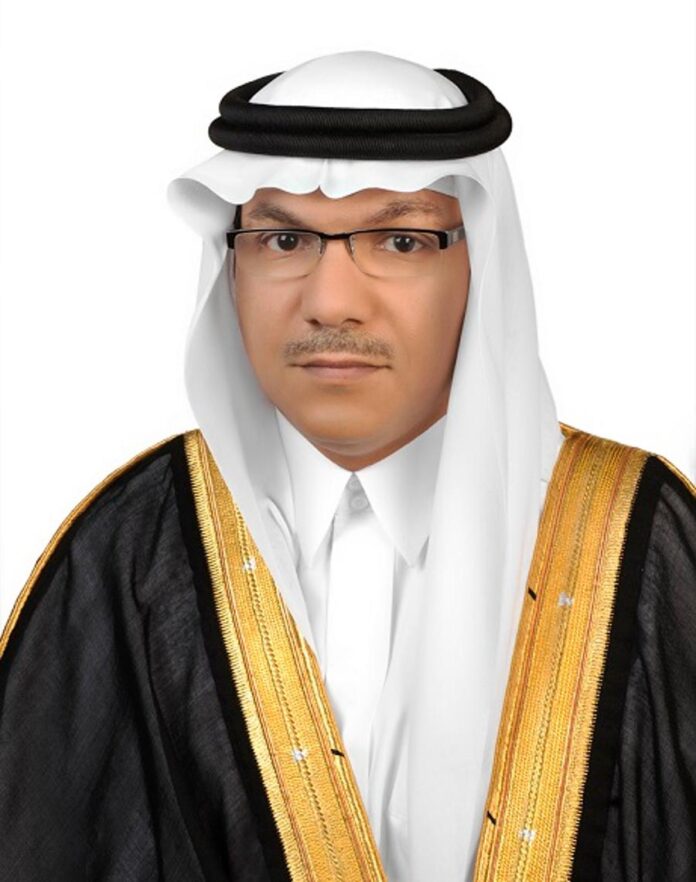 by Anna Popper
by Anna Popper, Senior Editor of the Diplomatic Magazine
Farewell Interview with H.E. Mohammed A. Al Matrafi, Ambassador of the Kingdom of Saudi Arabia to Hungary
'Saudi Arabia & Hungarian Impressions' – a Book to Bid Farewell
Your Excellency, how do You see the evolution of cooperation between Saudi Arabia and Hungary in view of the 25th anniversary of diplomatic relations between the two countries?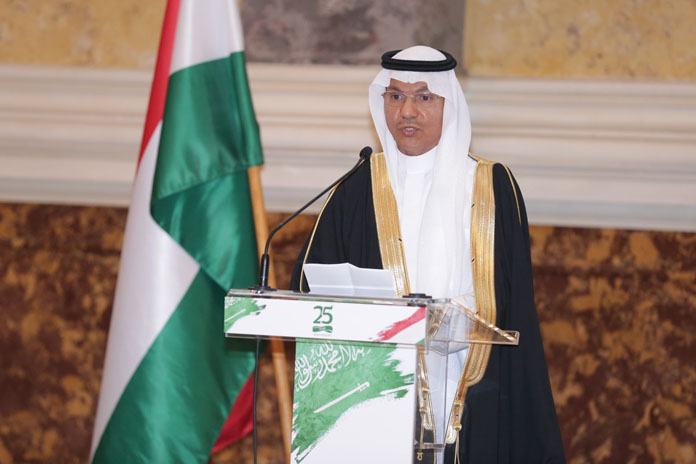 In 2020, we are celebrating the 25th anniversary of establishing diplomatic relations between Saudi Arabia and Hungary in 1995. To commemorate this historic moment, we organized an official event on the 14th October in the Hungarian National Museum. It was a significant moment to evaluate the current development of our relations and importantly to explore undiscovered opportunities for future cooperation in all fields. I believe that the development of cooperation between the Kingdom of Saudi Arabia and Hungary has grown steadily over the last 25 years based on constructive dialogue and mutual understanding.
How would You summarize the achievements during Your tenure in Hungary?
In recent years, bilateral contacts have continued their progress and proudly witnessed several significant outcomes in all political, parliamentary, economic and business areas. The exchange of high-level visits between our countries have steadily increased, including the official visits of H.E. Dr. László Kövér Speaker of the Hungarian National Assembly in 2015, H.E. Dr. Abdullah Al-Sheikh President of the Shura Council in 2017, the Saudi Assistant Minister of Defence in 2019, and the Saudi Minister of State for Foreign Affairs H.E. Adel Al-Jubeir in 2020.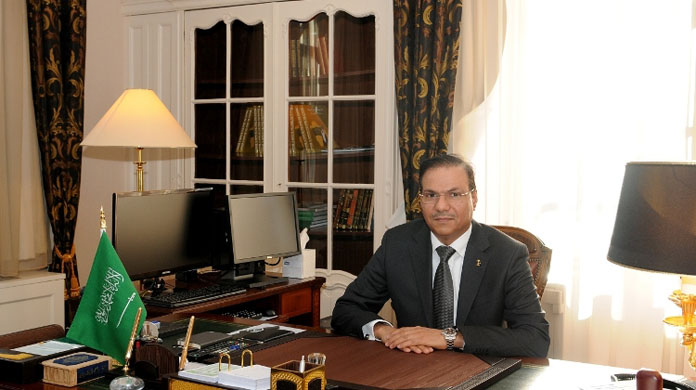 During my more than five-year term, two additional agreements have been concluded: on Cooperation in the Peaceful Use of Nuclear Energy, and the Communications and Information Technology Cooperation. The Memorandum of Understanding (MoU) for Air Service Agreement is ready for signing during the next visit of Péter Szijjártó, Minister of Foreign Affairs and Trade to Riyadh on 21st October 2020. There are other ongoing discussions for additional bilateral agreements in Water Management, Tax Administration, Protection of Foreign Investment and Tourism. The Saudi – Hungarian Joint Committee plays a key role in advancing bilateral ties. The Committee is expected to convene its third session in Budapest in December 2020.
Celebrating the 90th anniversary of Saudi Arabia's National Day, marking the unification of the country, what are the country's major accomplishments that the Saudi nation has witnessed?
The celebration of the National Day in 2020 is a precious occasion to recall the great deeds and historical achievements of the founder King Abdul Aziz Al Saud, may God rest his soul, and his loyal men in laying the foundations of peace, stability and prosperity for a vast country. It is also an important occasion where Saudis, at present, are proud of their country's leading role amongst modern and civilized countries, under the leadership of the Custodian of the Two Holy Mosques King Salman Bin Abdulaziz Al Saud and HRH Prince Mohammad bin Salman. Obviously, during King Salman's reign, the most remarkable and impactful achievement is the launch of a comprehensive Saudi Vision 2030, announced by Crown Prince Mohammad bin Salman in 2016. It is an ambitious blueprint for the socio-economic transformation of the Kingdom, aims at diversifying sources of income and improving the living standards of the Saudi people.
At the front of woman empowerment and as part of the reforms of Vision 2030, a Royal Decree was issued to promote women's rights in various fields. Furthermore, Saudi women hold important positions as deputy minister, ambassadress, university president and chairperson of many companies, such as the Saudi Stock Exchange (Tadawul).
Saudi Arabia hosted its first ever women's bicycle race in April 2018. My government appointed the first female ambassador to the US and posted the second female ambassador to Norway.
Within Vision 2030, Saudi Arabia introduced Tourist Visas in 2019, thus opening our country to international tourism.
Another achievement that I'm proud of is the generous US$48.27 billion Saudi humanitarian aid provided to all people in need in 154 countries, regardless of gender, race or religion. The celebration of our 90th National Day came with Saudi Arabia's important role as President of the G20, coordinating international efforts to fight the COVID-19 pandemic and curb its humanitarian and economic impacts.
To bid farewell to Hungary You chose a unique way: editing an extraordinary book entitled 'Saudi Arabia & Hungarian Impressions'. What was the motivation of this excellent idea?
Two years after I assumed the honourable duty to represent and serve my country in Hungary, the idea of this book emerged, driven by the lack of sufficient information and news I have perceived about the various cultural, economic and social aspects of my country and its people. The information in this book is based on verified data and statistics, together with photos by a Hungarian professional photographer.
The first section presents a variety of topics with a brief introduction on Islam and religious journey to the Holy sites in Makkah and Madinah, and a brief account of the history and culture of Saudi Arabia. One can also learn about the humanitarian aspects of Saudi Arabia's foreign policy. The second section is dedicated to Saudi Vision 2030 and its bold concept, ambitious programmes and initiatives.
The main part of the book is about the new touristic endeavour Saudi Arabia has embarked. Special attention is paid to our sites inscribed on UNESCO World Heritage List.
The last section describes the personal experiences, views and memories of some Hungarian friends, who have visited or resided in Saudi Arabia. I look forward to this book as yet another tool to strengthen the existing cordial relations between Saudi Arabia and Hungary, and to promote mutual understanding, respect and visits between the peoples of the two countries.
Extraordinary Virtual G20 Leaders' Summit hosted by Saudi Arabia
The Kingdom of Saudi Arabia embarked on a milestone journey when it assumed its annual G20 Presidency in 2020, as the first Arab country taking over this immense responsibility from Japan with pride, honour and openness. The next landmark moment will be the 15th annual G20 Leaders' Summit held virtually and headed by the Custodian of the Two Holy Mosques King Salman bin Abdulaziz Al Saud between 21-22 November 2020. The Saudi G20 Presidency is working under the theme of "Realizing Opportunities of the 21st Century for All", focusing on three aims: Empowering People, Safeguarding the Planet and Shaping New Frontiers and a better world.
On 26th March 2020, the Saudi G20 Presidency convened an extraordinary virtual G20 Leaders' Summit called for and chaired by King Salman to support a coordinated global response to the COVID-19 pandemic and its human and economic implications.
At the emergency meeting held without the personal presence of the members, global leaders were deeply saddened by the tragic loss of life and suffering of people around the world. Tackling the pandemic and its intertwined health issues, social and economic impacts is their absolute priority. The pandemic calls for a transparent, robust, coordinated, large-scale and science-based global response in the spirit of solidarity. In their Statement and Action Plan, G20 leaders expressed their determination to spare no effort both individually and collectively to: fight the pandemic and protect lives, support economies, safeguard people's jobs and incomes, restore confidence, preserve financial stability, revive global growth and maintain market stability, minimize disruptions to trade and global supply chains, provide help to all countries in need, and to enhance global cooperation on public health and financial measures.
– The leaders have committed to ensure adequate financing to contain the pandemic and protect people, especially the most vulnerable. Actions such as the exchange of epidemiological and clinical data, the sharing of research and development materials, and the global strengthening of health systems will be pursued. The G20 leaders also pledged to strengthen the World Health Organization (WHO) mandate in coordinating the international fight against the pandemic, including the protection of front-line health workers, the delivery of medical supplies, especially diagnostic tools, treatments, medicines and vaccines.
– To safeguard the global economy, the leaders discussed the measures they are taking to support their economies, protect workers and businesses, and shield the vulnerable through adequate social protection. The need to address debt risks in low-income countries due to the pandemic was also discussed, and the International Labour Organization (ILO) and the Organisation for Economic Co-operation and Development (OECD) were asked to monitor impact of the epidemic on employment.
– In the context of international trade disruptions, leaders reiterate their goal to realize a free, fair, non-discriminatory, transparent, predictable and stable trade and investment environment, and to keep their markets open. They promise that trade measures to protect health will be targeted, proportionate, transparent and temporary.
– In terms of enhancing global cooperation, G20 leaders expressed concern about the risks posed to all countries, particularly the least developed countries. The specific risk of refugees and displaced persons was also mentioned. The leaders also noted the value of efforts to postpone major public events, particularly the decision to reschedule the 2020 Tokyo Olympic Games and EXPO 2020 Dubai.
During the virtual summit, Tedros Adhanom Ghebreyesus, WHO Director-General, urged the leaders to "Fight, unite, ignite": fight the pandemic without excuses; build on the solidarity already sparked by the crisis; and ignite a global movement to ensure this never happens again.
Guy Ryder, ILO Director-General, stressed the need for measures such as extending social protection, supporting job retention, and financial and tax relief. He called for social dialogue to engage workers, employers and their representatives, as a vital way for building public trust and support for measures that work to overcome crisis.
G20 has taken unprecedented action at an unprecedented speed: over US$11trn has been injected into global economy, US$14 billion in debt-relief for the world's poorest countries and contributing US$21 billion to support health systems and vaccine hunts.
G20 leaders agreed to mobilize the necessary funds for international organizations response programs.
The Kingdom of Saudi Arabia, in response to the commitment made at the Extraordinary G20 Leaders' Summit, has pledged US$500 million to relevant international organizations to support global efforts in combating the pandemic: US$150 million for the Coalition for Epidemic Preparedness and Innovation (CEPI), US$150 million for The Global Alliance for Vaccines and Immunizations (GAVI), and US$200 million for other international and regional health organizations and programs. This important contribution was aimed at supporting emergency and preparedness response, developing and deploying new diagnostics, therapeutics and vaccines, fulfilling the needs of international surveillance and coordination, and ensuring sufficient protective equipment for health workers.
Recognizing the importance of global solidarity and cooperation in combating this severe pandemic, the Kingdom has called on all countries, NGOs, philanthropies and the private sector to take part in global efforts to close the financing gap needed to combat this devastating pandemic, which is estimated to be over US$8 billion according to the Global Preparedness Monitoring Board (GPMB).
The G20 continues to take steps under the Saudi G20 Presidency and acts collectively, immediately and boldly to combat the global effects of this pandemic and to implement priority actions in all G20 work streams.
The Kingdom of Saudi Arabia – as a Large Humanitarian Donor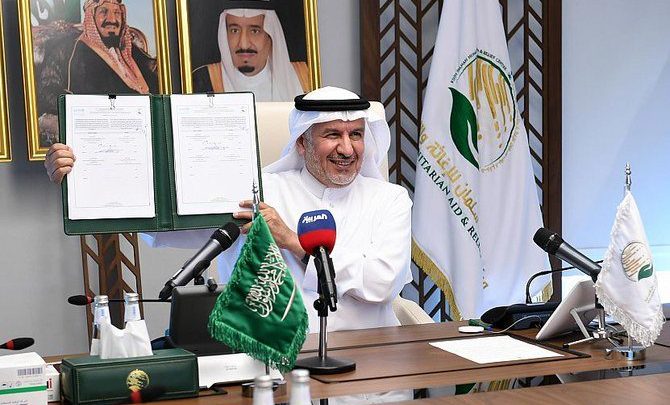 KSRelief Center for Humanitarian Aid
Saudi Arabia's humanitarian efforts exerted through the King Salman Humanitarian Aid and Relief Center (KSRelief). This Centre, which was established by King Salman bin Abdulaziz Al Saud in 2015, aims to coordinate and provide international relief to crisis-afflicted communities to alleviate the suffering of those in need worldwide. The KSRelief has helped 45 countries to date, through 1,062 projects, most are allocated to war-torn Yemen, being in severe humanitarian crisis.
The Kingdom has reached the fifth position in the world and, through its generous humanitarian aid, is the first in the Arab world. The Kingdom's grand total aid amounted to 48.27 billion USD to 154 countries, whereas the total amount of Aid provided only by the KSRelief reached 4.8 billion USD.
Humanitarian Aid for Yemen in 2020
Committed to humanitarian principles, Saudi Arabia has been the largest consistent donor to Yemen. 80% of Yemen's 30,5 million population is dependent on aid. More than 66% of people get food from relief groups operating in the country.
In June 2020, at a UN conference hosted by Saudi Arabia, international donors promised US$1.35 billion in new humanitarian aid for Yemen to fight COVID-19. The Kingdom itself pledged a US$500 million aid package (US$300 million to UN agencies and US$200 million to KSRelief).
The "Seed of Safety" Project
It is the latest aid project for Yemeni people: from March 2020 to March 2021, 600 fatherless children and 100 women, who take care of them, will benefit.
The KSRelief also executed a project to help the integration of displaced students in host communities in the Lahij governorate. In cooperation with the International Organization for Migration (IOM) from June 2018 to January 2020 a total of 3,468 students and teachers benefited from it.
Saudi Clinics in Hodeidah
KSRelief's emergency nutrition medical clinics continue to serve Yemenis in Hodeidah governorate. In August, more than 16,800 patients benefited from the project, and 13,300 people were provided with medication. The centre is also working on a water and sanitation project in the Al- Khawkhah district of Hodeidah, supplying 1,271,000 litres of drinking water to the district. A similar project is also underway in the Hajjah governorate to ensure water supply that benefits more than 6,320 people. KSRelief has implemented 344 health projects in Yemen in coordination with the Yemeni Health Ministry and local and international partners.
KSRelief Center Actions in 2020
– The KSRelief Center has signed a $15 million agreement with the International Organization for Migration (IOM) to carry out humanitarian projects in Yemen. 223,918 people will benefit as part of the UN Humanitarian Response Plan for Yemen 2020. The deal aims to provide emergency relief to displaced people, ensure access to education, and increase coordination in order to provide accommodation for people living in refugee camps.
– The KSRelief Center has signed a joint agreement with UNICEF to implement seven projects worth $46 million. The agreement aims to support access to education for Yemeni children affected by the coronavirus pandemic through remote learning. It also develops plans that allow children to safely return to school and train teachers to deal with the challenges of COVID-19. The projects will be carried out in cooperation with the Yemeni Education Ministry and the provincial authorities in 20 regions. It would also provide emergency COVID-19 equipment to treat patients in intensive care. The charity will also set up 60 respiratory screening points in hospitals and health centres, provide personal protective equipment for medical staff, and train health professionals to tackle outbreaks. One of the projects will focus on reducing injuries and deaths caused by malnutrition in children and pregnant women in eight governorates that have high levels of acute malnutrition. The agreement benefits almost 17 million Yemenis.
– KSRelief has signed more than $200 million in aid to Yemen through the World Food Programme (WFP), the WHO and the UN High Commissioner for Refugees. The amount was pledged to support the Yemen Humanitarian Response Plan 2020.
Saudi Arabia launches 188 projects across Yemen
The Saudi Development and Reconstruction Program for Yemen (SDRPY) has launched more than 188 projects across Yemen in seven sectors: health, energy, transportation, water, education, agriculture and fisheries, and capacity building of government institutions.
The SDRPY, in partnership with the Saudi Sports Ministry, has also begun renovating the Sports Hall in Aden.
The Saudi MASAM Project
The Saudi Project for Landmine Clearance (MASAM) in Yemen is implemented by Saudi cadres and international experts to remove mines in the Yemeni regions.
A total of 191,054 mines have been extracted since the beginning of the project. More than 1.1 million mines were planted by Iran-backed Houthi militias in Yemen during the conflict, claiming 2000 civilian lives.
KSRelief Aid for Sudan
Supporting the Sudanese population amid ongoing floods from September 2020, a Saudi plane operated by KSRelief carried enough supplies to help 30,000 people overcome the natural catastrophe in Sudan. Among the 90 tons of relief and food aid were 300 tents, 300 shelter bags, 1800 blankets, 210 food baskets and 40 tons of dates. More than half a million people have been affected in 17 of the 18 Sudanese states. KSRelief continues to deliver help to Sudan in state of emergency due to immense floods.