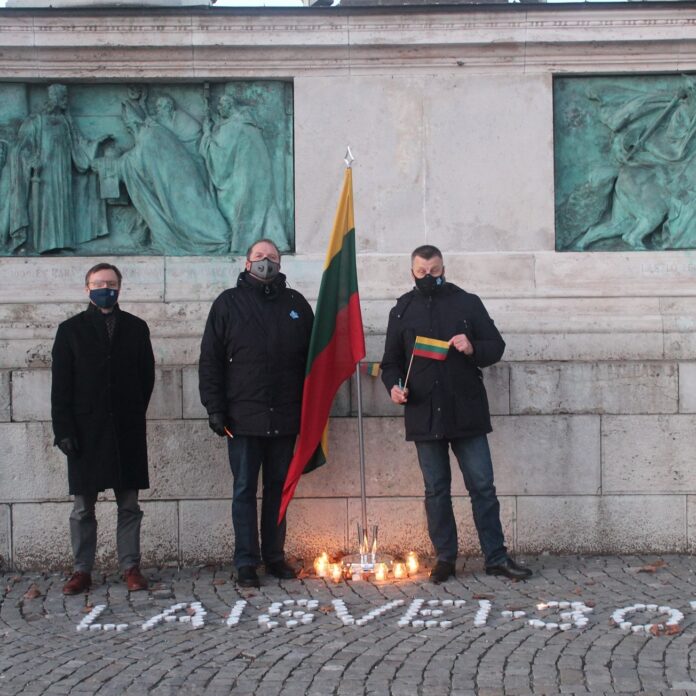 This year the 13th January, observed as the Day of Freedom Defence, was commemorated differently in Budapest than in previous years due to the pandemic. H.E. Vytautas Pinkus, Ambassador of the Republic of Lithuania to Hungary and his wife hosted a candlelit vigil on Heroes' Square, without big gathering, attended by Lithuanians and friends of the country.
Lithuania commemorates this day annually to honour those who died for its independence that the country re-established in 1990.
On 11th January 1991, Soviet troops stormed the Press Palace in Vilnius, which was the seat of most Lithuanian newspapers. Then Lithuania's non-violent revolution started. Thousands of unarmed people gathered near the Parliament, the TV tower, and the Radio and TV headquarters to create a human shield for protection. On 13th January, the Soviet military tried to seize the TV tower, but Lithuanian protesters peacefully protected it. However, 14 innocent people were killed and more than 700 unarmed civilians were wounded in defence of the TV tower.
Recalling this sad event, which became a historic date 30 years ago, Lithuanians create bonfire, and light candles in windows across the country and abroad. Thousands of people wear a Myosotis Forget-Me-Not flower on their chest as a strong symbol and a statement of their freedom and gratitude for the sacrifice of the defenders to grant liberty for the citizens of Lithuania. "Memory is alive because of the testimony" – was the motto of remembrance.
Anna Popper
Source: Diplomatic Magazine