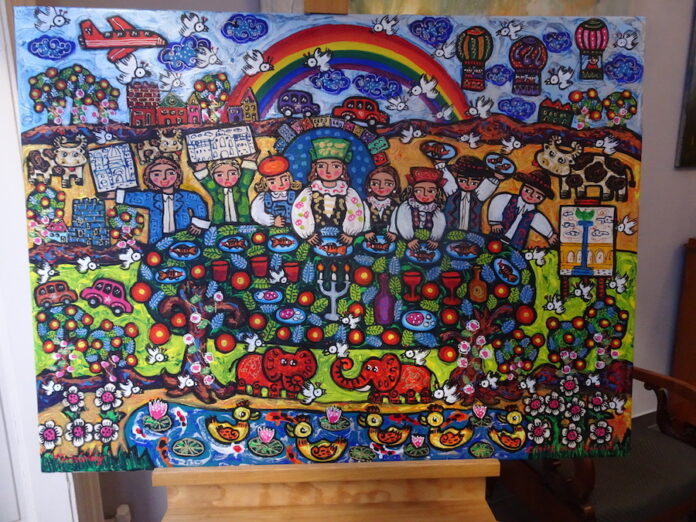 Written by Anna Popper, Deputy Editor-in-Chief / Diplomatic Magazine
To celebrate the friendship between Indonesia and Hungary, the Embassy of the Republic of Indonesia, together with Ari Kupsus Gallery in Budapest and Cemara 6 Gallery in Jakarta, organised an Artists Exchange Program, inviting 7 Indonesian and 4 Hungarian artists to a wonderful journey through two different cultures and art scenes, in 2019. The artists produced their artworks defining their perspective of both countries according to their personal experiences during their visits. The program helped to understand the differences between European and Asian art, and created lifelong friendships beyond borders – stated Mr. Ari S. Kupsus, curator and owner of the art gallery.
The 55 wonderful paintings and artworks will be exhibited together in the Spring 2022 with the title: Celebrating Diversity. The Exclusive Preview of Indonesia – Hungary Contemporary Art Exhibition, a road to 2022 Joint Exhibition, took place in Ari Kupsus Gallery on the 20th December 2021, attended by H.E. A. H. Dimas Wahab, Ambassador of Indonesia to Hungary, members of the diplomatic corps, and artists.
"We celebrate 65 years of bilateral relations between Indonesia and Hungary. Since then, various types of collaborations have been carried out. It would certainly be very positive to strengthen our bonds also in the field of fine arts. I proudly congratulate the efforts of the Indonesian and Hungarian artists who have completed their works, they deserve recognition and must be promoted" – the Ambassador said at the opening of the exhibition.