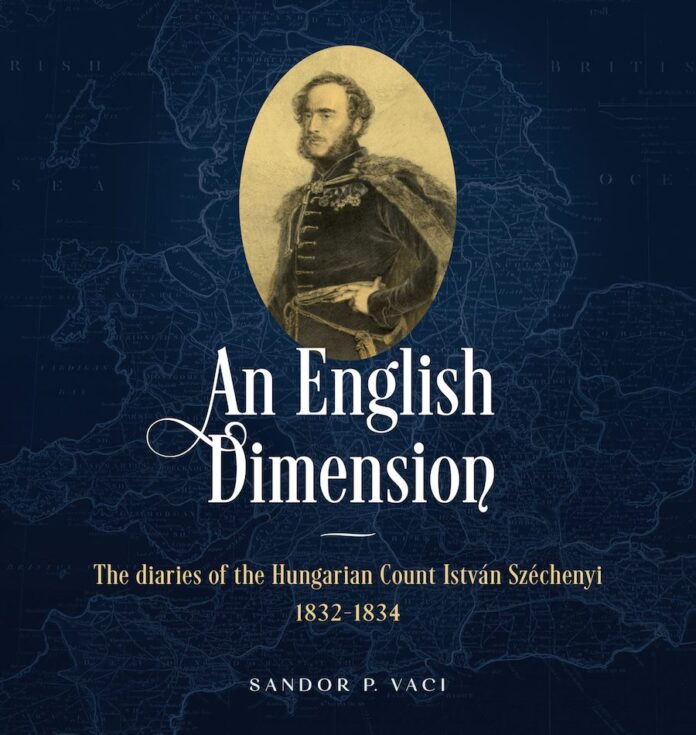 Written by Anna Popper
Deputy Editor-in-Chief / Diplomatic Magazine
This year we celebrate the 230th anniversary of the birth of the 'Greatest Hungarian' Count István Széchenyi (1791-1860). For this occasion, Pallas Athéné Publishing House presented a book by British architect of Hungarian origin, Sándor P. Váci, An English Dimension, compiled from István Széchenyi's diaries on his travels in England in 1832 and in 1834, translated into English.
The volume is a real sensation, as it is the first in English to present a selection from Széchenyi's diary and a true curiosity for today's British researchers and readers, as it introduces the contemporary England through the eyes of a curious Central European aristocrat, which was inspiring for his efforts in helping his homeland's development.
During the online book launch, CEO of PABooks Katinka Cseh said: Robert Evans, a Professor at Oxford University and a historian consultant to the author also highlighted that diary entries not only document key episodes of Széchenyi's extremely rich career, but also portray England from a unique perspective during the Industrial Revolution and the political reforms of the 1830s. At the same time, they provide an instructive insight into the world of contemporary Hungary through the thoughts of a Hungarian aristocrat. The volume should help raise awareness of the relationship between the two. Sándor P. Váci did this when he created An English Dimension from the diary entries in the »foreign visitors' impressions of England» style, a recognised literary genre in Great Britain. PABooks contributes to this by publishing and globally distributing the work.
The architect author's interest in the Chain Bridge in Budapest led him to Széchenyi's diaries. "This is a bridge designed and built by a British man and realised by the Hungarian national ambition. For me the first step was to read the 500-page diary translated from the original German into Hungarian," Sándor P. Váci recalled the beginnings. The next step was to get the original German text translated into English, then we had to make the text 'consumable' for today's readers with helpful illustrations, maps and links. The volume also creates a significant documentation of the era by registering the long-lost English books from Széchenyi's library.
Pallas Athéné Publishing House was established in 2017 with the aim of conveying a wide range of applicable knowledge and cultural values, focusing on four important scientific spheres: economics and finance, management, geopolitics and sustainable development. The availability of the latest information and knowledge is especially important, which is why PABooks publishes current bestsellers in Hungarian, from prestigious publishers with a university background such as Harvard University Press, Princeton University Press, Oxford University Press, MIT Press, and Stanford University Press. With this publication, PABooks have entered the international market as well.