Interview with Mr. John Kristof, COVID-19 and Pandemic Compliance Advisor
How does it feel when people just gaze at you when you introduce yourself as COVID-19 and Pandemic Compliance Advisor?
It's hard to explain without being misunderstood. This profession did not exist a year ago. I usually just say that I am a nerd sent to the front-line of pandemic defence in order to apply those orders, protection mechanisms, regulations and laws in the daily lives of workers and managers in a way that is not an interfering factor but a flexible, decision based, cooperative guideline, without losing any effectiveness in terms of pandemic defence or production. It is easy to make mistakes, and in these times, we pay the price for our mistakes in human life. Unfortunately, people are filled with fear due to the lack of credible information, continuously changing news come from everywhere, it may be contradictory, and then comes a Pandemic Compliance Officer /Advisor, and it's "mysterious" for them. My task is basically data mining, examining laws and regulations, and applying them into physical guidelines supplemented by completed experience to make them more realistic, and to introduce that guideline to workplaces. This task requires a lot of communication. Specialists with so much knowledge about COVID-19 pandemic compliance, planning, and real life inclusion are rare, so everything we say or do is in focus and followed by many. This is not a well-known job, maybe the healthcare system, film production and multinational companies know about us, where our job is to protect workers and help in the restart of production. We are not all doctors, although we do have medical professionals in our lines, including medics. We are analysts, planners, helpers and observers. We do not cure anyone, we do not diagnose medically, it is not our job. We harmonise and implement preventive, defensive and crisis management methods in everyday life, where this is necessary in symbiosis with professionals from other areas.
Last year you were appointed as Special Advisor of the Board of Directors of FEMERAID International on COVID-19 and Logistics matters. What exactly does this position mean and require?
I can describe it in one word: responsibility. FEMERAID International is an independent aid organisation performing a variety of medical and supportive tasks with exceptional experts, doctors, logisticians and volunteers. At their African centre in Angola, they have been running a hospital project for years, where the organisation supports and observes the entire healthcare system with strong expertise and support. In my home in Malta, EM Emergency Service does most of the COVID-19 patient transportation and rescue with its own vehicles, ambulances and dozens of experts. They tackle the challenges of this pandemic day by day. The FEMERAID International Air Rescue Team also operates its own aircraft from Malta, which has been converted to fly COVID-19 patients internationally. FEMERAID has a good team in Hungary too, working nationwide under the wings of the organisation's Vice President, Prof. Sir George Popper and his excellent management team. By the way, Sir George is a real gem for the organisation, having founded it as Prime Minister of KMFAP (Sovereign Order of Saint John of Jerusalem, Knights of Malta, Federation of the Autonomous Priories) and Vice President of the Ministerial Council (Lieutenant General of the Order) together with HMEH Prince José Manuel Costa da Veiga Cosmelli, Grand Master of the Order. So, I feel the responsibility for the advices I give. I hope we save many lives with our work. I did not have a predecessor in the organisation, so I have to figure out what to do, that is why I've been on several missions in Spain over the past few months, during which I observed defence protocols and advised oncology clinics. I travel a lot, so sometimes I do other work like installing oncology treatment machines when the manufacturing factory could not send its own specialist due to the pandemic. Everyone helps where they can. I had successful trips to Madrid, Cordoba and Barcelona in the last two months. I learn a lot during my travels and share my experiences with my colleagues at FEMERAID International and elsewhere. Thus, I was asked to prepare a COVID-19 log for different sectors, such as agricultural and meat-processing companies. I created COVID-19 guidelines for movie production, which needs to be updated with the new US regulations, as new emerging solutions are necessary. I have a lot to do with the development of medication and vaccination logistics in this ever-changing field.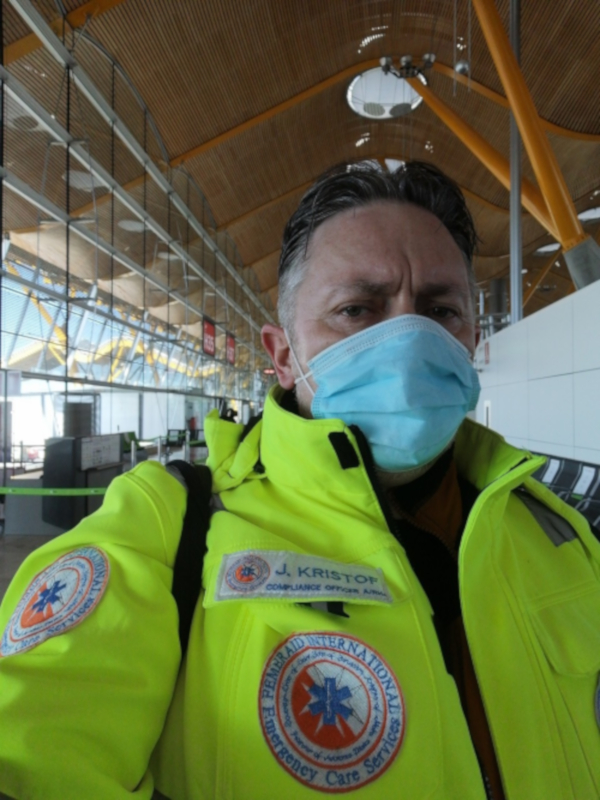 You've just become a European Union registered advisor in this field, what is your role with that position? Where will you apply this?
As a registered specialist, I mainly deal with European public health, HR, pandemic issues and I prepare COVID-19 compliance and healthcare protocols, regulations. Although I sometimes do special tasks, like helping universities to agree on research cooperation, monitoring Long (post) COVID-19 cases, assisting institutions in rare equipment acquisition, project organization and management, developing preventive protocols, and so on. I could list at least a dozen things as a new challenge comes every day.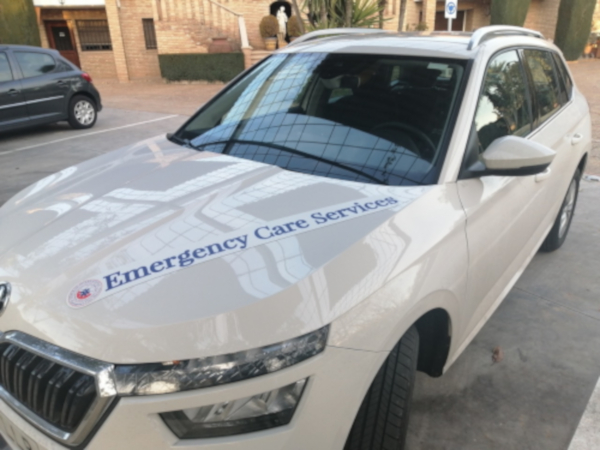 How can someone even become a pandemic /COVID-19 advisor, a specialist?
Becoming a specialist involves a lot of reading and studying. On average, in addition to my job, I complete six to eight trainings per month. Since June 2020, I received my 60th relevant certificate this January. There is a well-developed training program in the US that offers a wide range of modules and is constantly upgrading and updating its courses. You can find such programs in other countries, but it is common mainly in Anglo-Saxon nations. WHO also offers numerous well-made and unique basic modules. With some well-chosen certificates, you can get started. Courses like COVID-19 Compliance Officer or Assistant are a good start, but it's worth creating a more complex training schedule for yourself that qualifies you for team leading roles. Sometimes my colleagues and friends call me maniac because of how much I learn, but I don't really mind because I want to pass information between multiple sectors and specialties based on the idea "Stronger Together". I want to discover anomalies where communication suffers. My passion is to bring together different specialists in pandemic defence to be more efficient. For this reason, I not only train myself in physical protection and administration, but I have certificates in microbiology, public health surveillance and many more for professional physicians and psychologists from institutions like John Hopkins, Stanford, Brown and Toronto universities.
I always try to see the big picture and not just focus on one sector. There are people from each sector who are better at their job but can't see what they're doing or simply don't have time to analyse. I try to help them from outside in cooperation, I learn their working language and help them communicate. This is where I feel most useful. I consider my human resources management diploma at the University of Pécs a great advantage, which has given me knowledge in multiple sectors, also my experience as top level manager in multinational companies. All of this has helped me in the past with challenges that require product marketing, crisis, logistics and human resources management. Only now do I see how important continuous studying is and how much I still want to do it.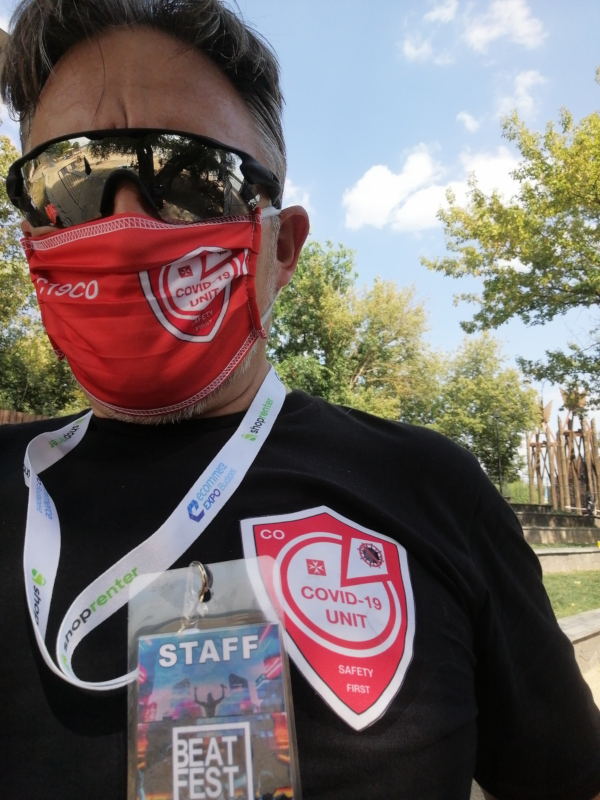 How do you see the future? Will this pandemic crisis ever end? What are your goals in your field?
I see the future in which physicians, frontline doctors and researchers together with specialists from other fields can find the ideal mixture of old and new treatments as a solution, and can serve and save people in need with right preventive and therapeutic methods.
This disease can be beaten. Not as quickly as we wanted, but we are on the right path, both with vaccination and with the use of existing or recently developed medicines in the progress of eradicating SARS-CoV-2. However, we should know that the current coronavirus is not the last pandemic of humankind. As the population grows, our life space is shrinking. Also, due to the climate change many territories that have been frozen are melting, releasing old but unknown diseases that may cause problems for mankind in our globalized world. I have a bad feeling that our specialists will have jobs with pandemics like this in the future. We should act faster and more efficiently, and be better prepared in our everyday life.
First, one of my goals is to use my job and knowledge to raise people's awareness. If we are aware, we act better and are safer in such a situation because the stress factor added is smaller. This way we don't harm our immune system in a psychological way. For me it is important that people do not fear these viruses. Uncontrolled fear disables you, leads to bad decisions, mistakes, and does not let you think clearly.
Secondly, it is important to teach people to act willingly, take care and think twice about what they do. I mean not only protect themselves but others, too. A human is a socially active being. Together we are stronger.
We must think responsibly, to be well informed and see the situation from all angles. Do not judge on the first sight because what we believe today, can change tomorrow due to a new scientific breakthrough. People should know the virus, how it works as well as the defensive and preventative methods.
Be tolerant to each other and to the regulations. If a regulation is not understandable, not clear enough, find someone who can tell you why that is needed, what it means. It improves our chances when our environment is healthy also by paying attention to each other, which is one of our most important traits. It is wonderful to protect and help one another, so these are principles of people working with both FEMERAID International and KMFAP. Our motto is: "OUR LORDS, THE SICK". It means those who need treatment lead our actions, and we help them. My goal is to serve, inform and help people with my constantly broadening knowledge, to deliver the message not to live in fear just because we do not know enough about something. We should live and act smart, this is the key to prevention and defence. We are all responsible for ourselves, our loved ones and every single person around us.
I am fortunate to be able to carry this responsibility with joy and passion, because there are amazing colleagues, specialists and leaders around me, so I can help anyone with confidence regardless of the field: healthcare, company management, agriculture or anything else. Everyone is welcome who wants to join us and support our mission either with their knowledge, physical help or funds. We are stronger together!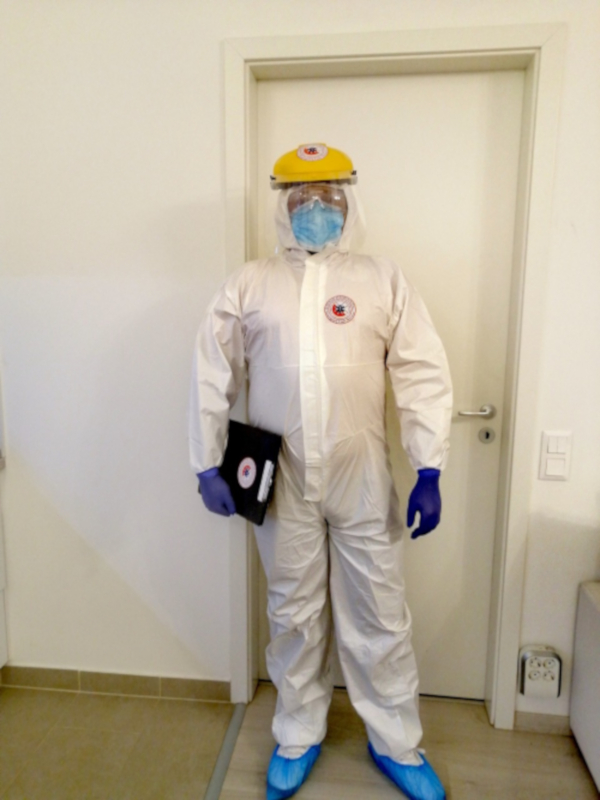 What would you like to say as a final note? Your last sentence would be perfect for that.
I just want to emphasise that my colleagues, all pandemic and COVID-19 specialists, officers, advisors and medics say: "Stay safe!" Take care of yourself and act wisely, you will be fine…
Anna Popper