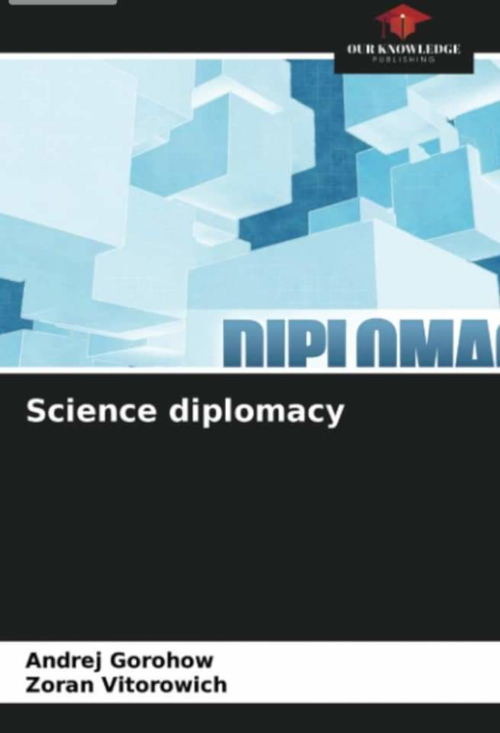 Science as a Tool for International Diplomacy
The book is the result of an international cooperation between two scientists and researchers: Andrej Gorohow from Russia and Zoran Vitorovic from Switzerland. Scientific diplomacy is considered by the authors not only as a theory, but as an important part of the foreign policy and relations in our era. It has become a real tool and mechanism to develop international cooperation, helping to build bridges and foster ties between countries and societies. This is a new kind of diplomacy that started to develop about 30 years ago and can be effective in the 21st century in tackling the world's most critical issues and global challenges, such as climate change, protection of environment and biodiversity, food security, air and water pollution, pandemics and public health. It embraces new fields of sciences that require joint efforts and shared knowledge: gen-technology, IT and AI. The present coronavirus pandemic is a living proof of the need for collaboration that can currently be observed in the fields of medicine and pharmaceutical research. The study provides an overview of centres, projects and international networks of science diplomacy in the EU, Russia, the USA, Switzerland, Japan and other countries. Based on facts, it reveals the history of the development of science, diplomacy and international relations in the modern world.
Science diplomacy can reduce tensions in modern international relations and contribute to solve both global and regional problems. The authors believe that scientists today can create an atmosphere of trust and promote collaboration globally, because they can communicate in the same language – the language of science and knowledge that is universal. The book was published simultaneously in nine languages by various publishing houses, in several countries, and it was out on 28th December 2020.
Zoran Vitorovic is a doctor of sciences, professor, expert in international relations. President of the Swiss Morning Star Association, author of the book Preventive Diplomacy and hundreds of scientific works. He is also Editor-in-Chief of Diplomatic Press Agency.
Andrej Gorohow PhD in Political Science, Editor-in-Chief of the scientific journal Russian Political Science. He is the author of more than 40 publications.