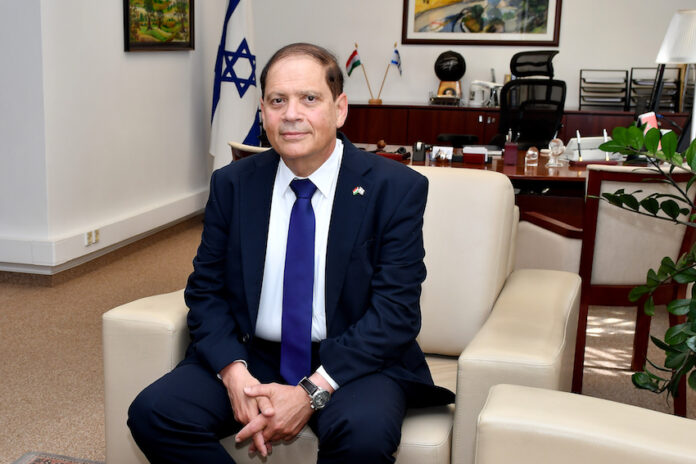 Interview with H.E. Yacov Hadas-Handelsman, Ambassador of the State of Israel to Hungary
Your Excellency, how did the State of Israel recently mark the 73rd anniversary of its founding? What are the greatest achievements of Your homeland that You are proud of?
– The celebrations went almost as usual for 71 years, apart from last year due to the pandemic. Israel, for the time being, has managed to win against the coronavirus. There are still many questions to which we still have no answers.
This year, celebrating the Independence Day got an extra meaning. In 1948 when the state was proclaimed, we were only three years after the biggest catastrophe in human history. We have lost a third of our people, 6 million Jews. Today, 76 years later, we still haven't reached the figure of 1939 when we were about 17,5 million Jews; now there are only 15 million in the world. After that shock, we were attacked by seven armies, but we managed sometimes with our fingers to hold on to this land. We also dealt with about 1 million Jews, who emigrated from the Arab world to Israel within a few years, because the Arabs, as a punishment, decided to get rid of the Jews. But we managed to survive, because Israel is probably the only state in the world that has been under existential threat since its establishment. We had to fight wars, we won them. There is a famous humourist writer, Ephraim Kishon, who wrote a book after the Six-Day War with the ironic title: So Sorry We Won. He said if we were to lose, there would be no other place for us to live, and we wouldn't survive as they would kill us all.
We are the only nation in the world that has solved the drinking water problem with building half a dozen distillation facilities, which turn salty water into sweet water at a very cheap cost, in an environment-friendly process. Our major achievements are: 1. survival, 2. being able to absorb the Jews, because Israel is the home of the Jewish people, 3. the ability to turn into a start-up nation. Everybody is looking at Israel today. What can you share with us, what can we do together?
A recent example: why Pfizer gave us a free-hand with COVID-19 vaccinations? Pfizer did it out of a purely commercial consent. You have a new product, you need to market it, showing that it is successful, and you can materialise it. Pfizer needed a country where the size of the population and their accessibility enable you to give them the shots, and you are well organised to do this. They also wanted to conduct researches to get the personal medical history. We don't keep the knowledge to ourselves, we help others and work together with others. We are cooperating with Hungary about the coronavirus. Israel is very advanced, although we always have to allocate a lot of money on security and counter-terrorism.
Regarding international statistics: we are among the 20 richest countries in terms of GDP per capita. Life expectancy is very high and Israel is among the 10 happiest countries in the world.
In Your opinion, what are the key challenges facing Israeli society today?
– The pandemic has changed a lot. It takes time to get back to the situation as it was before. This is the biggest challenge. Other challenge: Israeli society has 80% Jews and 20% Arabs. The Israeli Arabs show more and more interest to be full part of the society and the state, and you need educated people inside. The number of Arab doctors in Israel is much higher than their percentage in the whole population. It is a challenge to integrate them. Another challenge is the Ultra-Orthodox Jews, who are also seeking more and more opportunities to be part of Israeli society. And of course it's always a challenge to absorb the newcomers.
How do You evaluate the relations between Israel and Hungary?
– Relations are very good, based on two pillars: the past and the present. Jews played here a major role for centuries, especially after Hungary became equal part to Austria and Jews got their rights. It all ended in 1944, when most of that community was exterminated. It is still heart-breaking to go to Hungarian villages that were never thought to have been Jewish. You find there a Jewish cemetery, a synagogue – many of them renovated by the Hungarian government as part of the Hungarian heritage. Our present relations are excellent and multifold. Before the pandemic there were several daily flights from Tel Aviv to Budapest, all full, Israelis like to come here.
Regarding the political aspect there are very good personal contacts between the two countries on all level. By the way, politicians of Hungarian descent are easy to find in Israel and everywhere.
Despite Israel's strong economic and cultural presence in Hungary what are Your plans to enhance cooperation?
– There are many collaborations between Israeli and Hungarian companies in all areas, especially in high-tech. We are a start-up nation, your high-tech is also quite advanced. Hungary is still considered a pharmaceutical giant not only with Gedeon Richter Plc, but also TEVA Ltd. with its largest presence in Europe. Then the automotive industry, which is very interesting for us because you are very strongly engaged with the German car industry. Not only you do assemble the cars and manufacture the spare parts here, but also do R&D. We are also connected to all these companies – Volkswagen Group, BMW and Daimler-Benz – and I can be proud of that, as I established this context while serving as Ambassador to Germany. We work with the Germans, we don't manufacture cars, but offer solutions for modern cars, such as IT, the self-driven car, the navigation system, so we are very strong at that. My idea is to create a triangular cooperation: Israel–Hungary–Germany. I wish this dream to come true and have the three countries together.
I hope we can do some water management and smart agriculture projects, because agriculture still plays a role in the Hungarian economy. In a world of climate change, what can you do to invest less in agriculture and get more? You have problems with less rain, more drought, but you do not run out of water, I wish we had the water you have. The only thing is to manage the water.
What is the major contribution of the Abraham Accords recently signed with some Gulf states, in addition to the relationship previously existed at different levels?
– We didn't start from nothing. I dealt with this issue 20 years ago, in my other capacity. We had these kind of relations, but under the table. And now for the first time it was possible to put it over the table. The countries, many in the Gulf area, concluded that it is time not to hide from anyone, not to shy away from anyone and to trust us. The potential and the prospects for cooperation are very high, especially in the Gulf states, because they have the money, which is essential. But it doesn't mean that you are using the money properly. And those countries started to use it in the right way, because after all the luxury, wealth and comfort that you make in your life with your money, you want to use it well, you want to be a player. So, they cooperate with us, and this is the most beneficial for both sides, for all Gulf countries and for the Israelis. Regarding Morocco and Sudan, it is a different background. But again, you cannot count how many Israelis of Moroccan origin we have. Earlier hundreds of thousands of Jews lived in Morocco, most of them emigrated to Israel, France or Canada. The world is looking forward to this new reality, and those who do not adjust themselves, stay behind.
Please tell us about Your professional career.
– Doors are open to you as a diplomat or ambassador. I met many Presidents and Prime Ministers, as I was not only in charge of the Arab world, but I was twice Ambassador in Qatar and Jordan. Peace and relationship must be built on two levels: the leaders and the people. If you don't talk to people, they won't get to know you. For me people are very important. I really believe in going to the countryside, to wherever being invited, staying in touch with local people and talking to them, thus we diplomats can build bridges.
How do You assess the current situation in Your country? What are the prospects to resolve this tough conflict?
– I cannot say how long the current ceasefire will last. However, if it solely depended on Israel, we could have peace tomorrow! Unfortunately, over two million people in the Gaza Strip live under the authority of Hamas, which is a terrorist organisation even according to the EU's official standpoint. Hamas uses Western taxpayers' money meant to be used to rebuild Gaza to arm itself, so we need to make sure this does not happen in the future. Also to ensure that Hamas allows the return of two Israeli soldiers' bodies and our two citizens held in Gaza, who crossed the border by mistake.
Hamas' ultimate goal, included also in its charter, is to eliminate the Jews and the State of Israel, and they claim all the territory stretching from the Jordan River to the Mediterranean Sea to the Palestinians. In fact, they preach for a certain death culture where martyrdom is a virtue, while for us life is the most sacred virtue. What I can say with certainty is that the Israeli government and the public are losing patience.
Your Excellency, what would be Your message for our future?
– The world is constantly changing, sometimes in the right direction, sometimes in the wrong direction. But it only proves that we depend on each other, we need to work together. Let's take the environment. The fact that Hungary is environment-friendly is very positive and important, but it won't change the environment. You need to approach the big countries, the big contaminators to change attitudes. We all have to be more considerate about others. There are new advantages, new avenues, new excitements, new adventures, but there is also sadness, and if you take the COVID-19 it put us back to our right place in the universe. It means we can go to the Moon, we can fly to Mars but sometimes we have something like a mosquito driving us crazy, and you try to kill it but you cannot find it. The same goes for the virus. It comes you, drives you crazy, ruins your economy, entraps your life.
I think we should be more humble and realistic, knowing that we need to cooperate with each other, because it is our common interest.
Anna Popper
Source: Diplomatic Magazine