Author: John Kristof
There is a well-defined place in the world where the total number of Roman Catholic churches is over about 5,600, and there are about 10,000 other Christian denominational churches in the said region such as the "Syro Malabar Catholic Church" with nearly 3,250 churches, and 2,500 Jacobite Syrian, Orthodox, and other Apostolic churches, as well as Marthomite's prayer houses and churches. In addition, there are more than 1,500 Protestant and Pentecostal churches in the area. According to some not-exaggerated estimates, the number of churches in the Christian communities, together with smaller and larger places of worship, can reach 20,000.
Does the reader have any idea as to where this place rich in Christian churches is? In Italy? In Spain? In Malta? In Argentina? In Mexico?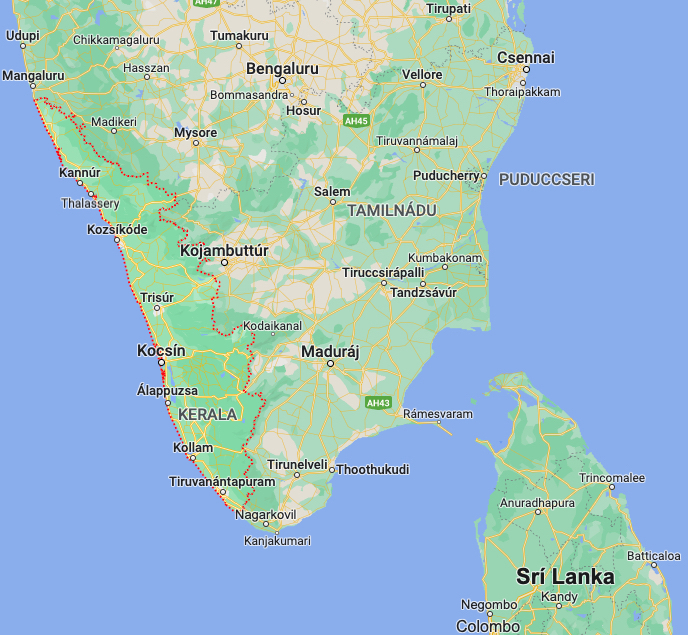 Not, but in India. In the southern region of India lies the extreme southwestern coastal state of Kerala, covering 38,000 square kilometres with 35 million inhabitants. Kerala stretches for about 360 miles (580 km) along the Malabar Coast of the Arabian Sea. This small state, which makes up about 1% of the country's total area, has been named one of the ten paradises of the world by National Geographic Traveller. Famous for its natural beauty, backwaters and ecotourism, its spice- and tea-plantation-covered hills are dotted with fiercely protected wildlife reserves and cool hill stations. Its unique geography makes it one of the biggest beneficiaries of the south-west monsoon.
About 3% of India's population lives here and religious peace and tolerance can be felt in the air. Kerala is the most densely populated, most educated, most religious and most progressive state in India. Encountering it during a journey in India, many questions arise in the traveller's mind at first touch. Thiruvananthapuram, formerly called Trivandrum, is the capital of Kerala with 900,000 inhabitants. This simple name means "the city of Lord Anantha" (or Ananda), and is the thousand-headed sacred serpent upon which Vishnu rests.
Why are there so many Christian churches in Kerala and who sponsored them all?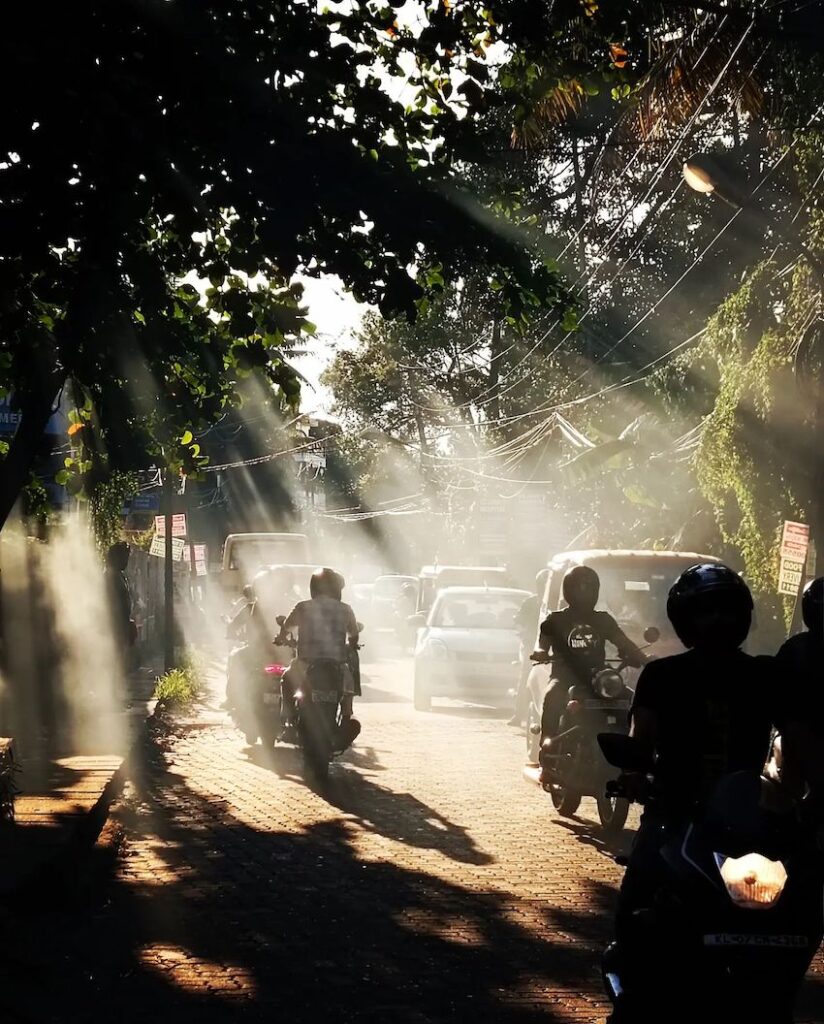 How is it that Christianity along with the Hindu, Sikh and Muslim religions, has taken such deep and stable roots in this southern state?
How can religions and believers get along with each other in this environment?
A thousand questions flash in the traveller's mind at this time, to which he doesn't even know from where to get answers.
Arriving in India after the first culture shock, I immediately started looking for answers right where I was standing, in front of a church in a small street of Kochín (Kochi), a few days before Christmas.
Recent information has played an important role in my attempt to understand this cultural and religious diversity and mixing.
Kochi (formerly Cochin) was already known in ancient times by the Egyptians and Romans as an important trading port. The city was always cosmopolitan, because here in the Middle Ages the first Christians, the Chinese, Jews fleeing persecution, the Arabs and then the Europeans (Portuguese, Dutch, English) landed. Vasco de Gama, the Portuguese explorer set foot there in 1498. These successive waves allowed the rapid development of Kochi, making it a major centre of the spice trade. Some areas of Kochi have preserved a European atmosphere.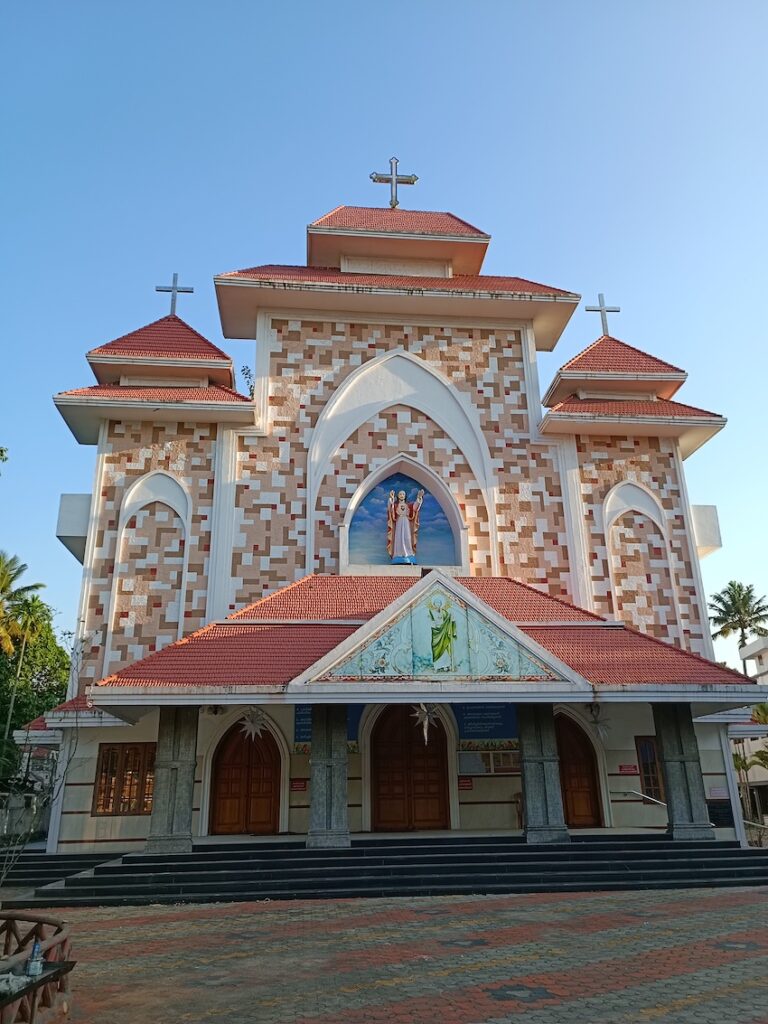 Thanks to the information cloud, which also exists in India, I quickly got an answer to one of my questions. So what you need to know about supporting religions in India is a very simple formula. No one else supports the churches in India, only the "believers". Mostly, members of the same congregation build their churches for themselves. When 1,200-2,000 families are grouped around a parish, they really need a big church.
The church here in India is not being prepared for some kind of luxurious presentation, not just the appearance of some power maximalism.
Here, 2,000 families mean that in the community at least 8,000 people go to church on Sundays and 2,000-3,000 on other days. If the church has any historical significance, i.e., any historical or personal event can be connected to the church, then the number of visitors will at least double.
Take, for example, the Edappally Forane Church (St. George's Syro-Malabar Forane Church) in Ernakulam (Edappally), the chronological foundations of which date back to 52 AD, when St. Thomas the Apostle came to India and he converted a small group of believers (he was martyred near Madras in 72 AD.), as well as the construction of the small church, the predecessor of the church, is traced back to 593-594 AD, when the Paravuri family built it, and then in 1080 a large church was also built next to the small church, because the small one had outgrown it by the number of believers. The current church structure was completed in the 1970s when the main "Madaba Altar" was renovated and the image of the "Virgin Mary" was added to it.
The 1400th anniversary of the founding of the church was celebrated on 18 January 1994. Mother Teresa visited the event as the guest of honour from Calcutta. To commemorate this, a bell tower was built on the church grounds, the bell of which was later moved to the archangel tower of the new church.
The cornerstone of the third church – blessed by Pope John Paul II. – was laid on the 1 January 2001. The octagonal temple is 141 feet (43m) high, covers 88,000 square feet (8,200 m2) and is one of the largest temples in modern India.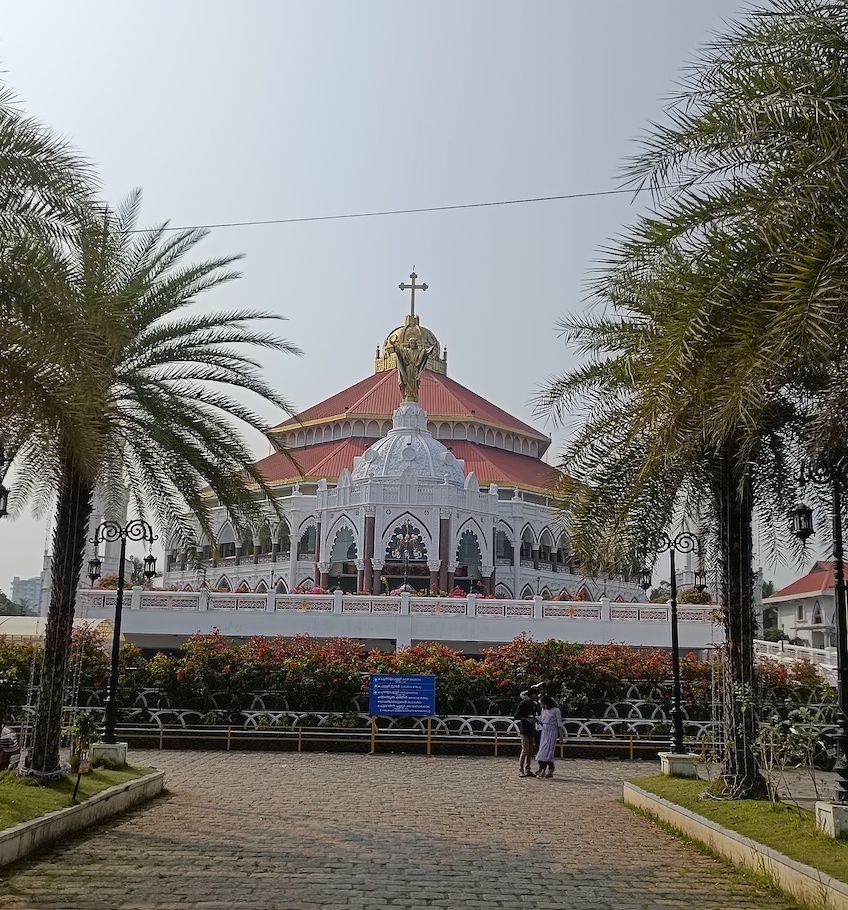 Combining European and Kerala architecture, the 'Madbaha Altar' is made of teak wood imported from Italy covered with gold foil, and two bell towers were built for the temple. The statues represent the Old (original sin, Noah's ark, Cain and Abel) and New Testament scenes (the story of Jesus). The altar depicting the Resurrection is surrounded by Vietnamese marble carvings.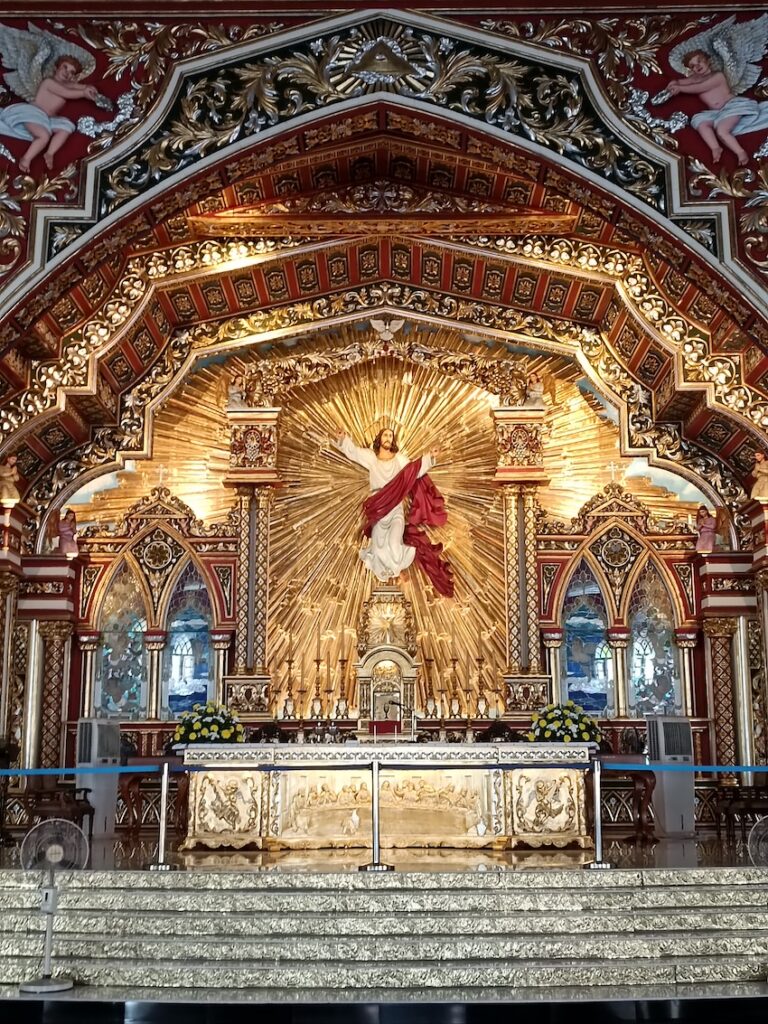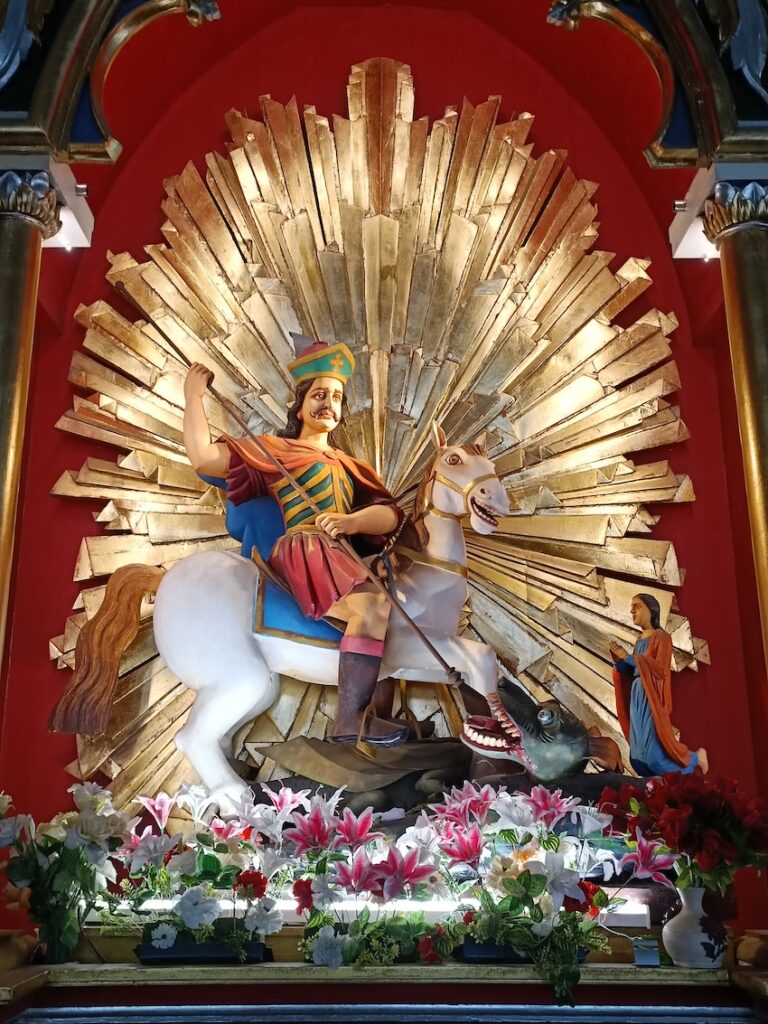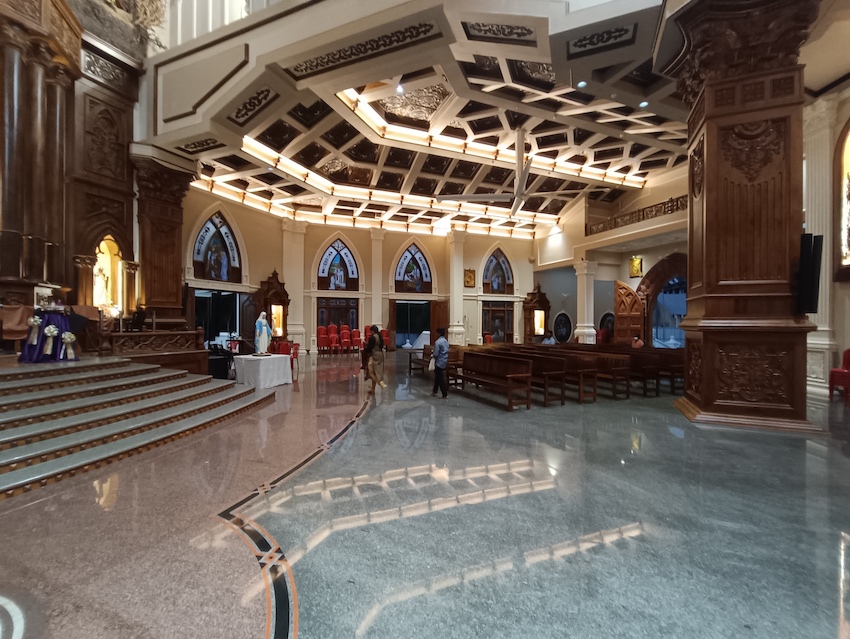 The 19,500 square feet (1,810 m2) main chapel seats 5,000 people and the entire church capacity is for 10,000 people. The two older churches were preserved due to their historical importance. I think this is a pretty serious reason for a church to be visited and experienced by 15,000-20,000 believers on a weekend.
Here you can find more detailed information about the church, it is worth taking a look at the pictures and videos: https://www.stgeorgeforanechurchedappally.org/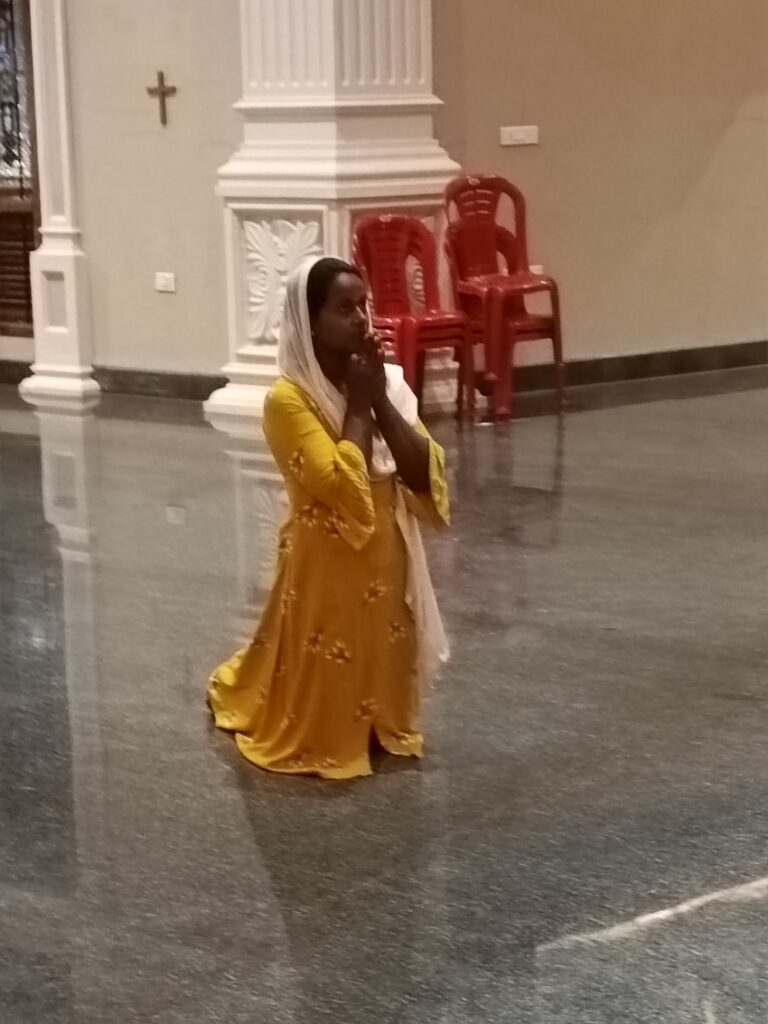 We should not blindly blame the church communities of Kerala for highlighting the history and giving such richness to their temples. This is the need of the members of the Indian church communities, they need places where they can embody the expression of their faith and the deeper the roots of this, the deeper the strength they feel in their faith. But the most beautiful thing, despite the above, is that they preserve the simplicity and purity of the faith because it is their own and they also build the altar for it.
Let's see how such a community construction of our own takes place. The financial fund collected by the community and the community is taken over by the leadership of the church, in the best case it is increased, and the churches are built or renovated and expanded from these funds. All the money goes to the local contractors involved in the construction and (in Kerala, this is a very important aspect as the province is currently led by a party union with a strong communist identity) the 'working class' who build the churches. Isn't that much better than storing money in concrete vaults and accumulating passive values? This active value creation characterizes Kerala communities.
After the historic withdrawal of the British Empire in the 1970s, the people of India in the Kerala region made great efforts to build schools and temples. Most of the work at that time involved volunteers helping in construction, and volunteering was extremely important in India's rebuilding in the 1960s and 1980s. Most of the hill country roads built in Kannur district were built by the people themselves without the help of the government, they worked as long as they had the strength or the means. That was typical of the dairy region. At that time, Christian priests, Hindu monks and Muslim imams also invited believers to do voluntary work on the roads, in schools and in churches to jointly build or renovate and modernize them.
This may be the basis of religious tolerance, which I also know is kept alive and appreciated by communities, which sometimes also appears in ordinary things that make you smile, such as Ganesha standing proudly on the car's dashboard and protecting the passengers on the road, but on the car's key ring Jesus poses in glory in a cheap plastic frame.
When I asked my driver how this could be, he said: "I am a Hindu person, so having Ganesha in my car is very important to me." – with a key ring depicting Jesus clutched in his hand.
"It's good when Ganesha and Jesus are in my car together, that's for sure Jesus always helps when Ganesha would have his eyes elsewhere, since Ganesha is also just a god, he may have to do many other things."
At first I thought he was joking with me, but seeing his eyes I realized he was dead serious. This is India.
Churches built 30-50 years ago have been rebuilt in the last 5 or 20 years and are constantly being expanded or renovated. Somehow there is always a source as members of the parish supported them. In some cases, they ask other parishes for help, which is later returned. Churches, then and now, are not only religious institutions, but also centres of social life and education.
Churches or Parishes in Kerala also built hospitals and provided medical assistance to the people. These institutions still function with great efficiency today. They range from primary health centres to hospitals with a wide range of medical services. Providing medical assistance to the poor has always been a goal, and churches continue to do so steadfastly, regardless of religious denomination.
As one of the hospital deputy managers I spoke with said 'Sicks are the Lords here', it filled my heart with warmth that his creed is the same as the motto of my "FEMERAID International", a humanitarian organization, which I represent while on mission traveling in India and around the world.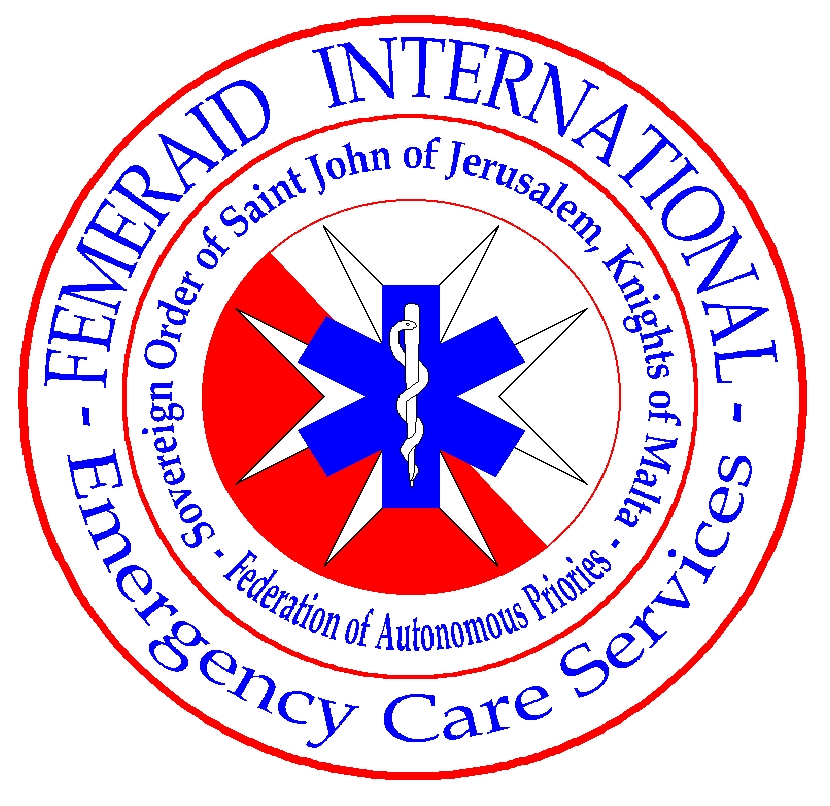 Churches are not only a place of prayer, they are also centres of social life, education and charity. Kerala has achieved 100% literacy, and illiteracy is not typical (in India it has the lowest number of illiterates in India), the churches played an incredibly large role in achieving this with the schools they founded, even before the government started funding education.
After this, another question is immediately answered, is it more worthwhile to build a church or more specialized hospitals only for the poor? Given the above, I don't even think that this is a real question. Here in Kerala, these are not questions, these are part of every day, and this is the basis of social life. Here, people imagine the present and future in communities and in communities' constructive and protective power.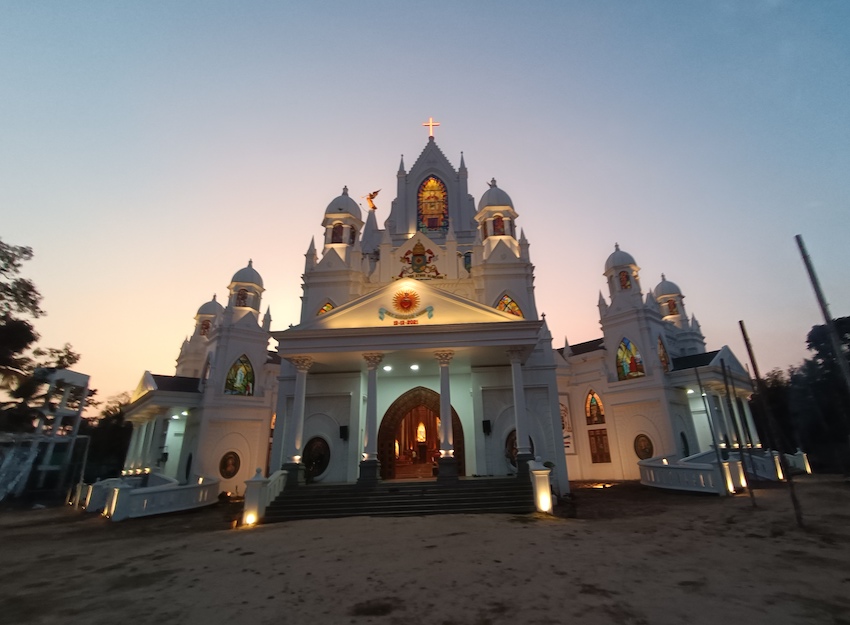 Institutions are maintained and used by the communities themselves, including educational or health services. What is very interesting is that in a non-discriminatory way, of course, it is very rare to see a Muslim child in a Christian school and the reverse is even rarer, but in health institutions, they do not follow religious origins, in one of the largest Christian church hospitals in the State of Kerala, there is also a Muslim place of worship, just like those places of prayer can also be found in college or university institutions.
This topic also deserves a separate article, which is so exemplary that it manifests itself in everyday life as well. The region is famous because Christians, Muslims, and Hindus celebrate their holidays together. They respect each other's holidays, and one of the biggest manifestations of this is the Christmas holiday! There is an incredible cult here for Christmas, love, and respect for Jesus.
Christmas is a common religious holiday here, not only a symbol of family and love, of rebirth, but also a celebration of community togetherness and tolerance, and respect. I feel incredibly lucky that I got to know this province during this period and that my profession brought me here. I could directly feel what every healthy community and person dream of, living on earth and walking the path of peaceful coexistence and mutual respect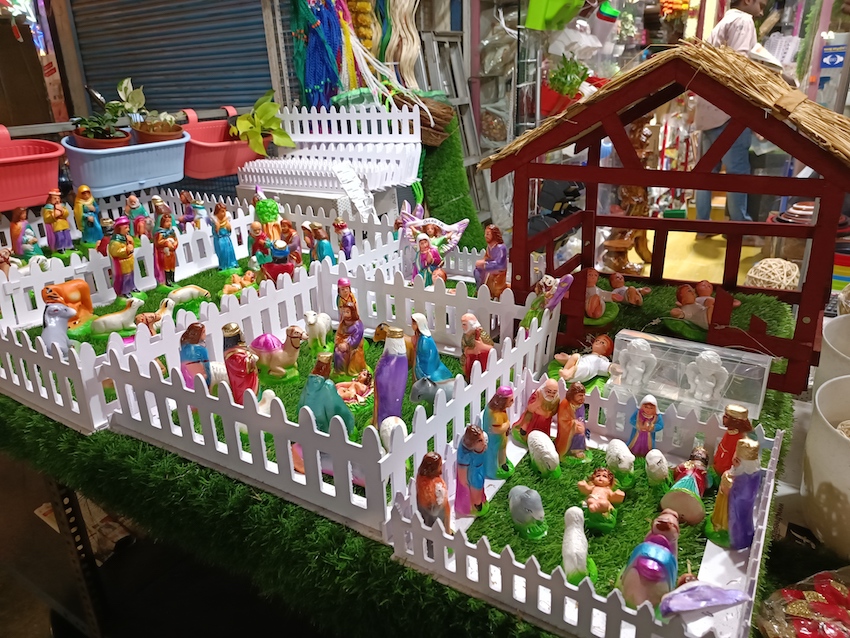 All girls dress in red or white red on Christmas Day (clothes shops are almost exclusively full of such clothes during this period), regardless of their religious affiliation. The celebration of the birth of Jesus is a celebration for everyone. The Christians see him as a divinity, for the Muslims he appears as a prophet, and the Hindus see him as one of the best disciples and teachers of Buddha, but people of other religions also participate in the celebration of the holy Christmas feast.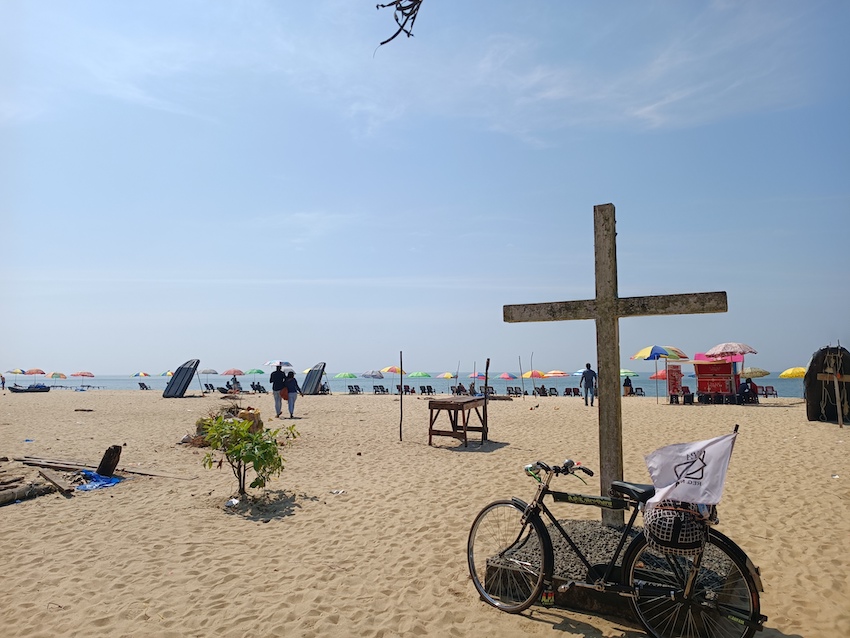 What I learned is that Jesus is not just a religious symbol or saint here, but a "BRIDGE", a bridge between people, between souls, a bridge of love, of respect and peace. It was uplifting to walk this spiritual bridge here in faraway India.
I'm sure to come back here again for another reason: to learn more about the Jewish heritage of Kerala, preserved by the "Association of Kerala Jews". There are at least eight known synagogues in Kerala in recorded history (from the previous 18 synagogues), even though most of them are not operating anymore. Seven are used by the Cochin Jews. The one of the Paradesi Jews, has been functioning as active synagogue since 1568.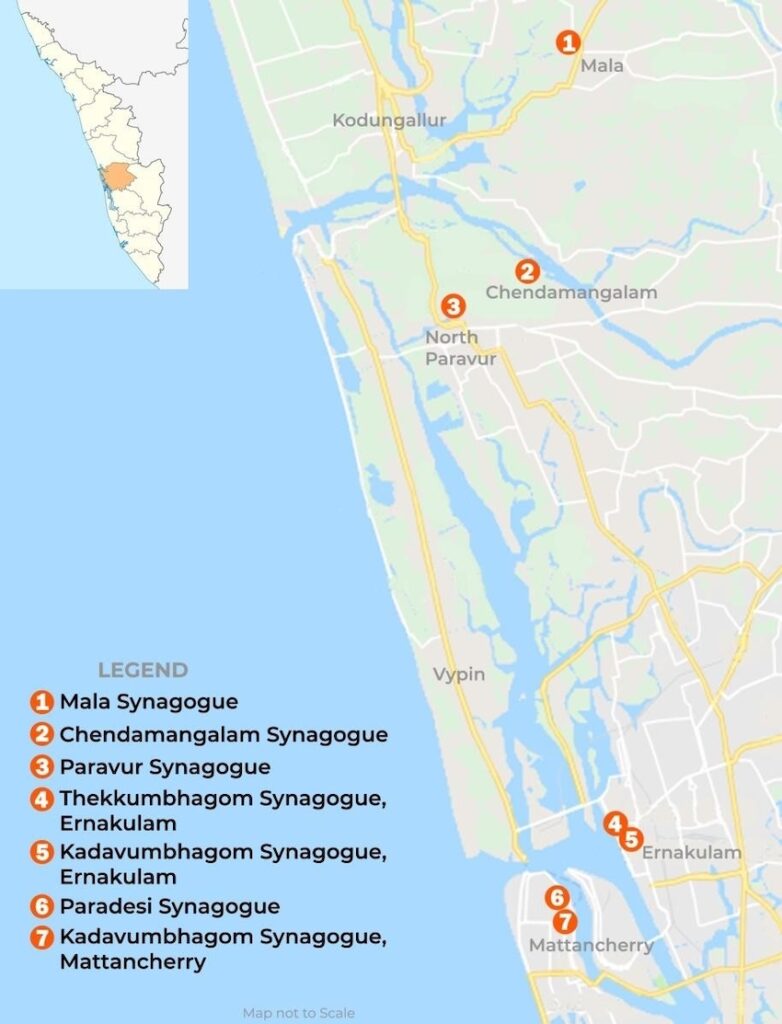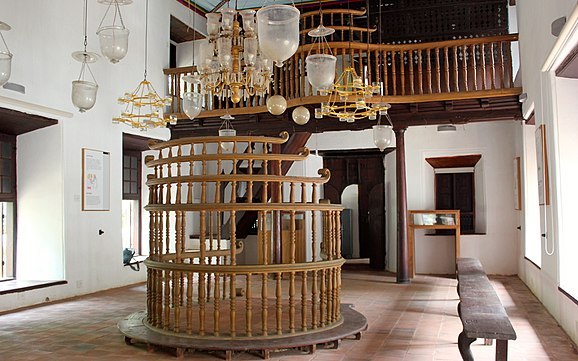 I'm so attracted to the smell of this love and tolerance that I experienced here, I'll just get used to the other smells on the streets as a European, it won't be difficult to me, because I felt at home among these smiling people.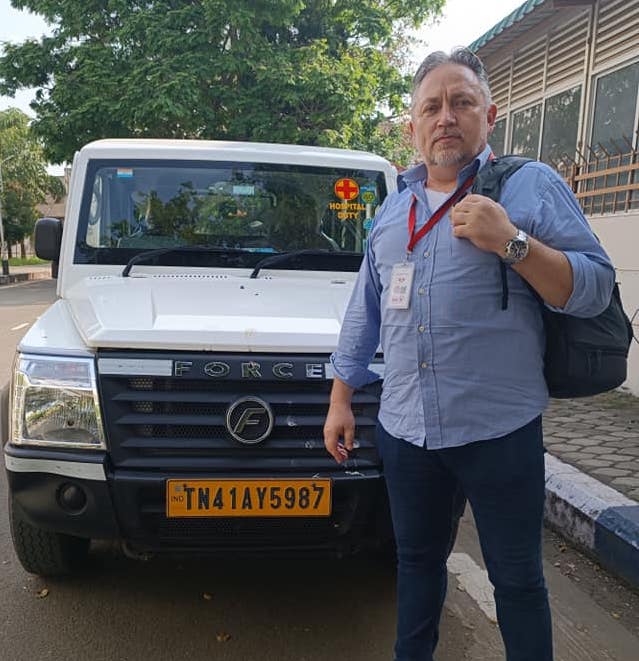 Traveller and Author, telling this story about a very special aspect of Incredible India: John Kristof from Hungary