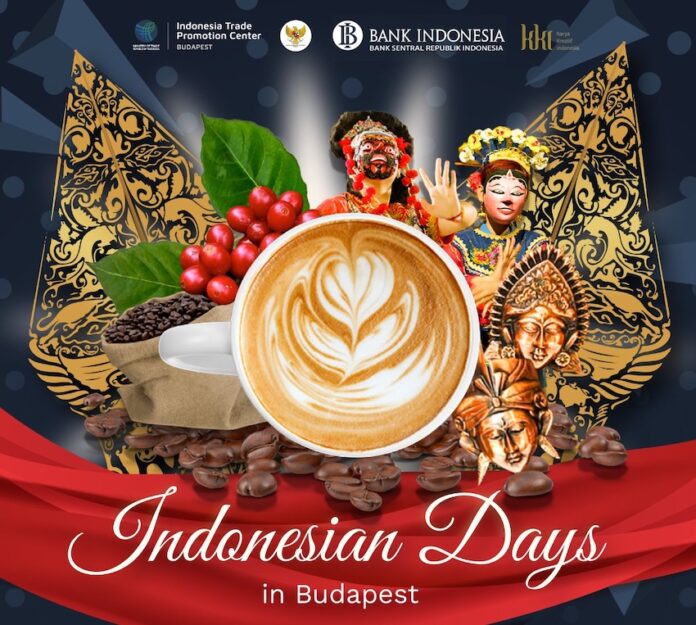 Edited by Anna Popper
In a remarkable showcase of cultural celebration, the Indonesian Embassy in Budapest, in cooperation with the Central Bank of Indonesia, orchestrated a captivating two-day event known as "Indonesian Days", which took place at the iconic Vajdahunyad Castle on 17-18 June 2023. It served as a platform to highlight the rich cultural diversity, values and heritage of Indonesia, a South-Asian nation of over 17,000 stunning islands made up of thousands of distinct native ethnic groups. Their common identity has developed with the motto: "Bhinneka Tunggal Ika", meaning "Unity in Diversity".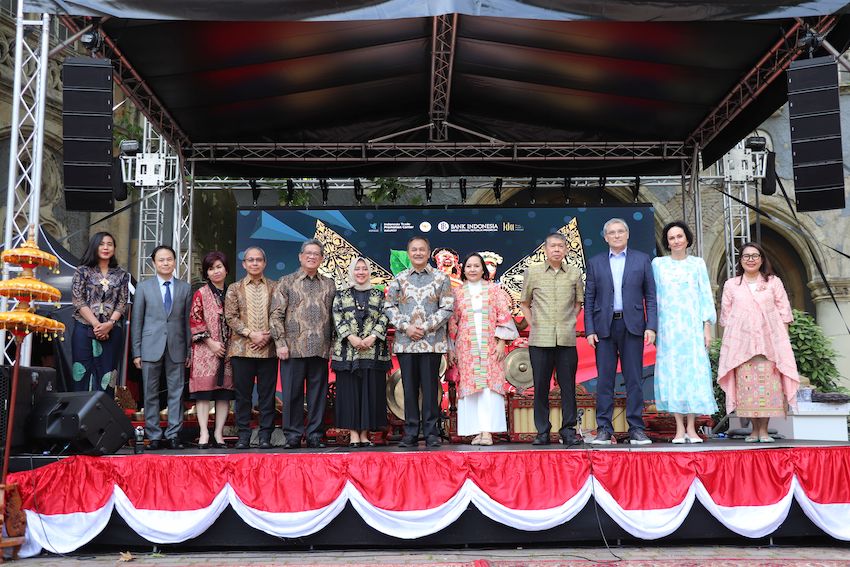 Distinguished guests in attendance included the esteemed Deputy Governor of the Central Bank of Indonesia, Mr. Doni Primanto Joewono, ASEAN ambassadors, numerous members of the diplomatic corps, as well as Hungarian officials and businessmen, Indonesian nationals, who were immersed in the enchanting Indonesian cultural performances and indulged in the culinary delights on offer.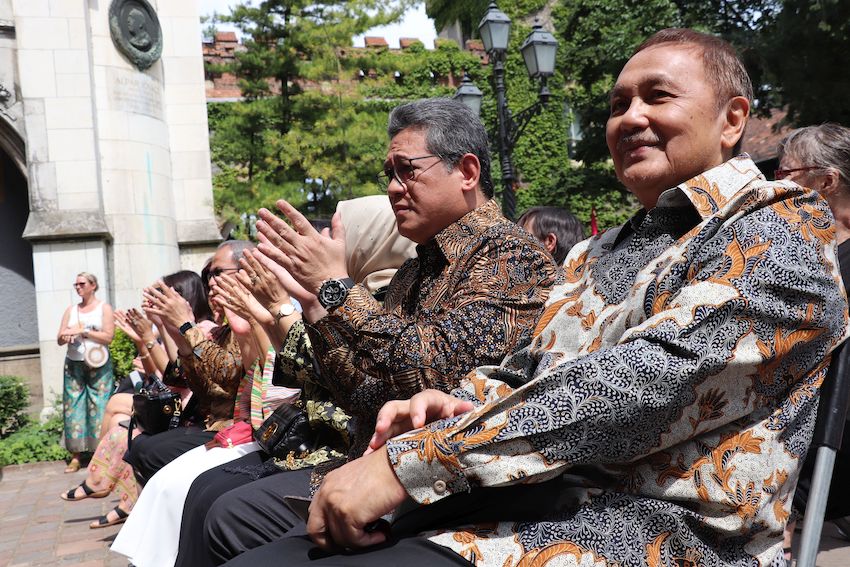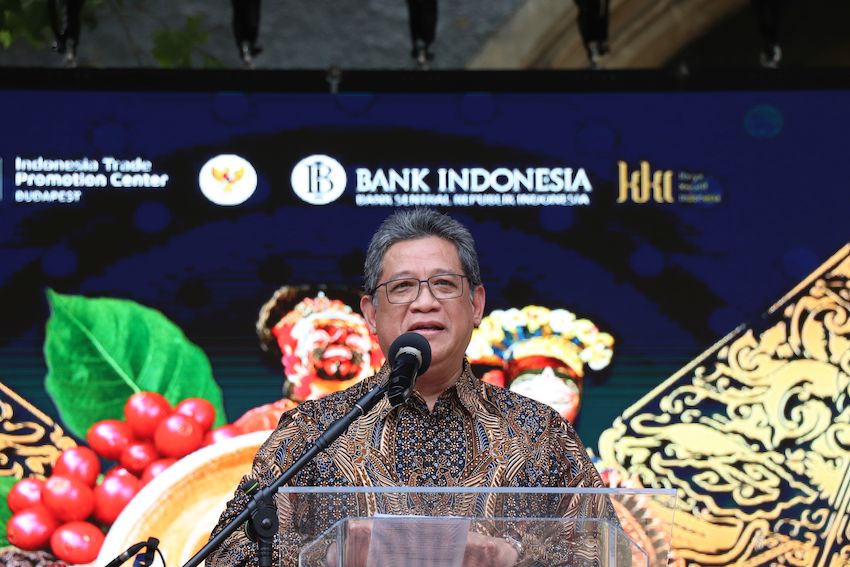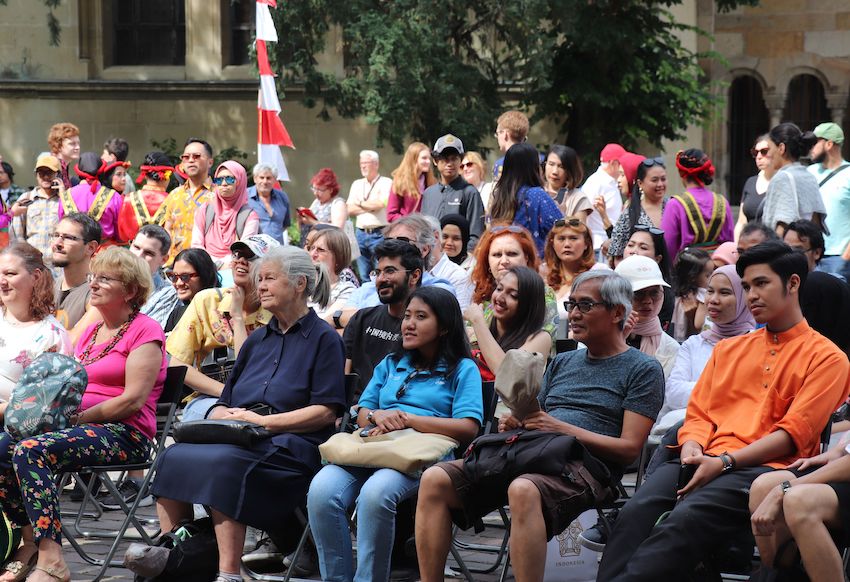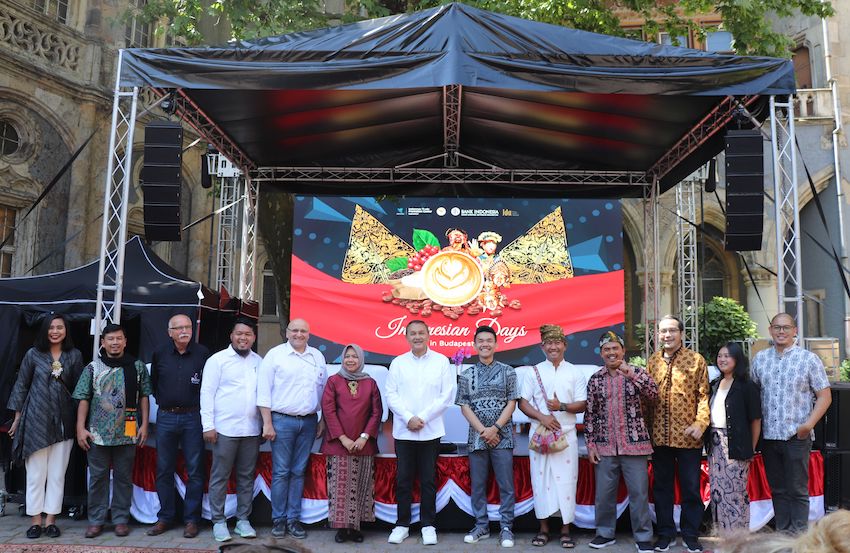 The attendees were greeted by H.E. Dimas Wahab, Ambassador of the Republic of Indonesia to Hungary, while delivering his opening remarks: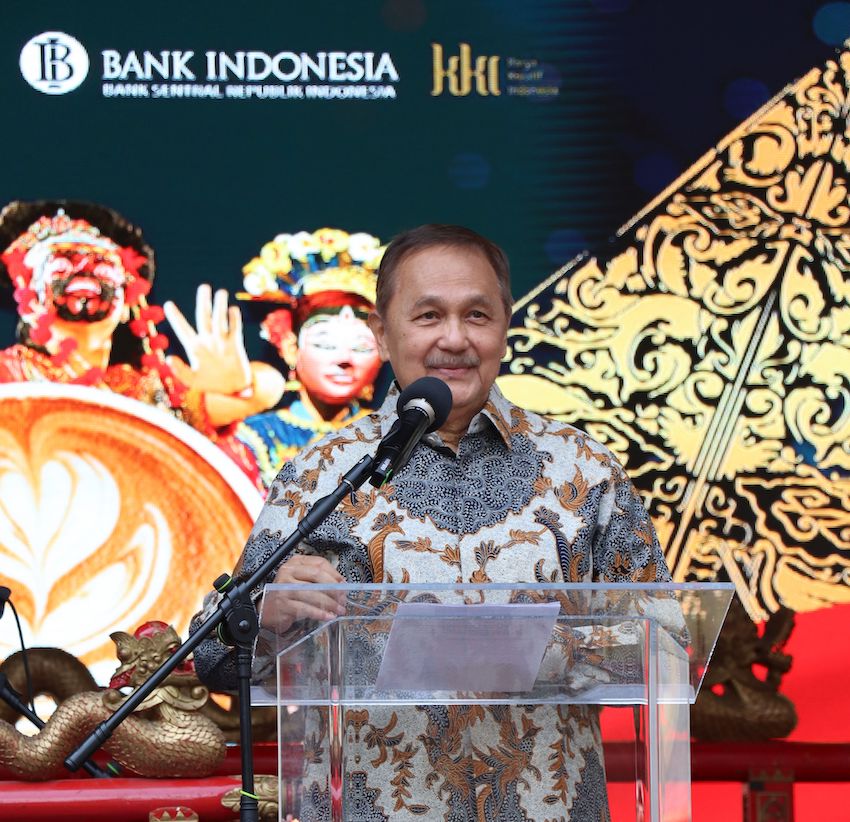 "It's a pleasure for me to be here and to open the "Indonesian Days in Budapest 2023" at this beautiful Vajdahunyad Castle, which has a special atmosphere, being one of the historical places in the Hungarian capital. This two-day event was organised by the Embassy of Indonesia in Budapest in collaboration with the Indonesian Trade Promotion Centre (ITPC) office in Budapest and sponsored by the Indonesian Central Bank. The idea of organising this function was to continue introducing Indonesian products to consumers in Hungary.
At the side event, we signed a Trade Memorandum of Understanding between an Indonesian exporter and a Hungarian importer.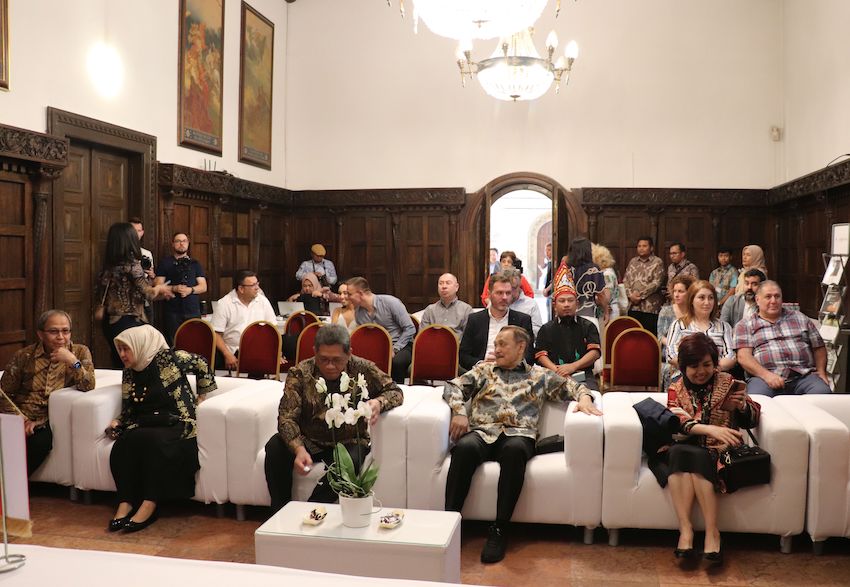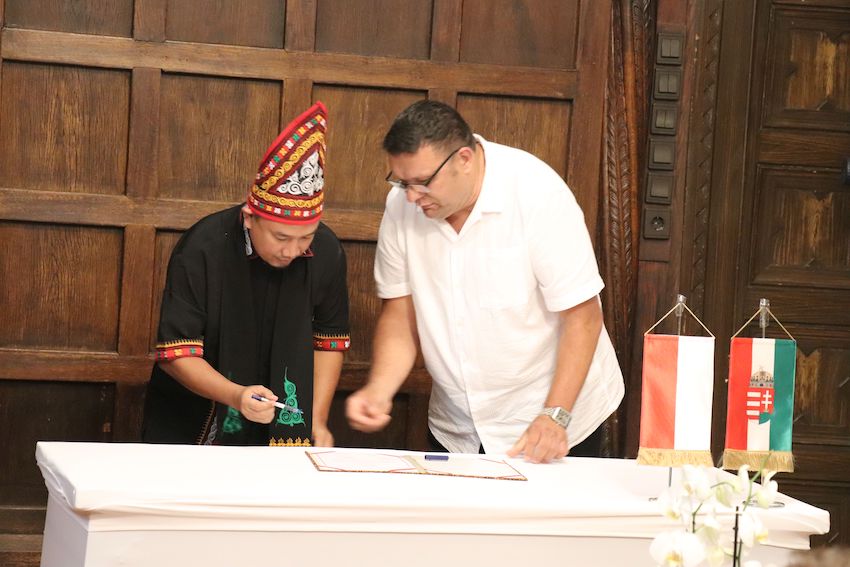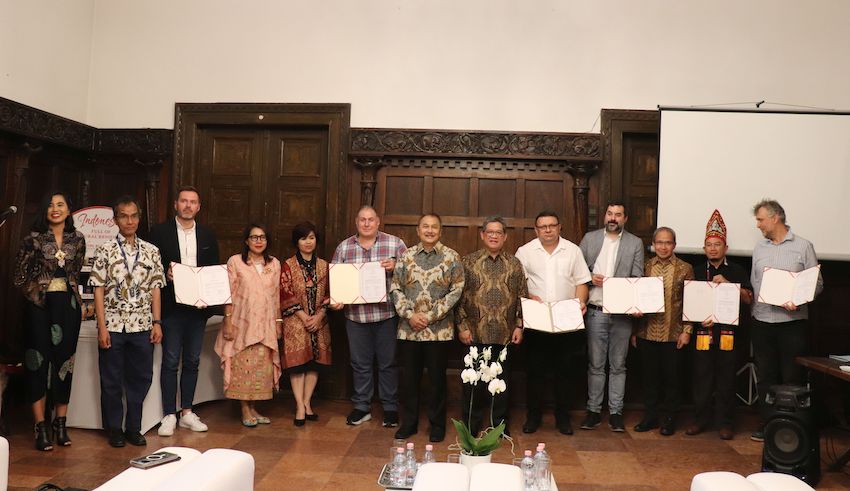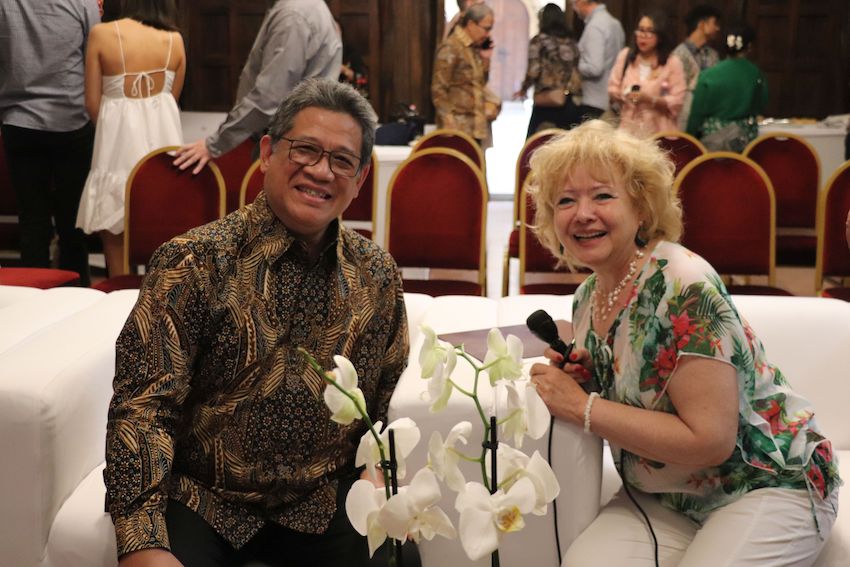 I would like to express my appreciation to all parties, especially the Central Bank of Indonesia, who made this two-day event possible. Let's hope that the people-to-people ties between Indonesia and Hungary will further strengthen and the friendly relations will pave the way for our bright future. Thank you!"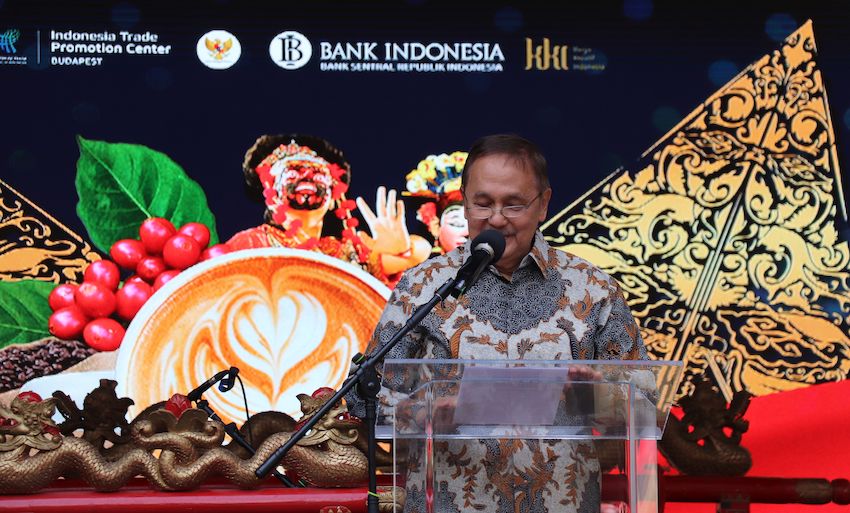 The exotic programs dedicated to represent and enjoy Wonderful Indonesia, unfolded throughout the event, elicited enthusiastic response from both Hungarian and foreign visitors.
The stage was occupied with continuous performances and shows. Especially the traditional Indonesian dances, hailing from different regions like Bali, Java and Sumatra, captured the attention of the audience.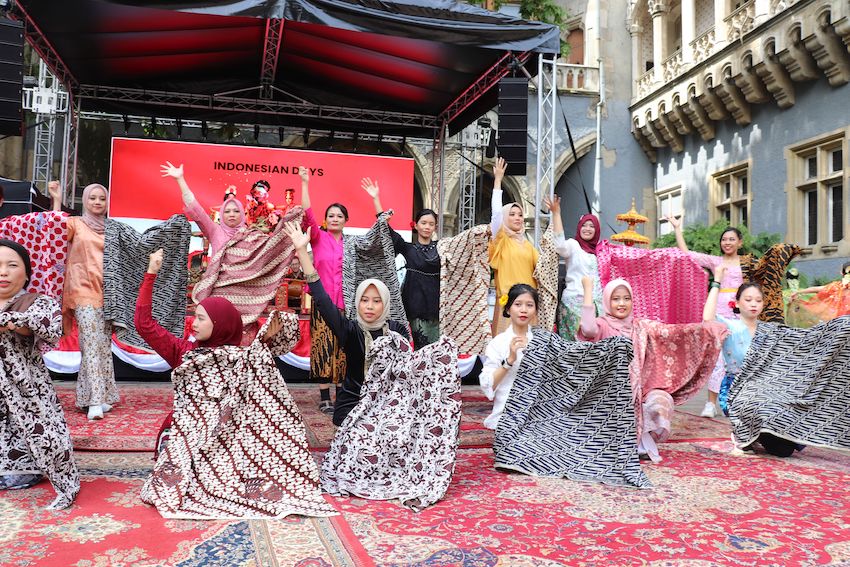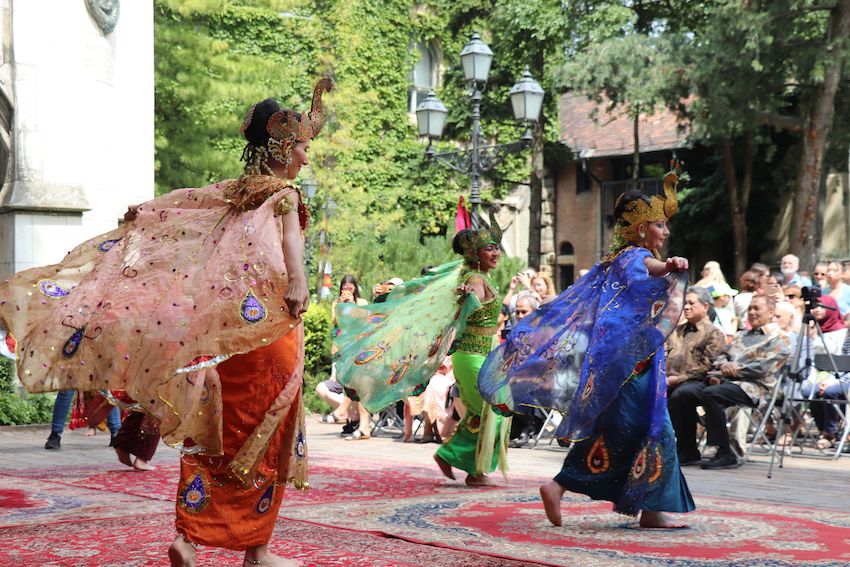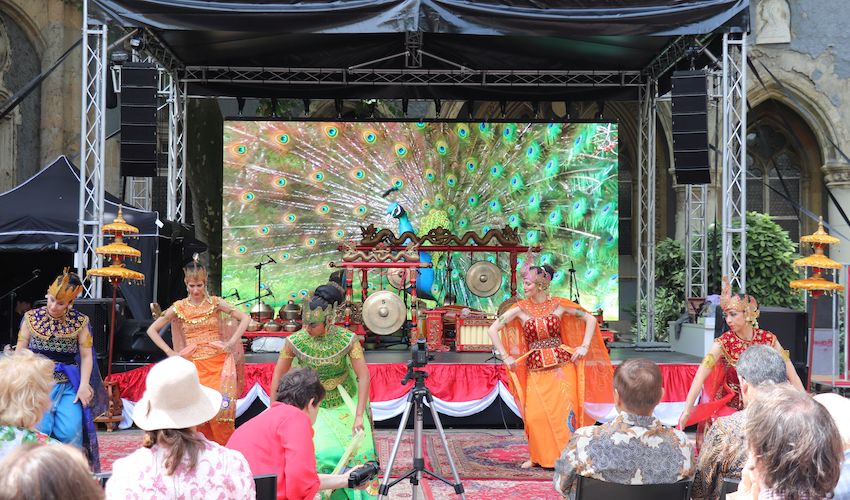 Of notable significance was the awe-inspiring Ratoeh Jaroe Dance, fondly referred to as 'the thousand hands dance' in Indonesian. This mesmerizing performance, originating from the Aceh province in northern Sumatra, involved 12 talented girls executing fast-paced synchronized hand and body movements, while sitting gracefully and singing harmoniously as a choir. The dancers wore resplendent Acehnese traditional costumes, infusing their synchronized movements with vibrant colours. Each of their movements was guided by two extraordinary personalities, who acted as both singing drummers and conductors. The choreographer Mr. Romario Patogian led this captivating ensemble.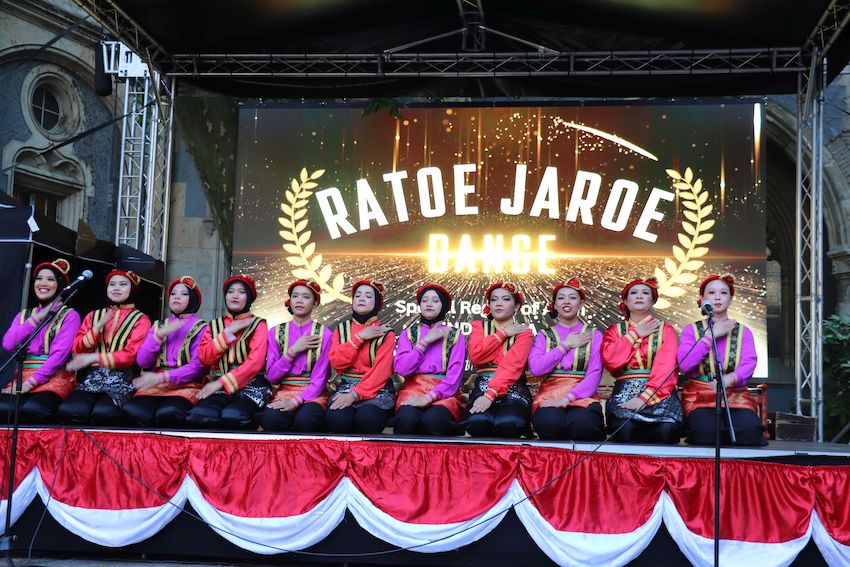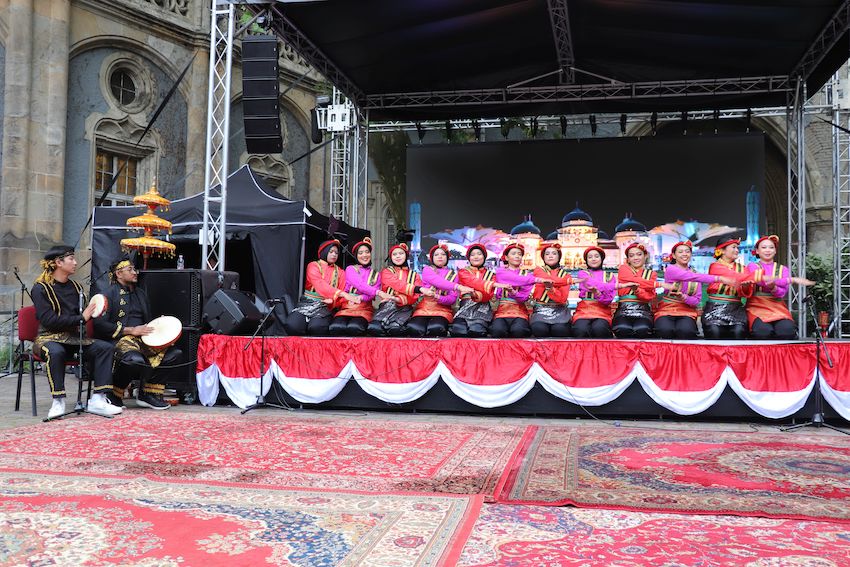 Visitors could also join the Saman Dance workshop activities and Tari Gemu Fa mi re and Poco-Poco, which have successfully attracted visitors' enthusiasm to dance.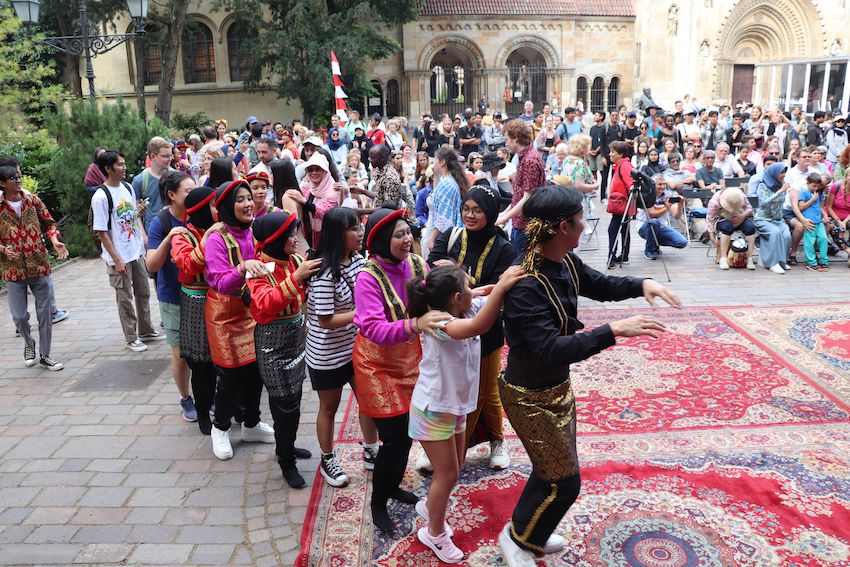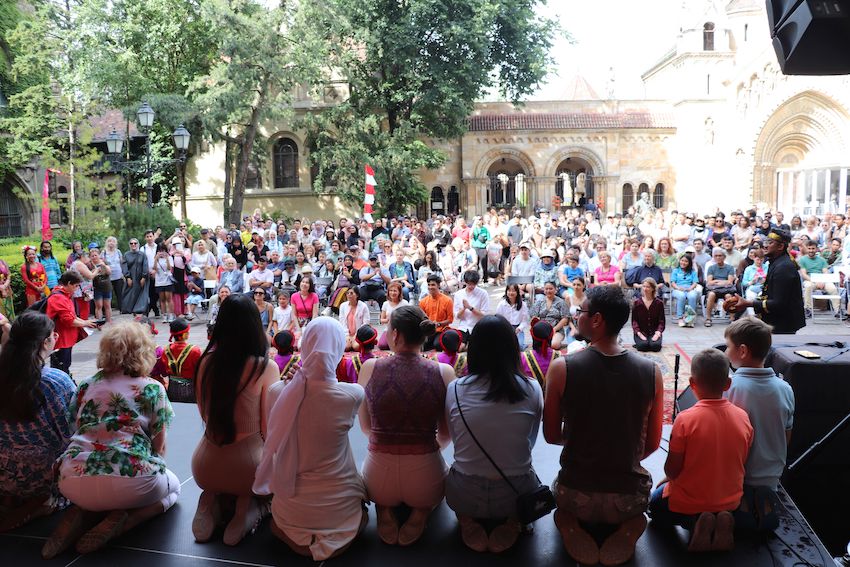 Coffee lovers could register to participate in the coffee workshop and cupping program.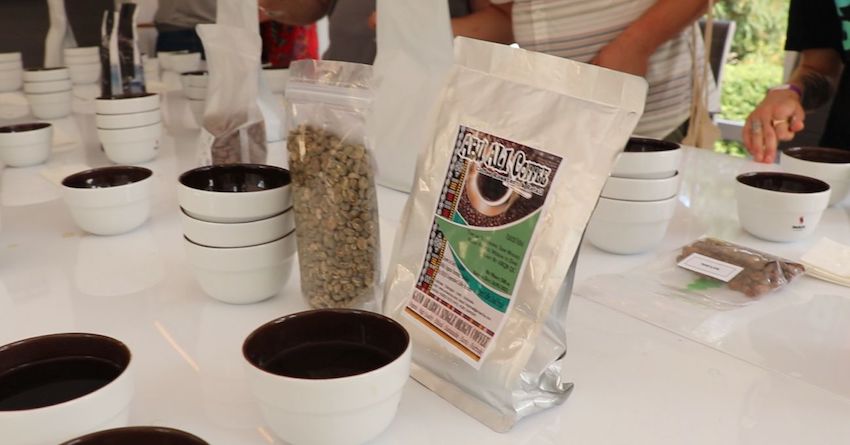 Various stands featured Indonesian handicrafts, handwoven batik clothes and jewellery, as well as Indonesian food specialities and entertainment by Indonesian students currently studying at Hungarian universities. The audience could also listen to the Javanese Gamelan ensemble performed by Hungarian musicians. There was a quiz related to the common knowledge of Indonesia with goody bags. Visitors of all ages could also try Balinese massage. The cooking show particularly attracted many viewers.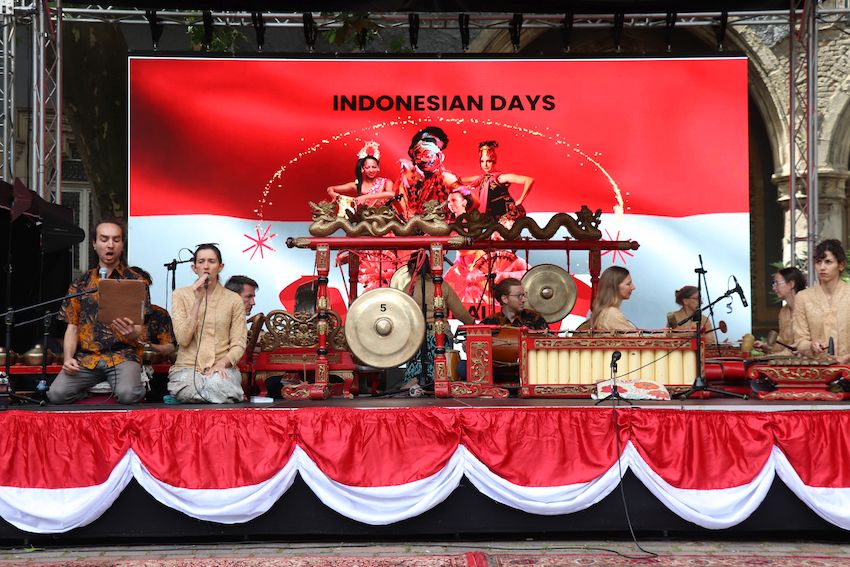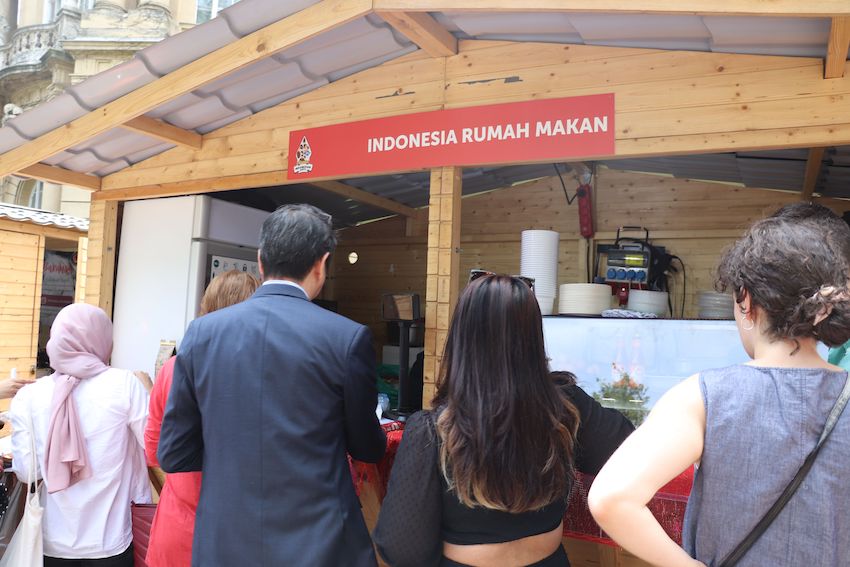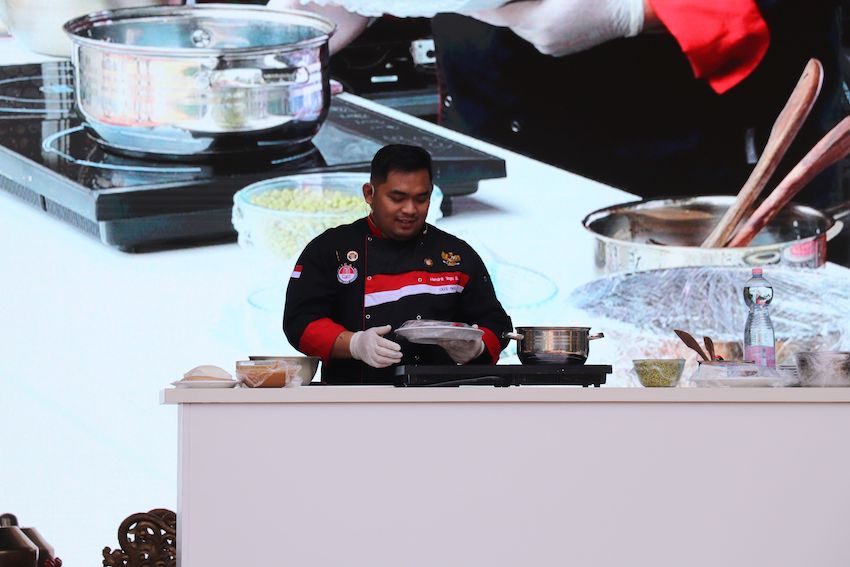 Not to be forgotten: various Indonesian children's games were presented at the Kids' Corner.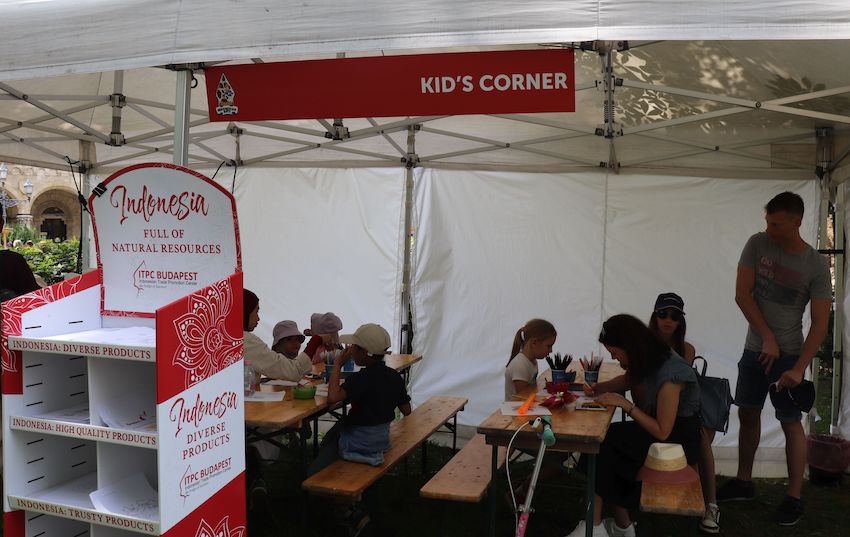 Source: Embassy of Indonesia in Budapest