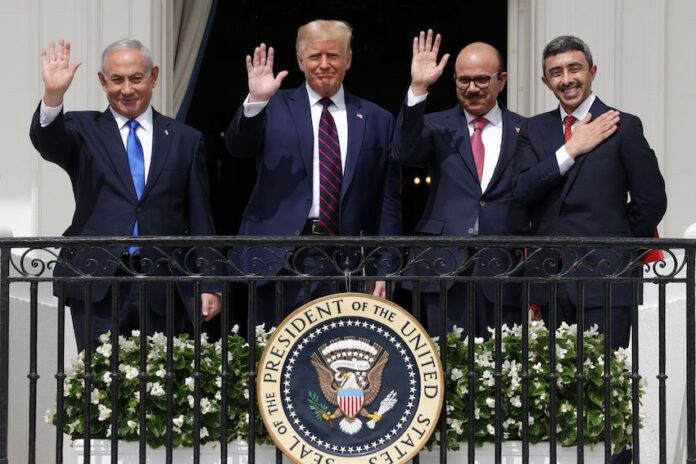 The establishment of full diplomatic relations between Israel, the United Arab Emirates, and Bahrain is a watershed moment for the Middle East. While this region of the world is often thought to be somewhat of a dysfunctional family, the Abraham Accord represents a conscious decision to be a functional one instead. It is a historic event that marks a new beginning for the region and, in addition to peace, will bring prosperity that will be felt immediately.
The Accord represents an alternative and paradigm-shifting step forward for the region. It fosters a revolutionary opportunity for other Arab nations to establish formal ties with the State of Israel, a concept previously deemed far-fetched and impossible. It provides a striking alternative to those radical forces who oppose peace and prefer to perpetuate conflict until victory is won over resolving conflict in a peaceful manner and reaping the benefits that cooperation can provide. Moreover, the agreement effectively strengthens the power of moderatism in the face of extremism that Iran and its proxies sow across the region.
The Accord is an important stage in ending conflict in the Middle East, and we believe that this kind of agreement will effectively serve to immunize countries against the calamity that comes with extremism, for which peace is the only remedy.
This landmark agreement, most significantly, does not come at the expense of the Palestinians, but in fact presents them with a unique opportunity to return to direct negotiations with Israel. Israel is ready to do so, and will come to the negotiating table with the principles of the American administration's Peace Initiative. The peace deal provides a practical and realistic basis upon which the two sides can begin negotiations, and in the light of the Abraham Accord, achieving a lasting resolution between Israel and the Palestinians now seems much more attainable.
Ultimately, the Abraham Accord represents an alignment of values. Israel, the UAE, and Bahrain are all facing common challenges of climate change, diminishing resources, and most pertinently, of disease. It is essential that we focus on agreement over disagreement, and combine our capabilities for the well-being of our citizens. This is exactly what this agreement has achieved. The Abraham Accord should be the guiding light for all other nations of the region of the good that can come from making peace with Israel.
by the Embassy of the State of Israel