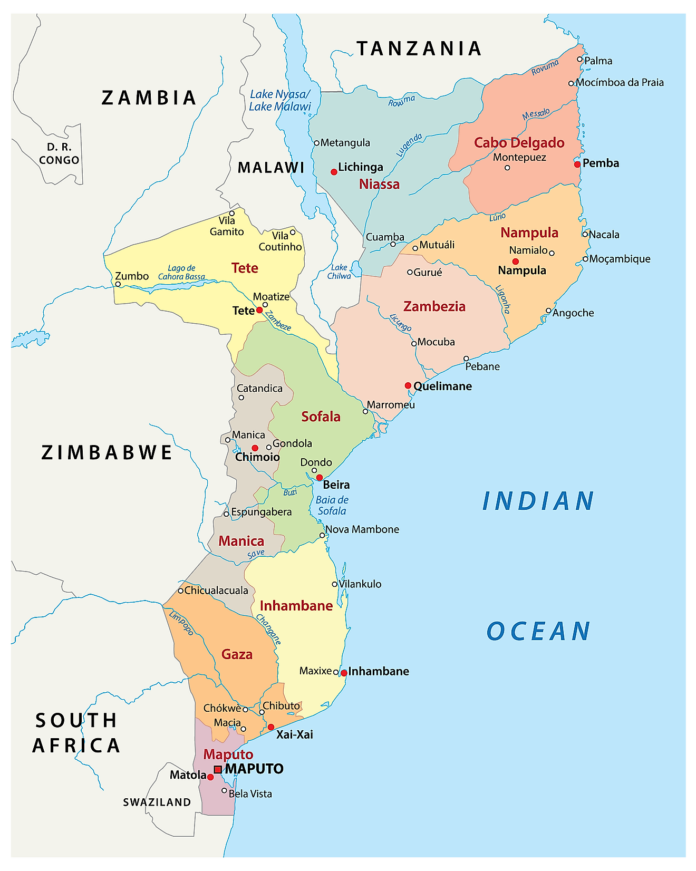 Date of Event: 27 March 2021
Time of Event: 13:00
Location of Event: Palma Town
Distance from Pemba: 230km
The situation in Palma is currently very tense, though no fights have been reported. Sporadic shots are being heard, but no reports of any real battles have been received. Insurgents occupy most key positions in the city.
A large group of people, consisting of expatriates, mostly survivors of the Amarula Hotel ordeal, and locals, numbering about 70 were picked up from one of the beaches around Palma and taken to Afungi.
DAG helicopter gunships have been flying over Palma at first light searching for possible survivors of the Amarula Hotel and other expatriated reported missing. Several expatriates from an array of companies have been reported missing in action (MIA) since the insurgent attack began. A group, consisting of 15 South African nationals from the company Remote Site Solutions (RSS), who have been reported making their way to Namoto, north of Palma and the border crossing into Tanzania, is still MIA.
Meanwhile, a DAG helicopter collected a group of 5 SA nationals, made up of a local manager and a family (husband /wife /2 children) who had escaped the carnage at the Amarula Hotel. They were in one of the 7 vehicles that succeeded in getting through the insurgent ambush and were hiding in Quionga, a village northeast of Palma. The husband was unfortunately killed during the escape.
At this stage, there are still many expatriates missing, who, if they are still alive, will likely show up in the next couple of hours. The longer they stayed MIA, the chances of finding them alive diminishes.
Pemba Airport is a hype of activity. A large number of GSF soldiers arriving by Nagi Investomentos Busses and boarding commercial aircraft to be flown to Palma. Several helicopters transporting the wounded / dead also arrived in Pemba.
Comment: There are still several MIA expatriates and possibly killed. It will take some time to determine the exact number of expatriates killed in action, but they are expected to be in the high teens.
The arrival of GSF reinforcements is not only too late, but probably only to strengthen the defences of the DUAT at Afungi.
A joint meeting between the Ambassadors in Mozambique is necessary to determine a joint strategy on how to deal with the situation, albeit too late. This should have been a priority during the time leading up to the skirmishes, as ample early warning was given prior to the attack.Afungi was evacuated, only security forces (mainly Portuguese mercenaries) remain with Mozambican defence troops. Speaking to a Portuguese soldier who is in Afungi: they prepare to enter in Pemba with 10 helicopters. Mozambican forces are very amateurs, no proper weapons. US green berets will enter to train and help the Mozambican troopers with modern technology. Terrorists were better prepared. For sure some Mozambican Government people are involved. That is one of the richest areas of the world in precious stones, OnG.
Prof. José Cosmelli