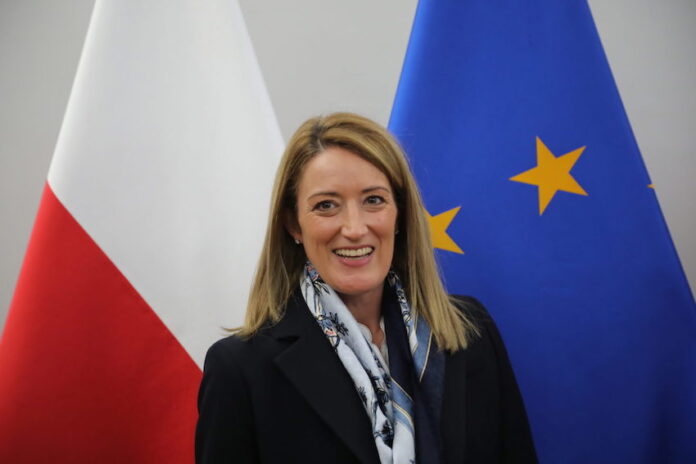 By Mark Scicluna
Press Correspondent in Malta
On 18 January 2022 Roberta Metsola was elected President of the European Parliament. This is the highest international post ever held by a Maltese national. In a historic victory winning 74% of the votes, on her birthday, she became the youngest-ever president of the EP, which currently has 705 members.
The Maltese MEP is only the third woman to lead the European Parliament, following her French predecessors Simone Veil and Nicole Fontaine. The 43-year-old politician, mother of four, speaking in Maltese, Italian, English and French, takes control of the EU's legislative body for two and a half years at a delicate time for the union.
"I am a woman from a small island in the middle of Europe's southern sea, I know what it means to be the underdog and to be pigeon-holed", Metsola told MEPs during a speech prior to her election.
An MEP since 2013, Metsola eventually rose to the rank of first vice-president, positioning her to take over as the Parliament's interim leader after the sudden death of former President David Sassoli on 11 January 2022.
Metsola outlined her priorities: modernising parliamentary practices, encouraging diversity and tolerance. Parliament heads toward the 2024 elections with a to-do list including: digitizing the economy, beefing up the bloc's military, slashing carbon emissions, and shoring up rule-of-law across Europe.
Roberta Metsola's first speech as EP President tackled threats to the EU, climate, democracy and journalism.
"I am humbled by the responsibility entrusted to me today. You can count on me to represent the European values that our House stands for."
"I will honour David Sassoli as President by always, standing up for Europe. For our common values of democracy, dignity, justice, solidarity, equality, the rule of law and fundamental rights. For the politics of hope and promise of the EU, I want people to recapture a sense of belief and enthusiasm for our European project. A belief to make our shared space safer, fairer, more just and more equal", she said.
She also paid tribute to the women who went before her and those women whose lives have been stolen through violence this year.
"Dear Europeans, in the next few years, people will look to our institution for inspiration, while others will continue to test the limits of our values and European principles. MEPs have a role to play to fight back against "anti-EU sentiment which takes hold so quickly and so easily. To those trying to destroy Europe, know that this house is against you", she proclaimed.
"2022 is dedicated to youths, and the EP must work particularly for them. EP must continue to renew its efforts against climate change. Like the green transition, the digital transformation presents opportunities for Europe. The EP must also keep the Balkans in its thoughts and work to help unite them with Europe."
"Europe is back, Europe is the future, Vive L'Europe!"