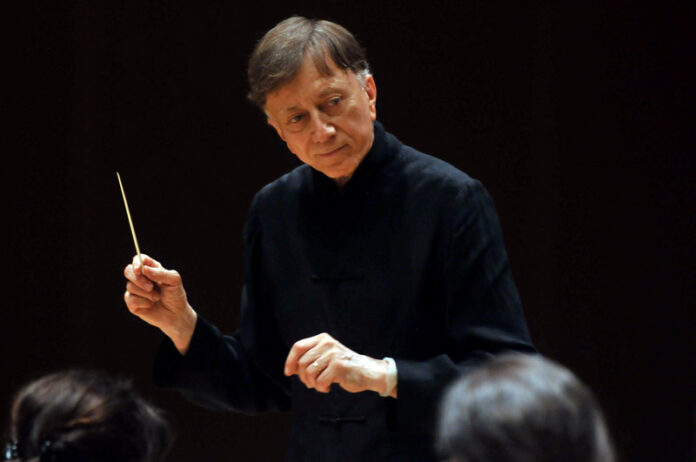 Interview with Maestro Tamás Vásáry, world-famous Hungarian pianist-conductor
Internationally celebrated artist Tamás Vásáry is a living legend who learned from the greatest masters. He has received countless prestigious honours around the world in recognition of his artistic activity. He is an honorary member of the Royal College of Music and the Royal Academy of Music in London, and received the French Order of Arts. In Hungary, he earned the Artist of the Nation title and the Kossuth Award, in 2017 the most prestigious Hungarian Order of St Stephen, and in December 2020 the Dohnányi Ernő Prize was bestowed upon him.
You were born in 1933, hailed as a child prodigy, and then became an active actor and shaper of great times. How did Your extremely busy life begin?
– I was born in Debrecen and started playing the piano at early stage of my life. At the age of five I played Boccherini's Minuet after hearing, when I was eight I performed Mozart's piano concerto with orchestra. I had an omen-like first concert led by a pianist-conductor who inspired me to become a conductor as well, so I started practising with my mother's knitting needle… As a child I met the composer, pianist and conductor Ernő Dohnányi, whose artistic style is close to me to this day. Coincidence has always played a decisive role in my life, which doesn't really exist, because everything happens as part of a universal plan of which we see only a tiny piece in the earthly dimension. Coincidences took me to the next station, but there were some corner points, like the piano from America that came to our family, and I started playing on it. I was admitted to the Academy of Music at the age of 12, and at the age of 15 I won the International Franz Liszt Piano Competition, followed by several great international successes.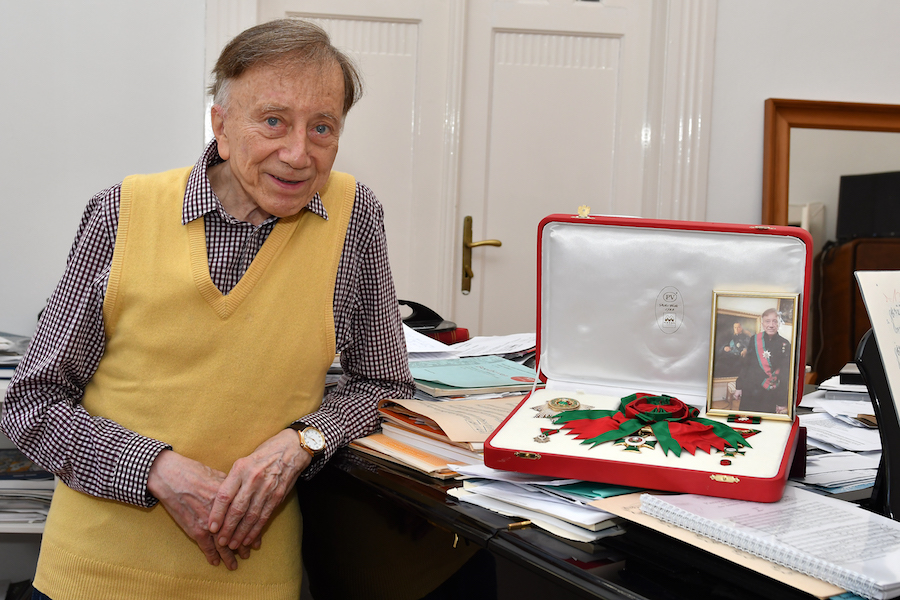 Zoltán Kodály considered You his adopted son…
– He taught me folk music at the Academy of Music for years. To make my relationship more personal with him, I learned his most difficult piano piece, the Dances of Marosszék, and played it for him at his residence. He shook my hand and said: 'Szervusz' ('Hello'). He never repeated that again.
When my parents were forcibly relocated, he saved me from being taken away. I stayed here with nothing. Kodály saw talent in me, gave me difficult tasks, and then handed me a packet of hundreds-forint bills to get me started. When I prepared for my graduation concert, he bought me a Steinway piano, without expecting my gratitude. He helped me when no one else could, but let me follow my own path. He taught me not only about music but also life, and later I became his assistant. He had the biggest impact on my life, and encouraged me to learn languages and write a diary because my life would be interesting. I keep doing it to this day. Kodály is my role model, the most important thing I learned from him is how to be a great person, so that you can get the most out of yourself. I admired his brilliant mind, extraordinary character and his almost paternal care.
How did Your career abroad start?
– By coincidence. I emigrated to Belgium in December 1956. Thanks to the intervention of the Queen of Belgium, that the award of her International Piano Competition I won, my father was released from political prison and my parents came after me. Our life in Belgium was hard and we wanted to move on. Then an extraordinary thing happened following a dinner by a banker friend, where I played Liszt's La Campanella. Thanks to the connections of our music-lover host, ten days later I received a letter from Deutsche Grammophon, asking me to play Liszt works on record. First I refused, but after understanding that I was solicited by a reputable company at the age of 23, I agreed. That was the start of my career. The following year this recording was nominated for the Best Record of the Year in England. After a detour in Germany, we arrived in Switzerland in 1957, where we were admitted to a nursing home run by nuns. In return, I gave a charity concert for the Red Cross. After 12 years, I became a Swiss citizen, so I could visit my home country. I always felt homesick for Debrecen. For Kodály's letter of recommendation, the famous Swiss conductor Ernest Ansermet, who premiered countless works by Bartók, Kodály and Stravinsky, invited me for concerts. I was in demand in the Swiss high society and aristocracy, who supported my artistic career.
Your career is marked by the biggest names in classical music…
– In London, my Tchaikovsky concert with the Royal Philharmonic earned outstanding reviews by the critics. After that I performed more than 100 concerts a year with the world's greatest orchestras, I had a huge repertoire with the greatest conductors Ferenc Fricsay, Sir George Solti and Antal Doráti, each time I always played completely different compositions with other musicians. Maestro George Széll introduced me at the Carnegie Hall in New York, which is an incomparable concert venue. I rose into 'superstardom' incredibly fast. Over the course of my life, I've given more than 8,000 concerts, worked with hundreds of orchestras, and made countless recordings. I had to work hard every day for this amazing success, I kept myself in shape with a lot of practice, because going on stage is a real leap of death.
How did Your career as a conductor begin?
– When I was eight, at my first concert with an orchestra, I knew I would be a conductor, too. Before I emigrated, the director of the Opera House, Aladár Tóth, invited me to tutor and conduct at the Opera House. If the 1956 revolution and my leaving abroad hadn't taken place, I would definitely have stayed here, because I loved operas so much that they would have perfectly satisfied me. But fate had other plans. I studied conducting in Vienna and London, but the real learning was working with many conductors as a soloist and watching their rehearsals. I first stood in front of an orchestra in 1969, again by chance. The Franz Liszt Chamber Orchestra performed in Paris and I was asked to conduct it. Later I became the director of the Bournemouth Sinfonietta and had many guest tours with the Berlin Philharmonic, the New York Philharmonic, the Orchestre Nationale de France, all grand London orchestras and the Santa Cecilia of Rome. In 2006, driven by a bold idea, I founded the Kodály Zoltán World Youth Orchestra.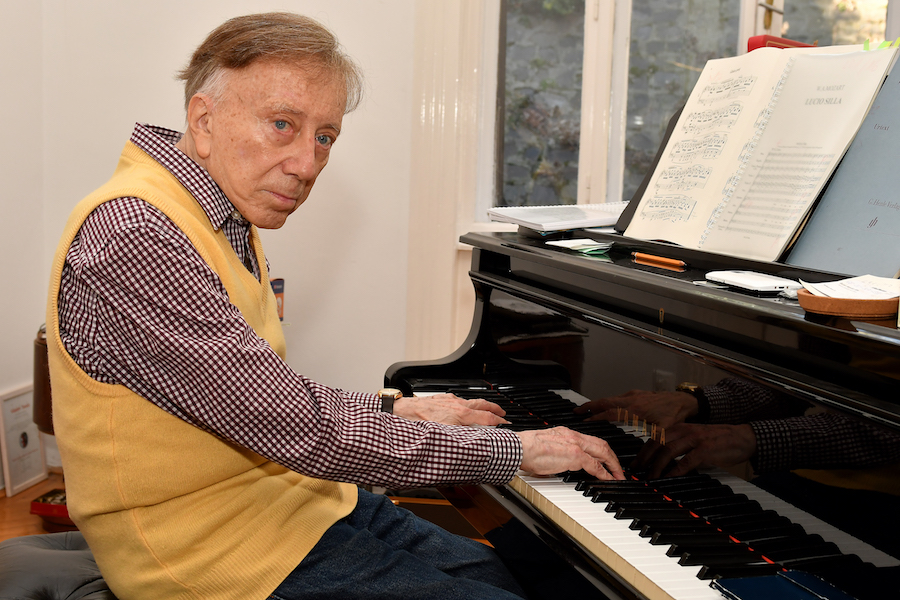 Do You have a favourite musical era, composer and fellow artist?
– The greatest ones, the classics, the romantics are my favourites. To a desert island I would definitely take a Mozart opera with me. My artistic development was greatly influenced by pianist Annie Fischer, with whom I had a close friendship until her death.
How is Your professional life going now?
– I am the Lifetime Honorary Music Director of the Hungarian Radio Symphony Orchestra. They offered me this position in 1993, attracting me back to Hungary. I really feel at home here. I'm currently writing my book, 'Üzenet' ('Message'), which is like a psychodrama, describing the most personal things of my life. Four parts have been published, but four are still left; it's a big mission to finish. Several of my books are already available, with poems, on philosophical thoughts, or about my favourite composers, but this is my most extensive work.
To my knowledge, You do a lot for Your excellent mental and physical condition, beyond the good genetic heritage. You look cheerful and balanced. What's the secret?
– Yoga keeps me alive and for that reason I've been practicing it every day for decades. I realised that ultimate happiness is inside me and doesn't depend on external factors.
How do You spend Your days?
– I often walk on Gellért Hill and write my memoirs. I love playing the piano and I'm preparing for my concerts with orchestra, that I really look forward to.
What do You suggest people to live their lives?
– I think being born and our existence in this world is only a small part of our lives. Therefore, I'm not afraid of death: it opens another gate that I'm very interested in and I'm convinced that a better world awaits us. My principle is that everything is good as it is. Everyone should believe in what suits them best.
On the 11th August Tamás Vásáry will be 88 years old, which carries double fortune and good health in Chinese numerology, that we wish from the bottom of our heart, dear Maestro.
Anna Popper
Source: Diplomatic Magazine