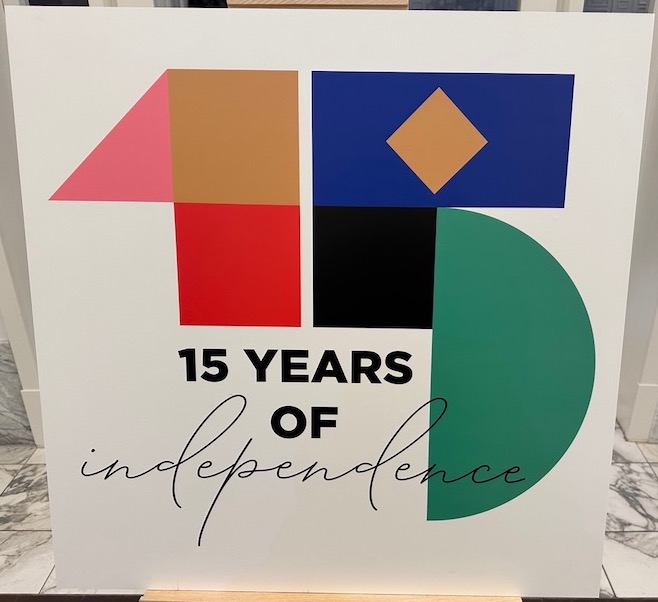 "Our territorial integrity, constitutionality, legal order and sovereignty are non-negotiable." – Dr Vjosa Osmani-Sadriu, President of the Republic of Kosovo
Edited by Anna Popper
The Republic of Kosovo (Albanian: Republika e Kosovës) declared its independence on 17 February 2008, a date of the utmost importance in the country's history.
Kosovo is a region in Southeast Europe in the centre of the Balkan Peninsula, rich in natural wonders, diverse cultural heritage, traditions, with excellent gastronomy and wines. A landlocked country with an area of 10,887 km2 bordering Albania, North Macedonia, Montenegro and Serbia. Kosovo is one of the youngest countries in the world with a population of 1.8 million, the majority of its inhabitants are ethnic Albanians who make up about 90% of the population.
Kosovars are rightly proud of the progress their country has made since its birth in promoting democratic values, advancing the rule of law and strengthening institutions to deliver good governance, achieve social development and create economic opportunities for citizens.
To mark the 15th anniversary of independence and statehood a diplomatic reception was hosted by H.E. Mrs. Gjeneza Budima, Ambassador of the Republic of Kosovo to Hungary at the Aurea Ana Palace Hotel, in the presence of ambassadors, diplomats, members of the diplomatic corps, officials of political and social life, representatives of the business, academic and cultural circles, the mayor and deputy mayor of the city Eger, nationals and friends of Kosovo, one of the newest countries in the world.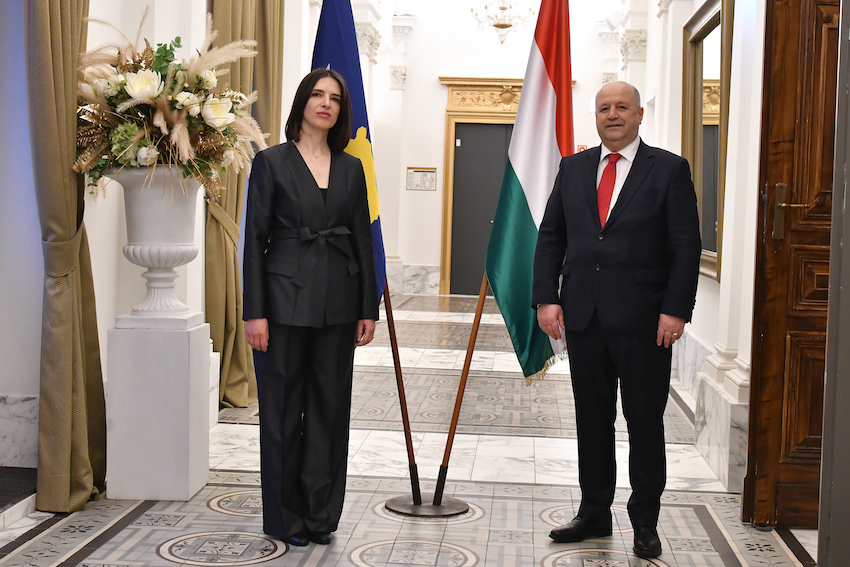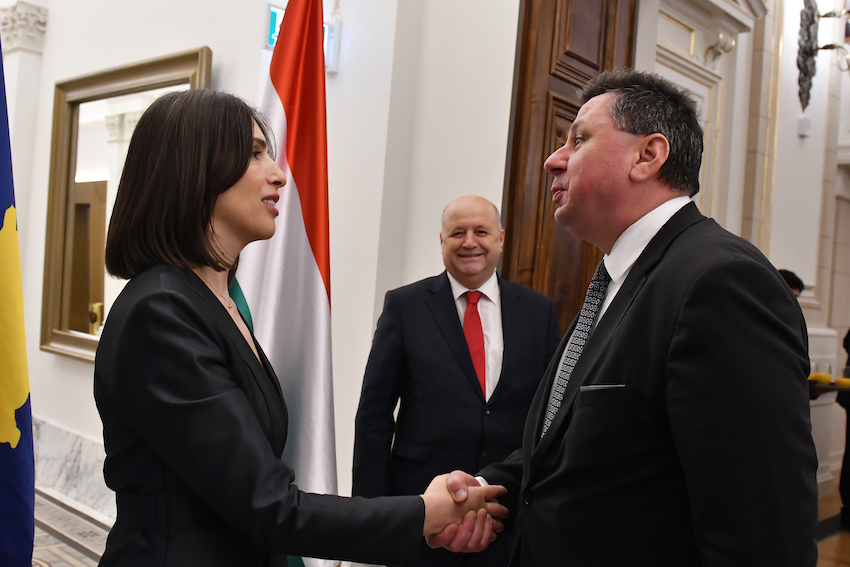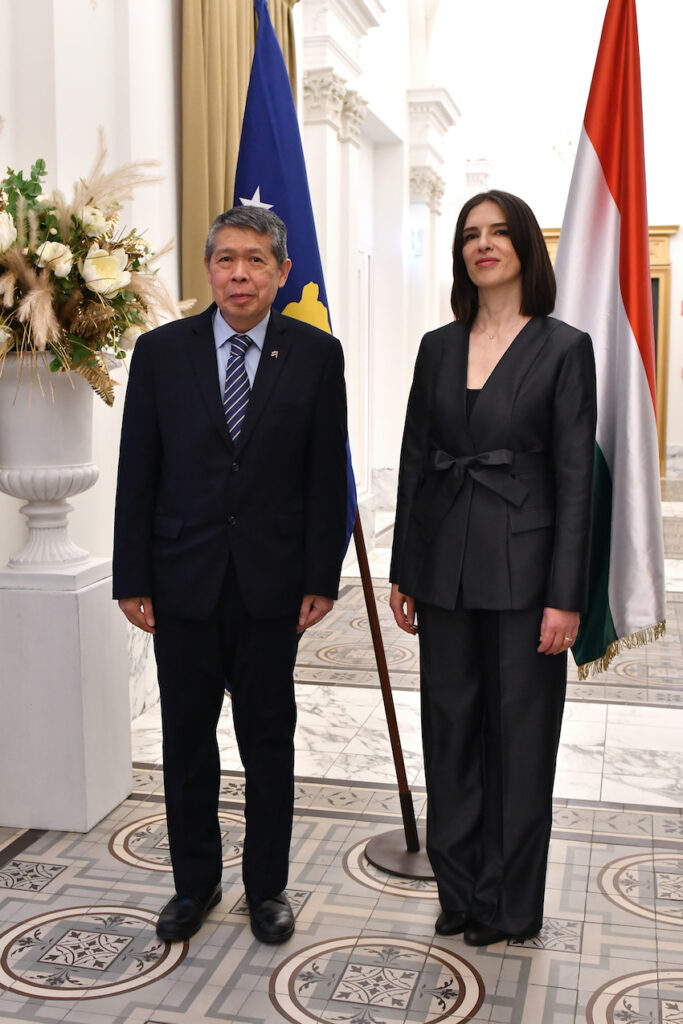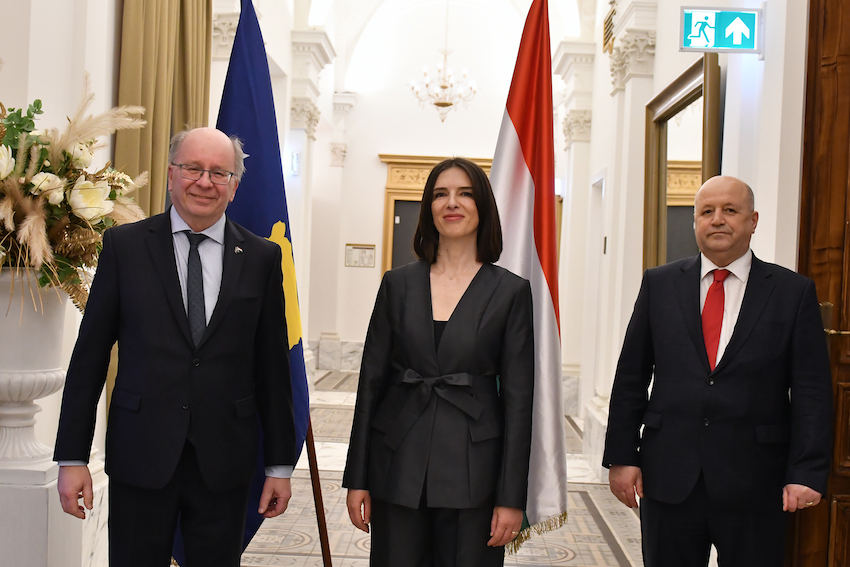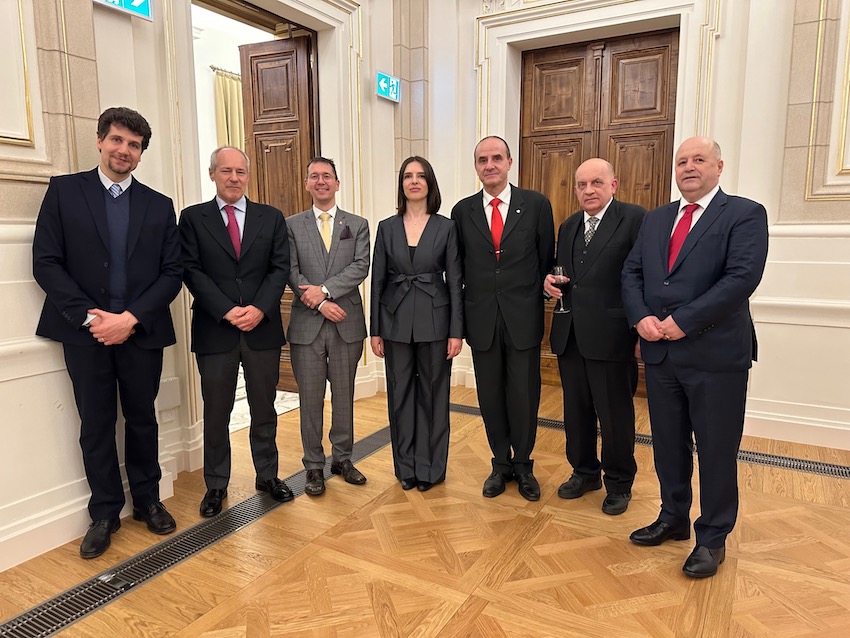 The celebration started with the National Anthems of Kosovo and Hungary, performed by a talented guitarist, Mr Diar Aliu, and followed by the address of Ambassador Budima: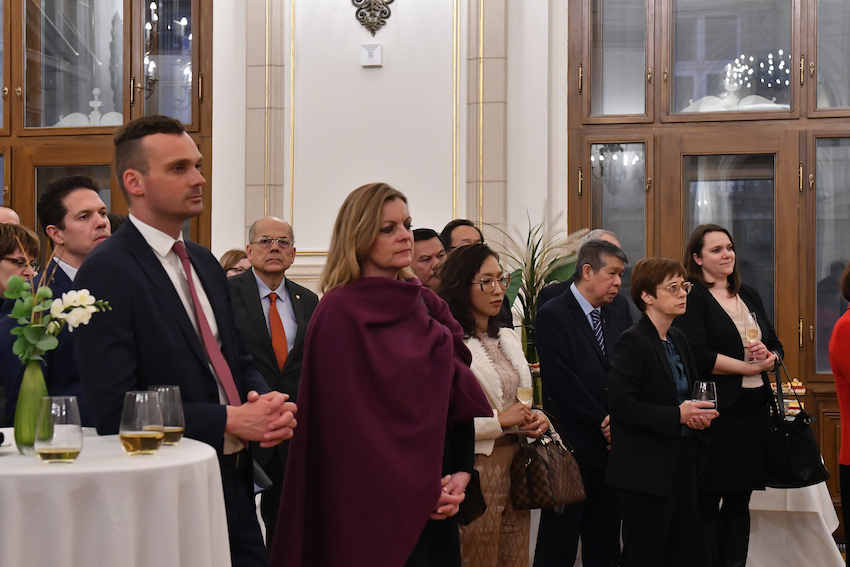 "I am delighted and honoured to have you all here today to celebrate together the 15th Anniversary of the Independence of the Republic of Kosova. Our independence was achieved through centuries of struggle and sacrifice. Centuries of pain, so that today, we have this joy.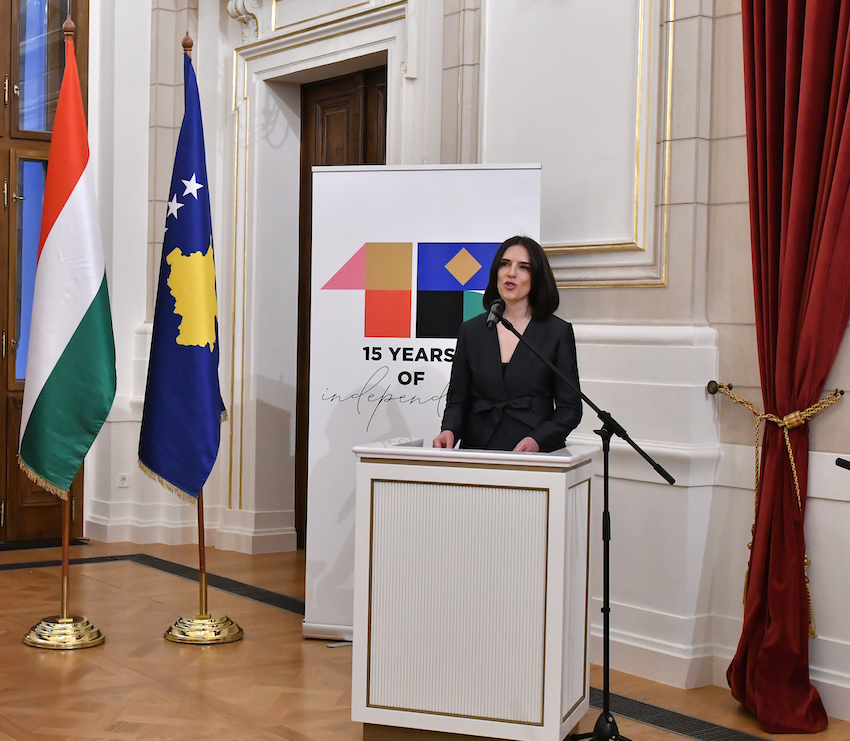 It is a day to feel proud of how much has been achieved since the independence, and to remember and pay tribute to all those who worked, fought, lost their lives for freedom, or were forcibly taken away and are still missing!
We thank each and every one around the world who contributed to stop the genocide in Kosova, to the liberation and independence of Kosova, which was declared on 17 February 2008!
Before I continue, allow me to take this opportunity to express the deepest solidarity and sincere condolences to the people of Türkiye and Syria for so many lives lost in such a devastating earthquake.
This brings me to the suffering and loss of life due to the ongoing war of today, which began a year ago, Russia's aggression against a free and sovereign country, Ukraine. The attack on Ukraine is an attack on the civilized world, on freedom and democracy. My government and the people of Kosova remain in full solidarity with Ukraine!
As we celebrate our independence, we must recognize the importance of solidarity and cooperation among democratic nations! Hungary was one of the first countries to recognize our independence on 19 March 2008. In June of the same year we established diplomatic relations. People of Kosova will forever be grateful to Hungary for being with us, and by us, in difficult times and also nowadays.
While Hungarian soldiers help guarantee peace in Kosova and the region, we are grateful that our students learn and gain knowledge from the best Hungarian universities.
I am humbled that on this anniversary the first ever Kosova-Hungary city twinning partnership is established between the city of Peja and the city of Eger. Mayor Ádám Mirkóczki, thank you for your partnership and friendship!
The further strengthening of our bilateral relations in various fields is our commitment and aspiration.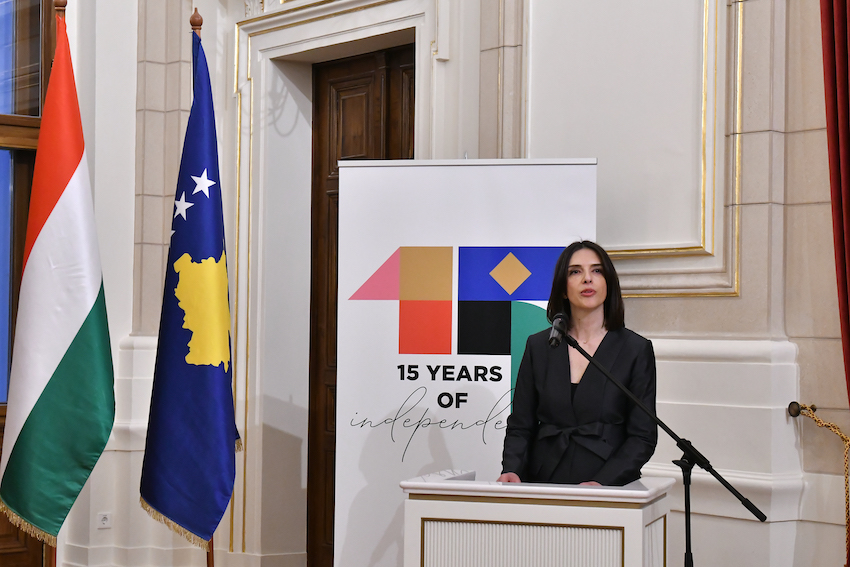 Today, Kosova is the newest and youngest country in Europe, with 70% of the population under the age of 35. It is a progressive, pro-European and democratic country recognized by the majority of UN member states. We are also proof that democracy and economic development go hand in hand, with last year's growth of 4%, exports +23%, and foreign direct investments +44%. We keep improving our position in the Corruption Perceptions Index, the same in freedom of the press.
The World Justice Project ranked Kosova 1st again in the rule of law in the Western Balkans and 2nd in the entire world for the greatest improvement in the rule of law over the past year.We are confident that with our hard work, dedication and commitment, and the support of our allies, including Hungary, we will overcome current and any upcoming challenges and build together a better future for all, while nurturing and protecting the foundations of freedom, democracy and Euro-Atlantic values. We remain strongly committed to join the EU, NATO and all democratic alliances from which all our citizens will benefit.
Kosova is a success story! Our future is bright! Our talented and inspiring Western-oriented young population, is, and will be contributing to prosperity at home and abroad. And this brings me to Mr Diar Aliu, the young and talented artist (we had to help him get a visa to be here with us today). Diar is a classical guitar prodigy from the city of Mitrovica, and is attending his final year at the music high school in Prishtina. Through his 10 years' journey of playing guitar, he has attended many competitions and festivals across Europe and won dozens of first prizes. I would kindly ask for your attention to listen to two pieces that Diar has chosen to play for us: Bach's Prelude 1006a and Coste's Introduction and Allegretto.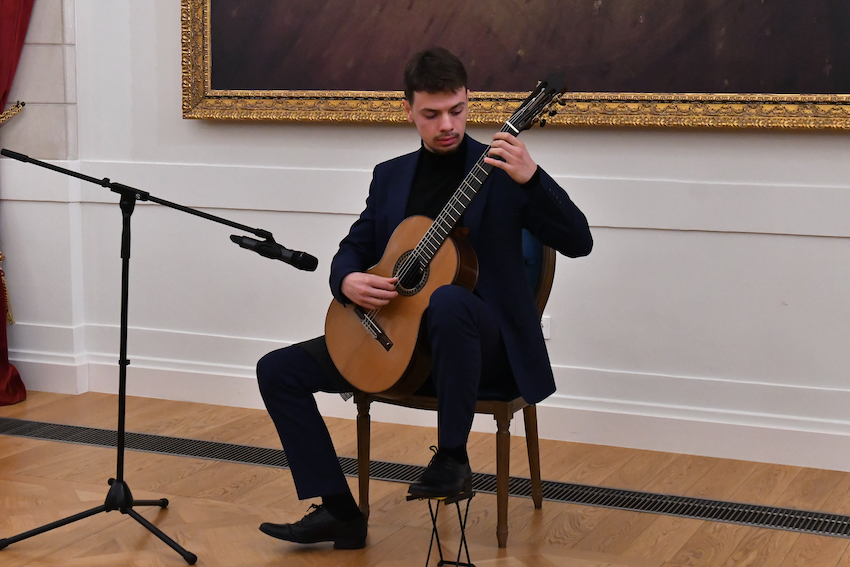 In closing, I would like to express my gratitude to my team and to the Aurea Ana Palace team for their hard work in making tonight's event happen, and to all of you for joining us in celebrating this important anniversary. I invite you now to also try some Kosova wine, some Burek and please enjoy the evening! Thank you!"
The invitees enjoyed the evening in true spirit of an ancient Albanian proverb, based on honour and hospitality, that is very much respected in the society of Kosovo: 'Our house belongs to God and the guest.'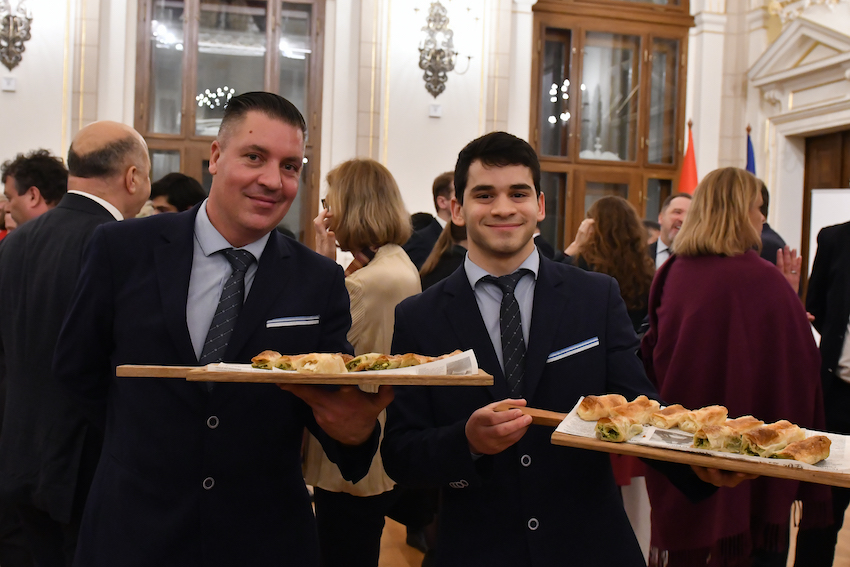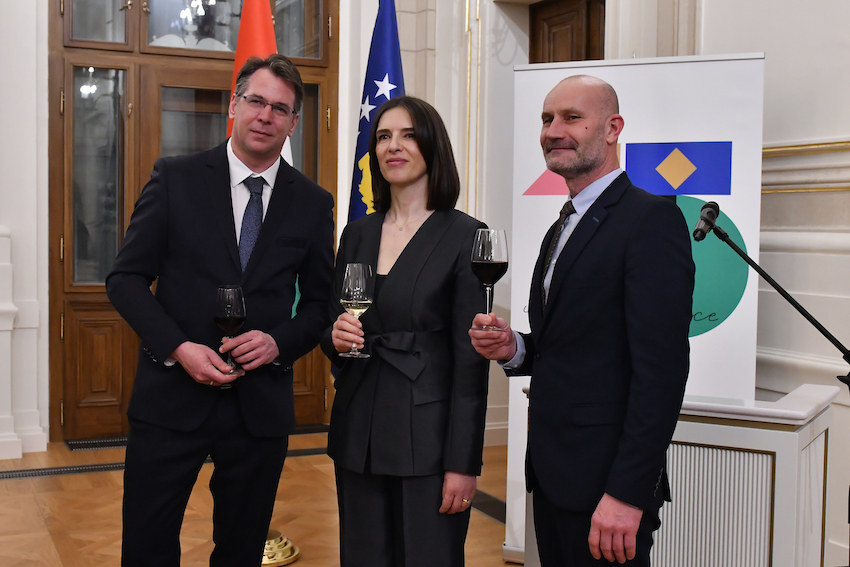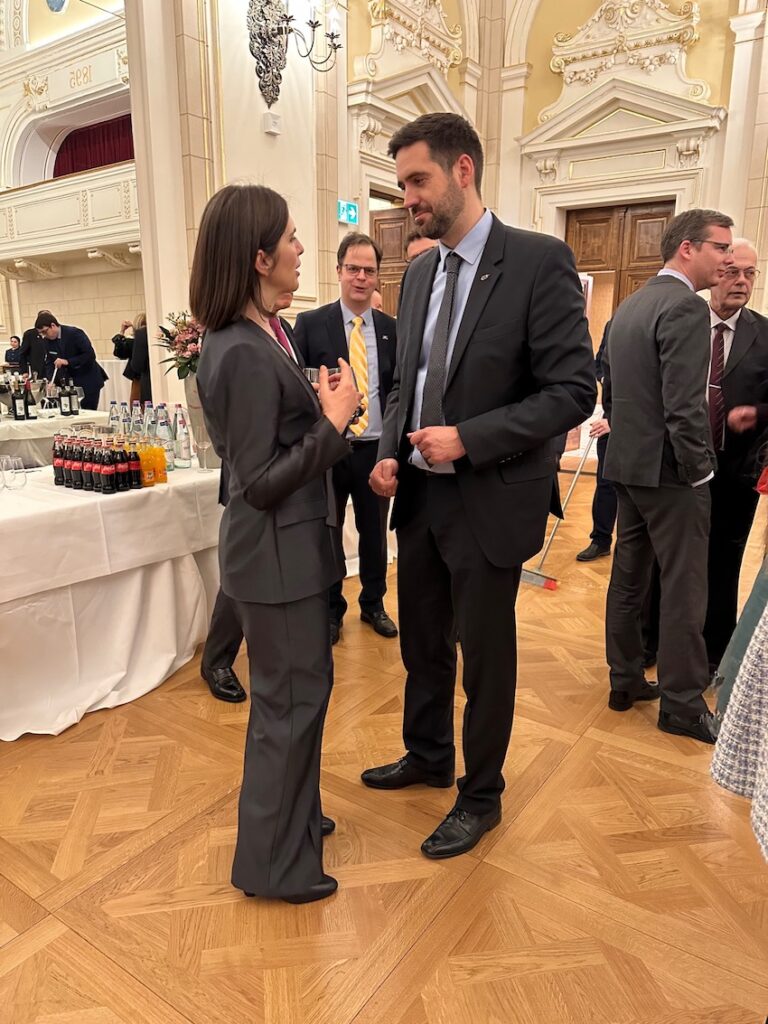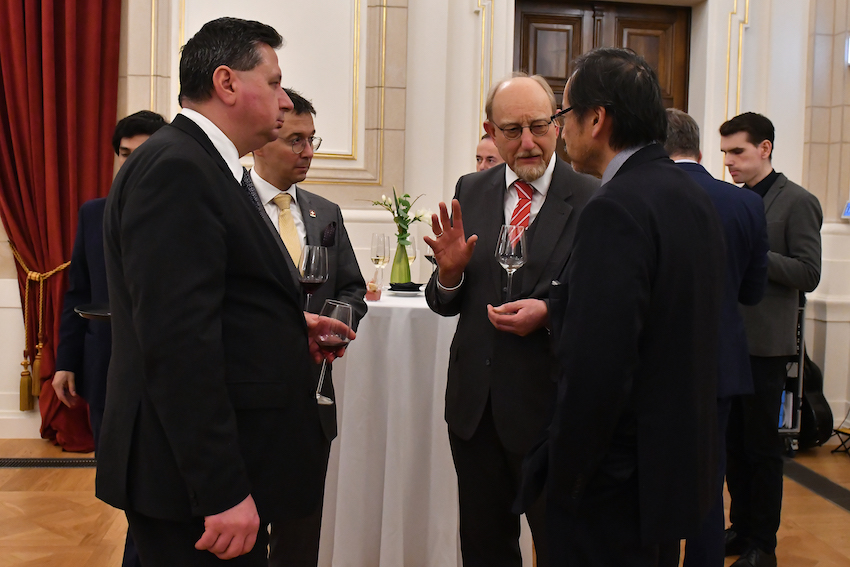 Words of President Dr Vjosa Osmani-Sadriu, quoted from her address delivered at the parade of Kosovo Security Force and Kosovo Police on the occasion of the 15th anniversary of the independence of the Republic of Kosovo: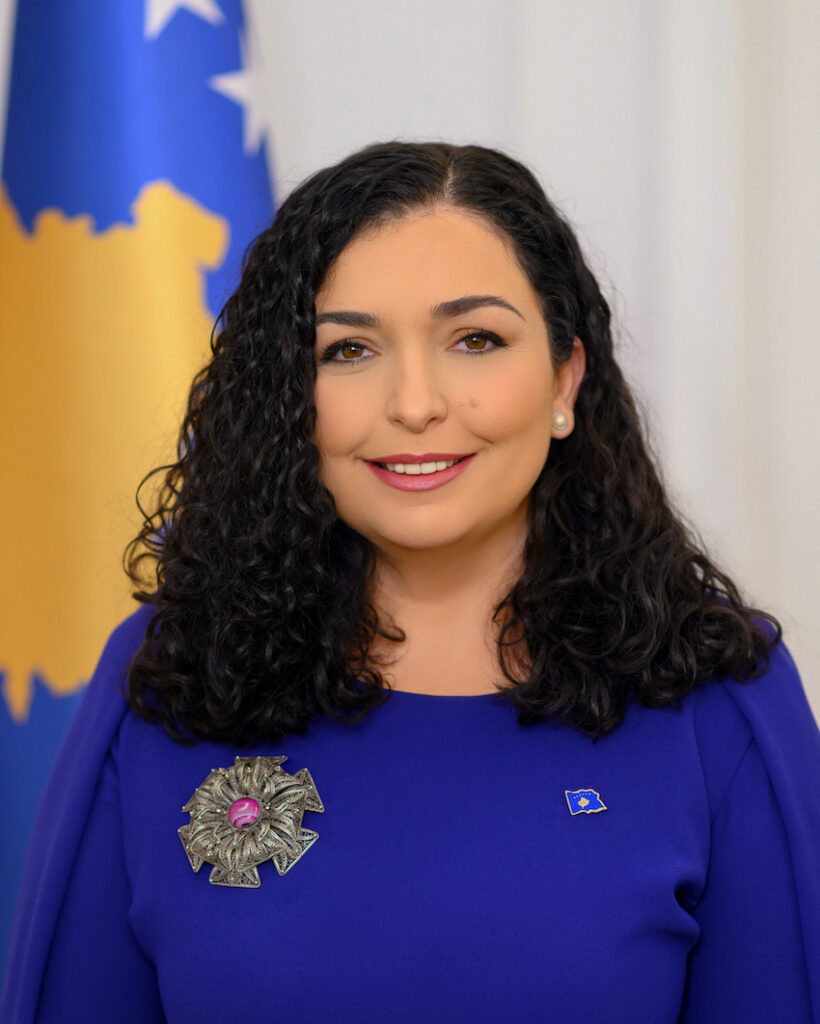 "Our independence is not only freedom from captivity but also our daily engagement towards a society based on justice, equality and prosperity for all citizens without distinction. Therefore, let's work together to build a brighter future for our country and for the generations to come. The period our country is going through, at this time of global challenges and threats, increases the need for us to unite on one front, for the good of the Republic. Because only when we are together are we successful. Our republic is sacred and we must treat and protect it as such. The Republic of Kosovo is eternal, as will be our efforts to strengthen it and continue to feel proud of the state, which is our interest above any other interest. God bless our Army and Police!
May God bless the Republic of Kosovo and its citizens!"
Celebrating also the 15th anniversary of the establishment of diplomatic relations between the Republic of Kosovo and Hungary, a series of various events is planned in Hungary to be organised by the Embassy of Kosovo in Budapest during the year 2023.
Source:
Embassy of Kosovo in Hungary
www.president-ksgov.net