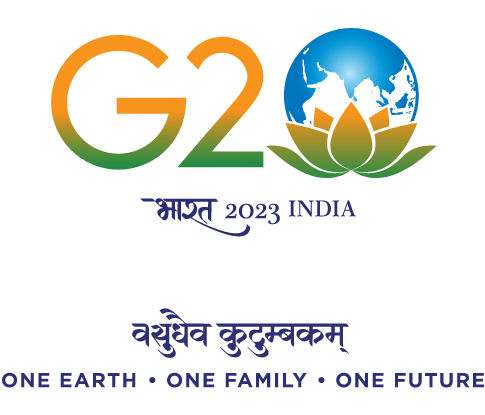 "India's G20 Presidency will work to promote this universal sense of one-ness. Hence our theme: One Earth, One Family, One Future" – PM Narendra Modi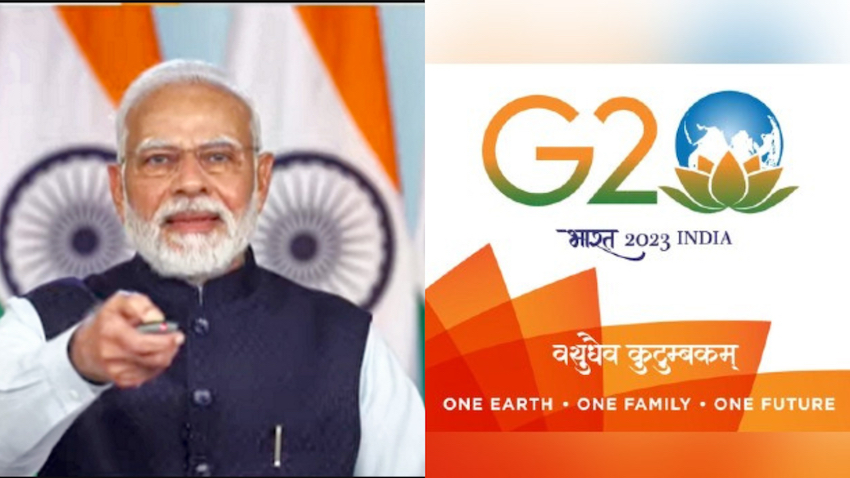 India has taken over the G20 Presidency from Indonesia for one year, from 1 December 2022 to 30 November 2023 and will convene the G20 Leaders' Summit in 2023 for the first time in the country's history. A nation deeply committed to democracy and multilateralism, India's G20 Presidency would be a watershed moment in its history as it aspires to play a major role in finding pragmatic global solutions for the well-being of all, and in doing so, manifest the true spirit of 'Vasudhaiva Kutumbakam' or the 'World is One Family'.
Under the G20 Presidency, the Modi government has decided that more than 200 events will be held in 50 cities in 32 different work streams across India.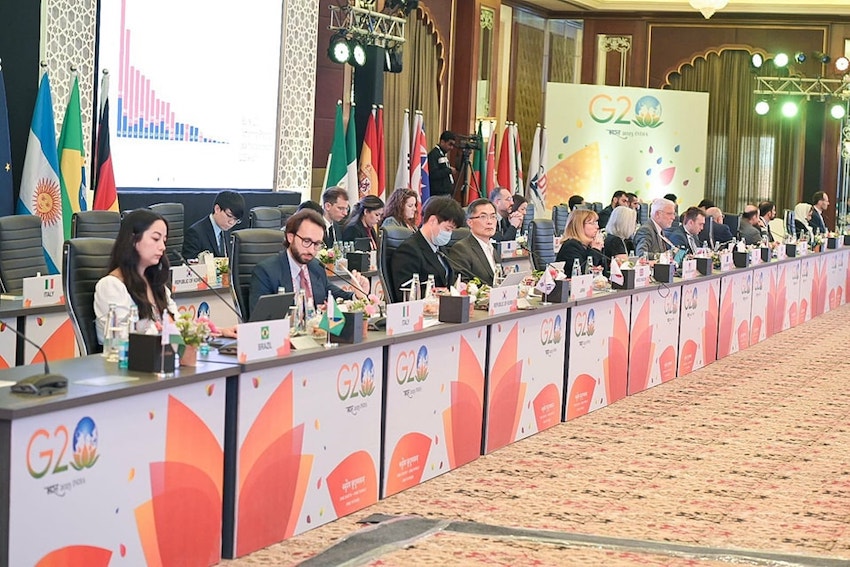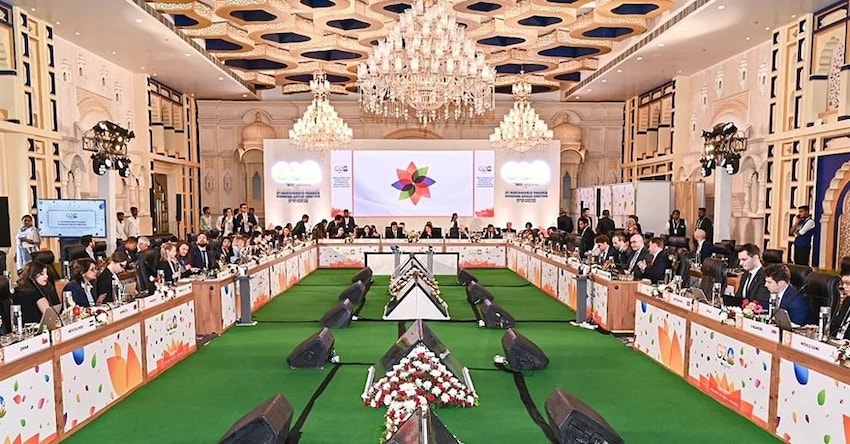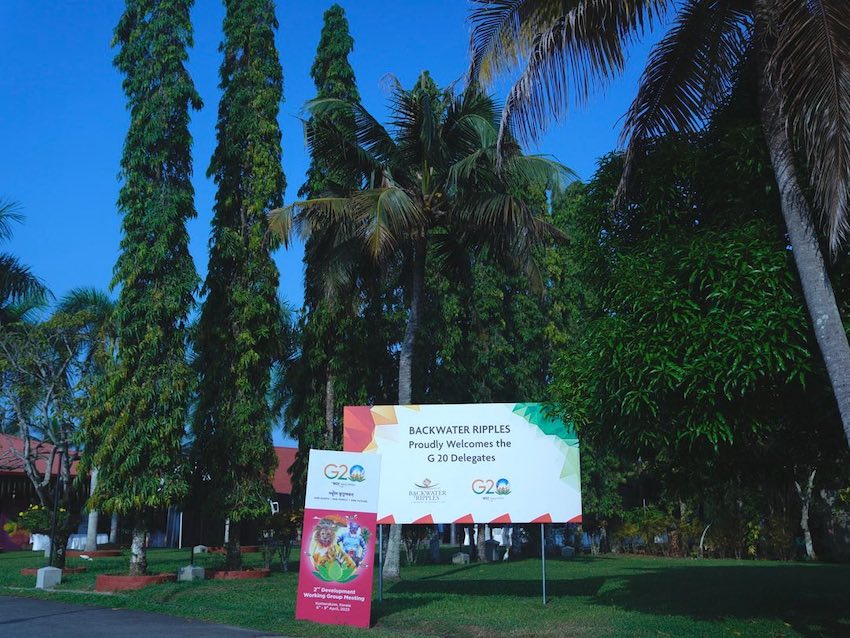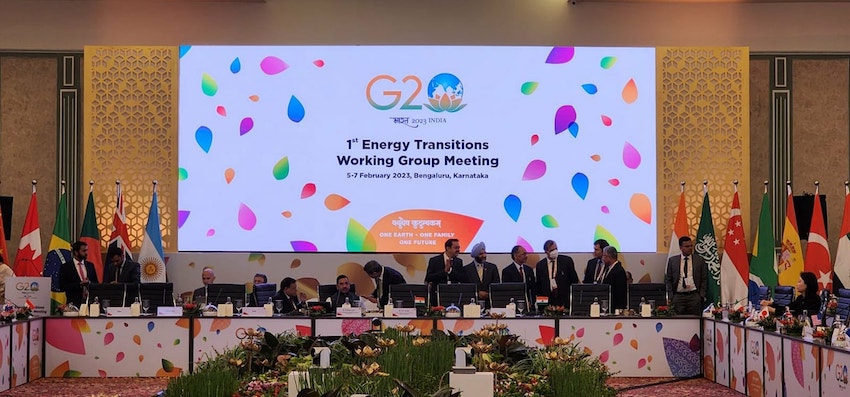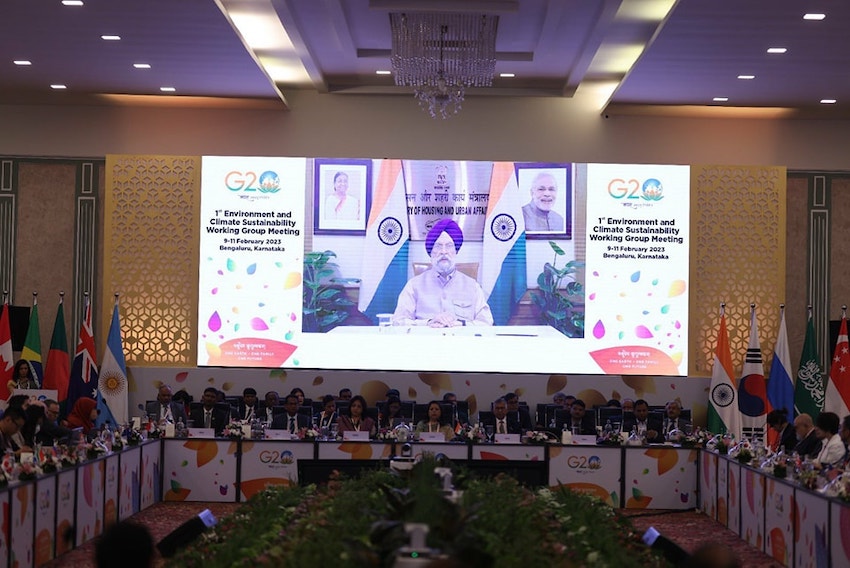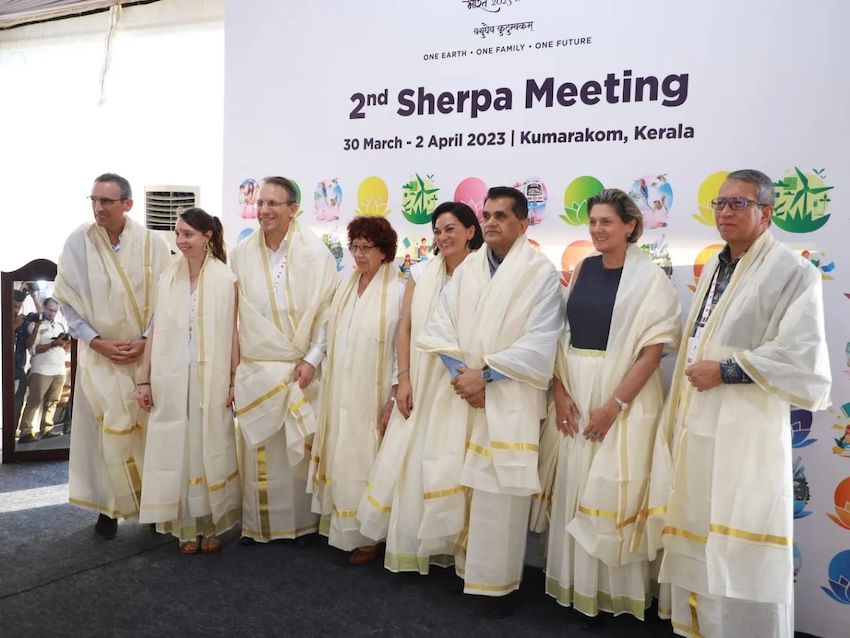 G20 Jan Bhagidari Summit in Delhi – Bringing the G20 to the People
Prime Minister Modi has asked Indians for India's prosperity under "public participation". In such an environment, it is the citizens' responsibility to go beyond these expectations and showcase India's capabilities, philosophy, social and intellectual power to the world.
In this framework, the G20 Jan Bhagidari Summit was successfully conducted on 8 April 2023 in Ligayas's Lalita Devi Institute of Management & Science. At this event, speakers and delegates from various fields, walks of life and countries were invited to share their views and suggest pointers on the theme of "India's Priority in the G20 Presidency 2023".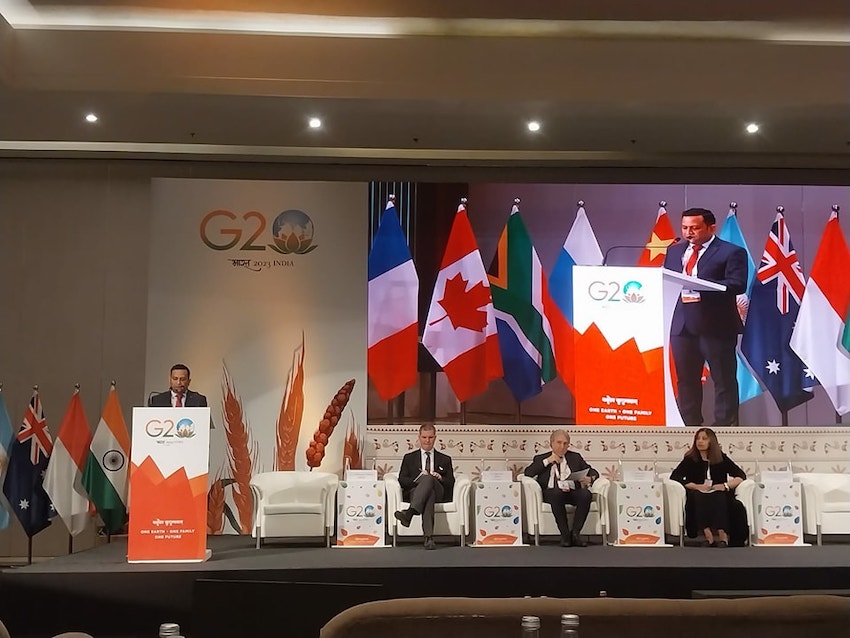 The program was inaugurated by Dr. Bakshi Ram (Padma Shri Awardee), Dr. Picheshwar Gadde(Chairman – Lingaya Group), Chelliah Selamuthu (Director NDMC), Ved Prakash Mahavar (Director – ONGC) while organising support was given by Golden Sparrow. The event attracted more than 320 participants from different states to participate in the program through online and offline media.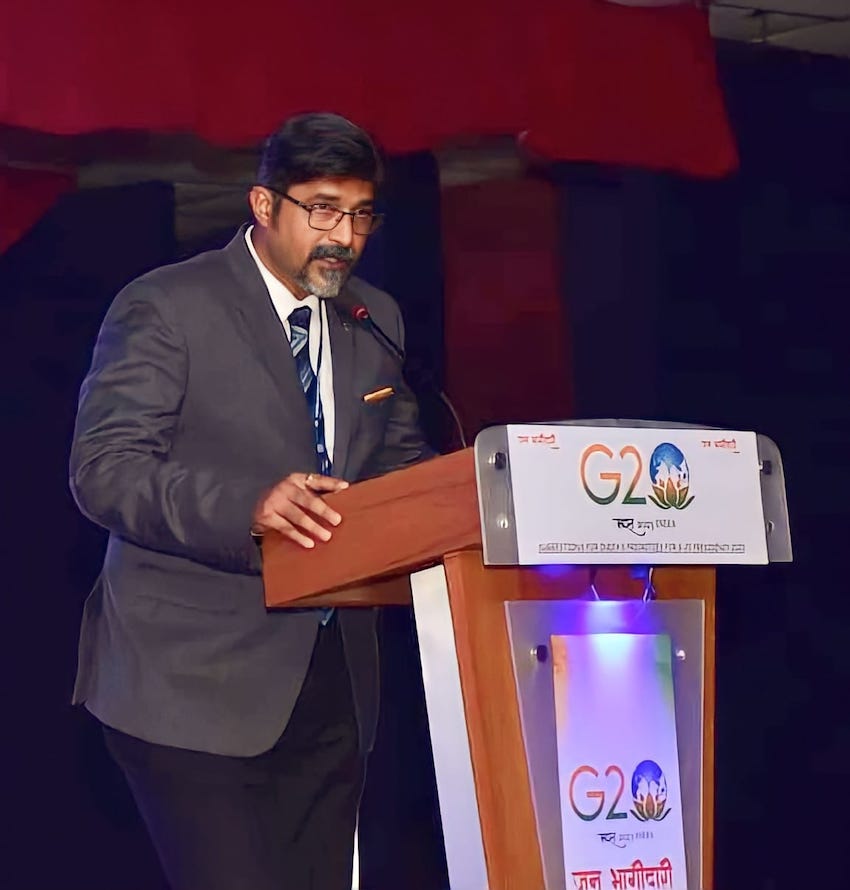 Dr. Dinesh Sabnis also attended the G20 Jan Bhagidari Summit 2023 as speaker and guest of honour. He is senior education leader in Maharashtra and has a special appointment in World Fund for Development and Planning (WFDP) as an Addl. Representative at the United Nations Office in Geneva, he is also on the panel of UN Peacekeepers Veterans Association AISP SPIA as Secretary General for the Indian delegation. Dr. Sabnis shared valuable information on India's role as President of the G20 Summit and how the G20 countries play a vital role in overall economic development, especially for countries facing financial crisis. He specially emphasized the point "Accelerating Progress on SDGs", which is one of the top priorities for the G20 Presidency in 2023. Dr. Sabnis also explained UN Sustainable Development Goal-17, which is about global partnerships, and how the G20 forum will play a major role in the economic development of developing countries and countries going through financial crisis, only if G20 countries show strong engagement through partnerships and proper diplomacy. Dr. Sabnis also mentioned the G20 theme Vasudhaiva Kutumbakam and its importance as One Earth, One Family, One Future. He also urged Indian society to make every possible effort to achieve global peace and sustainable development in various sectors through proper diplomacy and micro-level planning.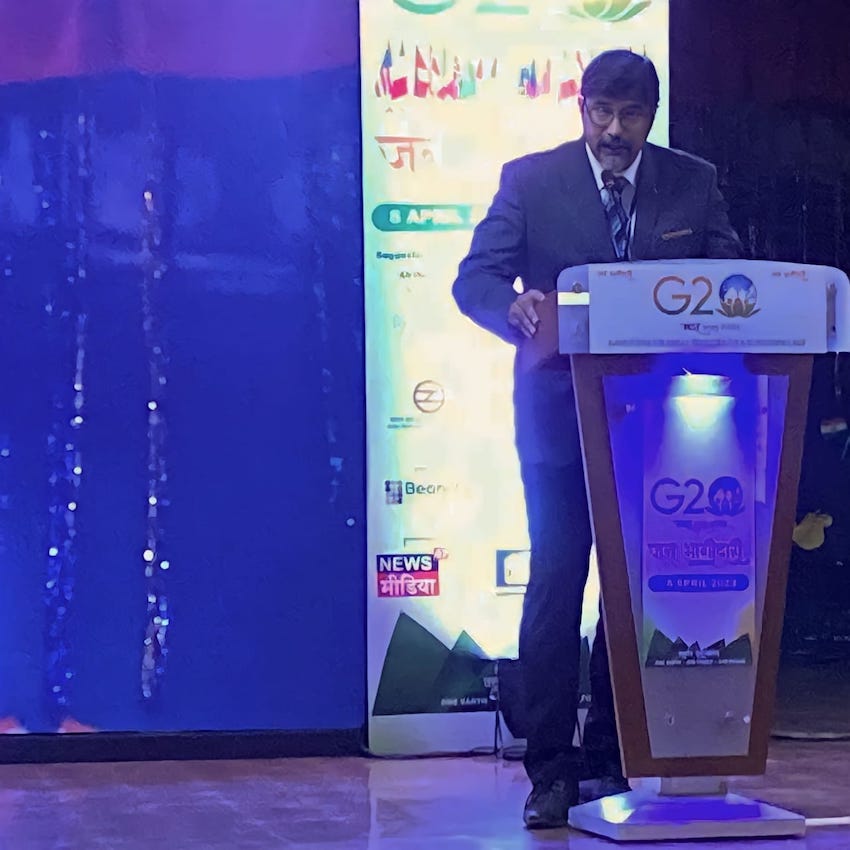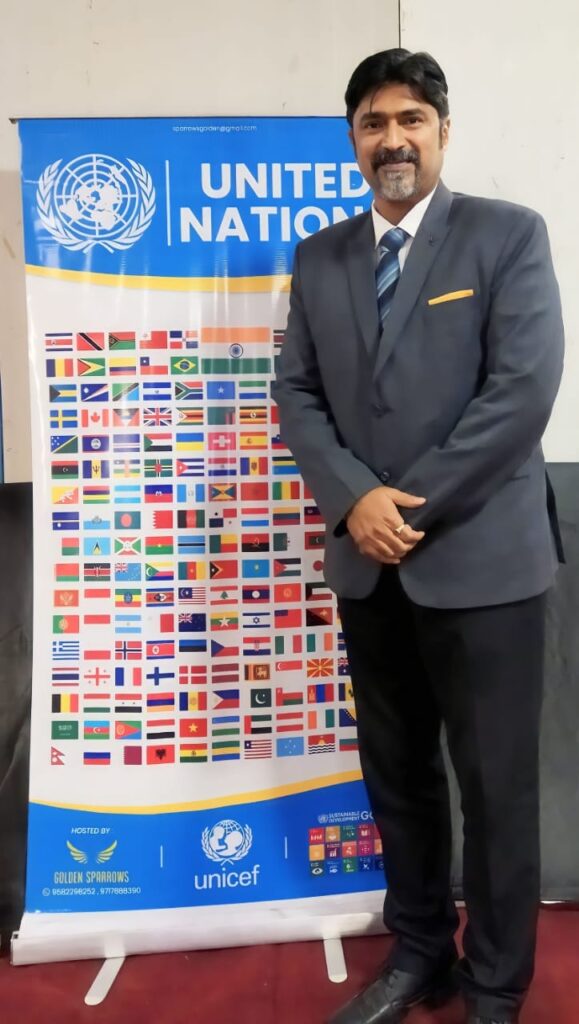 About G20
The G20 is the premier forum for international cooperation on the most important aspects of the international economic and financial agenda. It brings together the world's leading advanced and emerging economies. G20 includes Argentina, Australia, Brazil, Canada, China, the European Union, France, Germany, India, Indonesia, Italy, Japan, Mexico, Russia, Saudi Arabia, South Africa, South Korea, Turkey, the UK and the USA. The G20 countries together represent about 90% of global GDP, 80% of world trade and two-thirds of the world population.
The G20 was founded in 1999 after the Asian financial crisis as a forum for Finance Ministers and Central Bank Governors to discuss global economic and financial issues. In the wake of the global economic and financial crisis in 2007, it was upgraded to the level of Heads of State and Government, and in 2009 it was names the "premier forum for international economic cooperation".
The G20 promotes multilateralism. Since 2011, the G20 Summit has been held annually, under rotating presidencies. The practice of rotating the chair gives all members the chance to shape the global agenda.
The theme of India's G20 Presidency
The motto "Vasudhaiva Kutumbakam" or "One Earth, One Family, One Future" – is taken from the ancient Sanskrit text of the Maha Upanishad. Essentially, the theme affirms the value of all life – human, animal, plant and microorganisms – and their interconnectedness on planet Earth and the wider universe. The theme also spotlights LiFE (Lifestyle for Environment) with its associated, environmentally sustainable and responsible choices, both at the level of individual lifestyle and national development, leading to global transformative actions resulting in a cleaner, greener and bluer future.
A new Working Group on Disaster Risk Reduction will be established under India's Presidency to encourage collective work of the G20, undertake multidisciplinary research and share best practices on disaster risk reduction.
Established for the first time under India's G20 Presidency, the Startup20 Engagement Group recognises the role of startups in driving innovation that responds to a rapidly changing global scenario.
India's special invitee guest countries are: Bangladesh, Egypt, Mauritius, Netherlands, Nigeria, Oman, Singapore, Spain and UAE.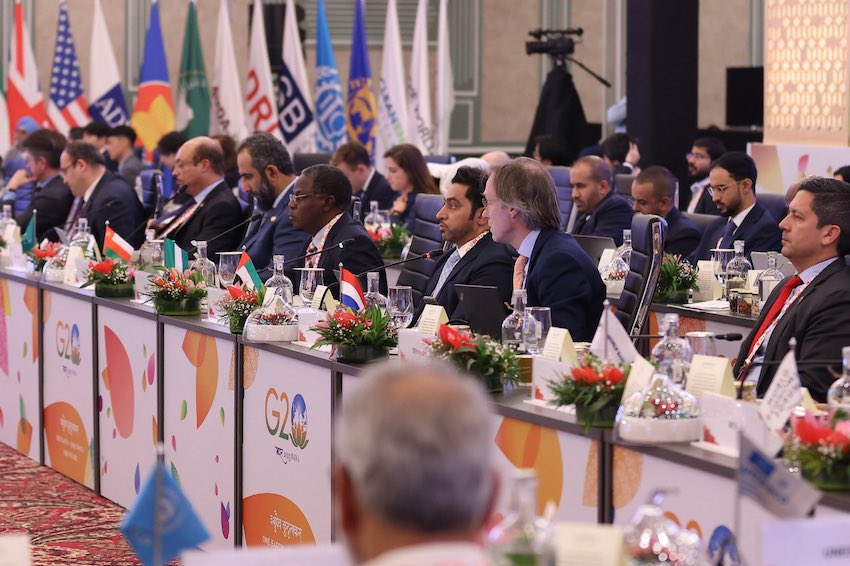 The G20's invited international organisations are: UN, IMF, World Bank, WHO, WTO, ILO, FSB, OECD, AU Chair, NEPAD Chair, ASEAN Chair, ADB, ISA and CDRI.
For India, the G20 Presidency also marks the beginning of "Amritkaal", the 25-year period beginning from the 75th anniversary of its independence on 15 August 2022, leading up to the centenary of its independence towards a futuristic, prosperous, inclusive and developed society, which is distinguished at its core by a human-centric approach.
"The G20 Presidency reflects world's confidence in India" – PM Narendra Modi.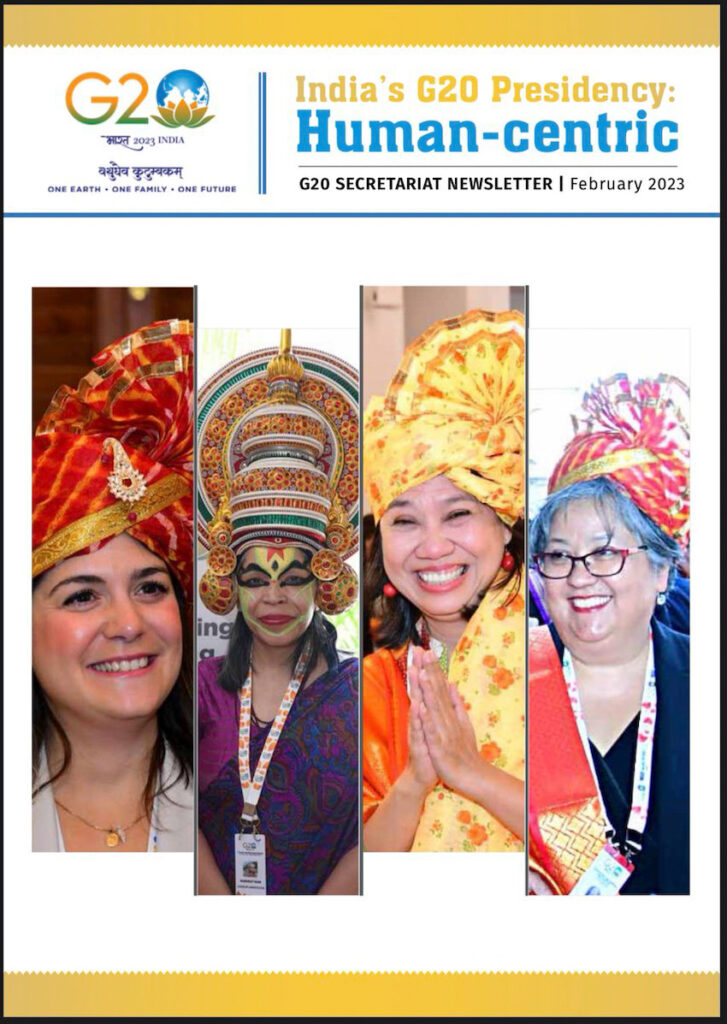 Source: Dr. Dinesh Sabnis, Addl. Representative in UN Geneva Office
www.g20.in
www.g20.org