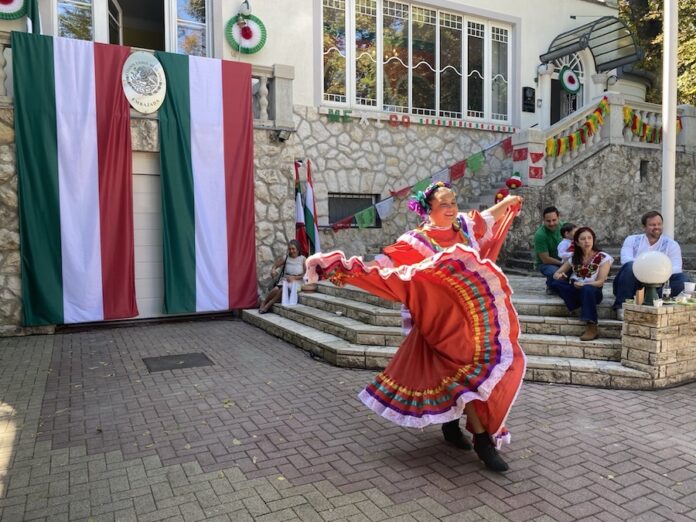 Written by Anna Popper
Deputy Editor-in-Chief / Diplomatic Magazine
On the occasion of the 211th anniversary of the beginning of the Mexican War of Independence, the Embassy of Mexico in Budapest held a commemoration in the presence of a hundred guests, in full respect of the restrictions imposed by the current COVID-19 pandemic. The traditional celebration, held in the garden of the Embassy, started with the hoisting of the national flag. It was followed by the Mexican National Anthem, sung by the soprano Estefanía Avilés, and the Hungarian National Anthem played by the Hungarian Military Band from Szentendre.
Then H.E. Rosario Molinero, Ambassador of Mexico to Hungary performed "el Grito de Independencia", which commemorates a historic event on 16 September 1810. It was a crucial day for Mexican people when Father Miguel Hidalgo y Costilla gathered the people of his congregation in the town of Dolores and encouraged them to join the struggle for freedom. While waving their national flag he shouted out a call for patriotism, el Grito de Independencia – the Cry for Mexican Independence, by this act started the 11-year-long war, lasting until 1821 and resulting in the country's independence. Hidalgo's "grito" is now echoed across the nation every September 16.
The cultural programme of this significant day included a Concert of Hungarian-Mexican Friendship, performed by the Szentendre Orchestra, offered as a courtesy by the Hungarian Ministry of Defence. The large Mexican and Hungarian audience also enjoyed live music and folk dance performances by Mexican and Hungarian artists.
As part of the event, the hosts created a menu inspired by the famous gastronomy of the streets of Mexico City. Thanks to the local sponsors' generosity, the guests were invited to taste the iconic Mexican drinks: "Volcán de mi tierra" tequila and Corona Beer.
Source: Diplomatic Magazine