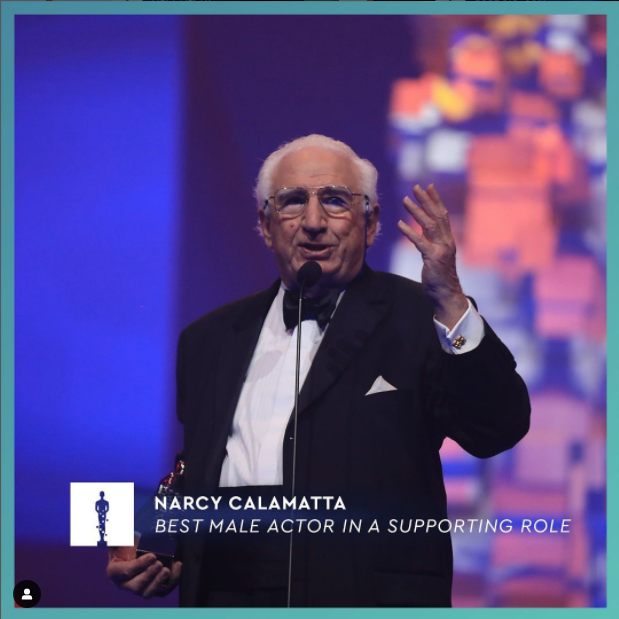 On the 29th January 2022, Sir Dr. Narcissus (k/a Narcy) Charles Calamatta, KCM – Grand Chancellor of the Priory of the Most Holy Trinity of Villedieu brought again another honour to the Sovereign Order of Saint John of Jerusalem, Knights of Malta, Federation of the Autonomous Priories (KMFAP).
Sir Narcy was awarded Best Actor in a Supporting Role at the first-ever edition of the Malta Film Awards, held at the Mediterranean Conference Centre in Valletta, Malta. The event aims to celebrate the success story of the creatives and projects in Malta's cinematic history that ensured the country reaches a unique level of excellence.
Sir Narcy was selected from among 5 nominees, 2 of whom were well known British professional actors, and he was recognised for a dramatic part he portrayed in the feature film "Knock Me Up Knock Me Down" (Ħabbilni Ħa Nirbaħ).
He was among the Hollywood elite also awarded, including director Roland Joffe` (The Mission), composer John Powell (How to Train Your Dragon) and actor Harvey Keitel (Pulp Fiction) who received the Best Actor in a Leading Role award for his performance in Maltese film "Blood on the Crown". Also of note are Sir Ridley Scott – receiving the Malta Film Ambassador Award, and Russell Crowe – receiving the Malta Film Industry Honorary Award.
Sir Narcy has a 50-year career in the theatre and film industry, where he has worked as a scriptwriter, director, actor and Malta Film Studios director.
In his acceptance speech, he acknowledged his fellow nominees and his lovely wife Lauren, who has supported him throughout his career. He opened the fabulous event with a bang, drawing much laughter and applause. The program presenter, Britain's Got Talent judge, David Walliams, remarked: "This speech will soon be available on audio books".
With this extraordinary event transmitted live not only for Malta Television but also on social media worldwide, Sir Narcy brought proud honour to us all, his brother Knights and Dames of KMFAP.