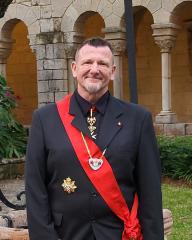 Dr. András Niklós – Seminar Presenter
The Florida International Chamber of Commerce was pleased to welcome Dr. András Niklós as their featured speaker, whose seminar dealt with Security Service Innovation in today's social and public environment. His seminar was held at the Florida International Business Centre in Sarasota between 21-23 February 2022.
Dr. Niklós is an internationally recognised security expert specialising in the creation of specific security solutions for the needs of a diversified group of businesses. He has been an active participant in the security services industry for over 30 years with his core security business, Proved Strategic Management, based in Budapest, Hungary.
He has multiple professional degrees, including a Doctorate in International Business, another Doctorate in International Economics, and an Associate's degree in International Business Management. In addition, Dr. Niklós has received numerous awards for his contributions to the security services industry, from organisations such as the International Bodyguard & Security Services Association (IBSSA), the International Order of Security, the Knights of Malta (KMFAP), the Sovereign Order of Cyprus, and the Latvian Security Association. To this day, he continues to make groundbreaking contributions to his field.
Dr. András Niklós was incredibly well received by the more than 60 professionals in attendance. We were impressed by his extensive knowledge of the field and the audience overwhelmingly considered Dr. Niklós to be one of the most engaging speakers they had ever heard.
After hearing his presentations, I believe that Dr. Niklós is a truly top professional possessing exceptional knowledge in the security services industry. He is internationally recognised for his many years of experience and his creative approach to developing innovative solutions.
Among others, these characteristics of Dr. Niklós distinguish him from the majority of security professionals, establishing his status as one of the most respected security professionals in the world.
Gary Pete Harris, Executive Director
Florida International Chamber of Commerce
The Florida International Chamber of Commerce was incorporated as a non-profit organisation on the 19 December 1997.
Its mission statement is to promote International Trade, Commerce, and Tourism with Florida and other countries through educational seminars, trade events, and business missions to educate and establish commerce with a diverse group of businesses and organisations.
Its executive director, Gary Pete Harris has been involved in International Trade and Commerce for the past 25 years. He is one of the founders of the Florida International Chamber of Commerce and currently continues to be involved in presenting international seminars and trade events to promote the mission of the Florida International Chamber of Commerce.