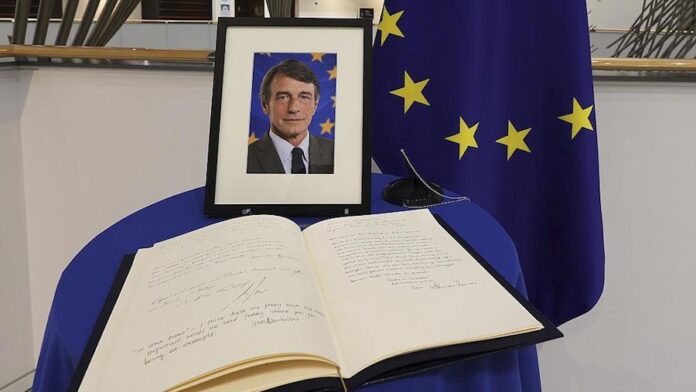 Written by Anna Popper
Deputy Editor-in-Chief / Diplomatic Magazine
Europe has lost a great leader, democracy has lost a champion with the death of European Parliament President, David Sassoli, who passed away on 11 January 2022, at the age of 65, after struggling with pneumonia, he was hospitalised due to abnormal functioning of his immune system.
EU leaders paid tribute to the late EP President hailing his kindness, humility, ideals, and devotion to Europe. He was a great European & proud Italian.
Roberta Metsola, acting President of the EP, emphasized that with Sassoli's death, Europe had lost its strength and determination to keep the European Parliament operational during the pandemic.
European Council President Charles Michel remembered Sassoli's ideals of social justice and solidarity and attachment to democratic values. Sassoli didn't mince his words when criticising governments that he believed were not helping migrants. He proposed a new project of hope for Europe that could represent our union, our values, and our civilisation.
"The Europe he defended was the Europe of solidarity between its citizens and members. He never lost view of the importance of defending the rule of law in Europe and elsewhere," – Emmanuel Macron said.
Former Italian Prime Minister Enrico Letta highlighted: "Sassoli saw Europe as a project of peace and a process in history to continue building with a new vision that was greener and more sustainable. He was also dedicated to democracy, which is not a gift, but an achievement that must be earned over and over again."
At the funeral Bologna Cardinal Matteo Zuppi, a childhood friend of Sassoli, said in his homily: "For him, politics had to be for the common good. That's why he wanted a united Europe with core values, and he served to make the institutions work. Not ideologies but ideals, not calculations but a vision."
The Italian military providing a guard of honour accompanied Sassoli's coffin, draped in the EU flag, as it entered Rome's Santa Maria degli Angeli Basilica.
The ceremony was attended by Sassoli's family, Italy's President Sergio Mattarella, and Prime Minister Mario Draghi and the highest office-holders from EU institutions were also present to pay their respect to the late President of the European Parliament.