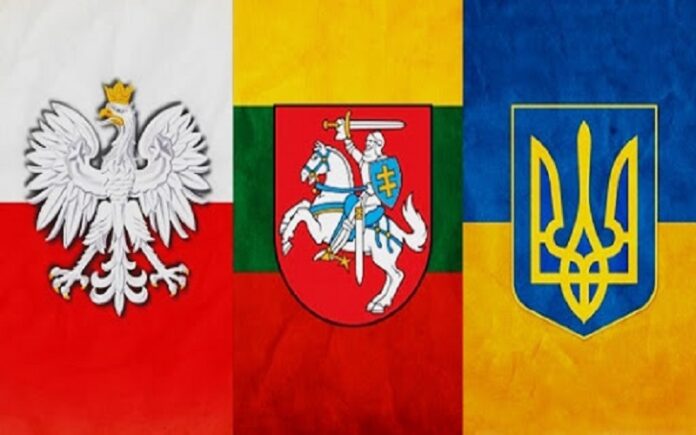 A new format of cooperation between Poland, Lithuania and Ukraine was set up in July 2020. The Foreign Minister of the Republic of Poland, Jacek Czaputowicz, Foreign Minister of the Republic of Lithuania, Linas Linkeviczius and Foreign Minister of Ukraine, Dmytro Kuleba signed a joint declaration on establishing the Lublin Triangle. The aim is to expand and strengthen cooperation, coordination and consultation in the field of security in response to common threats in the region, to deepen tripartite military and defence ties using the full potential of NATO and the EU, to further develop economic and social cooperation, to reinforce the EU Eastern Partnership initiative and support the reform process in Ukraine. The historic Polish city of Lublin welcomed the foreign ministers of the three countries at their founding meeting, where they discussed the challenges facing the EU and NATO. It was also recalled that the countries with their special military brigades joined forces within LITPOLUKRBRIG, a multinational unit, part of long-term cooperation in NATO's eastern flank.
The Foreign Ministers recognise the multi-centennial historical and cultural links between their nations and the benefits of creating even stronger political, economic, infrastructural, security, defence and cultural ties in the world today. They underline the strategic importance of intensified cooperation between the EU, NATO and Eastern Partnership countries and pay due attention to the functioning of the Three Seas Initiative. It was proposed to hold regular ministerial meetings of the three countries in the future.
Lublin, the Top of the Triangle
Lublin, the venue of the founding meeting was not chosen randomly. The Kingdom of Poland and the Grand Duchy of Lithuania signed an agreement known as the Union of Lublin on 1 July 1569, creating the Polish–Lithuanian Commonwealth, characterized by a single monarch, a common parliament and one currency. It became one of the largest countries in Europe at that time. (The territory of Ukraine was part of these two countries back then.)
The second ministerial meeting was held in January 2021, remotely by Dmytro Kuleba, Foreign Minister of Ukraine, Gabrielius Landsbergis, new Foreign Minister of Lithuania and Zbigniew Rau, new Foreign Minister of Poland. They discussed the management of the COVID-19 pandemic and underlined the need to ensure a constant and transparent flow of vaccines. The foreign ministers talked about the upcoming Eastern Partnership Summit in 2021 and stressed the need for a long-term Eastern Partnership agenda. Plans for further cooperation and joint historical memory initiatives were also reviewed and it was agreed to continue coordination in the Lublin Triangle format. Lithuania offered to host the next meeting of foreign ministers of the Lublin Triangle states.
Anna Popper
Source: Diplomatic Magazine