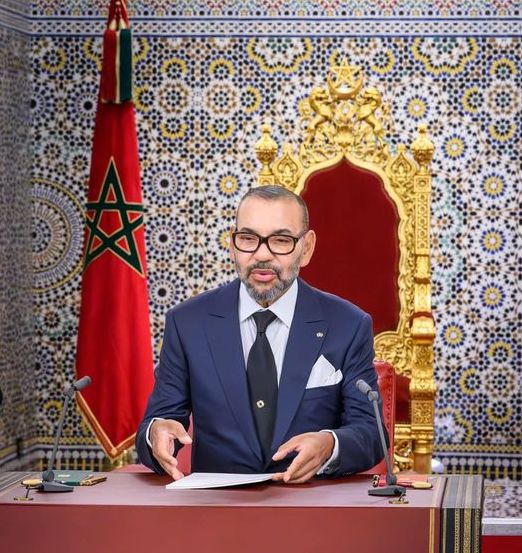 "Under His Majesty's leadership, Morocco has undergone remarkable transformations, becoming a beacon of hope and a model of progress."
Edited by Anna Popper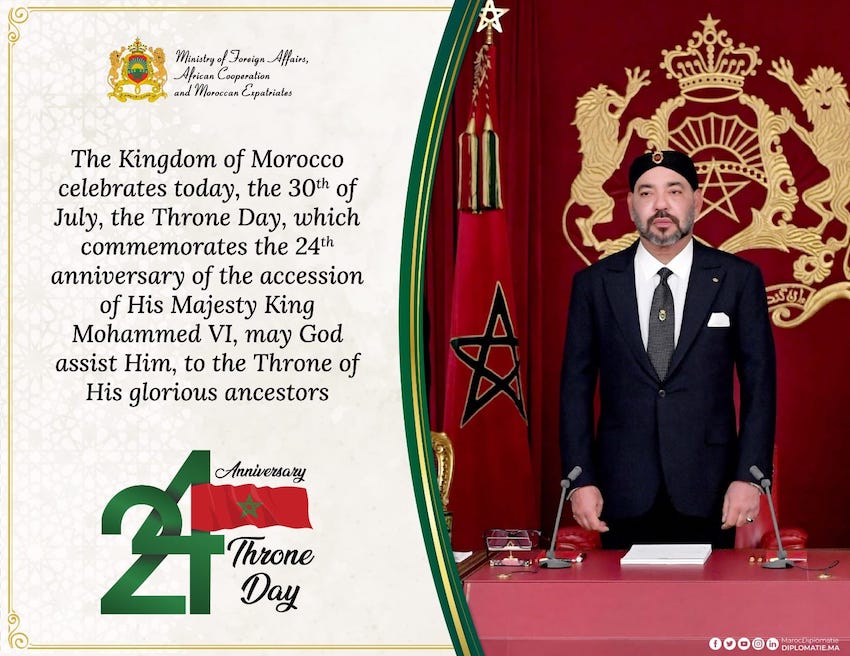 Throne Day in Morocco is a national holiday, celebrated on the 30th July each year. The day is dedicated to His Majesty King Mohammed VI's accession to the throne, succeeding his father Hassan II. The coronation of the current King of Morocco took place in Rabat on 30 July 1999.
Throne Day symbolizes the attachment of Moroccans to the Alawite throne and their unwavering bonds of allegiance to the Sovereign, which has been perpetuated for centuries. Throne Day is an annual occasion to celebrate the recent accomplishments and results attained by the country and reflects the challenges that are still ahead in realising His Majesty's vision of a modern and prosperous state. The holiday is marked by military parades, fireworks and street festivities taking place in all Moroccan cities and around the world.
Traditionally, on this significant holiday, His Majesty King Mohammed VI grants royal pardons to convicted persons as a token of mercy to show values of forgiveness and social integration. The Throne Day serves to strengthen the ties between the monarchy and Moroccan citizens, and this measure also contribute to strengthen these ties.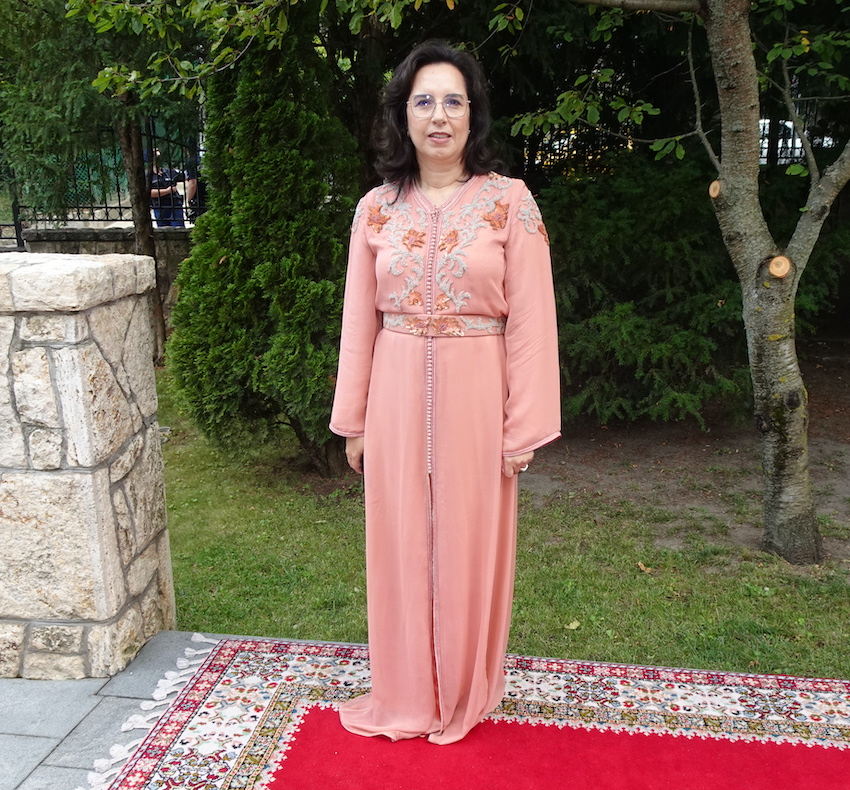 On the 30th July, the Embassy of the Kingdom of Morocco in Budapest held a diplomatic reception to commemorate the 24th Anniversary of the Enthronement of His Majesty King Mohammed VI, hosted by H.E. Ms. Karima Kabbaj, Ambassador of the Kingdom of Morocco to Hungary at the Moroccan Residence.
The event was attended by officials of the Hungarian political life, members of the diplomatic corps, representatives of the cultural, academic and business circles, Moroccan students in Hungary and friends of the beautiful North African country.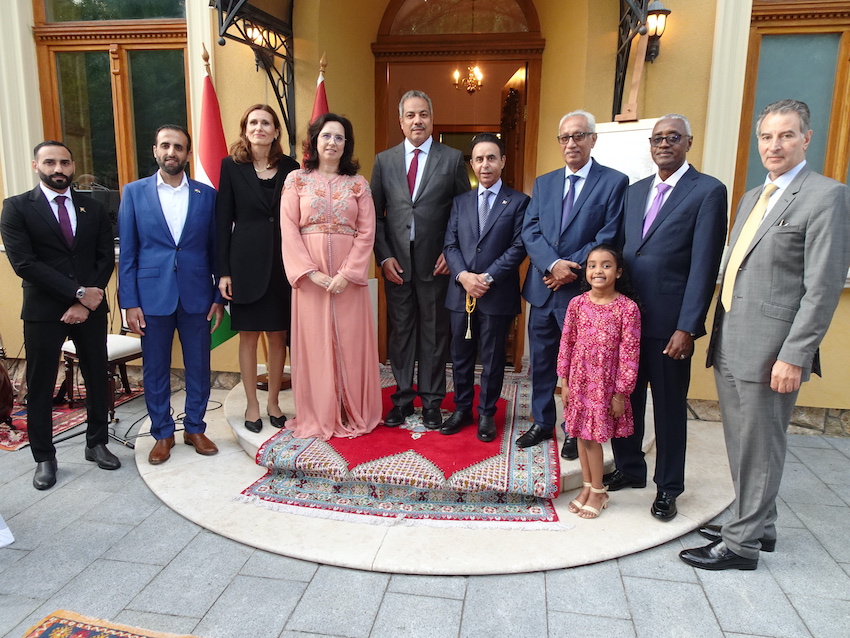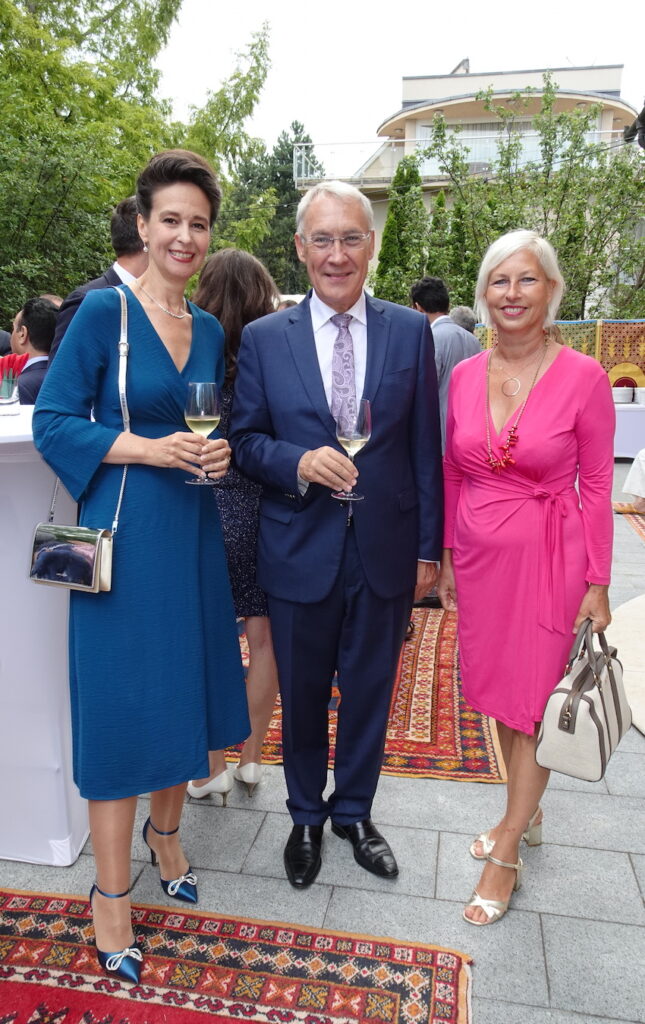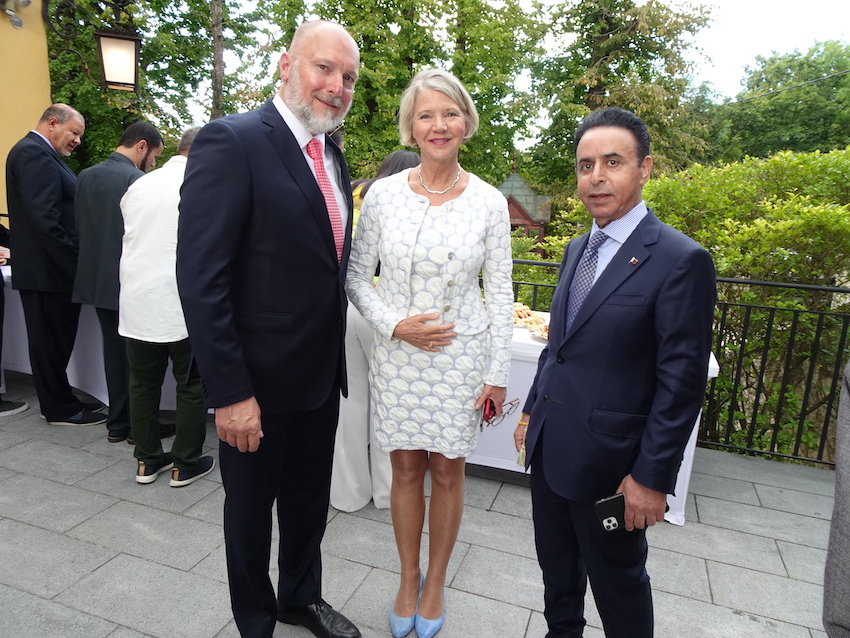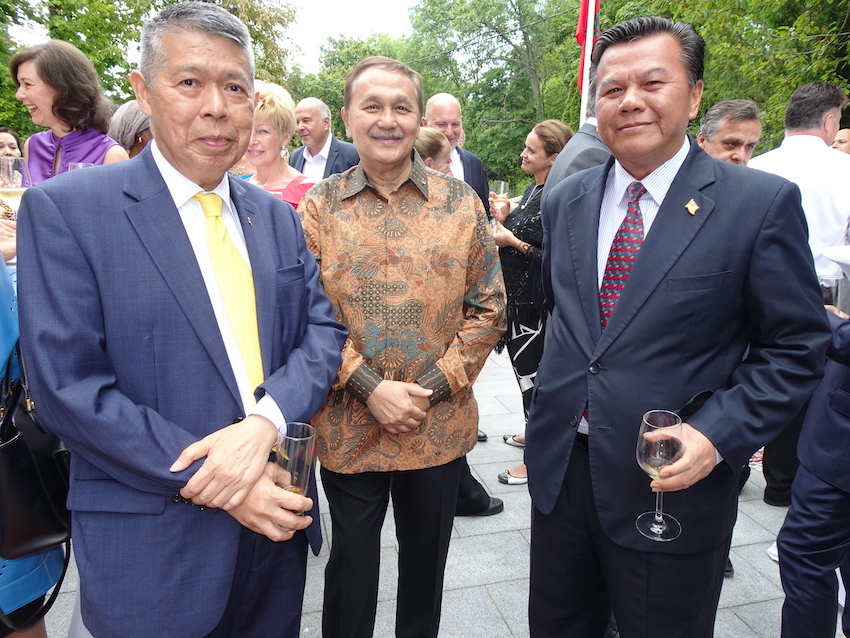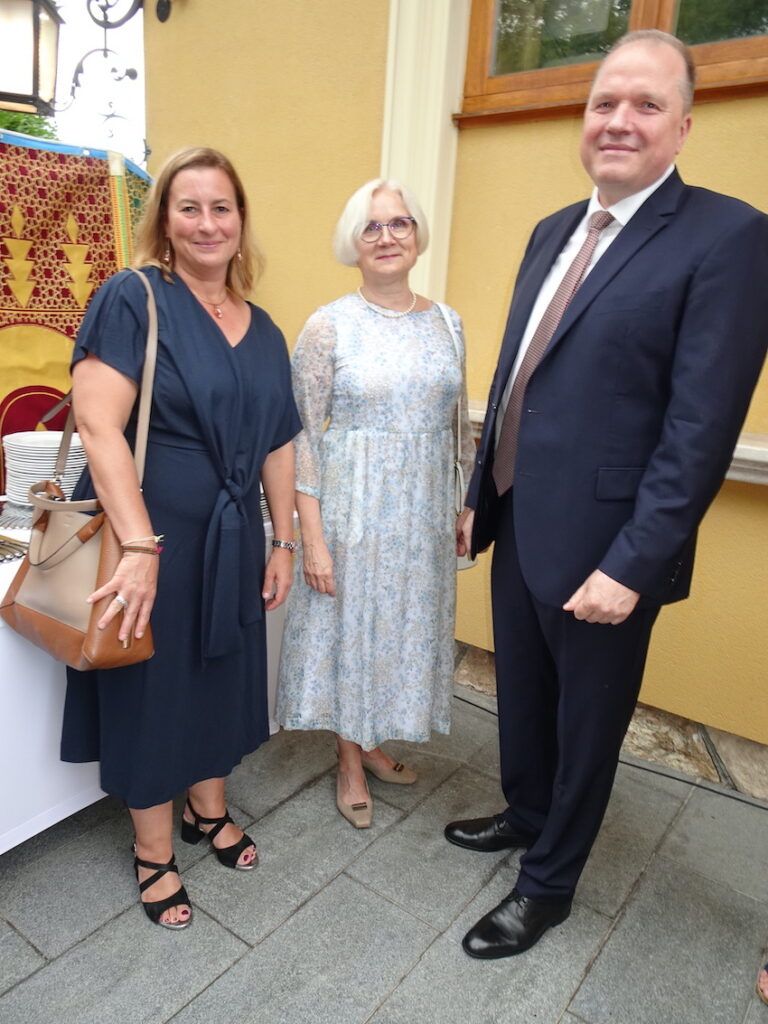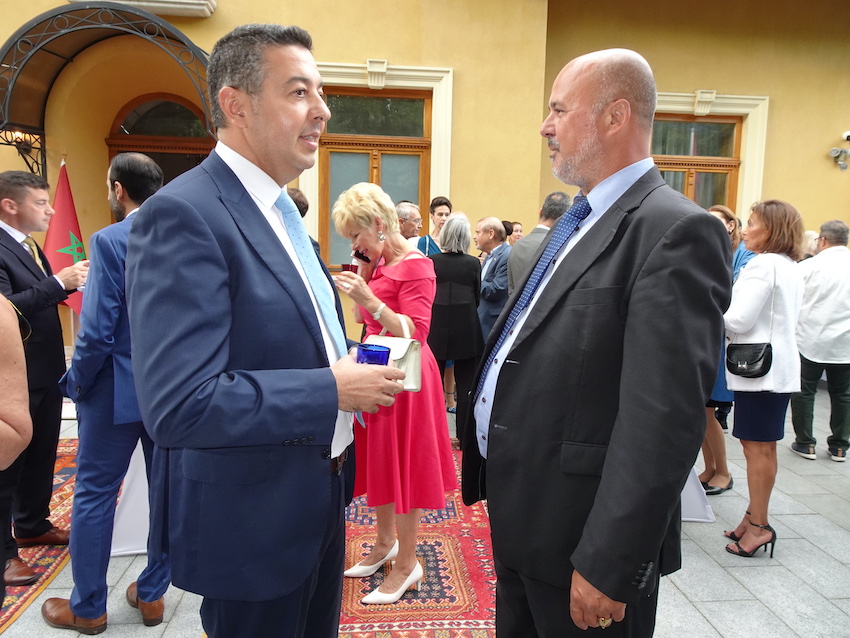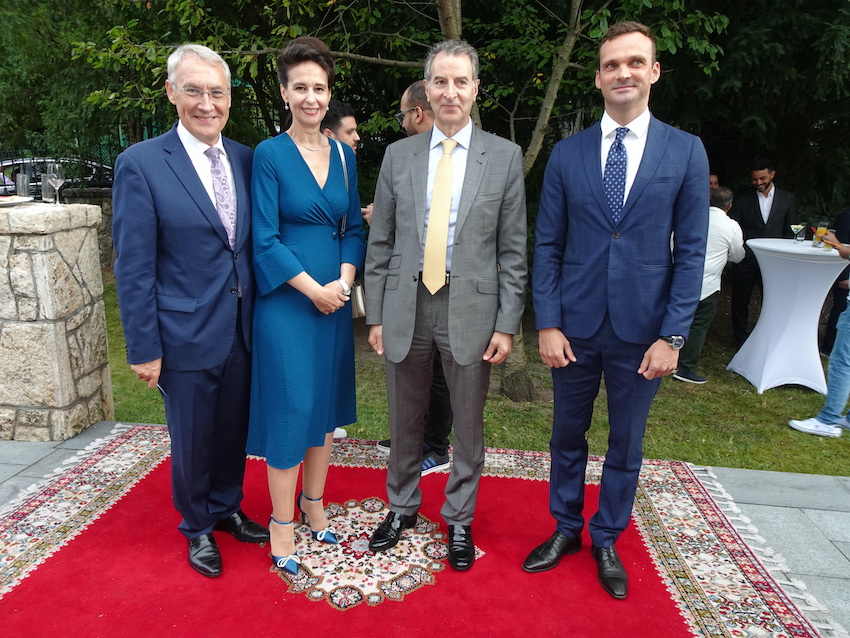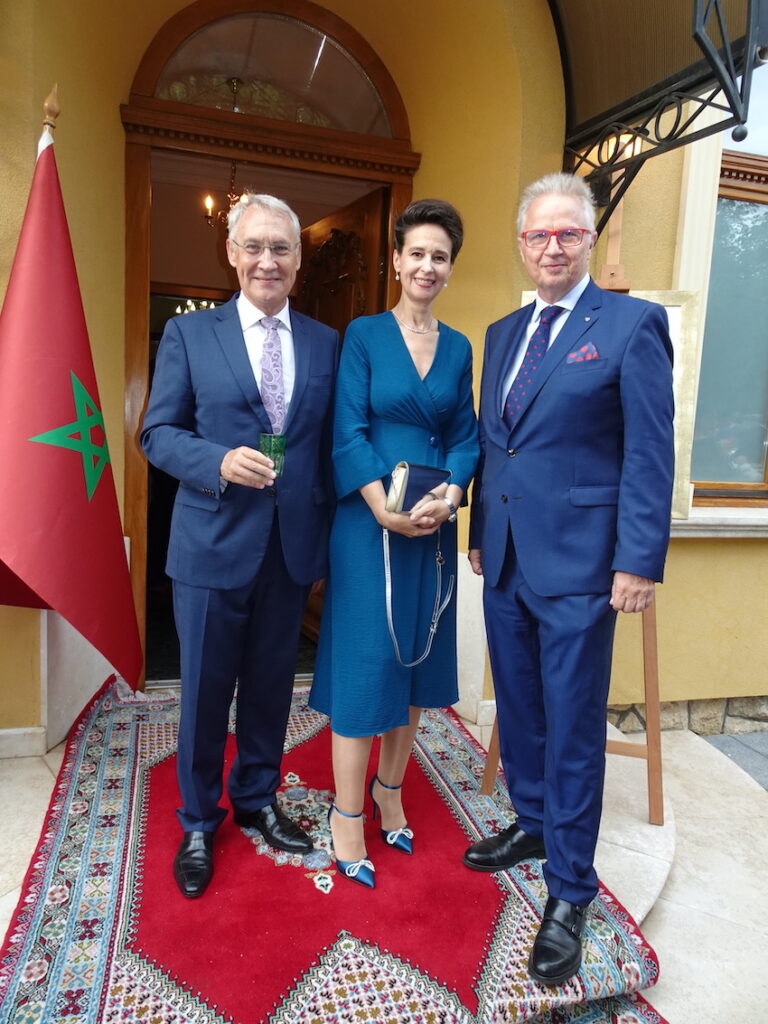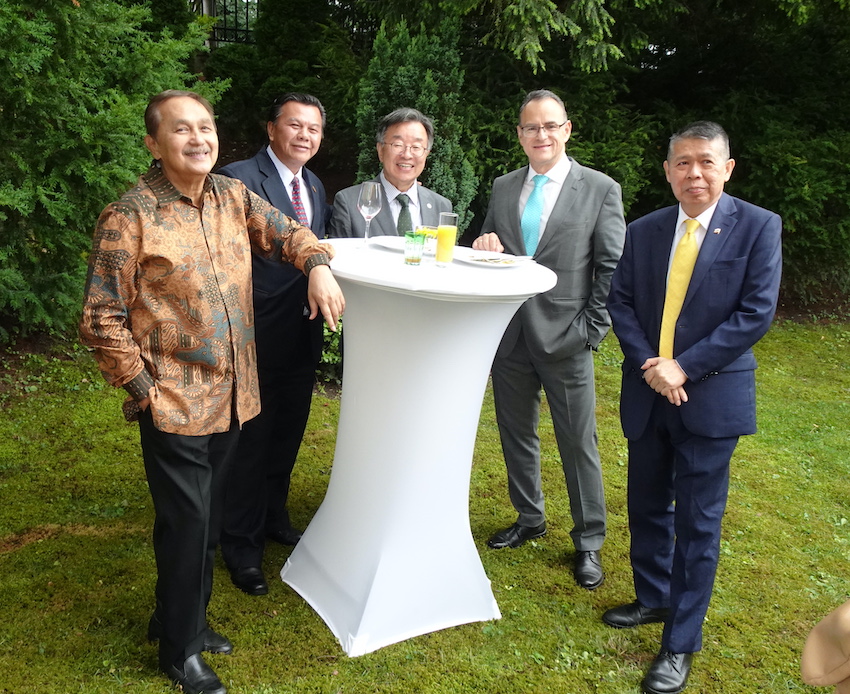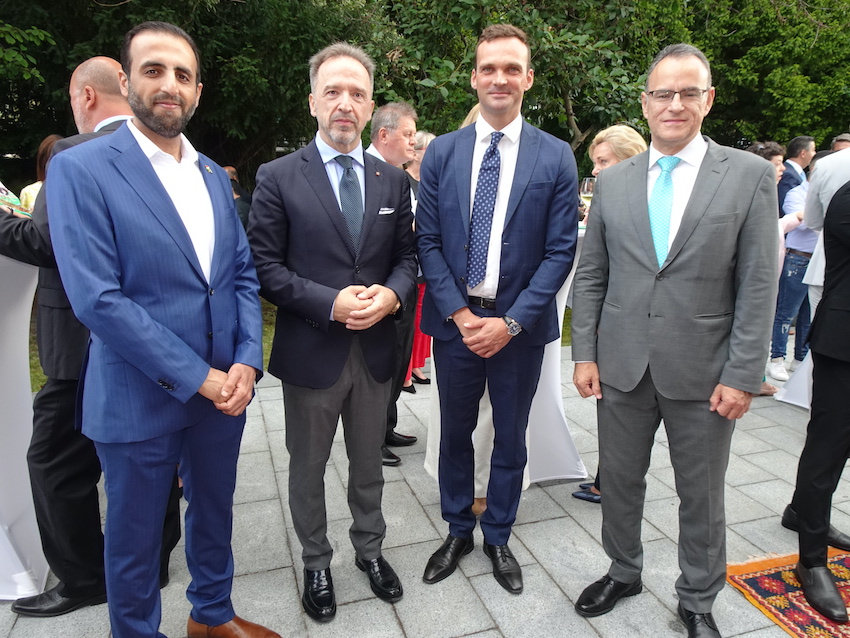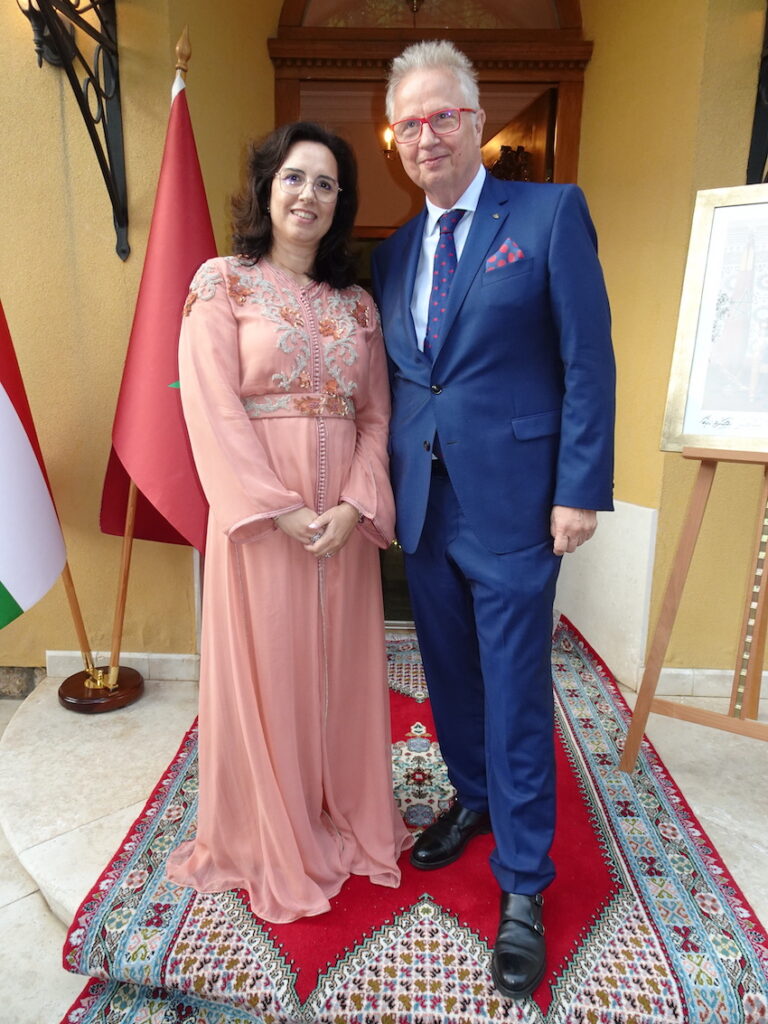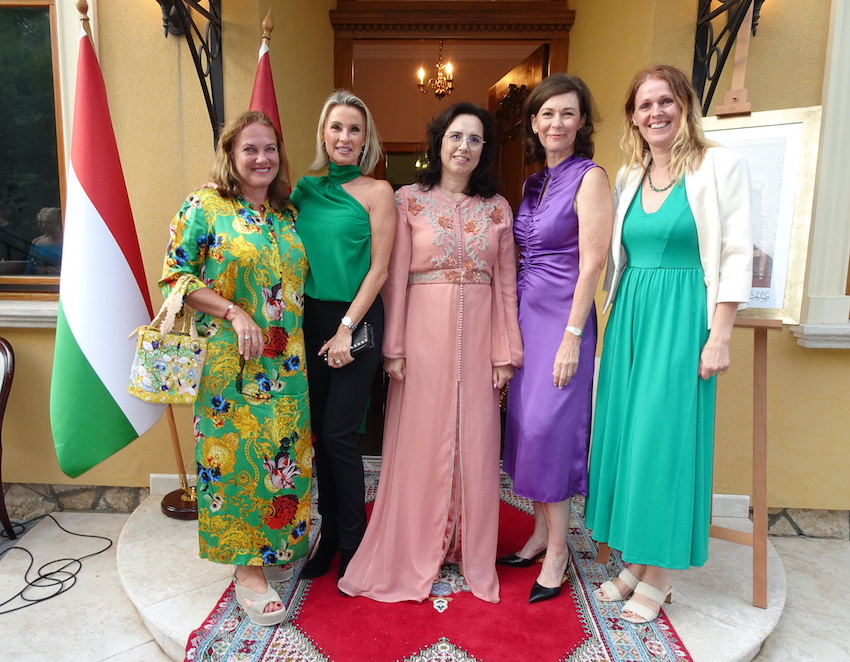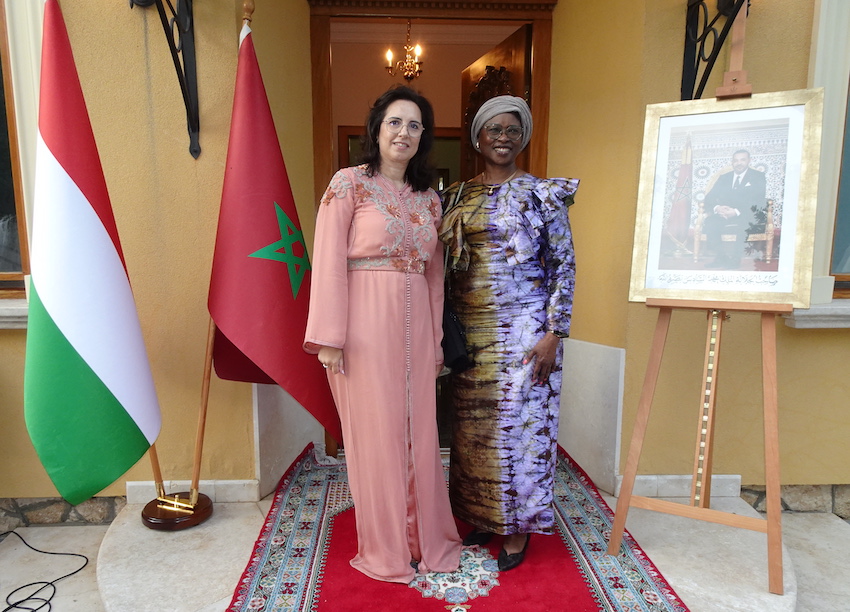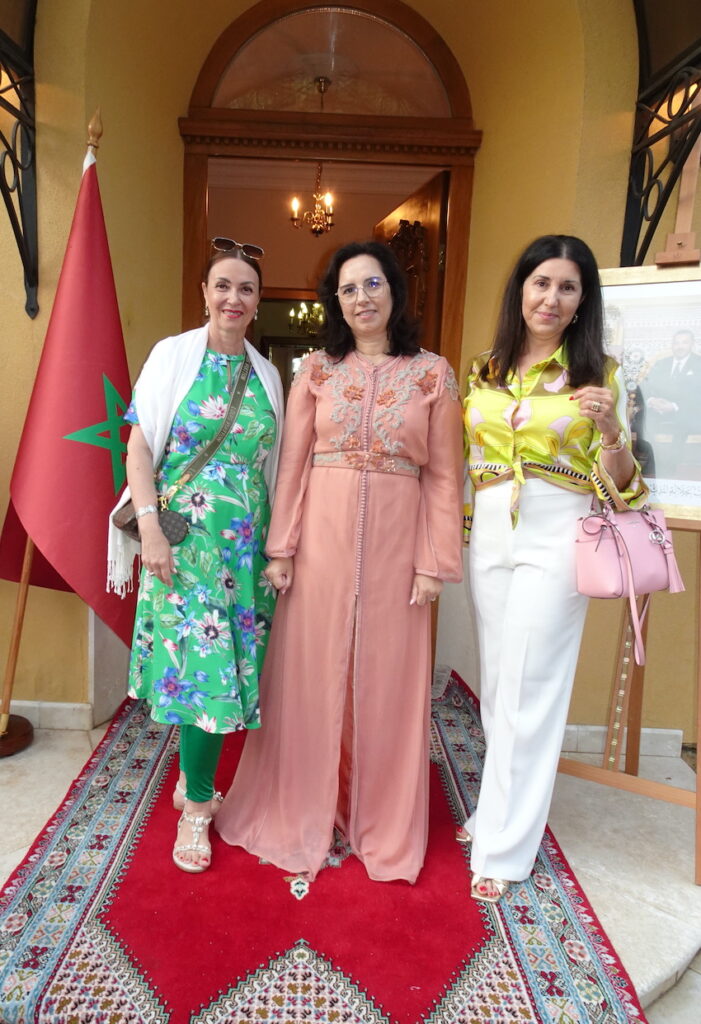 After sounding the national anthems of Morocco and Hungary,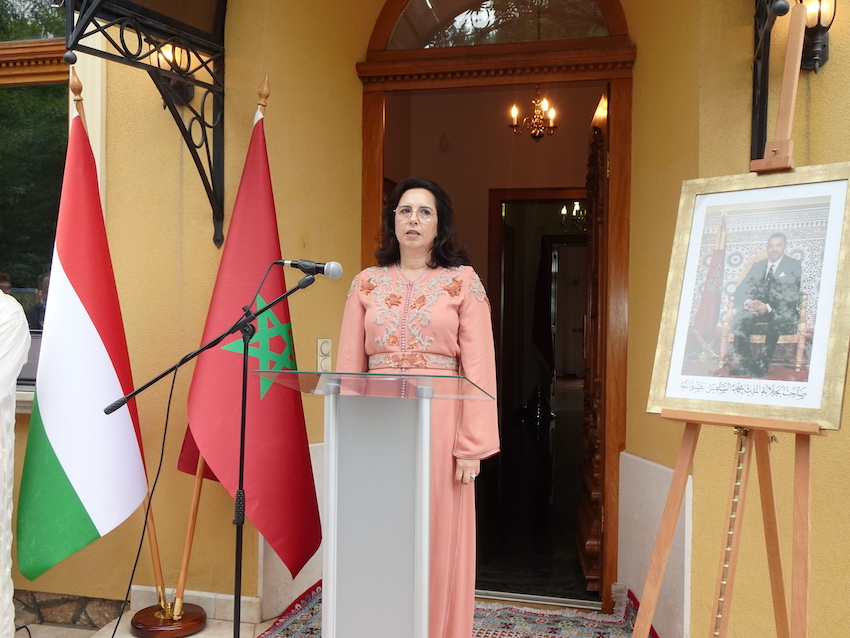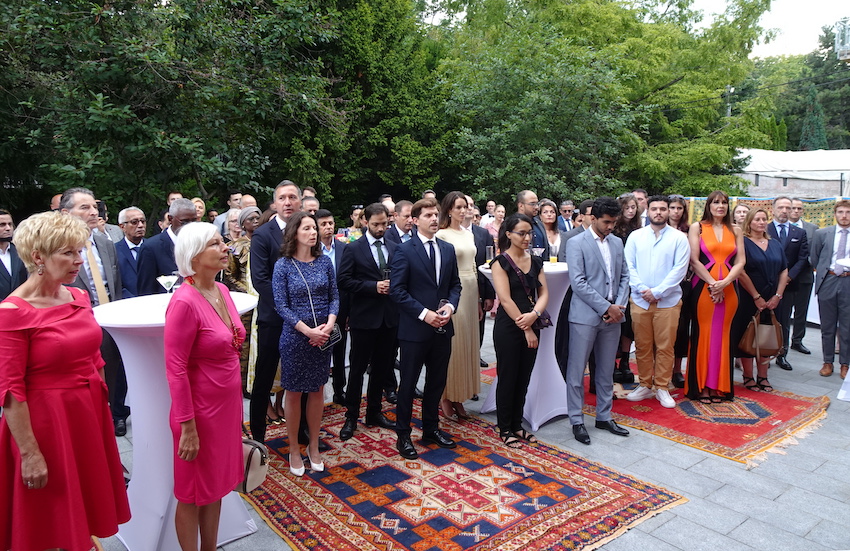 H.E. Ms Karima Kabbaj, Ambassador of the Kingdom of Morocco, Dean of the Arab Ambassadors' Council and Dean of the Group of African Ambassadors in Hungary welcomed the audience and delivered her remarks dedicated to the celebration: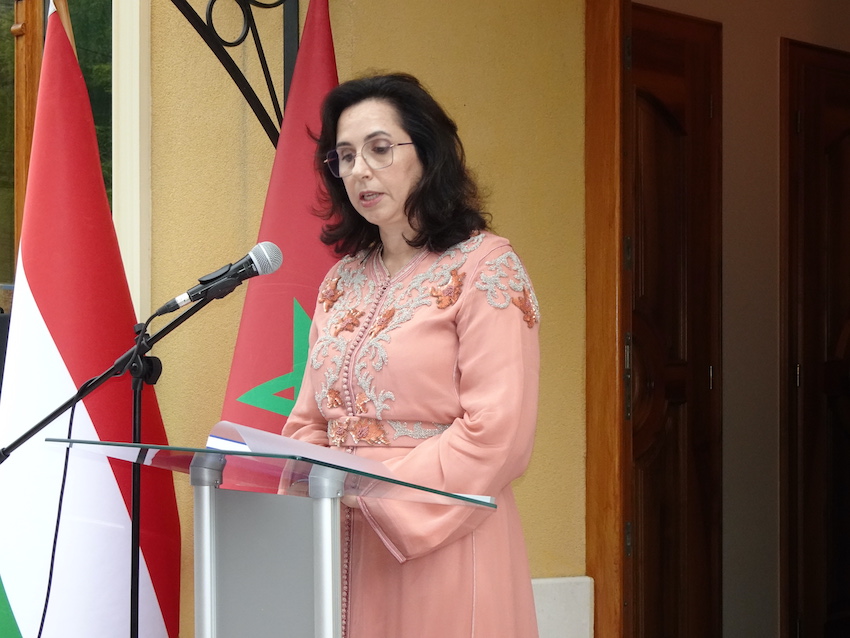 "Honourable Members of the National Assembly, Distinguished Guests, Dear Colleagues and Friends, Ladies and Gentlemen,
Allow me to welcome you all this evening and thank you for being here to commemorate a momentous occasion for my beloved country. This auspicious day holds immense significance for the Moroccan people, since it reflects the everlasting cohesion between the Throne and its People. Thus, it is the symbol of a nation committed to its unity and sovereignty, in respect of its territorial integrity and diversity, a nation that believes in the founding values of peace, tolerance, solidarity and progress.
Today marks the 24th anniversary of His Majesty King Mohammed VI's accession to the Throne of his glorious ancestors, a day to reflect upon the remarkable achievements our beloved country has accomplished under the visionary guidance of our King. It is also a day to express our gratitude for the steadfast commitment shown by His Majesty to the welfare and progress of our Nation and its People. Throughout these 24 years, His Majesty has spearheaded significant reforms, promoting social development, economic growth and fostering stability in the region. Under his leadership, Morocco has undergone remarkable transformations, both domestically and internationally, becoming a beacon of hope and a model of progress.
Thanks to the wise policies implemented by His Majesty, Morocco has witnessed remarkable progress in various sectors contributing to its economic development and social welfare, such as industry, innovation, energy, infrastructures, education and sport. It has emerged as a regional leader, guided by the principles of stability, inclusivity and sustainable growth.
Furthermore, Morocco has demonstrated its commitment to international cooperation in addressing global challenges, including climate change and the preservation of our planet.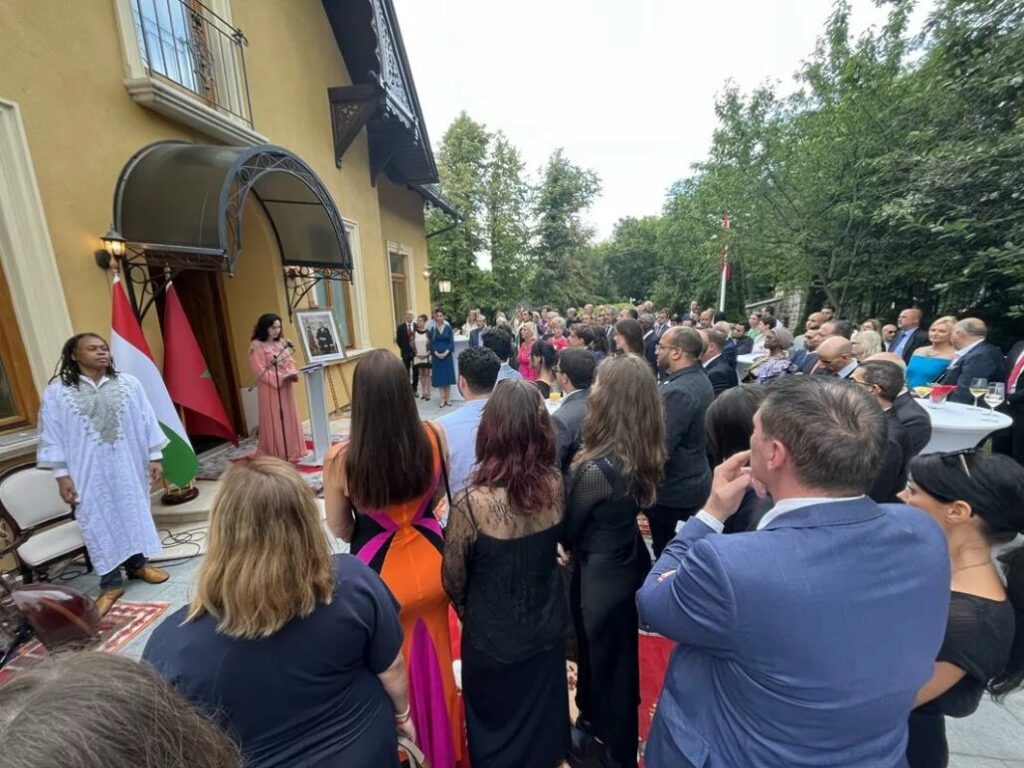 Ladies and gentlemen,
As we celebrate together this occasion of joy and sharing, we also acknowledge the deep-rooted historical ties that bind Morocco and Hungary. Our two nations shared a long history of friendship and mutual respect, rooted in our common values and aspirations for a better future for our people. This relation has witnessed a qualitative bond at the political level through an enhanced dialogue between our two countries on issues of common interests bilaterally and multilaterally.
Economic ties between Morocco and Hungary have flourished with increased trade, investment, and joint ventures. Both countries have worked together to promote tourism, cultural exchange and people-to-people contacts.
Morocco and Hungary have been able to forge a multi-dimensional partnership by concluding various Agreements in diverse fields, and both countries are keen to expand their relation even further by exploring new venues of cooperation, particularly in the fields of agriculture, renewable energy, digitalization, and so on…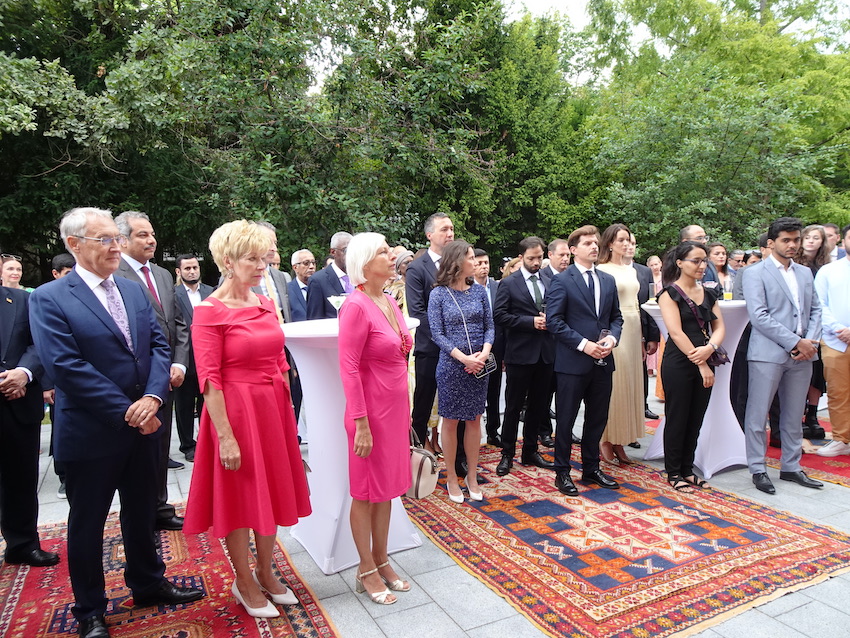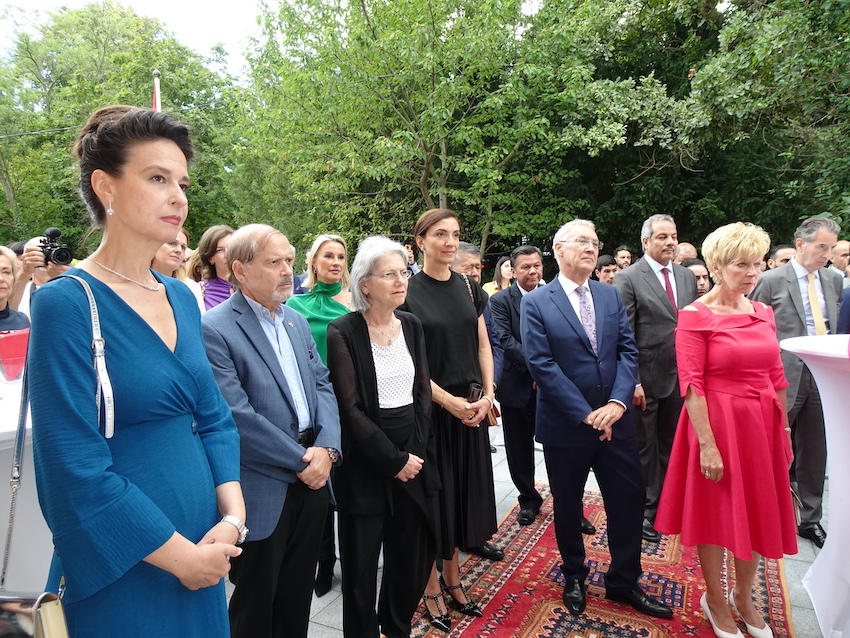 At the multilateral level, Morocco and Hungary have recognized the significance of collective action in tackling pressing issues and challenges. Our collaboration within international organisations, such as the European Union, has been instrumental in promoting peace, stability and sustainable development through dialogue and diplomatic solution.
In this regard, I extend my heartfelt gratitude to the Hungarian Government for its continued support and friendship. I also express my appreciation to the Moroccan community residing in Hungary and the Moroccan students, whose contributions have played a significant role in enhancing the cultural fabric of our two countries.
I extend my thanks as well to my team at the Embassy for their dedication and support in making this relationship even stronger, and for being an effective implication in today's celebration.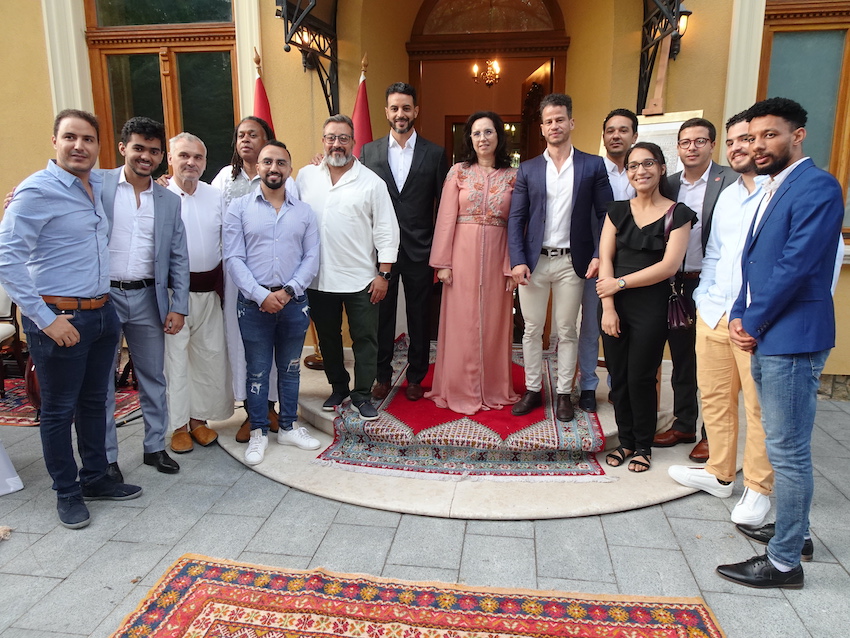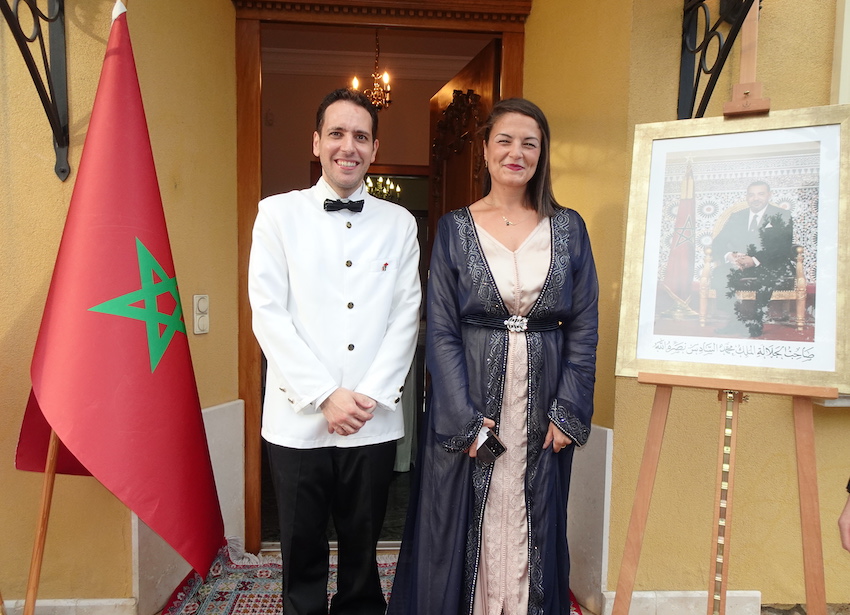 Finally, I invite you to experience the Moroccan culture and atmosphere through the performance of our Moroccan artist, Said Tichiti, and his Hungarian fellow, and savour the Moroccan cuisine and delights served for you. Enjoy the evening!"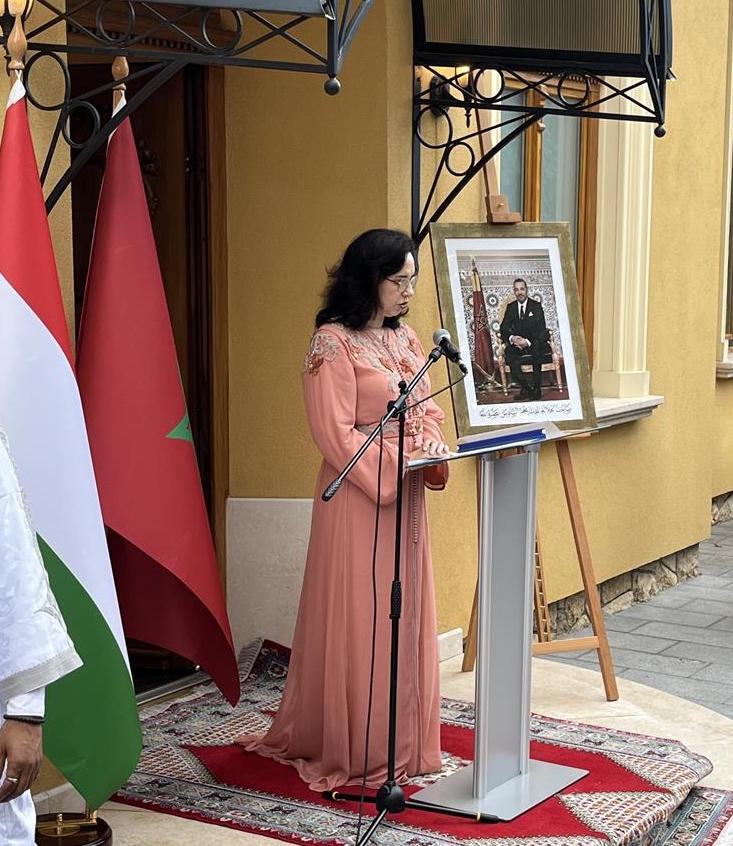 "Long live the friendship between Morocco and Hungary!
Long live His Majesty King Mohammed VI!
Long live Morocco! Thank you."
After the official part, the event featured a delightful experience for the invitees as it offered a wide range of Moroccan specialities served authentically, thus providing a unique and immersive culinary journey. Guests could enjoy the rich flavours and diverse dishes for which Moroccan cuisine is renowned, which typically includes tagine, couscous and flavourful salads.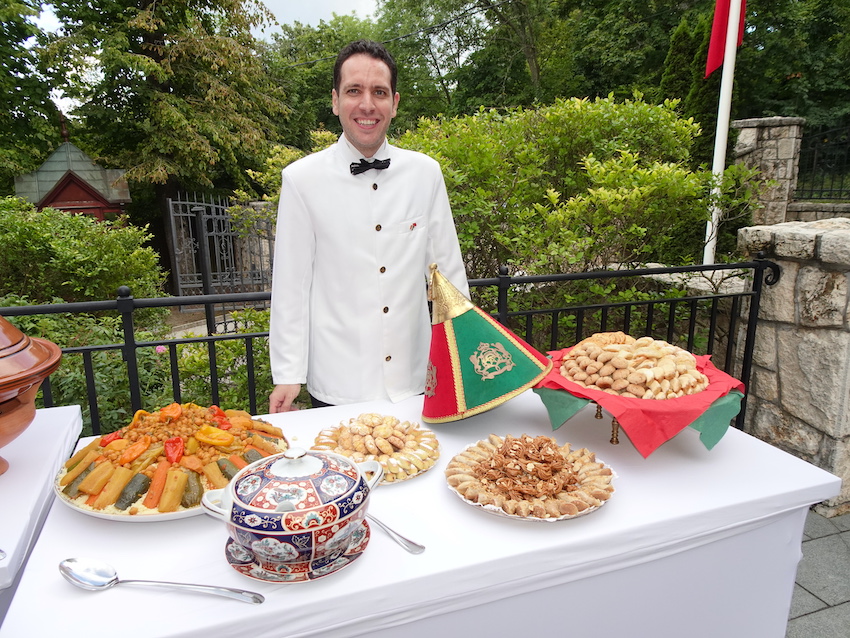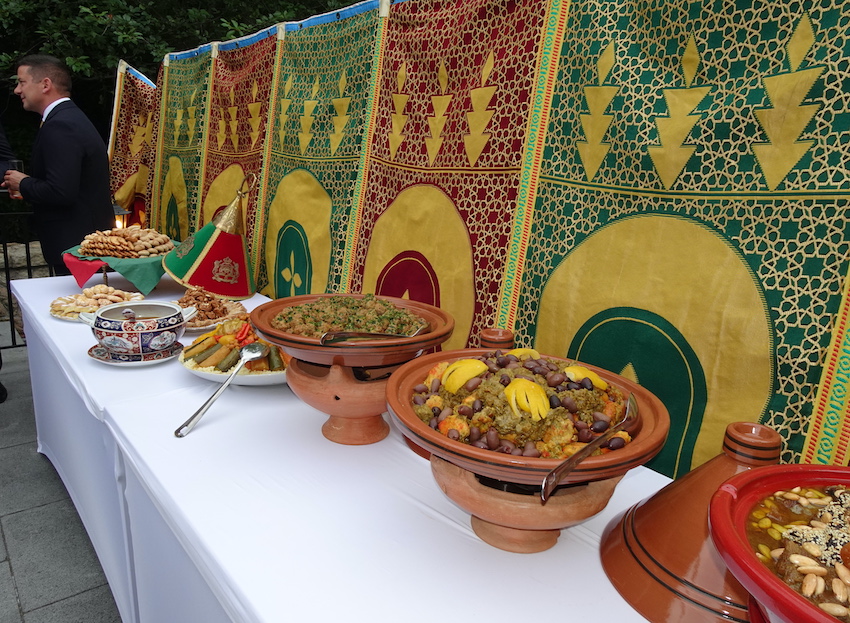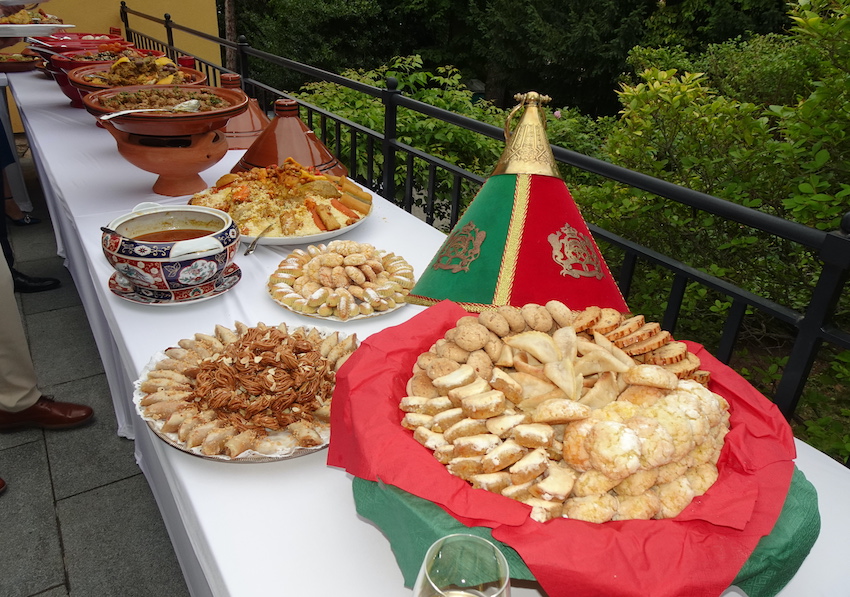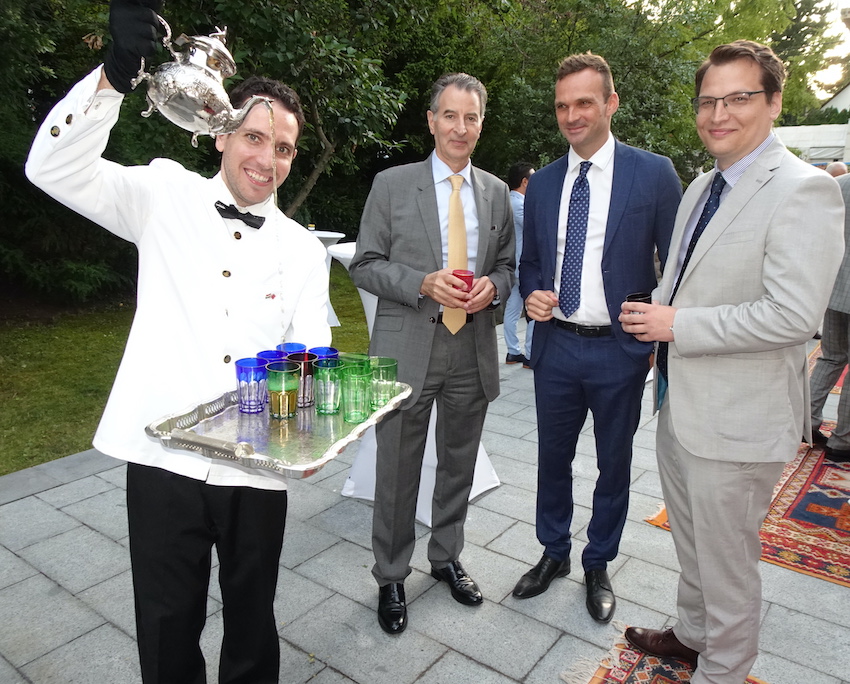 The entertainment with traditional Moroccan music added to the ambiance, creating a lively and friendly atmosphere, allowing to enjoy the spirit of Moroccan culture. The warm hospitality made the guests feel welcomed and appreciated.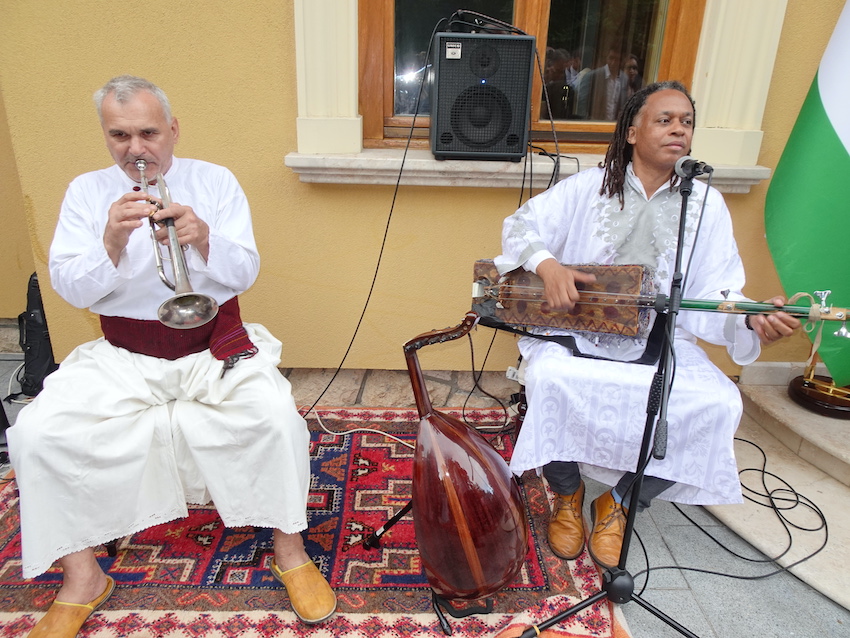 Source: Embassy of the Kingdom of Morocco
Photos: Diplomatic Press Agency