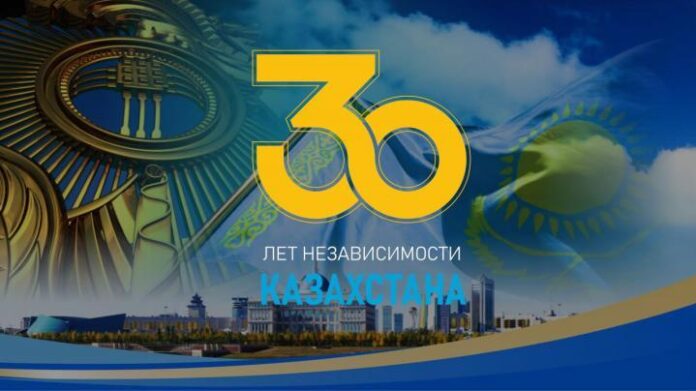 Written by Anna Popper, Deputy Editor-in-Chief / Diplomatic Magazine
On the 16th December 1991, a new chapter in the history of Kazakhstan began. The Constitutional Law on the Independence of the Republic of Kazakhstan consolidated the emergence of a new sovereign state with a vast territory in the heart of Eurasia, on the historical homeland of the Kazakhs.
To mark the 30th anniversary of the Independence of Kazakhstan the Embassy hosted a reception in Ritz Carlton Hotel. H.E. Zhanibek Abdrashov, Ambassador of the Republic of Kazakhstan to Hungary, was delighted to welcome the guest of honour: Mr. Mihály Varga, Deputy Prime Minister and Minister of Finance, and attendees from the Hungarian government, members of the diplomatic corps, representatives of business, cultural and academic circles.
In his speech, the Head of Mission stressed that 2021 was a historic year, today Kazakhstan is completely different from 30 years ago. The vision and political will of its first president Nursultan Nazarbayev, along with the people's hard work, have built a modern Kazakhstan, preserving its traditions, culture and legacy. Kazakhstan has established diplomatic relations with 186 countries, becoming one of the dynamically developing economies of Eurasia. It is a responsible and respected member of the international community, a mediator advocating for global peace and economic growth. The new president Mr. Kassym Jomart Tokayev outlined his position: No economic growth without political development. And his political reform agenda aims to boost the democratic progress of society.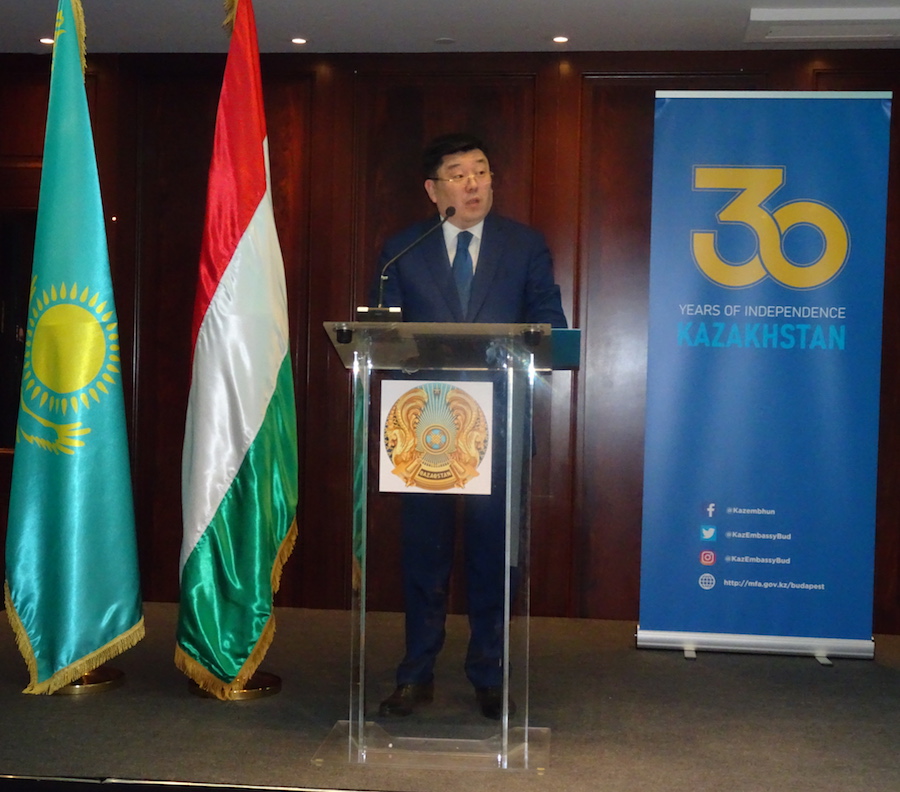 "Hungary was among the first 10 countries to recognise our independence and has been a strong partner at every stage of our development. Over the past 10 years our partnership has grown stronger than ever. We are proud to have Hungary as our strategic partner supporting our efforts in the international arena. Deep cultural and historical ties unite Kazakh and Hungarian peoples that play an important role in our relations. Kazakhstan will always remain a reliable partner of Hungary" – the Ambassador said. He concluded by quoting a great Hungarian reformer, Count István Széchenyi: "Everything is difficult for one; nothing is impossible for many."
On the occasion of the anniversary the Embassy of the Republic of Kazakhstan, together with the Hungarian Post and with the support of the Honorary Consul, issued a jubilee postage stamp.