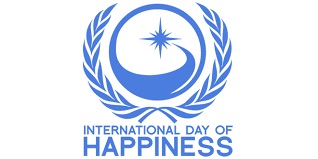 Written by Anna Popper, Deputy Editor-in-Chief / Diplomatic Magazine
March 20 has been established as the annual International Day of Happiness, thanks to the work done by the United Nations and its partner Action for Happiness, a non-profit group of people from 160 countries. The ultimate goal of the movement is to spread awareness that progress is not only about increasing bottom lines and encouraging economic growth, but well-being and human happiness as well.
In 2011, the United Nations General Assembly adopted a resolution that made it a "fundamental human goal" to give happiness as much priority as economic opportunity. Two years later, in 2013, all 193 member states of the UN celebrated the world's very first International Day of Happiness, which has continued to grow ever since.
"International Day of Happiness has struck a chord. There were celebrations all over the world: meditation in Bhutan, happy flash mobs in London, laughter yoga in Hong Kong and screenings of the film Happy in coffee shops all over the world. The day had a trending hashtag on twitter and its own website dayofhappiness.net" — USA Today (March 2013)
International Day of Happiness aims to celebrate happiness all over the world, inspiring people to spread positivity, whether big or small, with others and encouraging each nation to prioritize the happiness of its citizens.
As one, if not the key, pursuit of human life, it's no surprise that there has been endless philosophizing and discussion about happiness for thousands of years. The Ancient Greek philosopher Aristotle, for example, argued that happiness is the only thing humans seek in and of itself – all our other wants and desires ultimately contribute to our happiness, while happiness itself is the end goal.
Finland is Once Again the World's Happiest Nation
The United Nations Sustainable Development Solutions Network released its 10th annual World Happiness Report on the 17 March 2022.
The study – carried out in more than 150 countries worldwide – asked approximately 1,000 respondents from each country to assess their lives on a scale of 0-10, zero being the worst possible life they could have expected to have, and 10 being the best. Nordic countries continued to dominate the rankings. Finland was named the happiest nation in the world as it topped the list for the 5th consecutive year, while Denmark, Iceland, Sweden, and Norway also made the top 10. The study points out that some Nordic commentators suggest Scandinavians report high levels of satisfaction not because of the country's sterling quality of life, but because people in those countries have a lower bar for what they think their best possible life could have been.
The World Happiness Report 2022 reveals a bright light in dark times. The pandemic brought not only pain and suffering but also an increase in social support and benevolence. As we battle the ills of disease and war, it is essential to remember the universal desire for happiness and the capacity of individuals to rally to each other's support in times of great need.
Congratulations to all happy citizens of Finland!