The 10th India-Hungary Foreign Affairs Consultations took place on 19th January 2021 in Budapest. The Indian delegation was led by Secretary (West), Shri Vikas Swarup, and the Hungarian side by Dr. András Baranyi, State Secretary for Development of Eastern Relations at the Ministry of Foreign Affairs and Trade. The Indian guests were received by Mr. Péter Szijjártó, Minister of Foreign Affairs and Trade.
During the consultations both sides underscored the historically cordial ties that have received a strong fillip following recent high-level interactions, including the visit of the Minister of External Affairs of India to Hungary in 2019 and the visit of the Minister of Foreign Affairs and Trade of Hungary to India in 2020.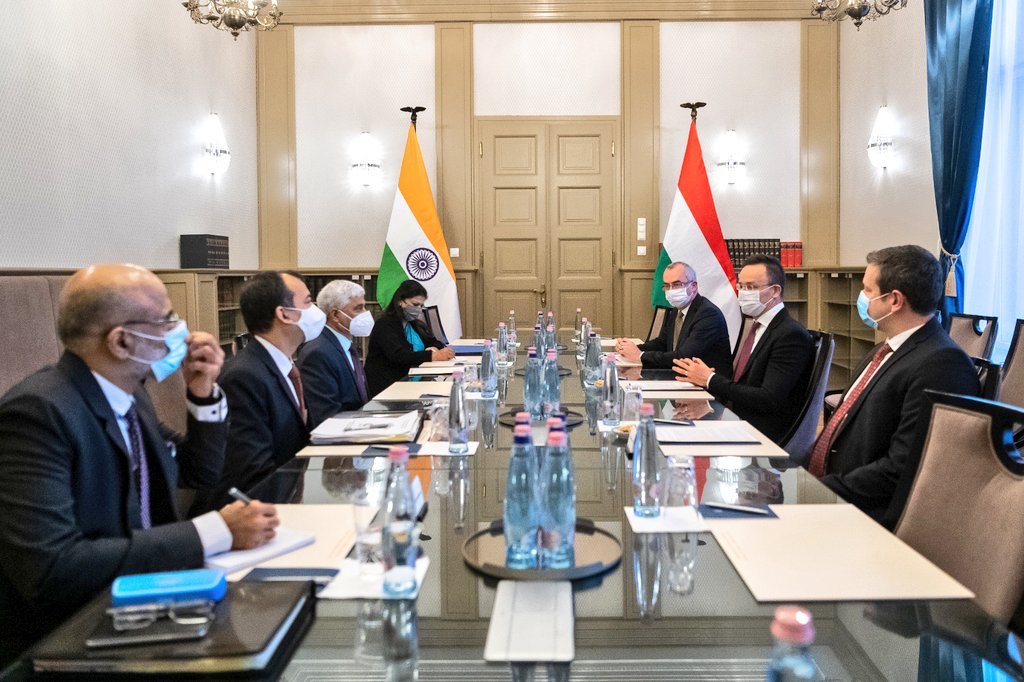 The parties reviewed various aspects of bilateral cooperation focusing on politics, trade and economy, science and technology, educational and cultural relations. They exchanged views on the regional and international situation of mutual interest and agreed to enhance their cooperation in the multilateral fora. National approaches to mitigate the impact of the COVID-19 pandemic and the vaccine issue were also discussed. The Hungarian side conveyed that they had initiated the process of joining the International Solar Alliance.
It was decided to convene the next meeting of the India-Hungary Joint Committee on Economic Cooperation in 2021. The two sides noted the importance of filmmaking in each other's country for boosting tourism, cultural cooperation and people-to-people contacts. They agreed to maintain bilateral interaction through exchanges of visits and regular consultations.
Republic Day of India
The 72nd Republic Day of India was held at the premises of the Embassy of India in Budapest on 26th January 2021. It started with the hoisting of the national flag by H.E. Kumar Tuhin, Ambassador of India to Hungary, followed by the national anthem and reading the President's address to the nation on occasion of the Republic Day. A colourful cultural programme was performed by Indian and Hungarian artists. Due to the restrictions caused by the pandemic, the celebration was live streamed so that the Indian community and friends of India could virtually join the event.
Anna Popper
Source: Diplomatic Magazine