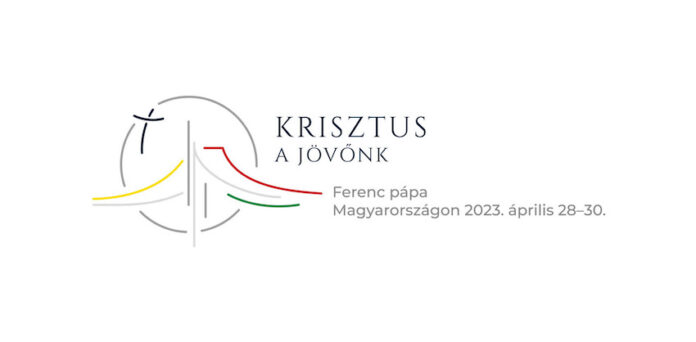 Edited by Anna Popper
The long-awaited apostolic visit of Pope Francis in Hungary between 28 and 30 April 2023 marks his 41st journey abroad since he was elected Pontiff 10 years ago, on 13 March 2013. The motto of the visit: Christ is our future.
During the three-day visit, His Holiness stayed in Budapest, which is celebrating its 150th anniversary, and he had a very busy schedule. He took part in a wide range of official, public and private events, visits and meetings, including with the highest Hungarian authorities, civil society and the Diplomatic Corps. He met bishops, priests, deacons, consecrated persons, seminarians and pastoral workers. His Holiness visited children with visual impairments and other disabilities, poor people and refugees. He paid a visit to the Greek Catholic Community, and met nearly 13.000 young people at the Budapest Sport Arena. As usual, the Holy Father also held a private meeting with the members of the Society of Jesus (Jesuits) in Hungary. His Holiness celebrated an open-air mass, attended by tens of thousands of spectators at Kossuth Square, in front of Parliament. He also had a great meeting with the academic and cultural world at the Péter Pázmány Catholic University.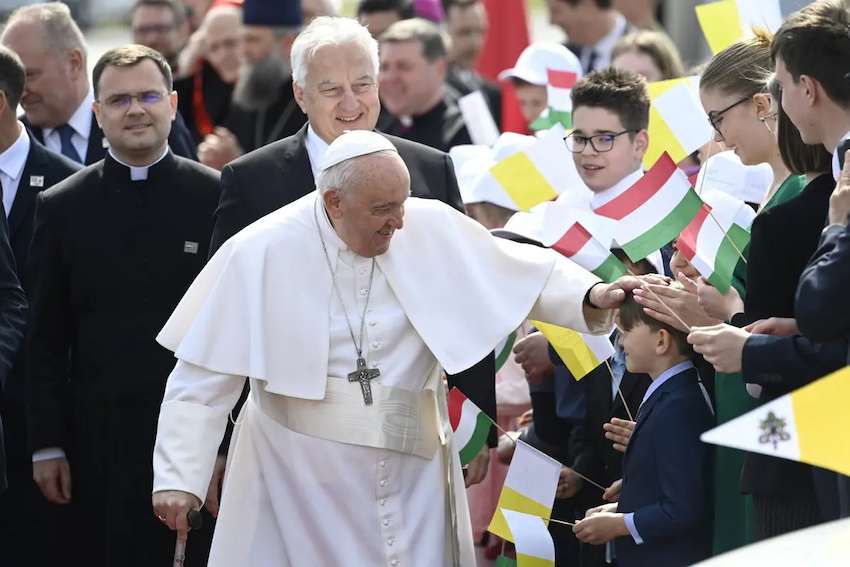 A lifetime experience and great honour for a young violinist from Argentina
At the end of the three-day visit full of memorable programs, shortly before leaving for the Farewell ceremony at Budapest Ferenc Liszt International Airport and departing to Rome, His Holiness gave a last private audience, revealed by H.E. Hernán Patiño Mayer, Ambassador of Argentina to Hungary.
The audience was granted by an official response from the Apostolic Nunciature in Budapest to the Embassy of Argentina in Hungary, to receive the extraordinarily talented Argentine violinist Pilar Policano, accompanied by her mother Laura Minniti, father Pablo Policano and younger brother Julián. The family was accompanied by the Argentinean Ambassador in Hungary, and the audience took place at the Nunciature in Budapest in the presence of Pope Francis, Archbishop Michael Wallace Banach – Apostolic Nuncio to Hungary, and journalists from the Vatican press.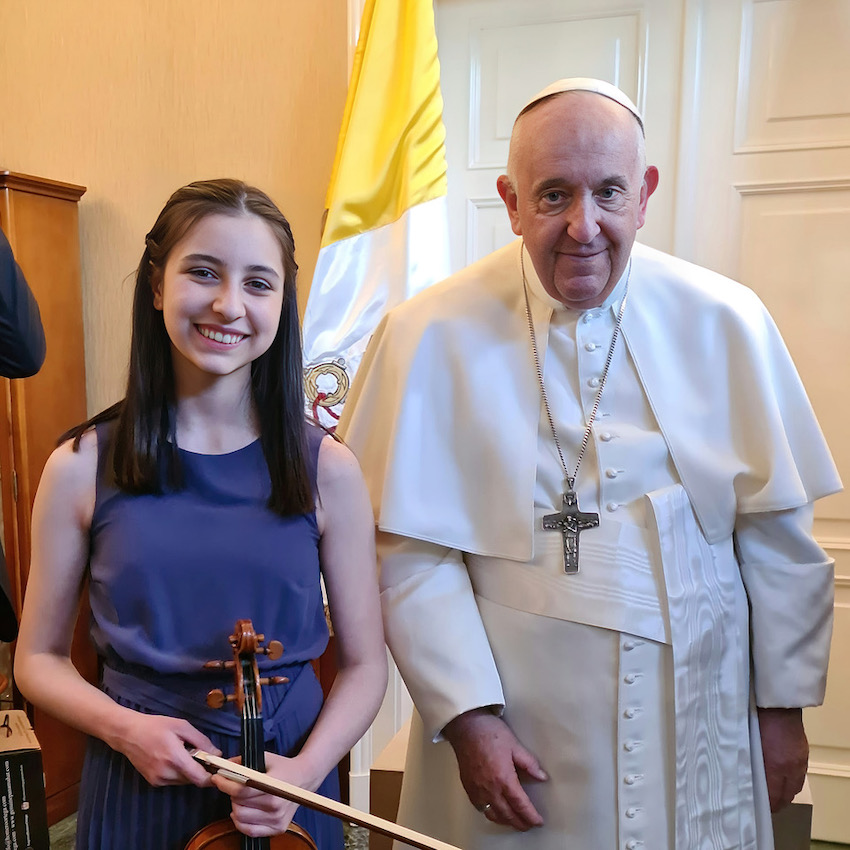 During the audience, the fifteen-year-old young violinist, who is currently studying in Vienna with the world-renowned Ukrainian-born Austrian violinist and academic, Professor Boris Kuschnir, performed in front of His Holiness a version of the tango of Uruguayan composer Gerardo Matos Rodríguez "La Cumparsita" in its arrangement for Solo violin by Vicente Zito in Mendoza, Argentina.
The Holy Father (his home country is Argentina) and his assistants passionately applauded the performance and told the young musician: "You have a brilliant career ahead of you", while thanking her and her family for their presence.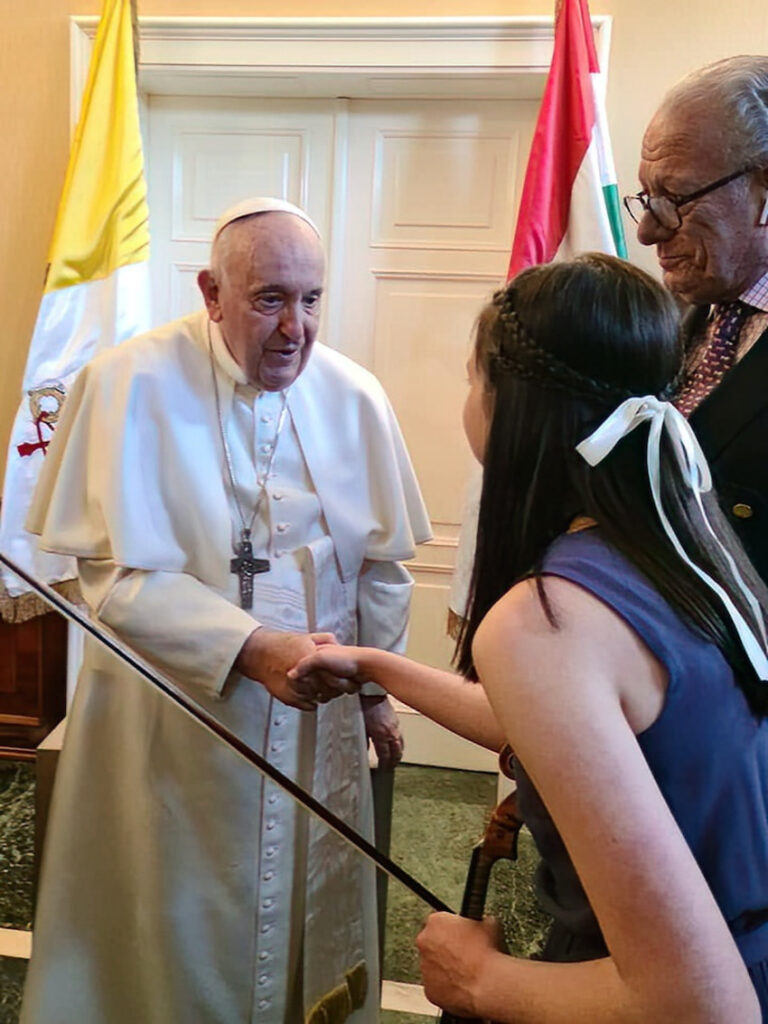 It was the last and longest individual audience a few minutes before Pope Francis left for Budapest Airport, and as his car passed Pilar Policano, His Holiness put his arm out of the window and made a thumbs-up gesture of approval, and with a true smile said to her for all to hear: "Bravo, Bravo".
The visit of the Holy Father is of great importance not only for Catholics but for all Hungarians. The Hungarian Post (Magyar Posta) has decided to issue a thematic personal stamp in honour of the historic event.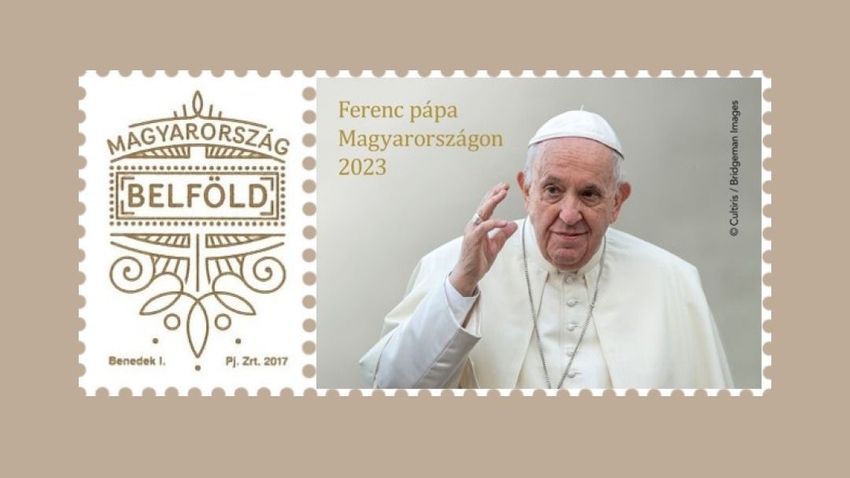 Source and photos: Embassy of Argentina in Budapest
Photo of the stamp: Magyar Posta/Facebook
Photo of arrival at the airport: Kovács Tamás/MTI/MTVA
Photo with children: Olvasói fotó/RTL