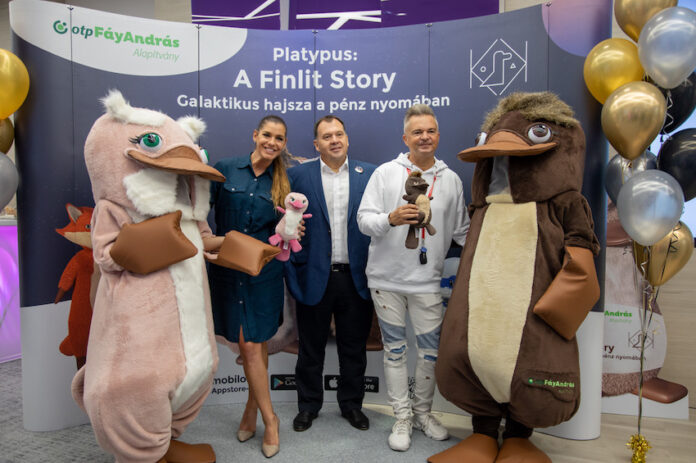 A Project by the OTP Fáy András Foundation
Two duck-billed platypuses, Cash and Flow teach young people financial skills in a free mobile game developed in Hungary.
The negative economic impact of the coronavirus is ravaging the wallets of almost all of us, so financial awareness and knowledge, i.e. Finlit (Financial Literacy), more precisely, the shortcomings in this field, are even more important competences today. According to the current worldwide consensus, financial literacy is best acquired in childhood. However, traditional teaching methods are not adequately effective to this aim. Up-to-date tools which provide action and entertainment are necessary, and one suitable tool can be a cutting-edge digital solution developed by the OTP Fáy András Foundation.

Platypus: A FinLit Story is a free-to-download mobile adventure game for young people, characterised by financial puzzles, elaborated graphic design, a story and a pace that fully meet the tastes and expectations of today's youth.
Early October 2020 marked the beginning of the game's large-scale Hungarian testing and its introduction into public education. The next goal is to have an educational and marketable English version by 2021, as well as to realise its distribution all over Europe, Asia, and possibly America. To that end, and the potentiality for educational innovation developments inherent in the game, the foundation – in addition to its existing partners – is looking for partners in diplomacy, education administration, and cooperating organisations.
Economists, including OECD experts, agree that financial literacy is essential for a successful life, but the general financial culture of Hungarians and most of the world's population is rather unsatisfactory. It is never too late to educate ourselves about money, but it is best to start basic financial and economic education in school. This is the most important mission of the OTP Fáy András Foundation, which introduced its unique educational content and methodology in 2012. Since then, hundreds of thousands of school-age children have participated in the training based on entertainment and experiences, and by now adults also belong to the target audience.
The foundation has taken this to an even higher level by developing a mobile game application as part of a large-scale project. The development process was supported by the Ministry of Human Capacities and the Prime Minister's Office, as well as by successful technology companies with expertise in international developments, like Nuage Groupe and Supercharge, but other financial and economic expert teams have also been involved, like those of OTP Bank, Pénziránytű Foundation, and the Hungarian National Bank.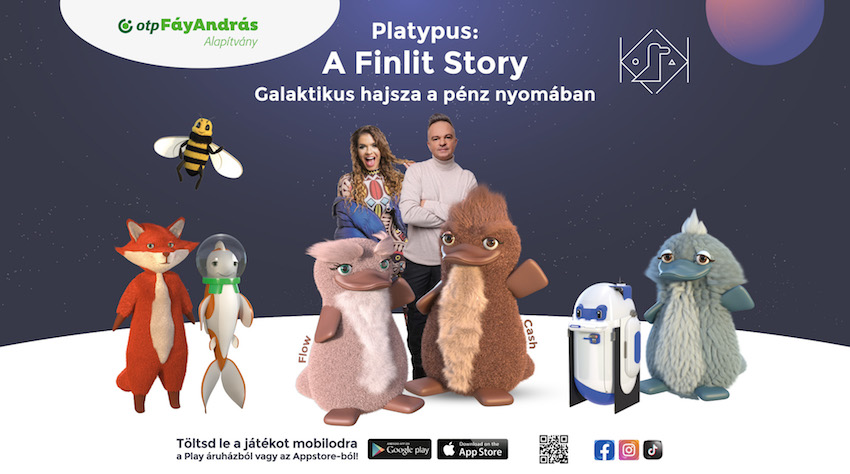 Cash and Flow, the two brave platypuses
The two protagonists of the game are Cash and Flow, the young duck-billedplatypuses, who received their voices from popular singer Dér Heni, and well-known radio presenter Cooky. The framework story reveals that Cash and Flow have to rid the universe of Whisperers, who spread financial devastation. Following their journey across galaxies, users learn about various financial sub-areas according to topics. Each galaxy hides multiple planets that break down the actual topic into further subtopics. Besides a wide range of tasks, subjects – household finances, ventures, government, banks and the banking system, financial awareness – are also elaborated by feature videos and dialogues designed not distract users from the diverse, fun learning process, but to encourage them to always face new challenges.
"The OTP Fáy András Foundation strives to continuously integrate the latest pedagogical achievements and newest technologies into its experience-based educational programme. After all, in the case of both young people and adults, the most effective way of transferring knowledge is the elimination of pressure, so that users may absorb knowledge by playing and having fun. That is why we have been working for years on a digital tool that makes it even easier for us to reach out to young people and maintain their interest, while teaching them the most important financial, economic and management skills. We have reached a significant milestone with the completion of our game application called Platypus: A FinLit Story, which anyone can download to their smartphones for free," Dr. Péter Schrankó, CEO of OTP Fáy András Foundation pointed out.
During the preparations of the programme, the foundation's development team grew significantly and now operates as an independent division. Readers of Diplomatic Magazine may find it interesting that the Development Division is headed by Ernő Bohár, Development Director, who was previously the Ambassador of Hungary to Hanoi (Vietnam) and Tokyo (Japan) and years ago left the Ministry of Foreign Affairs and Trade for OTP Bank, the creator of the foundation.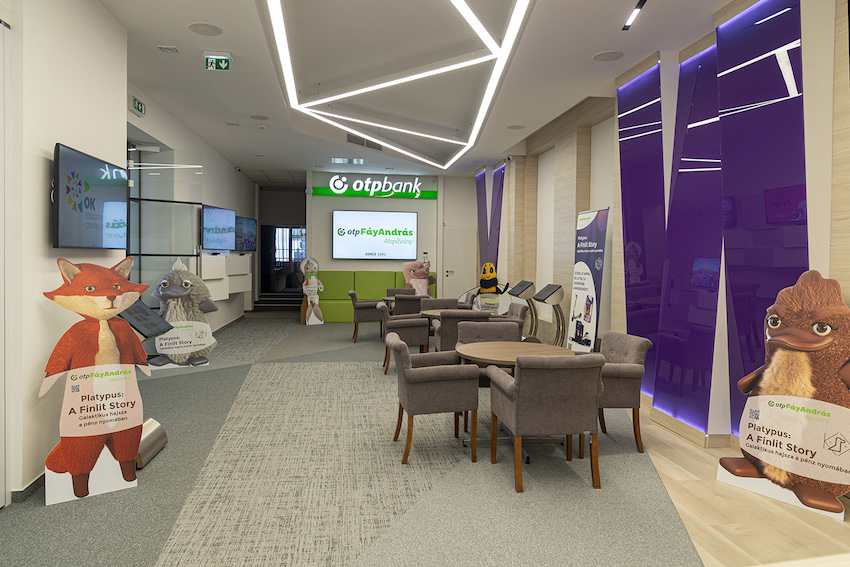 Individual adventure or exciting classroom challenge – even on an international level
An important aspect in the design of the game was that it can be used in both individual and group mode, even as part of school lessons.
At different levels players can also collect sushi and later convert them at www.platypus.hu through a bidding game for real valuable gifts, such as a smartphone, a scooter or a game console. Users might buy extras – like some special ability or a larger spacecraft – with the virtual money and sushi.
The application works under both iOS and Android operating systems. No internet connection is needed for use after downloading. The only exception is classroom mode.
When asked about the future, Henrik Balázs Gróf, Educational Director of the foundation said that they are planning to bring the game to the international platform, and in this process, as during the development, they hope to collaborate with their existing foreign partners, but not only them; as he added: "As a knowledge factory, the foundation remains open to all international cooperation in education and any development opportunities. In addition to professionalism, the funding of scientific programmes is also being reckoned with, so it is important to mention that the OTP Fáy András Foundation has significant experience in tenders, innovation capacity and has its own resources for international programmes."
***
The OTP Fáy András Foundation and the OK Education and Innovation Centre
The OTP Fáy András Foundation was established in 1992 with the aim of providing dynamic programmes for young people and helping them with supportive activities. In November 2012, a milestone programme for financial, economic and management education and Hungarian public education was launched under the direction of the foundation supported by EU funds: the National Financial and Economic Training Centre for Secondary School Students, the OK Educational Centre (now OK Education and Innovation Centre) – unique in the region – started operating in Benczúr Street, Budapest. In its state-of-the-art audio-visual classrooms, the institution has welcomed and educated students from various parts of the country, and since 2018 adults as well. While maintaining its former activities, the foundation operates a network of travelling tutors equipped with a new set of tools: individually developed teaching materials with modules consisting of training-like elements, which meet the requirements of education and entertainment, i.e. 'edutainment'. Groups visiting the centre can learn about these exciting training materials, as well as the relationship between sports, media, environment management and business, and the evolution of money. In 2016, the foundation opened its Educational Centre (OK Centre) in Nyíregyháza, catering for the region's needs.