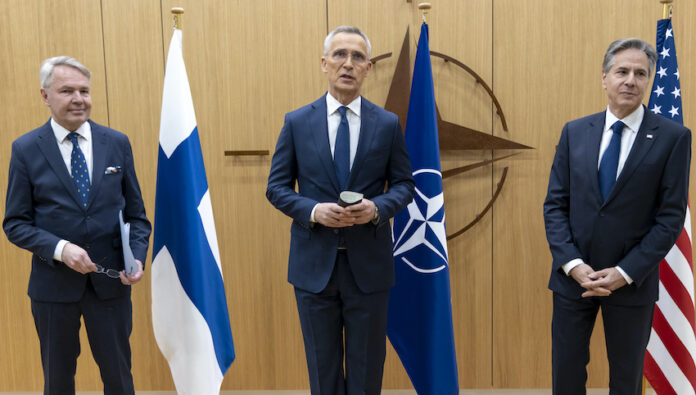 "Joining NATO is good for Finland, for Nordic security and for NATO as a whole" – NATO Secretary General Jens Stoltenberg
Edited by Anna Popper
NATO Day is commemorated every year on 4 April, the anniversary of the signing of NATO's founding document, the Washington Treaty, in 1949. For seventy-four years, the defensive Alliance has remained steadfast in its resolve to protect its citizens, defend every inch of its territory and safeguard freedom and democracy.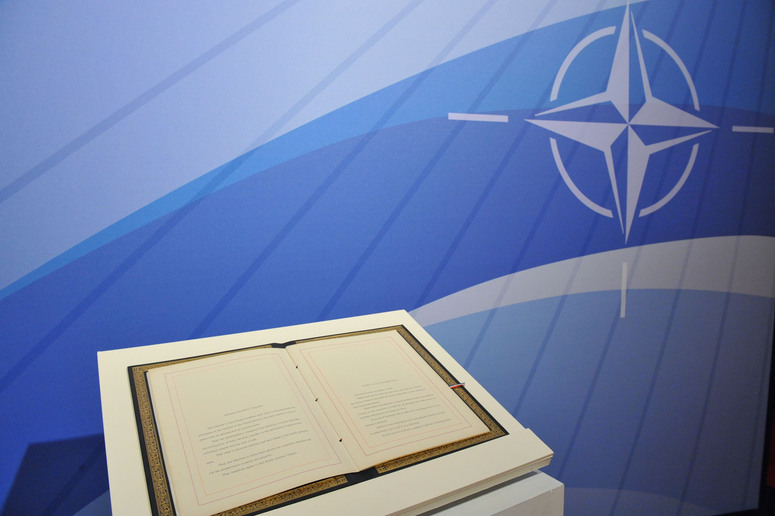 NATO Day 2023 is particularly historic with Finland set to become the 31st member of the Alliance. The official ceremony took place at the NATO Headquarters in Brussels in the presence of the foreign ministers of all NATO Allies and invitee Sweden.
"We welcome Finland to the Alliance!" said NATO Secretary General Jens Stoltenberg, as Finnish Foreign Minister Pekka Haavisto deposited Finland's instrument of accession with the United States government, represented by US Secretary of State Antony Blinken. The United States Department of State is the repository of NATO texts concerning membership.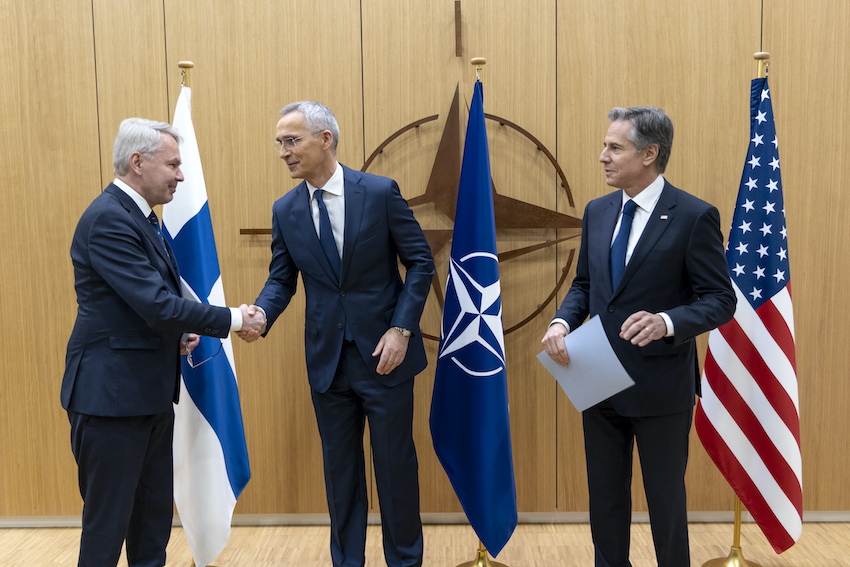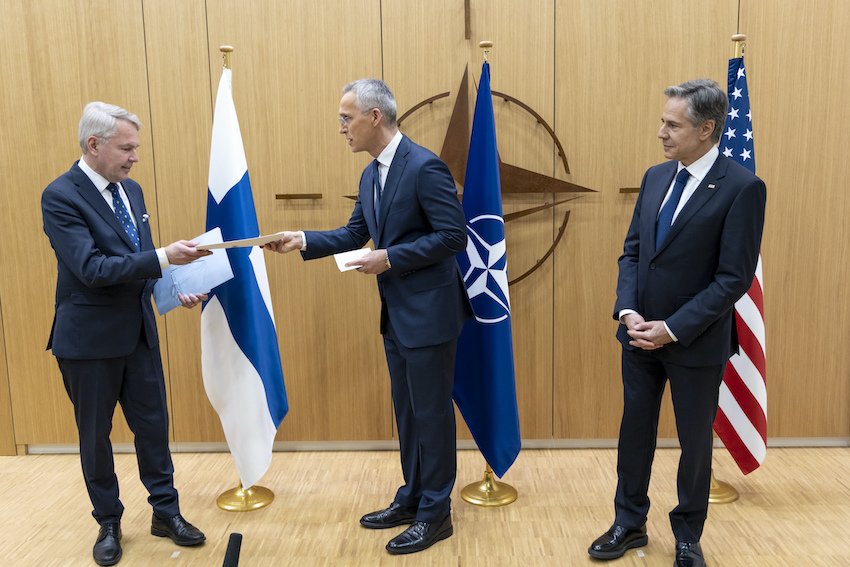 "And since we are now a member of NATO, we have a very important task, and the task is actually to give you for the deposit also our ratification for Swedish membership. This is our first act as a member state" – stated Finnish Foreign Minister Haavisto. (Finland's neighbour Sweden had avoided military alliances for nearly 200 years.)
Remarks by NATO Secretary General Jens Stoltenberg delivered at the ceremony of Finland's accession to NATO: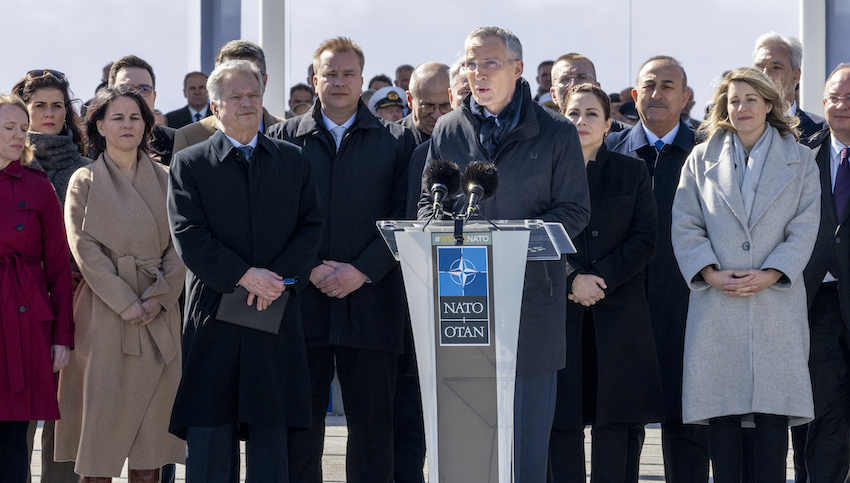 "President Niinistö, dear Sauli,
Ministers, Ladies and Gentlemen,
This is a historic day. We welcome Finland as the newest member of our Alliance. We will raise the Finnish flag for the first time here at the NATO Headquarters. Thirty-one flags flying together as a symbol of our unity and solidarity. On this day – 4 April 1949 – the Washington Treaty was signed "To create a shield against aggression and the fear of aggression".
For almost 75 years, this great Alliance has shielded our nations. And it continues to do so today. But war has returned to Europe. And Finland has decided to join NATO and be part of the world's most successful Alliance. This has been the fastest accession process in NATO's modern history.
Finland and Sweden applied for membership last May. In June, at our Summit in Madrid, every Ally invited them to join. And today, less than a year later, we welcome Finland as a full member of our Alliance. I also look forward to welcoming Sweden to the Alliance as soon as possible.
Finland is safer and NATO is stronger with Finland as an Ally. Your forces are substantial and highly capable. Your resilience is second to none. And for many years, troops from Finland and NATO countries have worked side-by-side as partners. From today, we stand together as Allies.
This sends a clear message: that every nation has the right to choose its own path, that NATO's door remains open and no one can close it with force or coercion. NATO is a community united by our values – freedom, democracy and the rule of law. We stand together, we protect and defend each other. All for one, and one for all.
President Niinistö, dear Sauli, I am glad to be here together with you on this great day. Thank you for your outstanding leadership, and tireless work to make this day possible. I am glad – and proud – to be the Secretary General welcoming Finland fully into the NATO family.
Welcome to the Alliance."
Statement by the President of the Republic of Finland Sauli Niinistö on Finland's NATO membership: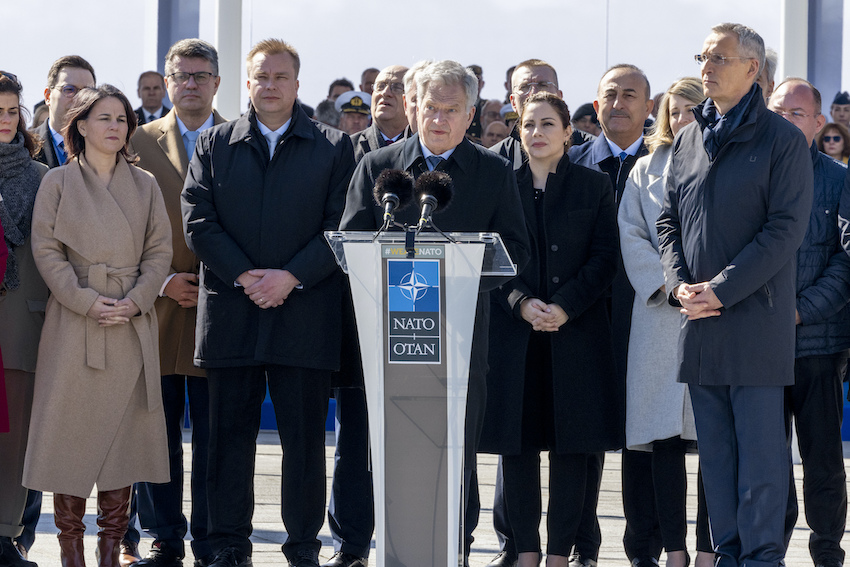 "Finland has today become a member of the defence alliance NATO. The era of military non-alignment in our history has come to an end. A new era begins.
Each country maximizes its own security. So does Finland. At the same time, NATO membership strengthens our international position and room for manoeuvre. As a partner, we have long actively participated in NATO activities. In the future, Finland will make a contribution to NATO's collective deterrence and defence.
Membership of the Alliance provides security for Finland. Finland, on the other hand, provides security for the Alliance. Finland, committed to the security of all NATO member states, will be a reliable ally that strengthens regional stability.
Finland's membership is not targeted against anyone. Nor does it change the foundations or objectives of Finnish foreign and security policy. Finland is a stable and predictable Nordic country that seeks peaceful resolution of disputes. The principles and values that are important to Finland will continue to guide our foreign policy in the future.
As a NATO member, Finland needs readiness for change and adaptability. While membership does not change everything, being an ally requires us to adopt new ways of thinking and some changes in legislation as well. A lot has already been done: we have been committed to develop our NATO compatibility for years. There is still considerable work ahead to integrate Finland's defence as part of NATO's common defence. The Defence Forces are also facing new demands and challenges to which we must respond.
At the same time, it is clear that Finland's most significant contribution to NATO's collective deterrence and defence is built on the security and defence of our own territory. In this respect, the Finnish concept of comprehensive security retains its value. But we no longer do this work alone.
Finland applied to join NATO together with Sweden. Finland's membership is not complete without that of Sweden. The persistent efforts for a rapid Swedish membership continue. Similarly, close cooperation continues to build common security and defence across the Nordic region.
Finland is looking forward to Sweden as the 32nd member state of NATO."
NATO Secretary General welcomed President Sauli Niinistö for a flag-raising ceremony to mark the country's accession to the Alliance held at the NATO Headquarters: "I am deeply proud to welcome Finland as a full-fledged member of our Alliance and I look forward to also welcoming Sweden as soon as possible" – he said. "Joining NATO is good for Finland, good for Nordic security and good for NATO as a whole" – emphasised NATO Secretary General Jens Stoltenberg. (The Alliance's land borders with Russia more than doubled with Finland's accession to NATO.)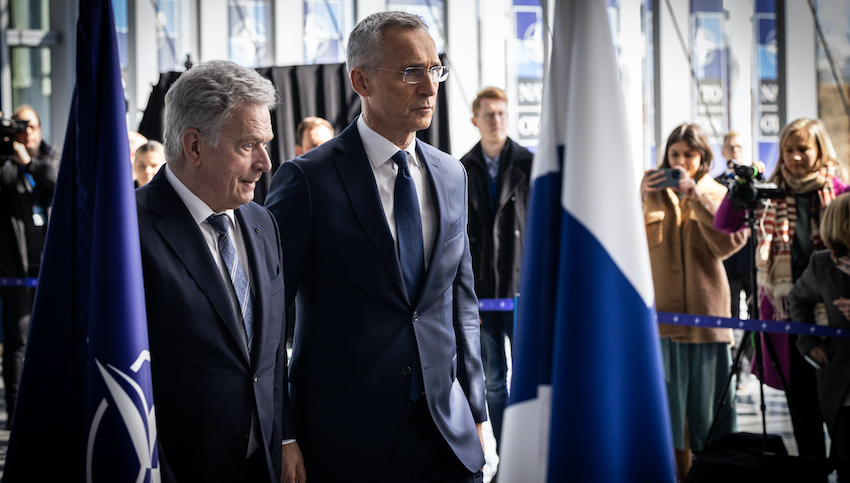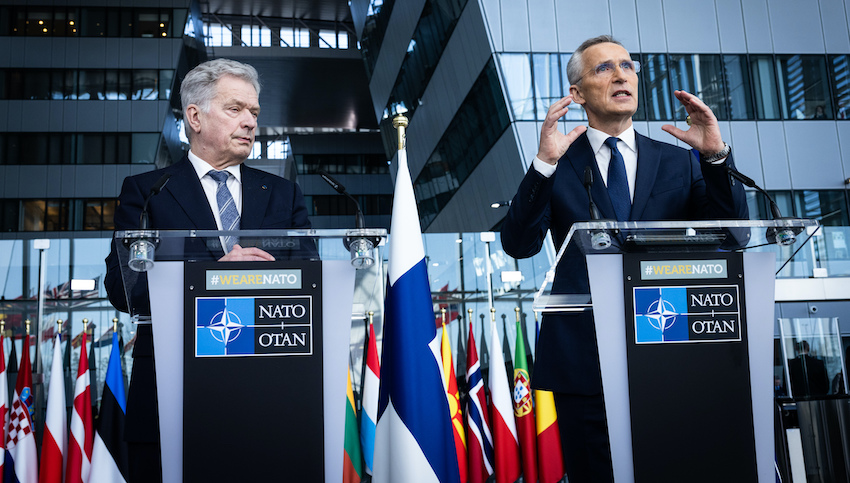 The Finnish national anthem and the NATO hymn were played by the military band as Finland's flag was raised for the first time outside the NATO Headquarters, in the presence of President Niinistö, Foreign Minister Haavisto, Defence Minister Kaikkonen, and the foreign ministers of all NATO Allies and invitee Sweden.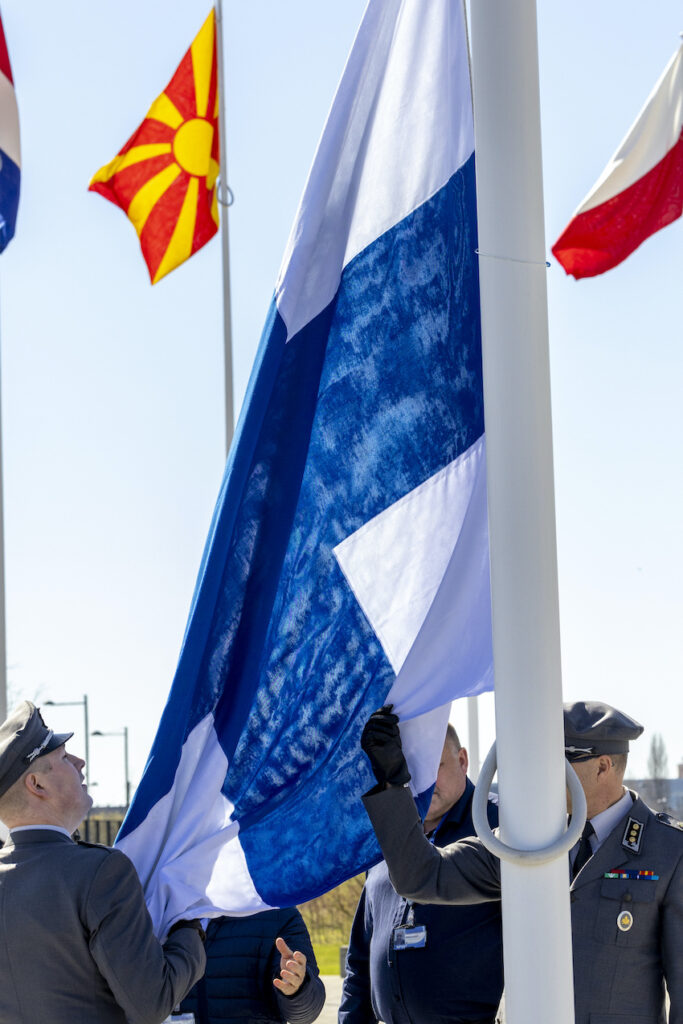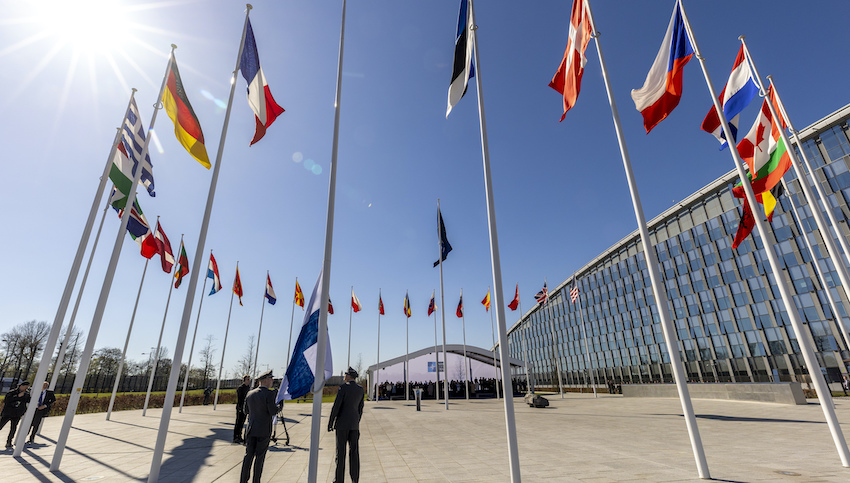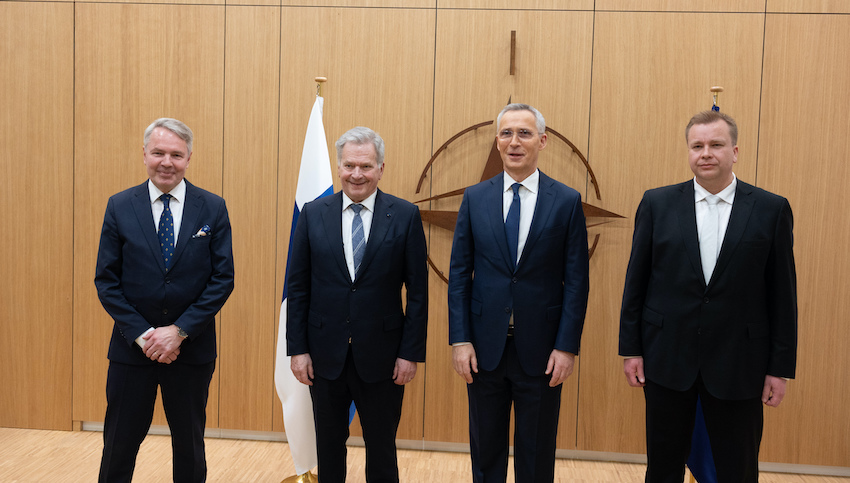 Simultaneous flag-raising ceremonies took place at Allied Command Operations (SHAPE) in Mons (Belgium) and at Allied Command Transformation in Norfolk, Virginia (United States).
In Brussels, the 74th Anniversary of NATO was celebrated at several monuments across the city. In Parc du Cinquantenaire, the NATO flag was flying under the Memorial Arch. One of Belgium's best known symbols, the iconic Manneken Pis statue, was wearing a special NATO Day costume to take part in the celebrations. Other Allies are also marking the anniversary with public events, including concerts, illumination of buildings in NATO blue, and public discussions on the importance of NATO.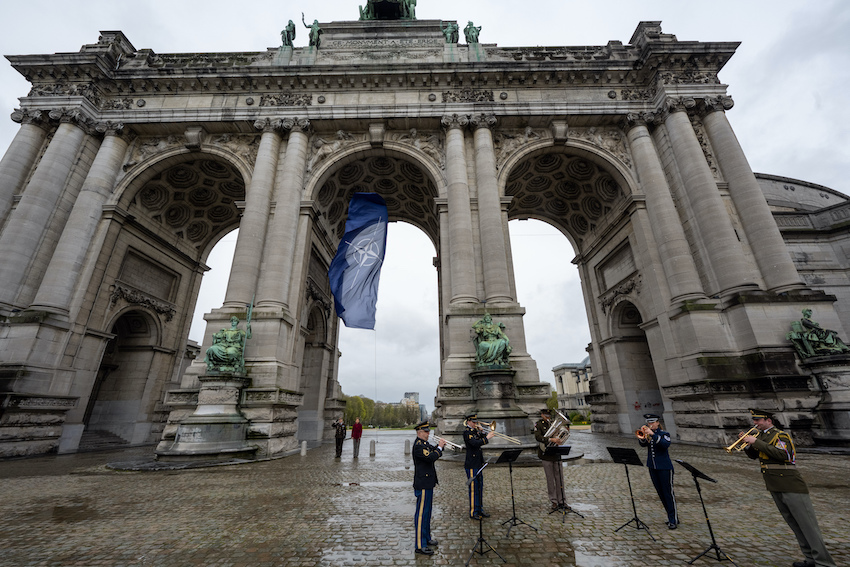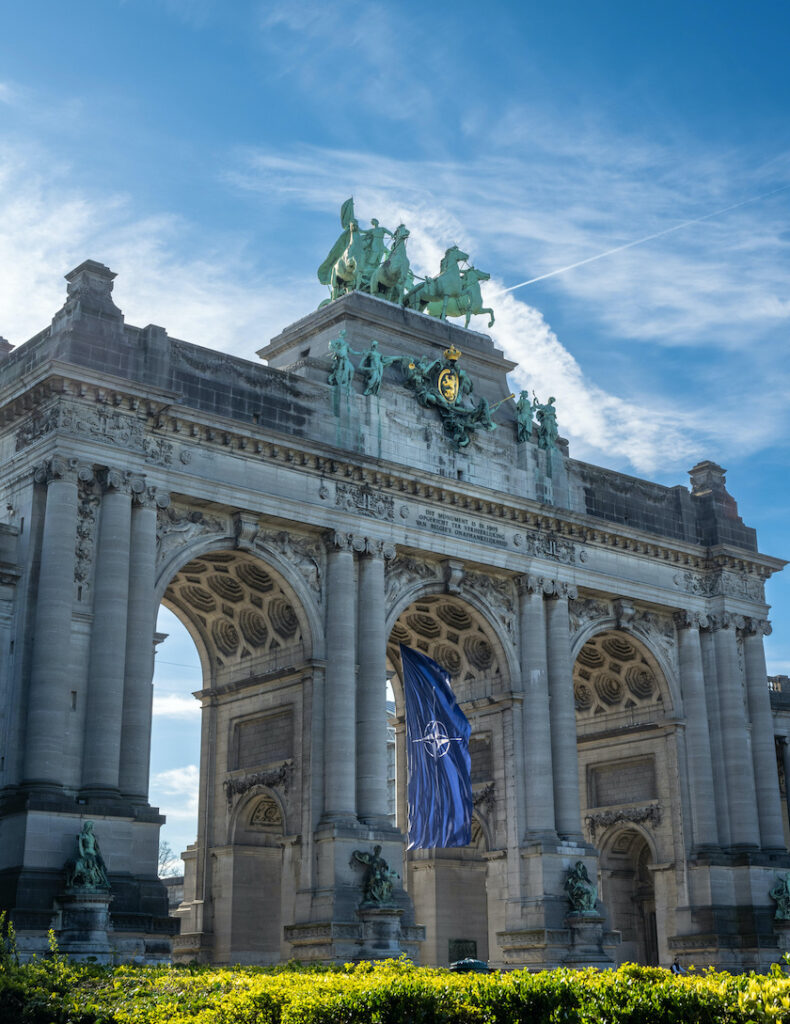 Source:
www.Nato.int – texts and photos
www.presidentti.fi – Office of the President of the Republic of Finland