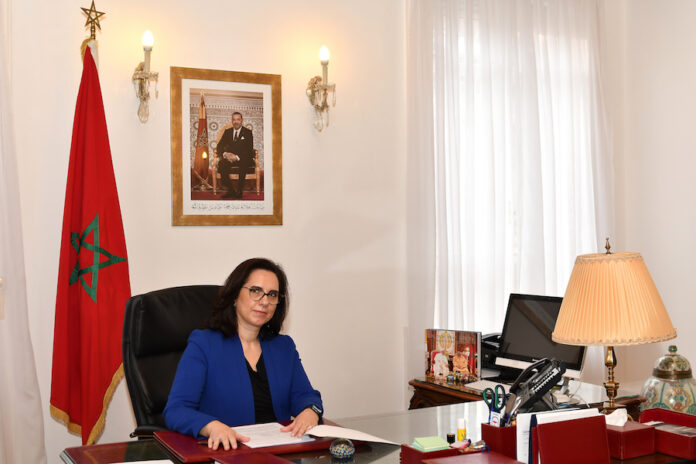 Interview with H.E. Karima Kabbaj, Ambassador of the Kingdom of Morocco to Hungary
On the 10th December 2020, a historic decision was announced: Morocco expressed its intention to resume official contacts and re-establish full diplomatic relations with Israel.
– Your Excellency, what was the reaction of the Moroccan society and the Arab world to this important decision initiated by His Majesty King Mohammed VI of Morocco?
In fact, this was not a surprise for the Moroccan society, mainly due to the links between thousands of Jews of Moroccan origin and their native country, who always maintained relations with Morocco in a way or another. Despite the lack of diplomatic relations between the two countries, Israelis could still visit the Kingdom for official meetings, business conducting, events, or celebrating religious holidays, pilgrimages. The decision to resume ties between Morocco and Israel was made at the same time when other Arab countries normalised their relations with Israel. We have received a lot of support for re-establishing the diplomatic relations between the two countries, which in our case is considered a natural step in the millenary history that unites Moroccan Muslims and Jews.
Today, the Moroccan people expect that the new agreements between Israel and some Arab countries will contribute to enhancing the Middle East peace process and ensuring stability in the region. Of course, some voices expressed concern about the Palestinian cause, but His Majesty the King reiterated the coherent, constant and unchanged position of the Kingdom of Morocco on the Palestinian issue, which is to achieve a final and lasting solution – through direct negotiations between Israel and Palestine – based on two states living side by side and on the preservation of the Islamic identity of the holy city and its openness to all believers from the three monotheistic religions.
– A month after a Joint Declaration signed by the two countries on restoring diplomatic and economic ties, Israel reopened its diplomatic mission to Morocco in Rabat, that has been closed for more than 20 years, but the building was retained. It was also confirmed that the Head of Moroccan mission in Israel had also been appointed.
Indeed, the head of the Moroccan Liaison Office in Tel Aviv, Mr. Abd Al Rahim Byoud, arrived in Israel in early February to set up and lead the office. Israel also opened its Liaison Office in Morocco's Rabat on 26th January. Mr. David Goffrin, former Israeli Ambassador to Egypt, is the head of the Israeli Liaison Office in Rabat. I am very confident that Mr. Byoud's profile, long standing diplomatic career and rich experience at the Ministry of Foreign Affairs will contribute to further enhancing bilateral cooperation.
– Tell us please about the relationship between Morocco and Israel based on their unique history.
Let me state first that the Kingdom is known as the land of tolerance and peaceful cohabitation among Muslims, Jews and Christians. In addition, the kings of Morocco have always welcomed the Jewish community and provided the necessary protection to Moroccan citizens of Jewish faith by preserving their rights and cultural identity. We remember the historic decision of the late King Mohammed V to protect Jewish citizens living in Morocco during WWII, he refused to surrender them to France's Vichy regime and stated "only Moroccans live in Morocco".
The relations between Morocco and Israel are unique, special and can't be compared to Israel's relation with any other Arab country, largely due to the number of Jews of Moroccan origin living nowadays in Israel. In fact, Morocco's Jewish community has been present since ancient times and has grown over centuries, while co-existing with Muslims. The two communities have always been committed to upholding the country's rich, diverse culture and preserving its Jewish heritage. The Jewish presence in Moroccan culture now appears in the primary-level social education curriculum as well as in the various Jewish museums, synagogues and shrines across the country.
– In which areas do the two countries want to cooperate after a two-decade pause?
In fact, Morocco and Israel have signed four agreements to start their cooperation. An agreement on the exemption from visa formalities of diplomatic and service passport holders, a Memorandum of Understanding in the field of civil aviation on direct flights between the two countries, a MoU on innovation and development of water resources, and a MoU on financial and investment cooperation.
– The largest Jewish community in the Arab world lives in Morocco and represents a vibrant and rooted community. How does Morocco preserve its Jewish legacy?
Morocco has always been engaged in preserving its Jewish heritage ever since. In this respect, the Constitution of 2011 recognises the contribution of the Jewish component to Morocco's unity. It is important for Morocco to preserve the cultural legacy of all civilizations and cultures that have formed the country throughout history.
Since 2016, the government has been working on renovating synagogues, preserving Jewish cemeteries and restoring names of streets named after Jewish personalities. Although the number of Jews has decreased across Morocco, the Hebrew population still has social, economic and political weight. Dozens of synagogues are still active in the country's most populous metropolis, and people still find a good number of kosher facilities. Casablanca and Fez are also homes of the only Jewish Museums in an Arab country. It is a unique example of how Morocco is a happy exception of easy coexistence of two cultures. These Museums are one of the most interesting cultural centres of the cities with a high-value collection, inviting visitors to learn about the Hebrew customs in the country that have built a bridge for intercultural encounter and tolerance.
The Jewish "House of Memory" in Essaouira was opened by H.M. King Mohammed VI, and represents a continuation of Morocco's long-held course of promoting interfaith dialogue. Morocco is also the only country in the world that permits Jewish family courts to operate within its legal system. The country's Jewish court can deal with inheritance and family issues such as marriage, divorce, wills, probate estates, and gifts between Moroccan Jews. The courts still deliver judgements under the auspices of His Majesty the King.
– I had the opportunity to watch an impressive film titled Tinghir-Jerusalem: Les echos du mallah, screened by the Embassy of Morocco in Budapest, featuring Moroccan Jews in Israel, who – long after leaving – maintain a very strong emotional link with their country of origin and often return on visits and pilgrimage. How do You see their role as bridges between the two countries?
Israel's large community of Jews of Moroccan descent and the continuous existence of an indigenous Moroccan Jewish community in Morocco are uniquely positioned to build strong bridges of peace between the two nations that go beyond formal government agreements. In short, there is a long and natural connection between Morocco and Moroccan Jews living in Israel today. Hundreds of thousands of Moroccan Jews, who settled in Israel, formed a human bridge between our two countries and our two peoples – a bridge of sympathy, respect, fondness, and love, as shown by the movie.
Approximately 50,000 Israelis visit Morocco each year, often longing to discover their family and cultural roots. Moroccan-Jewish traditions still play an integral role in Israeli culture today. Beyond festivals and traditional food, Moroccan Jews also left a large imprint on almost every facet of modern Moroccan life.
Today, Jews of Moroccan descent living in Israel still speak the Moroccan dialect and teach it to their children and even grandchildren. In the same respect, Moroccans learned various mores and customs from the Jewish Moroccans to recall just a few, such as music, the design of caftans, commerce and the way of cooking certain dishes. This movie is a great testament on how the two communities lived side by side in harmony. It also portrays the "emptiness" Moroccan Jews felt when they left Morocco to settle in Israel, a feeling that still exists among some of them today.
Anna Popper
Source: Diplomatic Magazine