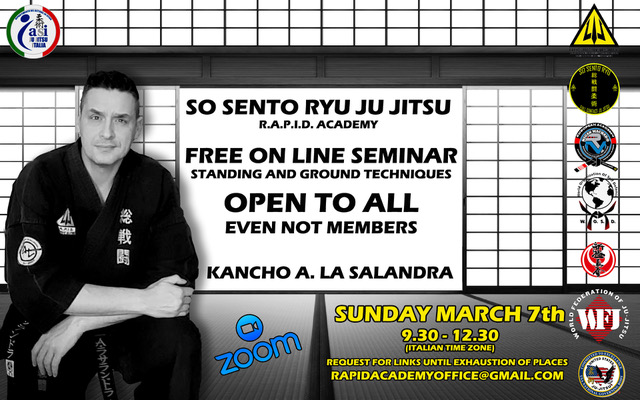 Exactly one year after the event that put EVERYONE on the same level and hoping it has given many serious ideas for the inner growth, on Sunday, 7th March 2021 from 9.30am to 12.30pm (Italian time zone) a totally free seminar will be held open both to members of our schools and non-members.
The seminar will cover the fundamental transitions for dynamic combat from standing to ground fighting. Participation is subject to submission until all places are exhausted.
We strongly ask you to respect the reservation if accredited, and to notify in good time if you are suddenly unable to participate, so that you can give others the opportunity to attend.
The seminar will be in Italian and English.
Participation is uniform, and it is necessary to have a partner for the training.
For information and reservations please contact us at: rapidacademyoffice@gmail.com
Dott. Antonio M. la Salandra
RAPID ACADEMY INTERNATIONAL
SO SENTO RYU JU JITSU