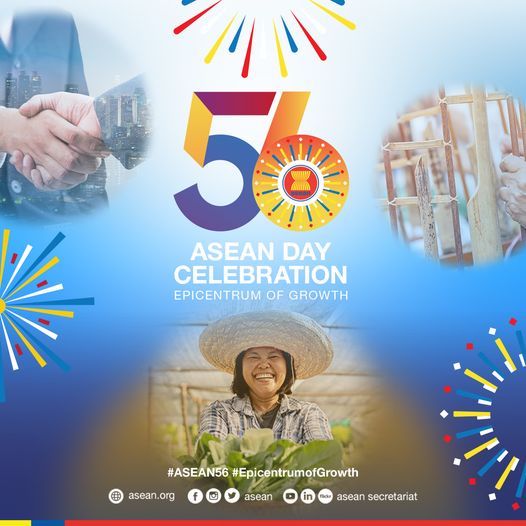 "ASEAN has great potential to become Epicentrum of Growth"
Edited by Anna Popper
The Association of Southeast Asian Nations, called ASEAN, was established on the 8 August 1967 in Bangkok, Thailand with the signing of the ASEAN Declaration (aka the Bangkok Declaration) by the Founding Fathers of ASEAN, the Ministers of Foreign Affairs of Indonesia, Malaysia, Philippines, Singapore and Thailand under the motto: One Vision, One Identity, One Community. Today, ASEAN comprises 10 member states in Southeast Asia, bound together in friendship, solidarity and cooperation.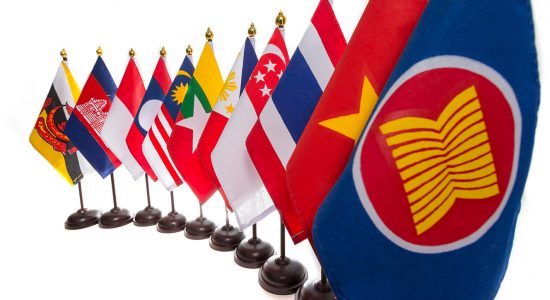 ASEAN's goals are to accelerate economic growth, social progress and cultural development in the region, and to promote regional peace, collaboration and mutual assistance in matters of common interest. ASEAN has brought peace, stability and remarkable progress to more than 687 million people in the Southeast Asian region. The 56-year history of ASEAN is considered as a true success story in social, economic, cultural and political aspects.
To mark ASEAN Day, six embassies residing in Budapest: Indonesia, Laos, Malaysia, the Philippines, Thailand, and Viet Nam organised a diplomatic event to celebrate the 56th Anniversary of ASEAN.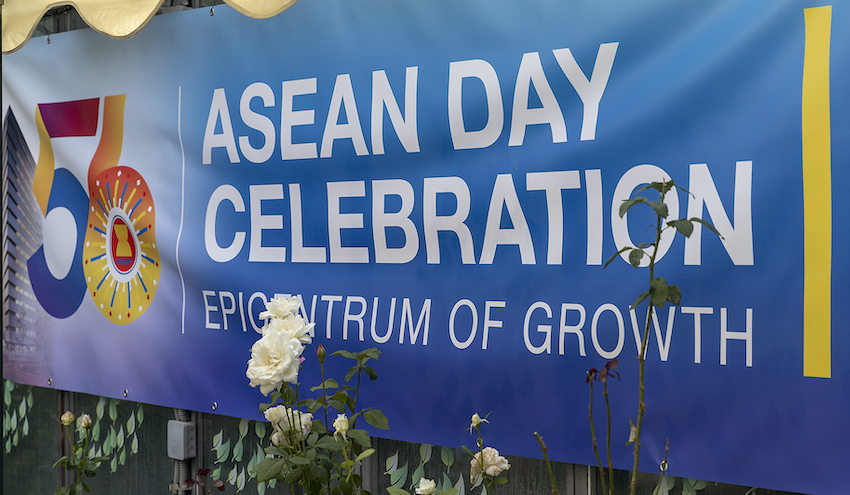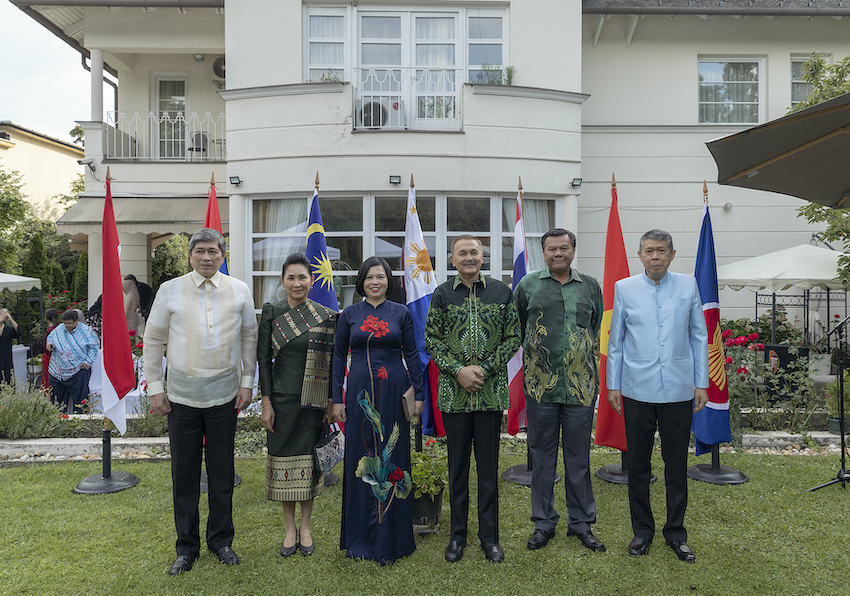 This significant event was hosted by H.E. Mr. Abdurrachman Hudiono Dimas Wahab, Ambassador of the Republic of Indonesia to Hungary, at his Residence on the 9 August 2023. H.E. Mr. István Jakab, Deputy Speaker of the National Assembly of Hungary graced the occasion as the Guest of Honour.
More than 100 guests attended the celebration, including representatives from the Ministry of Foreign Affairs and Trade of Hungary and Hungarian government officials, ambassadors, charge d'affaires of the embassies of ASEAN member states in Budapest, as well as members of academic and businesses circles, ASEAN communities, students and local media.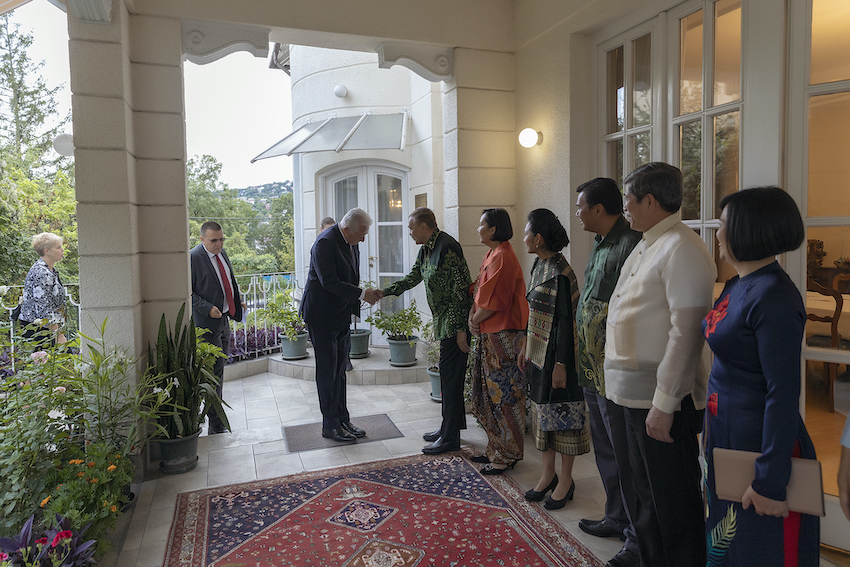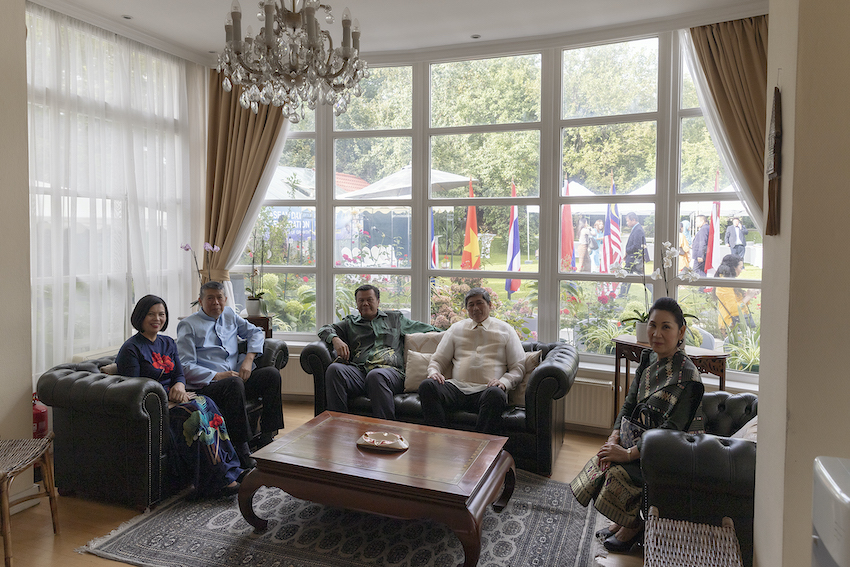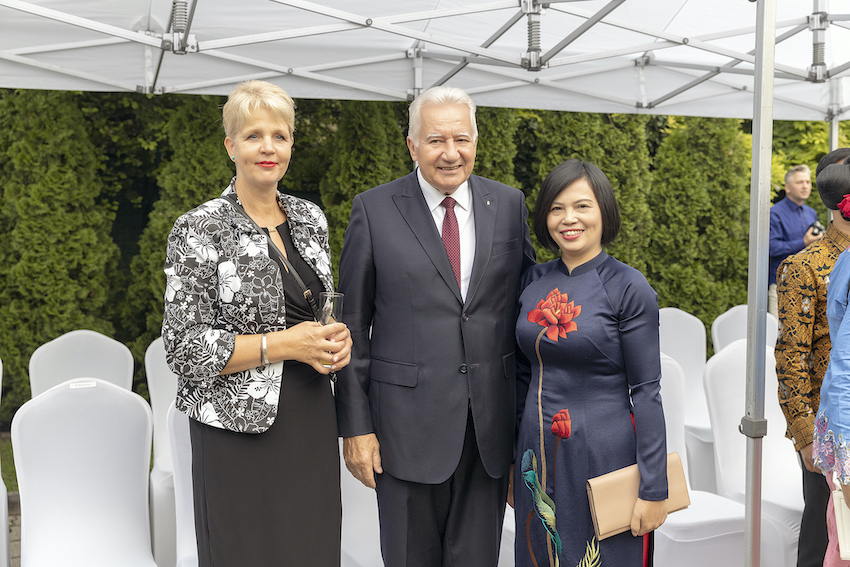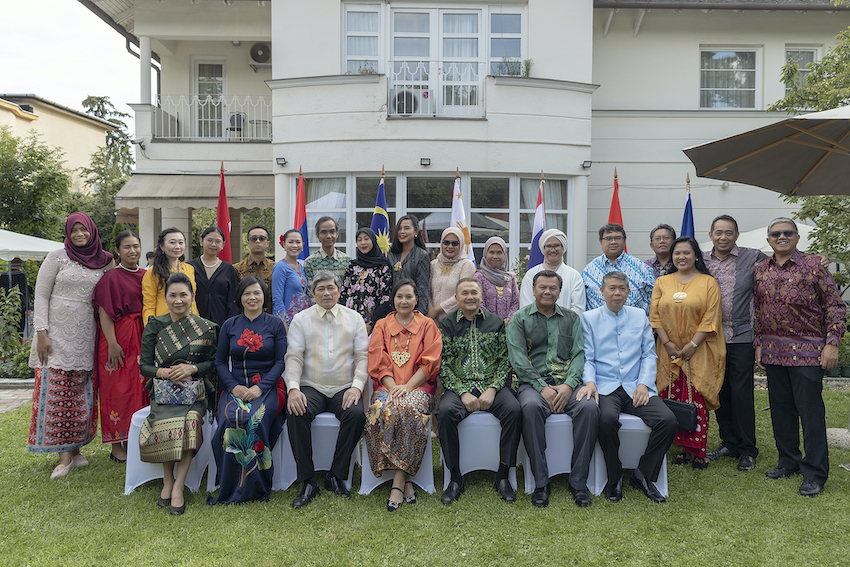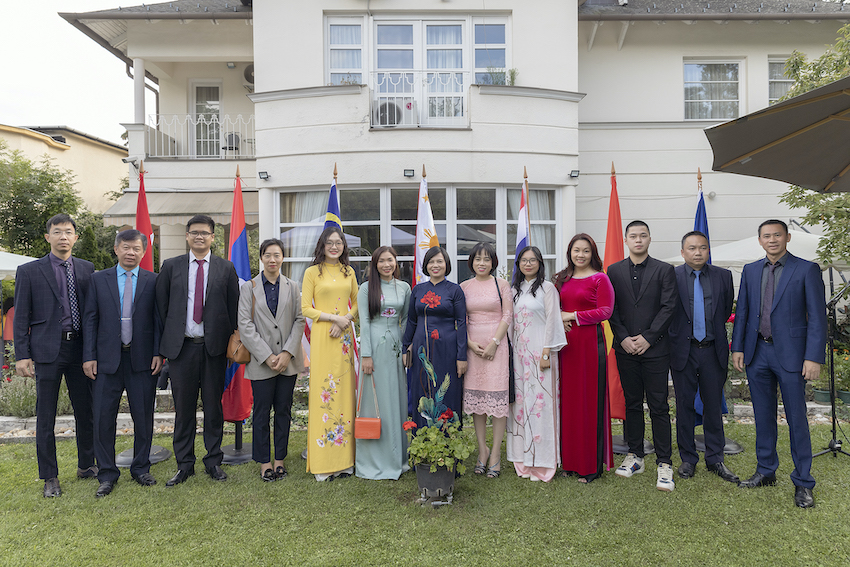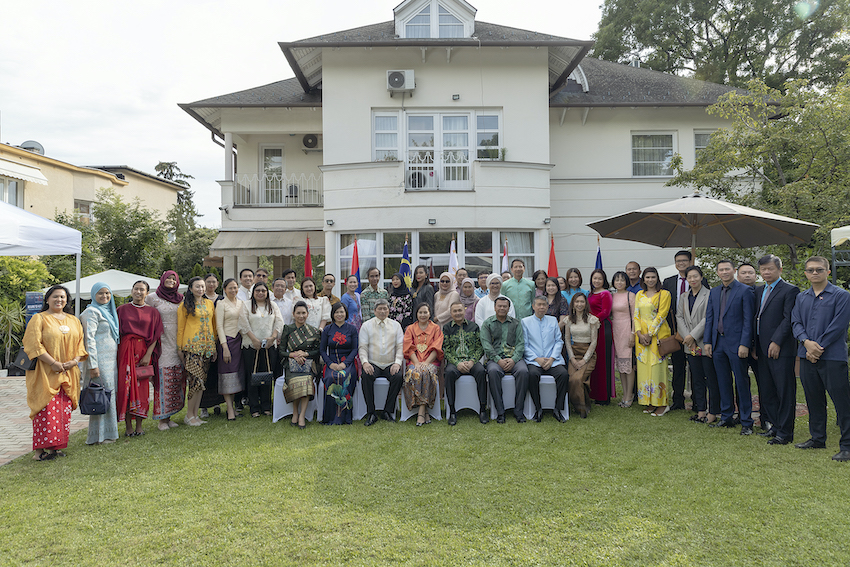 Following the official ASEAN Anthem, the ASEAN Way, expressing unity and identity,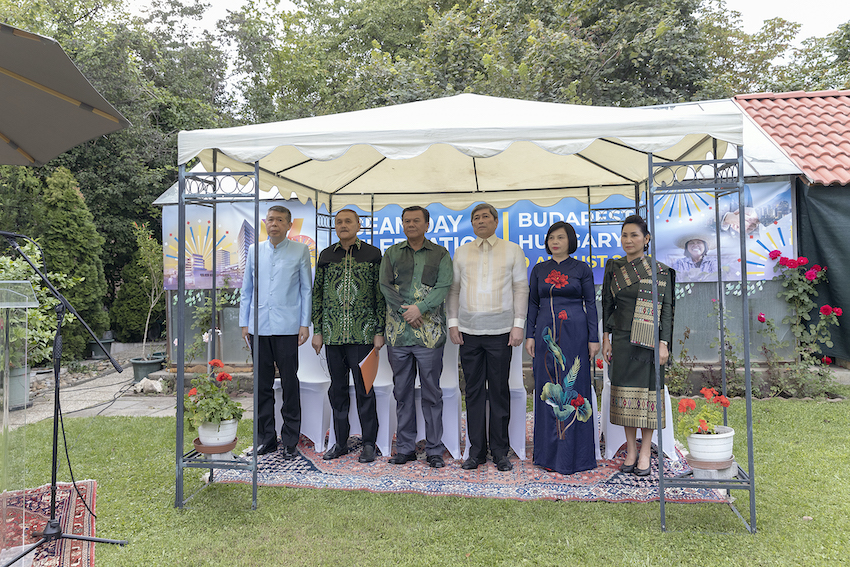 the Ambassador of the Kingdom of Thailand to Hungary, H.E. Mr. Nipon Petchpornprapas welcomed the participants on behalf of the ASEAN embassies in Budapest; proudly recalled a growing ASEAN committed to peace, security and prosperity; recognised the EU and Hungary in particular as important strategic partners, and the Partnership and Cooperation Agreements between the EU and ASEAN countries as landmarks of the bilateral relationship.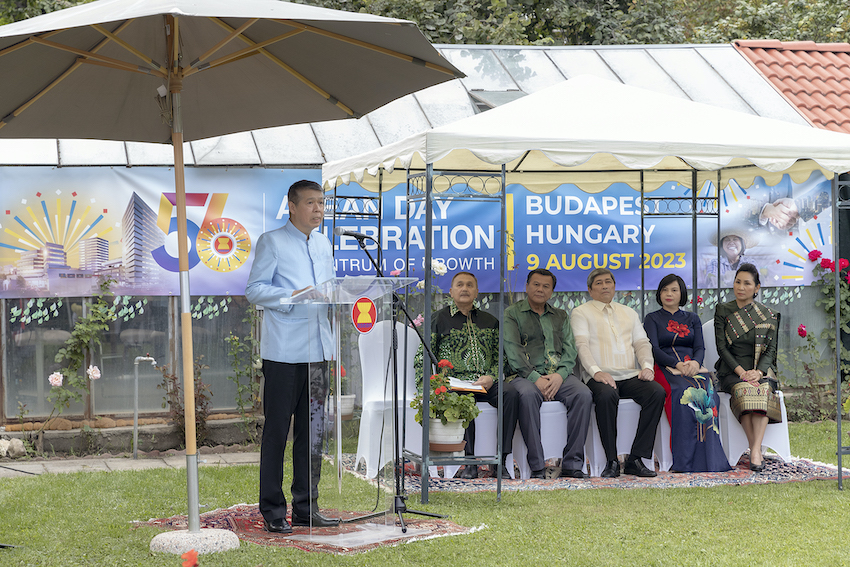 The keynote remarks were delivered by H.E. Mr. Abdurrachman Hudiono Dimas Wahab, Ambassador of the Republic of Indonesia:
"Welcome to the Indonesian residence in Budapest. We are gathering on the occasion to mark the 56thanniversary of ASEAN. Following the annual rotation of the ASEAN chairmanship, this year Indonesia is taking the helm as the chairmanship of ASEAN with the motto: Epicentrum of Growth.

The 42nd ASEAN Summit held in Labuan Bajo on 10–11 May 2023 resulted in several agreements that were discussed and delivered by President Joko Widodo. There are two out of five points of agreement from the 2023 ASEAN Summit related to economies, namely: development of the electric vehicle ecosystem (to reduce greenhouse gas emissions, accelerate energy transitions, decarbonize the land transportation sector, achieve net zero emissions, and increase energy security); and payment connectivity (starting to set up cross-border digital payment innovation opportunities and encourages the use of local currency for regional transactions).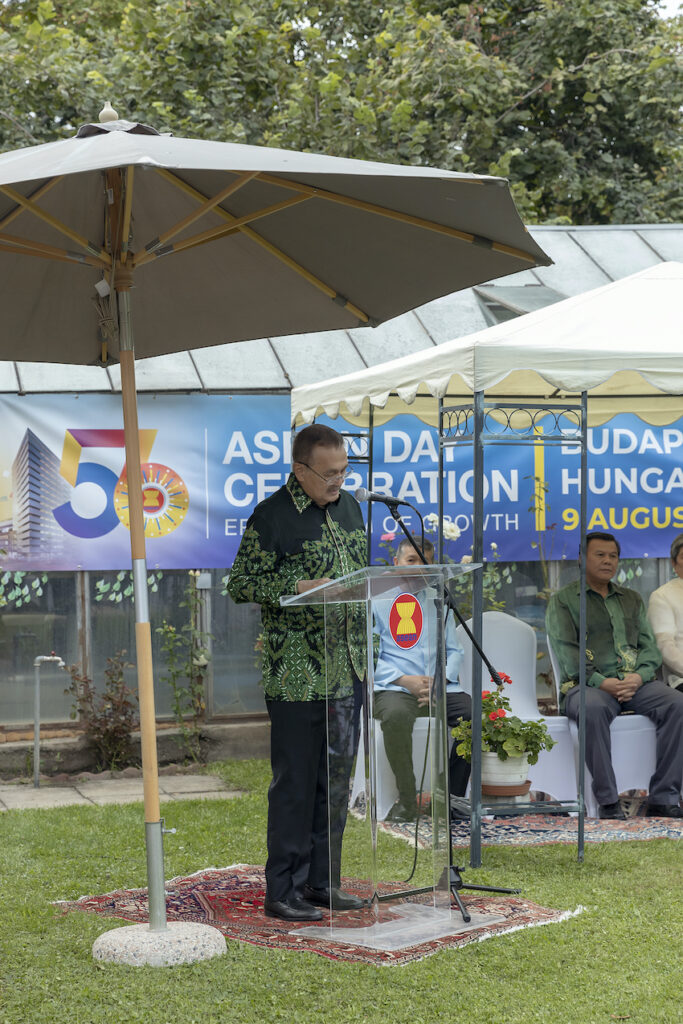 The ASEAN region will remain one of the fastest-growing regions in the world in 2023. The second half of the year will likely see conditions that are more conducive to organic growth as falling inflation provides central banks with greater rate flexibility. The ASEAN region remains attractive to foreign direct investment, with trends in commercial and state investment likely to remain consistent throughout the year despite a more challenging macroeconomic environment. ASEAN nations could benefit from a privileged geopolitical position in the coming years as world superpowers seek to deepen ties in the region. This superpower rivalry is not the only factor that could positively contribute to ASEAN growth in 2023. Several countries in the region have large international tourism sectors, and a further improving epidemiological environment is expected to help the industry recover in 2023. In short, ASEAN has great potential to become Epicentrum of Growth, in the form of abundant productive age as well as abundant natural resources.
As a hallmark of President Joko Widodo's administration, my government is building a new capital city of Indonesia, called Nusantara, to replace Jakarta. Nusantara will be built on forested land in the eastern part of Borneo Island, with completion scheduled for 2045. The concept of Nusantara has green credentials as one of the first things to be built is a large nursery to plant millions of trees. The city itself would have a population of about 200,000 by 2024, and would be connected to the coastal town of Balikpapan by a toll road.
Lastly, I would like to express my sincere appreciation to all ASEAN embassies in Budapest or accredited to Hungary for your hard work in convening this event and making it a success. Thank you / Köszönöm."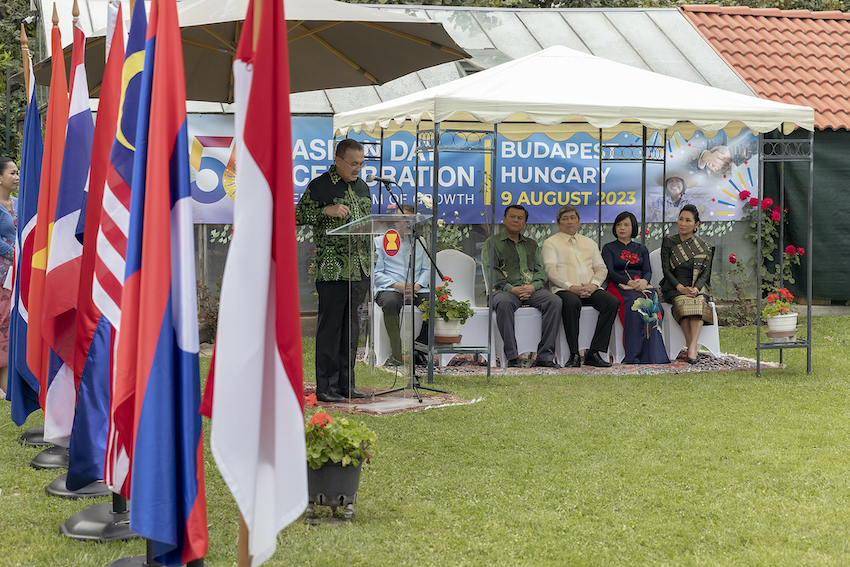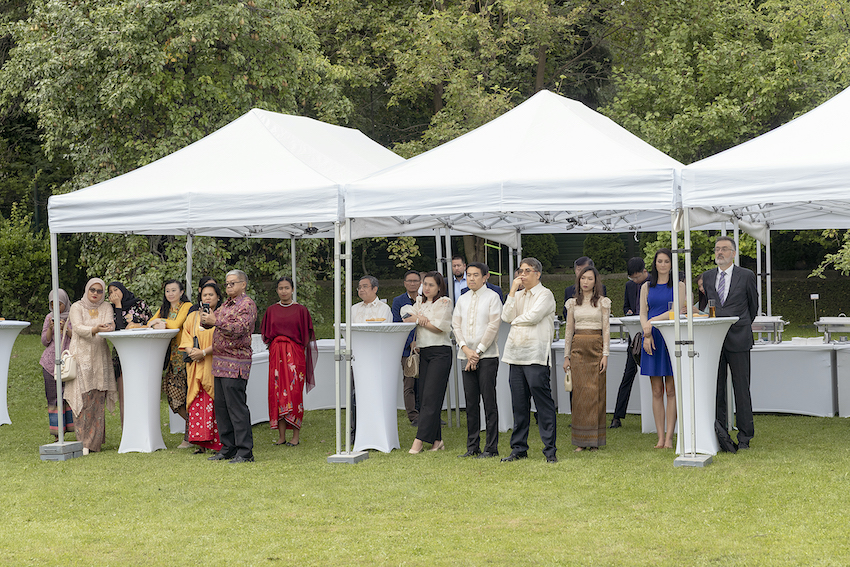 In his speech, H.E. Mr. István Jakab conveyed his congratulations on the occasion of ASEAN Day: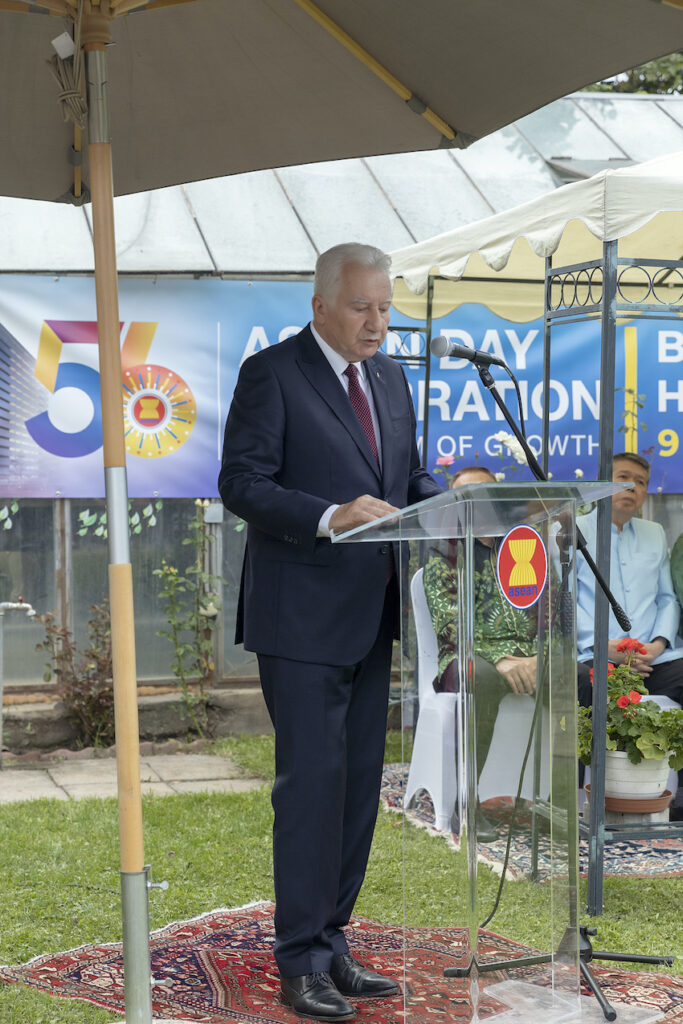 "It is a great pleasure and honour for me to greet you on the 56th anniversary of the founding of the Association of Southeast Asian Nations, here at the Indonesian Ambassador's Residence. First, I would like to congratulate ASEAN on all its achievements over the past nearly six decades and wish it every success in further strengthening regional integration.
ASEAN plays a central role in Southeast Asia and has achieved significant success in preserving peace and stability in the region. We look forward to the successful implementation of integration plans that will further strengthen the role of the Southeast Asian region in the world.
We share Indonesian President Joko Widodo's view, as expressed at the EU-ASEAN Anniversary Summit on 14 December 2022 that the partnership between the European Union and ASEAN should be based on equality. We are convinced that the global and regional challenges we face make cooperation based on shared interests and mutual respect all the more necessary.
Hungary's commitment to deepening cooperation with the ASEAN region is also reflected in the high level of dialogue between our countries. In recent years, Prime Minister Viktor Orbán has led several government and business delegations to Indonesia, Singapore and Vietnam, and has met with the ASEAN Secretary-General in Jakarta. The Prime Minister also represented our country at last year's EU-ASEAN Summit.
We strive to stimulate relations between our representatives and our offices not only at the governmental but also at the parliamentary level; in this spirit, 54 meetings took place between the legislatures of ASEAN countries and the Hungarian National Assembly in the last five years. To ensure the high-level dialogue, we maintain contact at the Deputy Speaker level between visits by the Speaker. I am particularly proud to have personally visited seven Member States and look forward to visiting the others soon. Last year we also signed cooperation agreements with the legislatures of two Member States.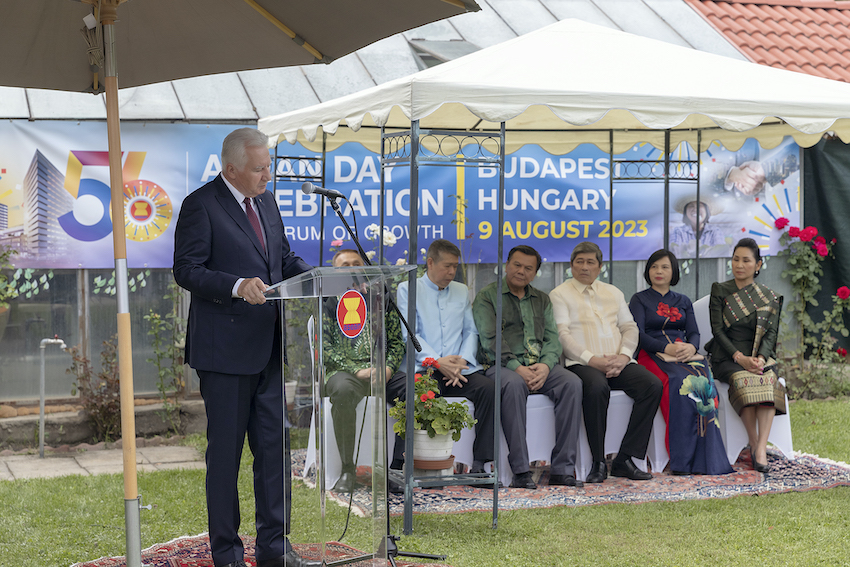 We have recently significantly strengthened our institutional presence in ASEAN countries. We now have embassies in 6 ASEAN countries and two representation offices in Laos and Cambodia. I am pleased to confirm that a decision has been taken to upgrade Hungary's representation in Vientiane to embassy status in 2024, which we are intensively preparing now.
Developing economic relations is an essential element of Hungary's foreign policy strategy. We count on ASEAN's support for our efforts to expand investment and trade relations. Our country offers excellent economic cooperation opportunities in infrastructure development, renewable energy, water management and business relations based on the transfer of high-value-added technology. Hungary is open to regional investment, while we support revitalising trade relations. To this end, we have also concluded economic cooperation agreements with several of our ASEAN partners. As a member of the European Union, Hungary can serve as a European bridgehead and logistics hub for goods from the region. We also support the establishment of an inter-regional free trade agreement. Over the past decade, trade between our country and ASEAN countries has grown steadily and dynamically, reaching nearly $4 billion in 2021 and 2022.
Hungary continues to support the development of ASEAN countries and strengthen its role in the region through tied-aid projects, mainly in health, drinking water and agriculture. In 2022, Hungary provided 15 million USD in official development assistance (ODA) through 31 projects to the Philippines, Indonesia, Cambodia, Laos, Malaysia, Myanmar, Thailand, and Vietnam.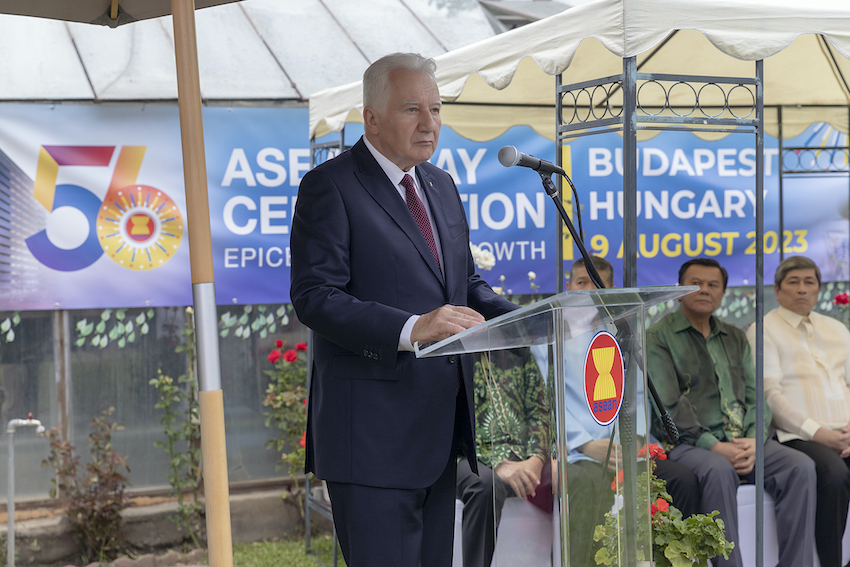 We are pleased that nine of the ten ASEAN member states are participating in the Stipendium Hungaricum scholarship programme, and discussions are underway to include Brunei. For the 2022/2023 academic year, 543 students have been accepted from the ASEAN region, and 3249 students have applied for the 2023/24 academic year, representing a nearly five-fold oversubscription. The students who study here will hopefully return to their home countries as honorary ambassadors of our country and help to promote rapprochement and understanding between our countries and nations.
I wish the countries of the ASEAN region every success, peace and prosperity."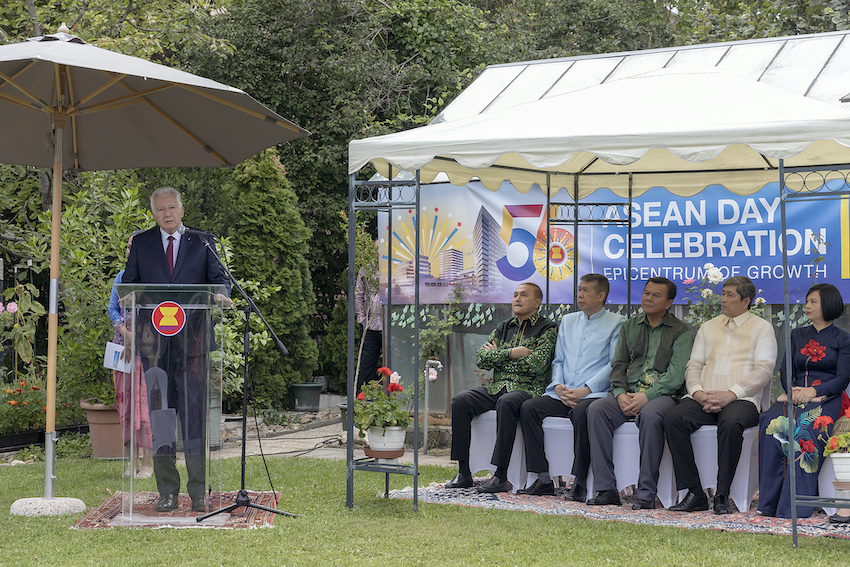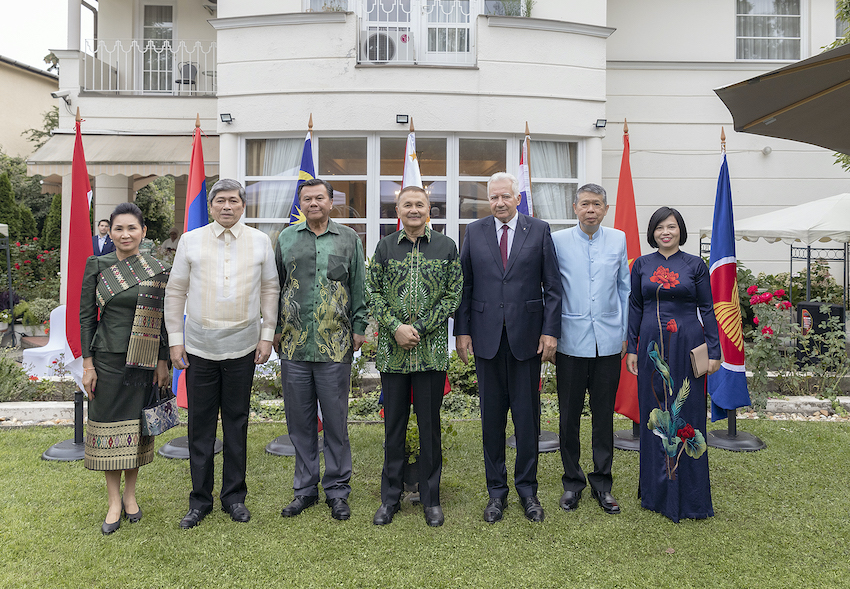 After the opening ceremony, guests had the opportunity to celebrate the "ASEAN Way" by savouring authentic and delightful cuisines while listening to traditional music and songs from ASEAN member countries.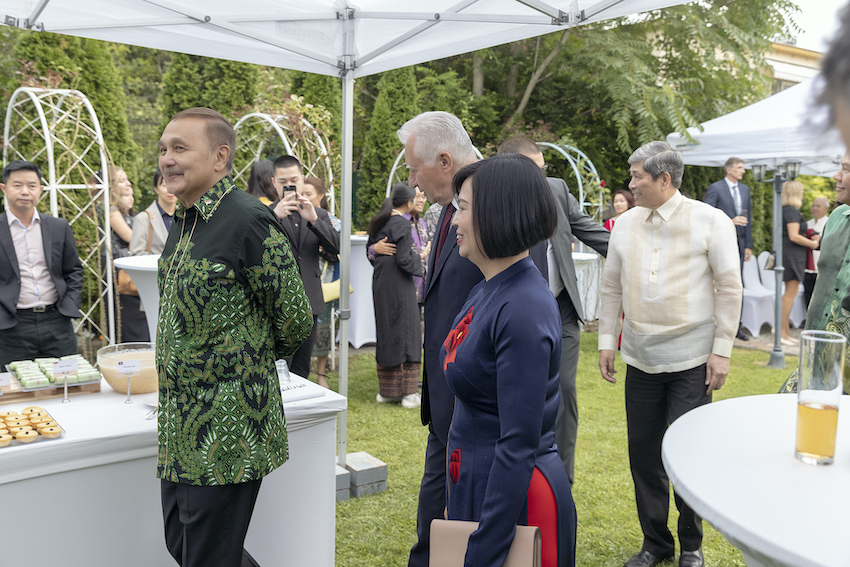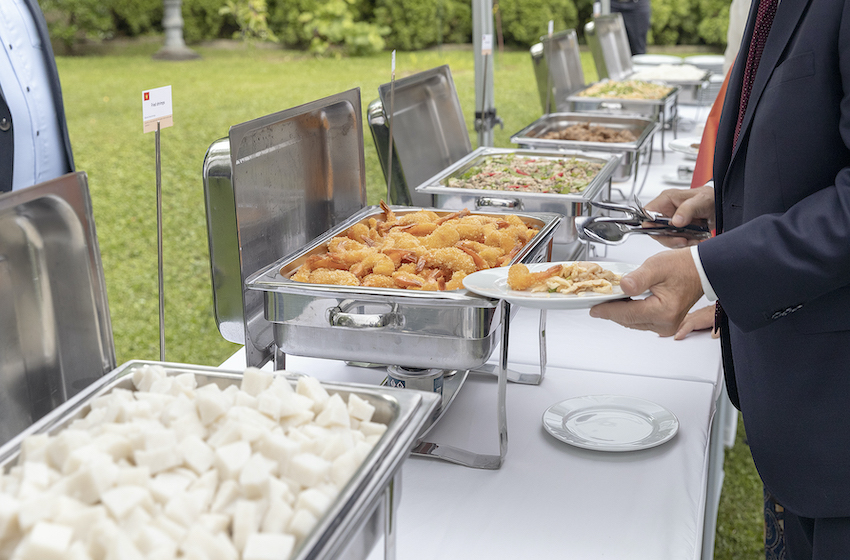 Source: Embassy of Indonesia in Budapest
Photos: Embassy of Indonesia and DPA