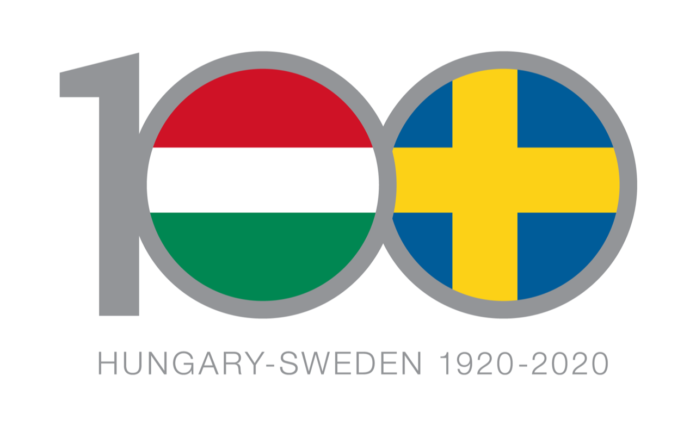 In November 2020, we commemorated the 100th anniversary of diplomatic relations between Sweden and Hungary.
On the 12th November 1920 Count Anton Magnus Herman Wrangel af Sauss, Minister for Foreign Affairs of Sweden informed the Hungarian government about the initiation of diplomatic relations between the two countries. During the 100 years since official relations were resumed, Hungarian and Swedish history have been linked by extraordinary personalities, dramatic moments and mutual interest and respect between the people of the two countries. "Today our nations look at each other as friends and allies. There is close collaboration in politics, economy, defence, science and culture, just as our membership in the EU connects us and our belief in world peace and stability. It gives all our embassy staff great pride to work to deepen and expand the relations between our two countries" – emphasised H.E. Adrien Müller, Ambassador of Hungary to Sweden.
The Hungarian Embassy in Stockholm celebrated the 100 years of bilateral diplomatic relations by a joint project with the Ukrainian-Hungarian sculptor, Mihály Kolodko, who works in Budapest. He became famous in many countries for his very original mini-statues. He dedicated his first Scandinavian mini-statue to Alfred Nobel and personally placed it on the fence of the Hungarian Embassy's garden. The sculpture project was the initiative of the Hungarian Embassy and was implemented in cooperation with the artist in connection with the Centenary and the 120th anniversary of awarding the Nobel Prizes, in 2021. In Stockholm, the Embassy is situated near Nobel Park and Nobel Street now with Nobel's mini statue, which honours the scientific legacy and service to humanity of the great philanthropist Alfred Nobel and all Nobel Laureates worldwide, including those of Hungarian descent or those associated with Hungary. Kolodko's mini-statues, conveying a powerful message, can be seen in Uzhhorod (Ukraine), Budapest, Munich, Rijeka, Princeton and now in Stockholm. "A sculpture – is the loudest art of silent expression for me" – by the artist's credo.
Anna Popper
Source: Diplomatic Magazine