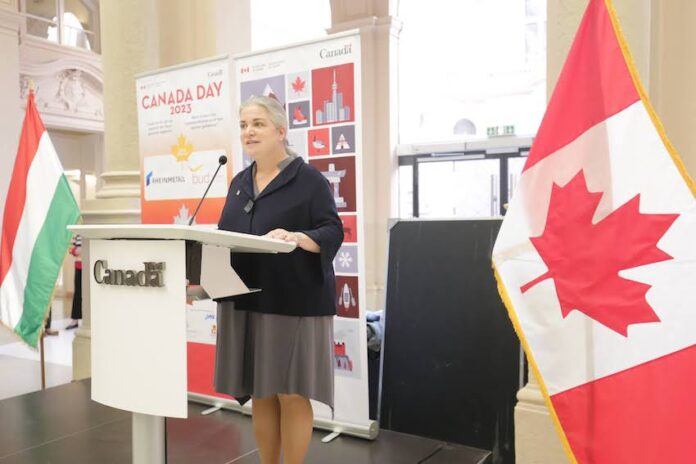 "Being Canadian, it is about our values"
Edited by Anna Popper
Canada Day is a day of national pride and patriotism, a significant national holiday, observed annually on the 1st July. It commemorates the British North America Act (now known as the Constitution Act) of 1867, which united the colonies of New Brunswick, Nova Scotia, Ontario and Quebec into a single Dominion called Canada. This act granted Canada more autonomy from Britain and established a federal system of government. It was a significant step towards Canadian nationhood and self-governance, and over time Canada gained more independence from Britain. The Constitution Act also allowed the admission of other territories and provinces into the Dominion of Canada. Over the years it indeed facilitated the country's growth and expansion into its present form and Canada continued to evolve as a nation. Canada Day is a time for Canadians to celebrate their history, culture and identity through various festivities, including parades, fireworks, concerts and cultural events across the country. It is a great opportunity for them to reflect on their heritage and appreciate the values of diversity, freedom and unity that define their country.
The Canada Day in Budapest was a splendid and memorable celebration. H.E. Caroline Charette, Ambassador of Canada to Hungary hosted a grand reception at the magnificently restored Károlyi-Csekonics Palace, adding to the charm of the celebration.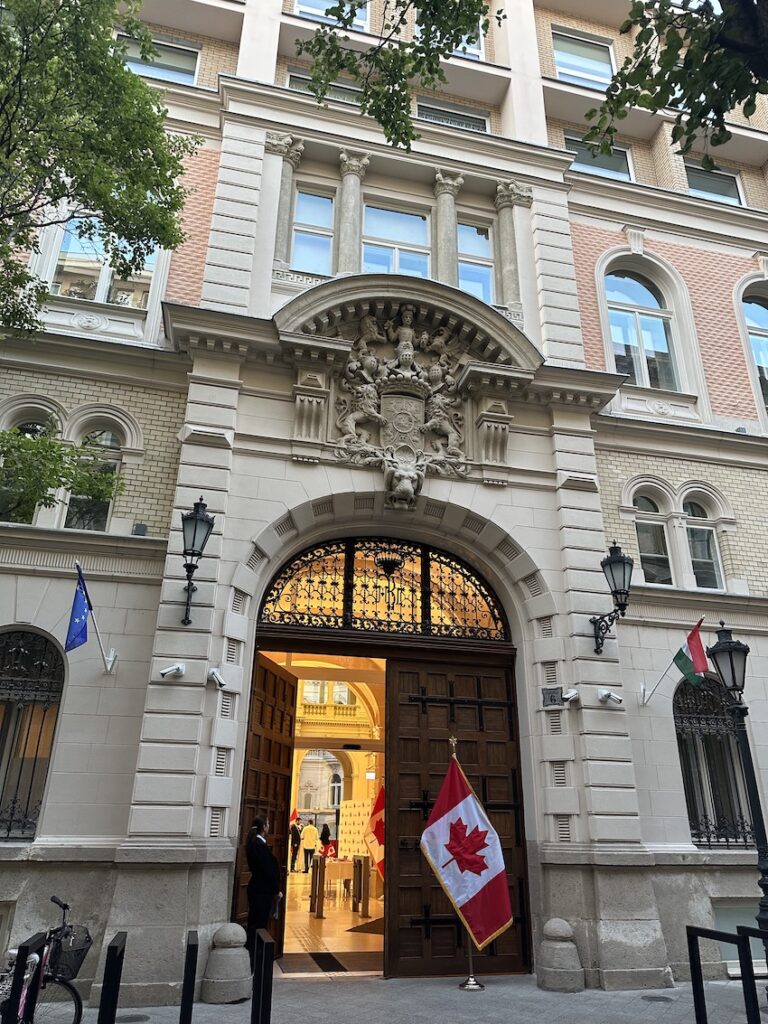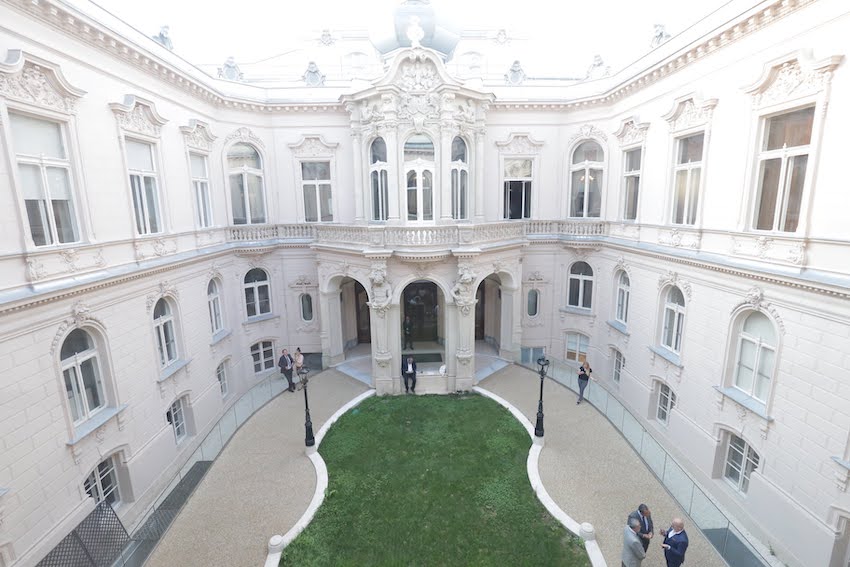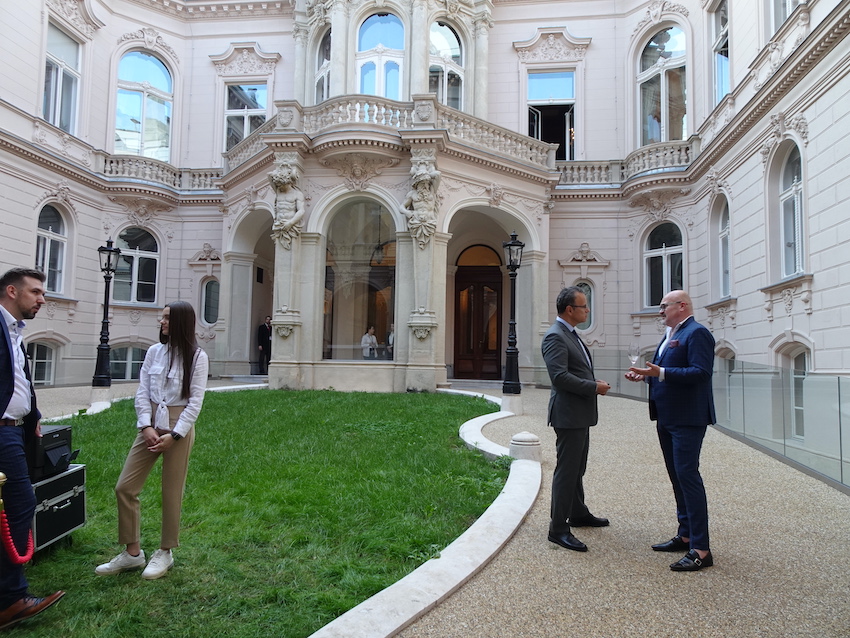 After a successful four-year diplomatic mission, the Ambassador bids farewell to Hungary and faces new assignments and challenges upon returning home.
The list of participants at the event was quite impressive, featuring senior officials of the Hungarian political sphere, members of the diplomatic corps, business executives, representatives of the academic and cultural circles, Canadian nationals and friends of Canada, which is considered a global role model in many aspects.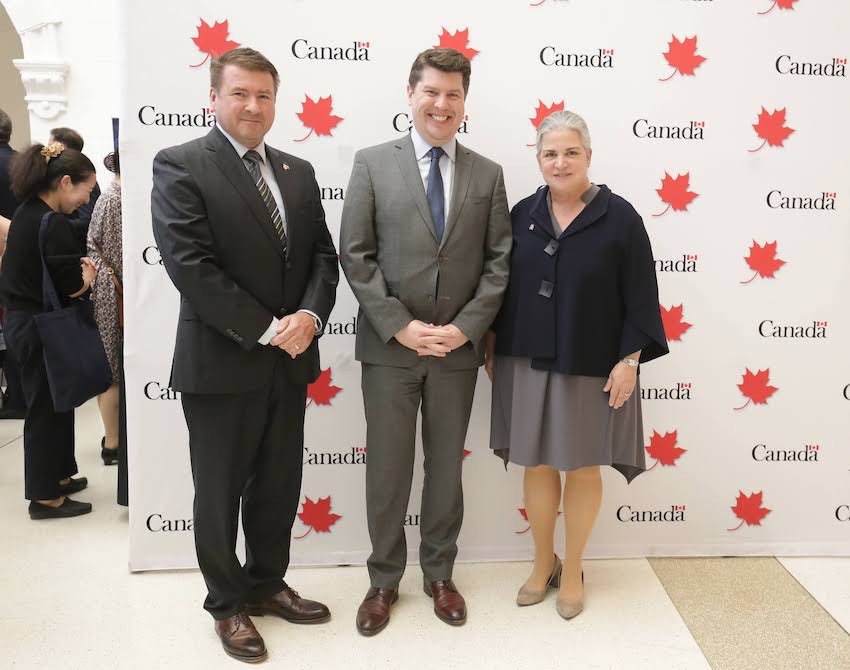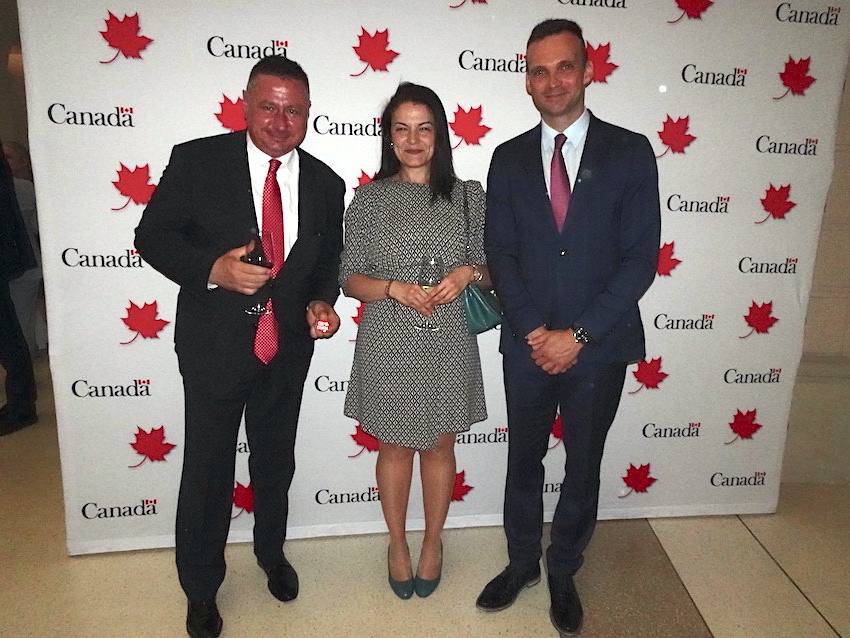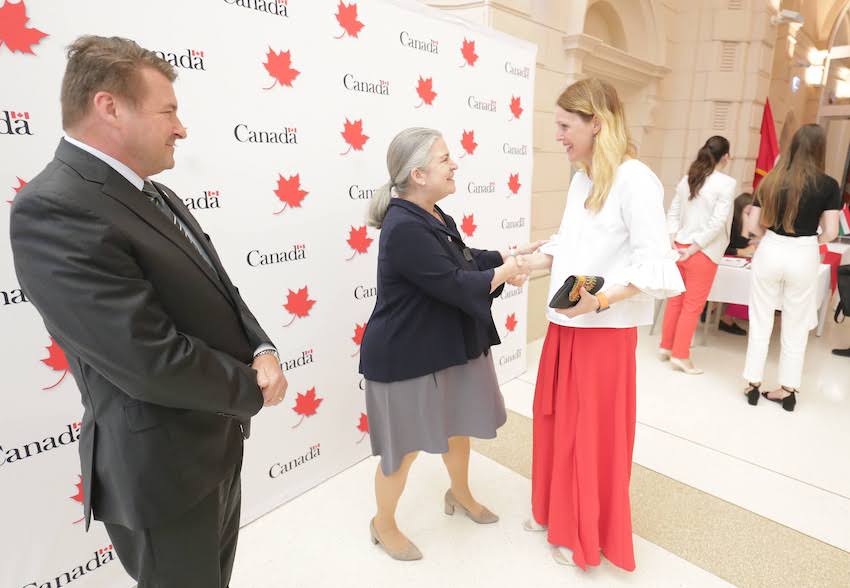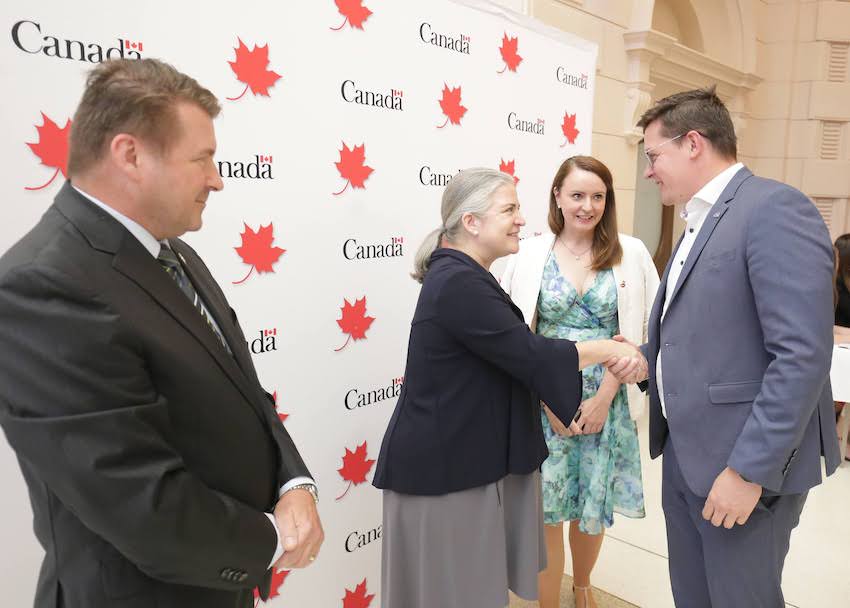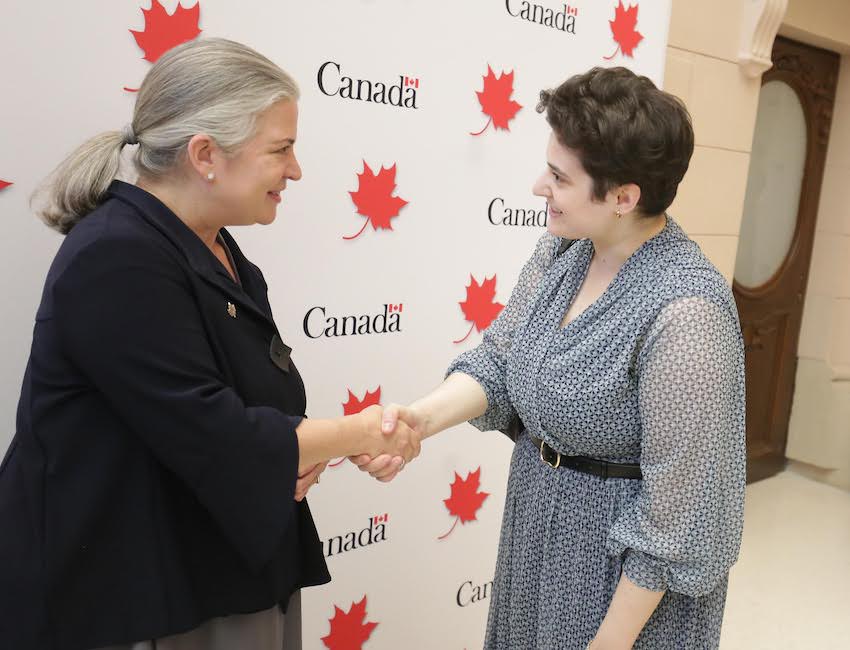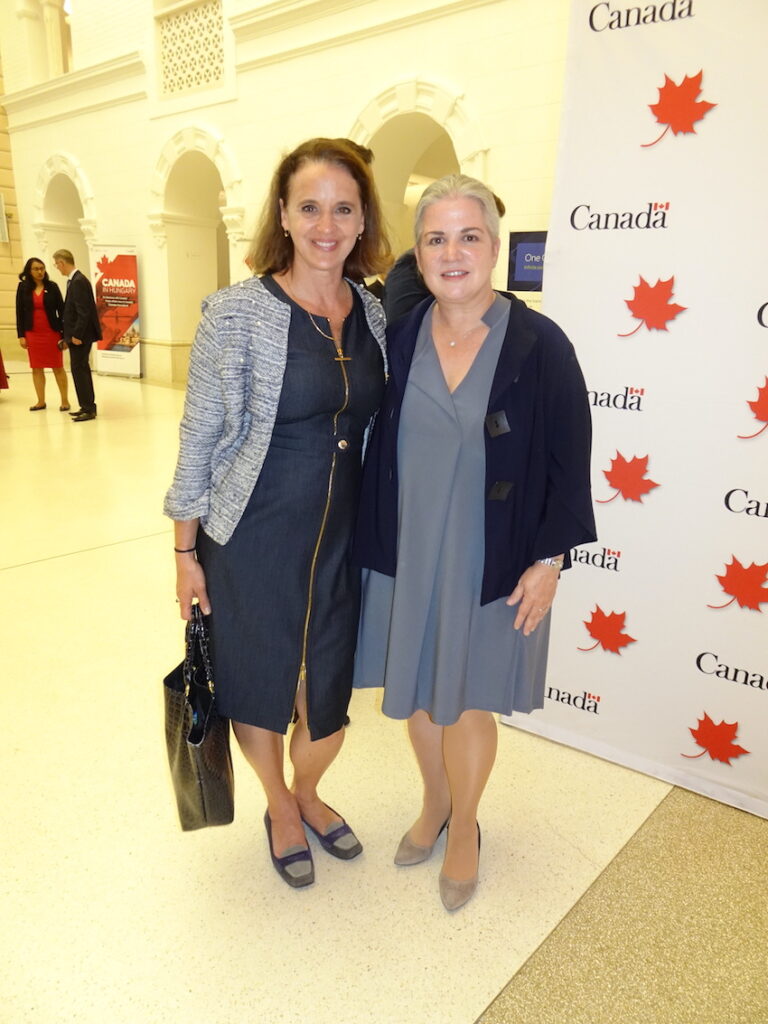 Following the Canadian and Hungarian national anthems, the Guest of Honour at the event, Dr. László Trócsányi, Rector of the Károli Gáspár Reformed University (KRE) welcomed the attendees, emphasizing the long-standing and friendly relationship between the two nations.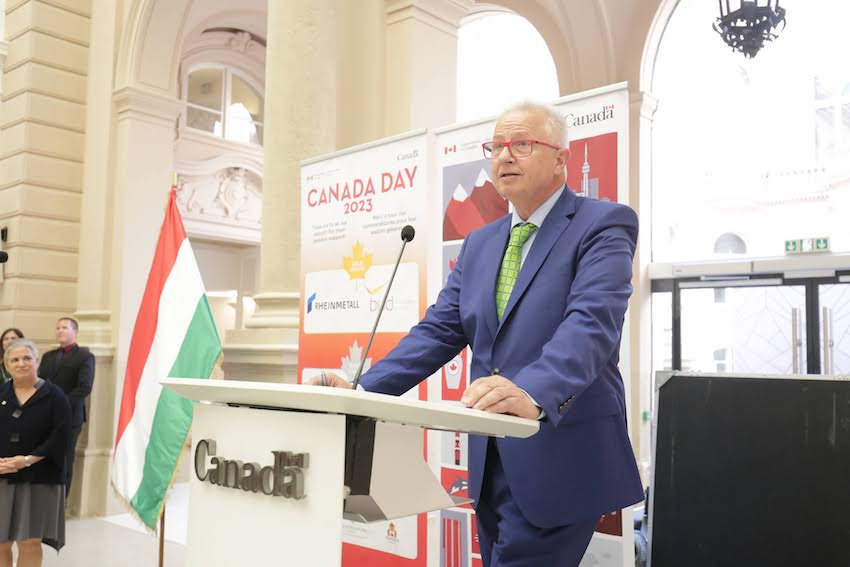 Ambassador Caroline Charette greeted the guests in perfect Hungarian and continued her remarks related to Canada, the relations between the two countries, support for Ukraine and international issues both in French and English, the two official languages of her homeland: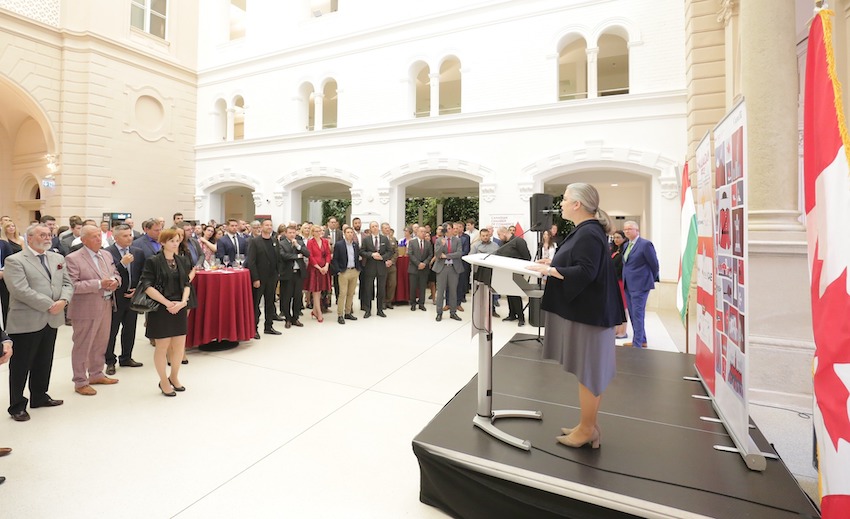 "Merci à tous d'être parmi nous aujourd'hui. Je vois beaucoup de visages familiers et d'amis dans l'assistance aujourd'hui, c'est un plaisir de pouvoir vous accueillir aujourd'hui à l'occasion de la Fête du Canada.
I see a lot of friendly and familiar faces in the audience today, and it's a pleasure to welcome you to celebrate Canada Day in this wonderfully renovated historical building, which is a great example of how to bring together tradition and modernity.
Today we celebrate Canada and the Canadian values we hold so dear. In my time in Hungary I had many occasions to meet different groups of people, especially students, to whom I tried to explain what Canada is and what a Canadian is. How we define ourselves as a nation. Being Canadian is not so much about your ethnicity, your origin, or your ancestors, as it is about your values. Values of democracy, fairness, inclusion, diversity, sustainability, tolerance and equity. That's what I invite you to celebrate with us today on this occasion of Canada Day.
This day is also an opportunity to celebrate the important relationship we have with Hungary. The friendship between Canada and Hungary goes back a long way, and has endured for a number of years. It is underpinned by the significant Hungarian diaspora in Canada, which numbers about 350,000 Canadians who claim Hungarian heritage. But it is more than just our people-to-people relations. It is also our economic relation, where our two countries are partnering on trade and investment initiatives to bring economic growth on both sides of the Atlantic, supported by our Comprehensive Economic and Trade Agreement with the EU. It is also our long-standing cultural, academic and scientific cooperation that builds bridges between our institutions, thanks in part to a dedicated group of Canadian study specialists here in Hungary, of whom I see good representation in the audience today. And, of course, our relationship with Hungary is anchored in our partnership as NATO allies and in Canada's key relationship with the EU and all its member states.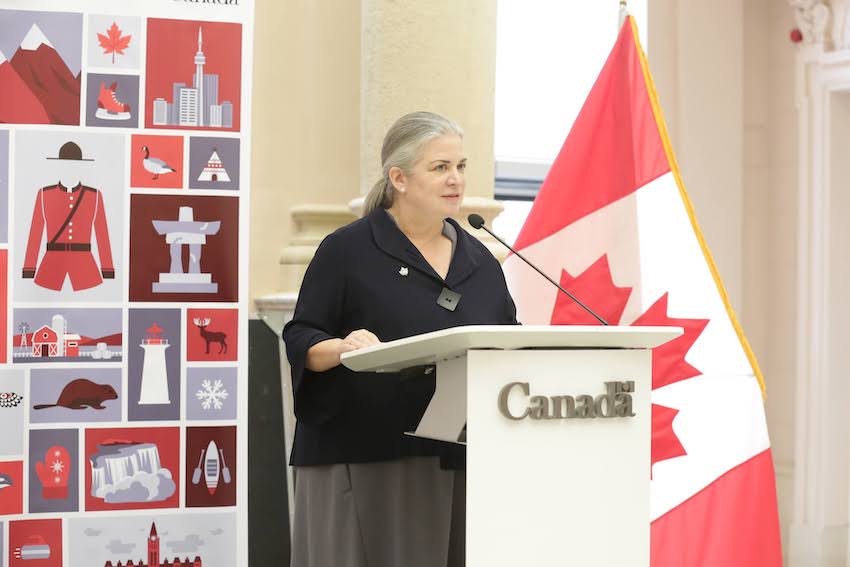 It's no secret that diplomacy is changing as we navigate an increasingly complex geopolitical environment. More and more, we are being asked to respond to unprecedented situations and events, from climate disasters to pandemic, to cyber security attacks. But we know we are stronger when we stand together in the face of some of the most important challenges to our collective security in decades.
Our united stance includes our unwavering support for Ukraine in the face of Russia's illegal full-scale invasion. Much of our work to help the people of Ukraine in their fight for sovereignty and democracy has relied on governments and partners around the world, through our NATO alliance, but also through other multilateral organizations including the UN, the G7 and the G20, that are today more important than ever. Indeed, we were very happy to welcome Finland as a NATO member earlier this year, and hope that Sweden will join us soon.
With democracy and human rights under threat around the world, we all have an important role to play in promoting and fighting for the values we cherish. As a democracy, we must take steps to protect the most vulnerable and help build a safer and more prosperous world for everyone, everywhere.
Because we are stronger when we stand together. In this complex, ever-changing environment, we have much to look forward to in working together as allies and partners.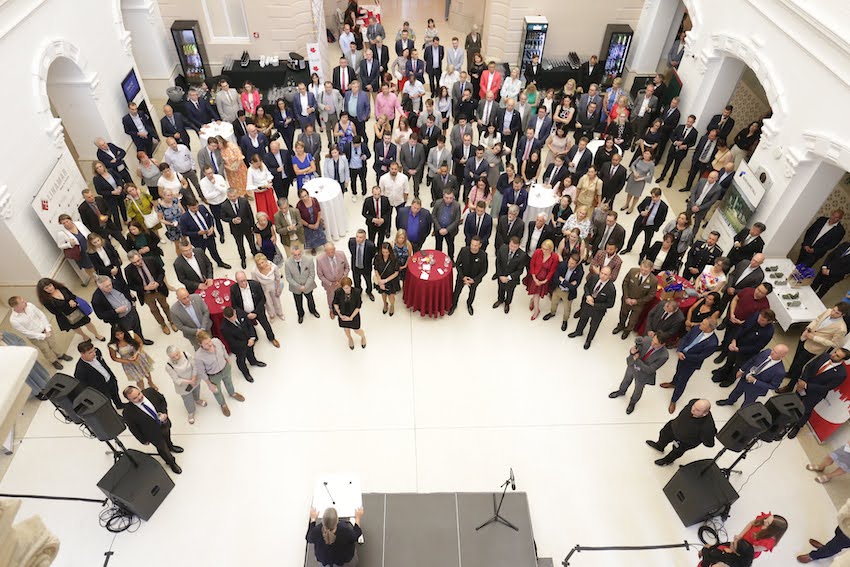 Sadly, today is my last opportunity to celebrate Canada Day with all of you, as I will soon be leaving Hungary for my next assignment. I want to say how grateful I am to all of you for your kind cooperation. It wasn't always easy, but our mutual respect and shared commitment have made these past four years a wonderful and enriching experience.
I also want to thank the team at the Embassy with whom I have had the privilege to work over the last years. I want to thank them for organising this wonderful event today, but also for their hard work every day to grow this relationship and for their dedication to Canada and Canadian values. Thank you so much.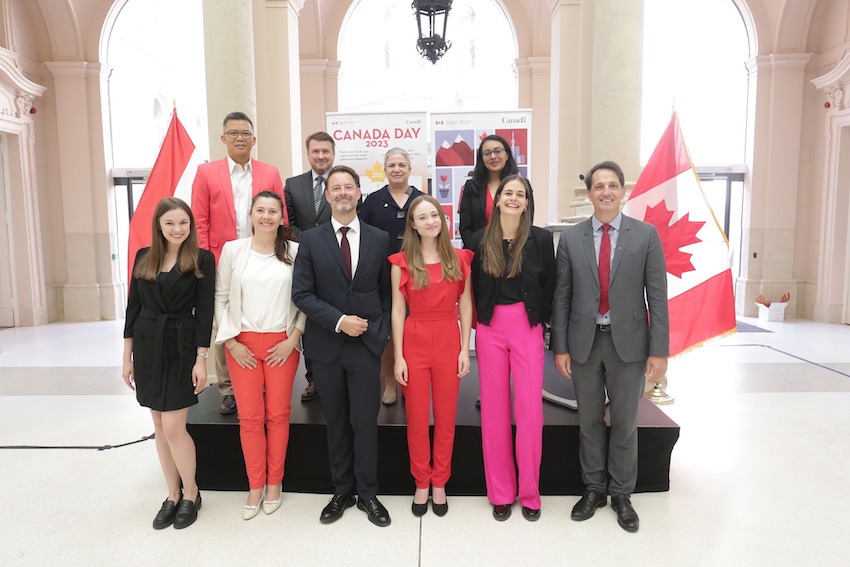 In closing, I would like to thank our sponsors for their generous support, including: Budapest Airport, Rheinmetal, Borsodi, CAE Engineering, Linamar, CMA Architects, JAS Cargoways, Semex, Maple Bear Canadian School, and Four Seasons."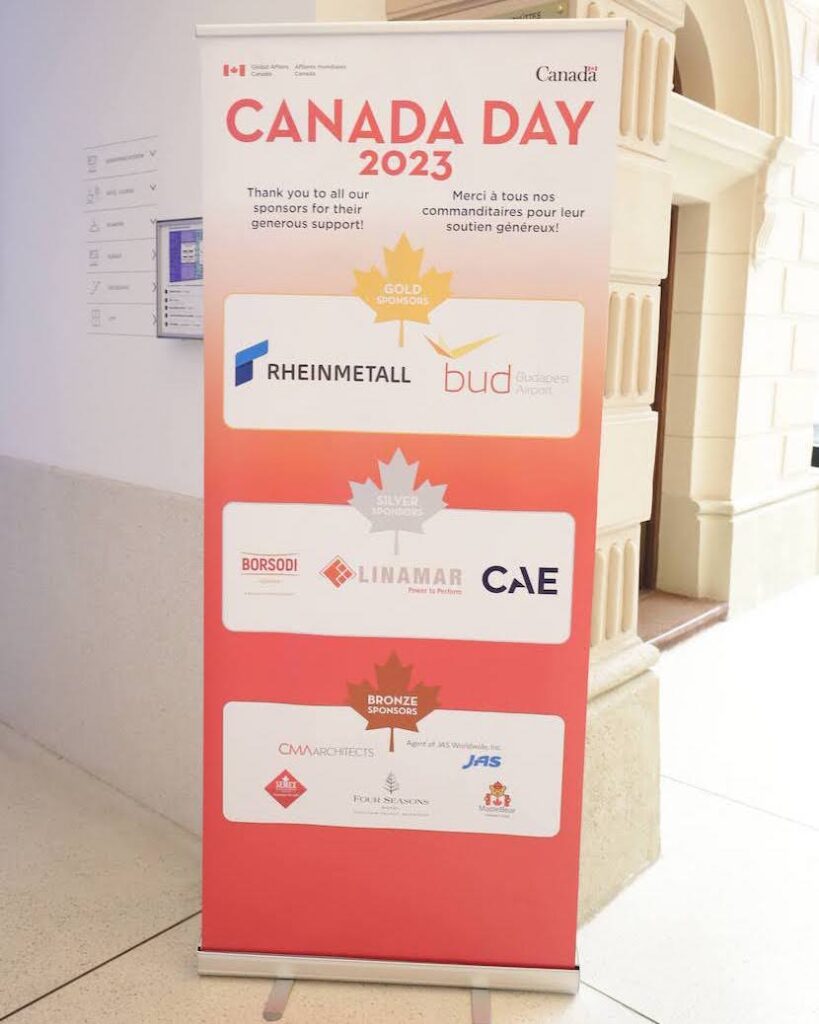 "I wish you Happy Canada Day! Bonne fête du Canada! Boldog Kanada napot!"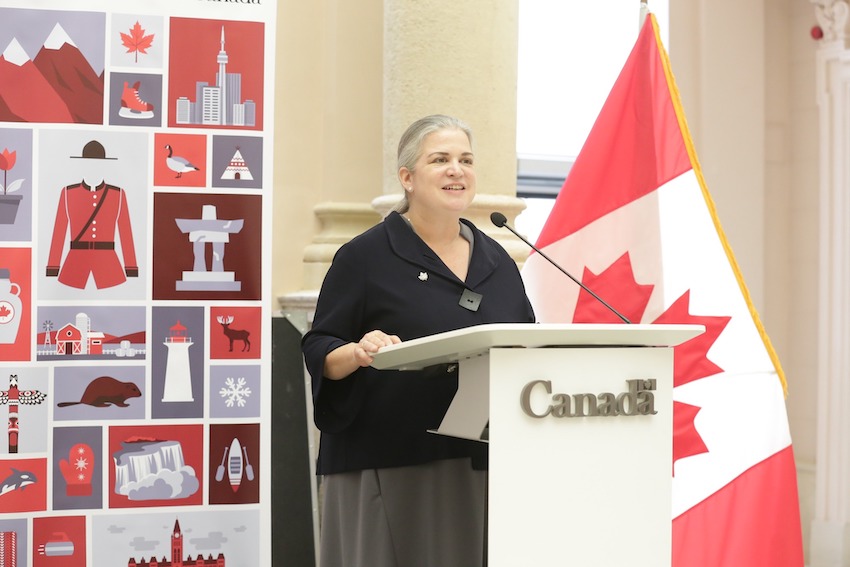 The diverse groups of guests contributed to the event's vibrancy, making it an excellent opportunity for networking and fostering friendships and international relations, while enjoying the excellent atmosphere, the tasty food and drinks, as well as the amazing photo booth set up provided by Budapest Airport, as a good memory for the participants. Such celebrations are not only a chance to commemorate Canada's National Day, but also serve as a platform to strengthen cultural ties, promote diplomacy, and facilitate discussions on various matters between Canadians and Hungarians.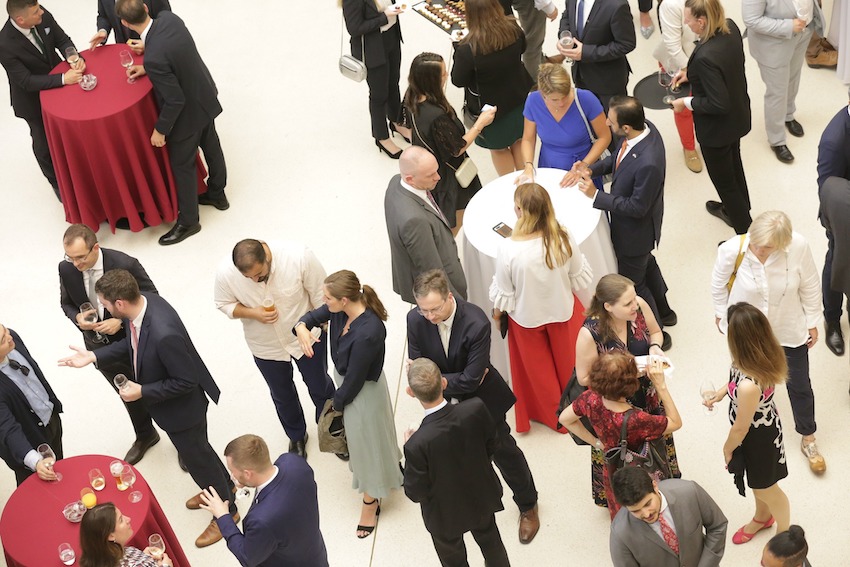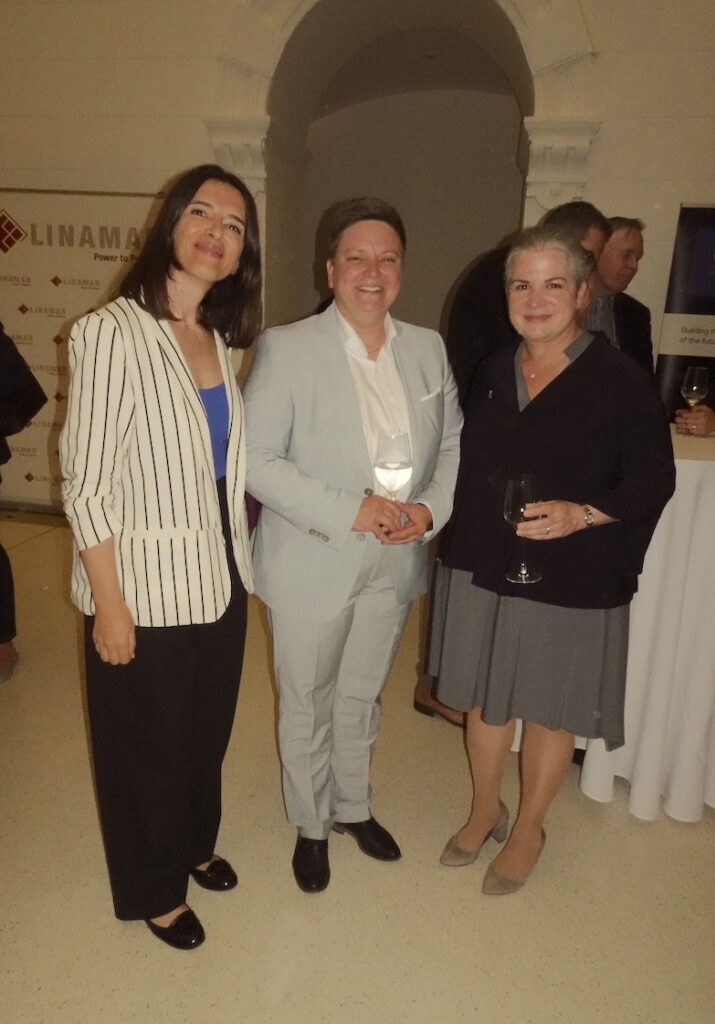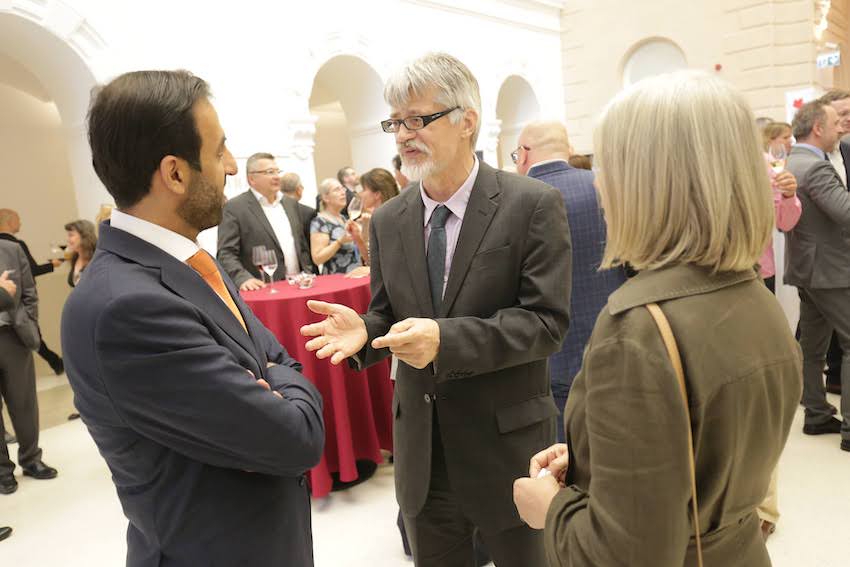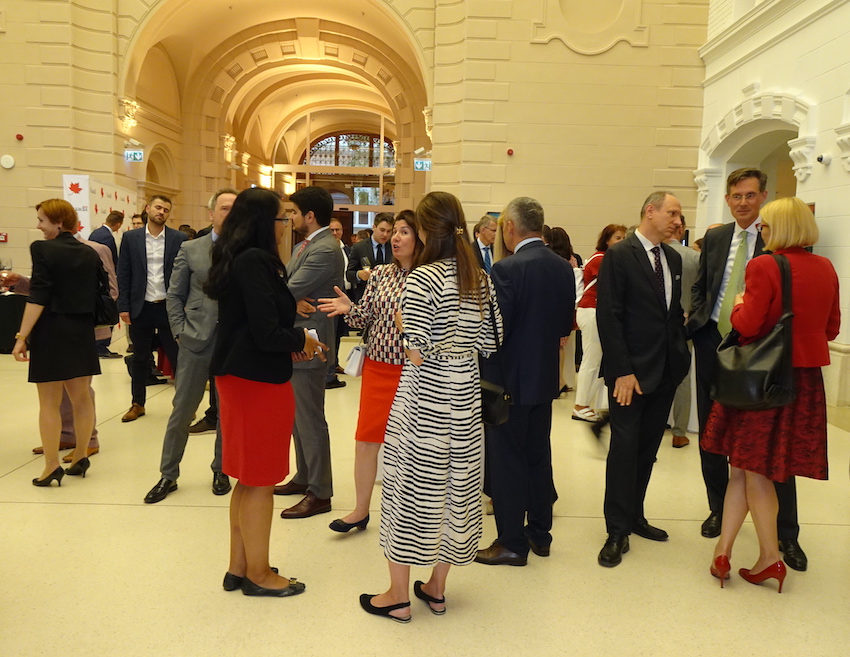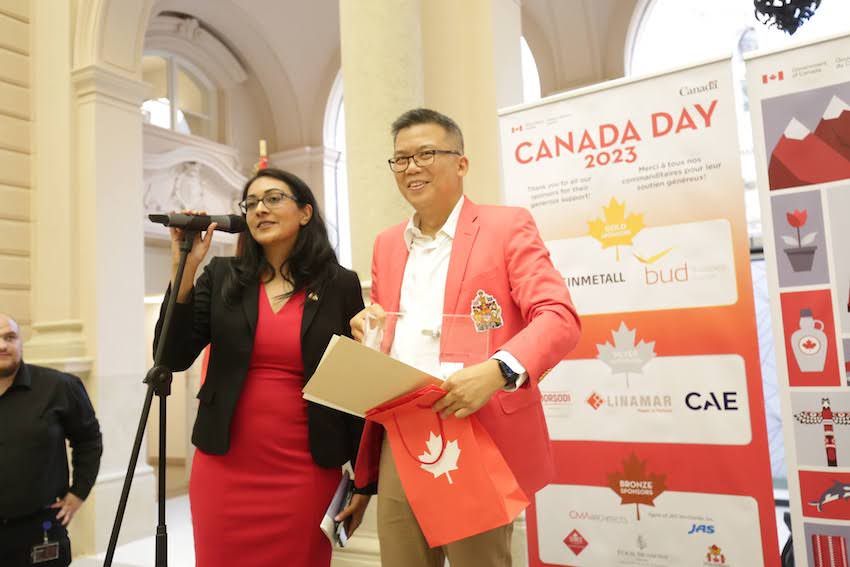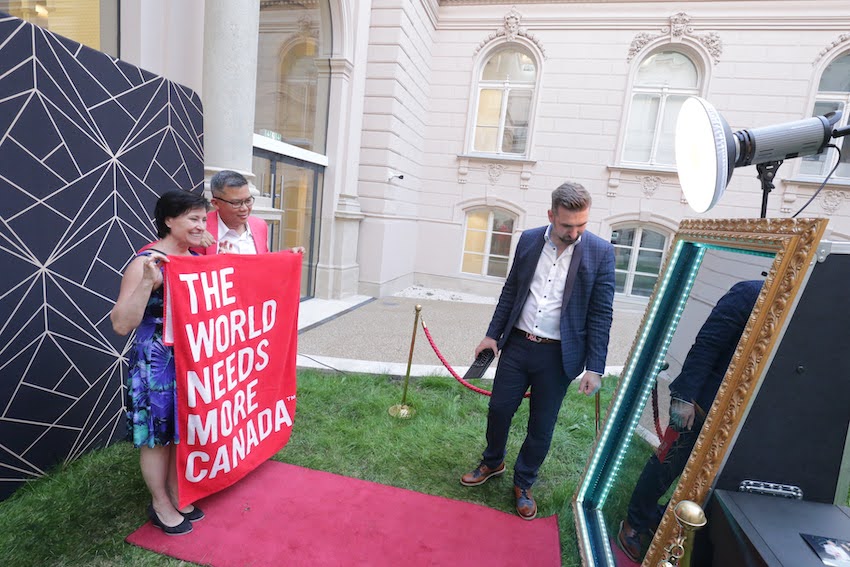 Your Excellency,
Dear Ambassador Caroline Charette,
on behalf of the Diplomatic Press Agency, I would like the convey our gratitude for Your valuable professional work as Ambassador, appreciating Your mastery in building many bridges of friendship and partnership between Canada and Hungary, and wishing You a good continuation in Your diplomatic career, success and prosperity in all Your endeavours.
Source: Embassy of Canada in Budapest
Photos by the Embassy of Canada in Budapest and DPA